MAGLASaunders
From MasonicGenealogy
ALBERT LANGWORTHY SAUNDERS 1878-1972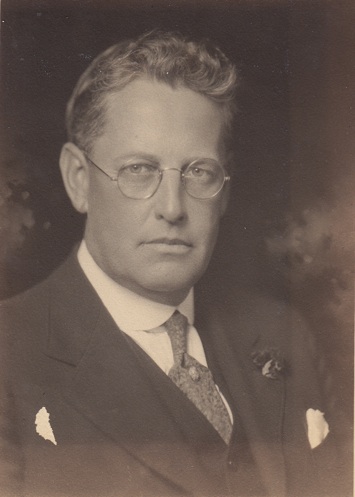 Senior Grand Warden, 1937
MEMORIAL
From Proceedings, Page 1973-40:
R. W. Albert Langworthy Saunders was born in Westerly, Rhode Island, on April 3, 1878 and died at Milford, Massachusetts on December 11, 1972 at the age of ninety-four at which time he was the second oldest living Past Senior Grand Warden of our Grand Lodge.
A graduate of Westerly High School in 1898 he received a Ph.B. degree from Brown University in 1902. He then attended Harvard Law School for a year, then transferred to Boston University Law School receiving the degree of J.B. in 1905, which degree was later retroactively changed by Boston University to J.D. He practiced law in Boston until his later years when he transferred his office to West Medway, Massachusetts.
His public service was extensive and impressive. In 1930 he was appointed a Special Justice of the District Court of Western Norfolk in which capacity he gave outstanding service until he retired fifteen years later. In his home town of Medway he was Moderator and Attorney for the town for seventeen years; a member of the School Committee; Counsel for the Medway Cooperative Bank; a Director and Honorary Director of that bank; and Trustee and Clerk of the Medway Savings Bank; President of the Franklin Rotary Club; Chairman of the Medway Branch of Franklin Chapter of the American Red Cross for twenty years; a Trustee of the Second Congregational Church in West Medway; served in many capacities for the Old Colony Branch of Boy Scouts of America; and was a Director of the Massachusetts Fish and Game Association and of several other corporations.
During World War One he was on the Committee of Public Safety, the Selective Service Board, and was a member of the Secret Service.
On September 12, 1906 he married Miss Mertie Crowell and in 1972 they celebrated their sixty-sixth wedding anniversary having lived in Medway for over sixty-two years. Besides his widow he left three daughters, Mrs. Elizabeth Brodhead, of Honolulu. Mrs. Virginia Allison, of Milton, Massachusetts, and Mrs. Priscilla Robertson of Revere, Massachusetts, a sister, Miss Carrie Saunders, of Westerly, five grandchildren and seven great grandchildren.
He took his Entered Apprentice degree in Charles River Lodge in West Medway on March 23, 1910 and continued his membership there for sixty-two years until his death. He was Master in 1923 and 1924; District Deputy Grand Master of the Twenty Second District in 1926 and the Twenty-Third District in 1927, a member of the Committee on Revision of the Grand Constitutions in 1929 and 1930, Judge Advocate 1931 to 1936, Representative of the Grand Lodge of Michigan 1929 to 1967, and Senior Grand Warden of the Grand Lodge of Massachusetts in 1937, receiving the Henry Price Medal in 1937 and the Veteran's Medal in 1960.
In the collateral bodies he took the Royal Arch degree in Mount Lebanon Chapter in 1919; the Superexcellent degree in Milford Council in 1920, and the Order of the Temple in Milford Commandery in 1919, and in the Scottish Rite he belonged to Boston Lafayette Lodge of Perfection, Giles Fonda Yates Council of the Princes of Jerusalem; Mount Olivet Chapter, Rose Croix, and Massachusetts Consistory. He was also a fifty year member of Aleppo Temple of the Shrine.
His was a long, useful and honorable life.
---