GMPageau
From MasonicGenealogy
ROGER WILLIAM PAGEAU 1944-2012
[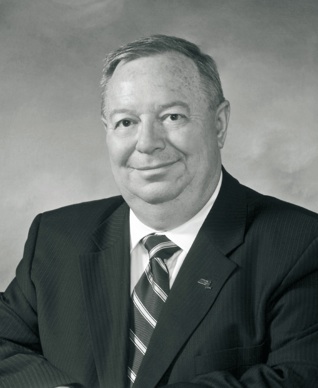 Deputy Grand Master, 1996
Grand Master, 2008-2010
---
TERM
OBITUARY
ONLINE OBITUARY, JULY 2012
Posted on the Grand Lodge website, July 29, 2012:
Roger William Pageau of Northborough passed away suddenly on Saturday, July 28th. He leaves a wife, Thelma; two daughers, Mrs. Amy M. Seitz of Grafton, and Dr. Gayle G. Pageau, Ph.D. of Worcester, and a granddaughter. He was the 86th Grand Master of Masons in Massachusetts, serving between 2007 and 2010.
Details concerning arrangements have not been released.
Raised in Littleton, NH and educated in the Littleton Public School system, Pageau graduated from the University of New Hampshire with a Bachelor of Science in Business Management. In 2003 he retired as Treasury Manager for National Grid, Westborough after 35 years of service. Brother Pageau was the Grand Treasurer, or Chief Financial Officer, of the Grand Lodge of Masons between 2003 and his election as Grand Master in 2007.
Pageau was a member of Westborough's United Methodist Church. His professional affiliations included the Association of Financial Professionals and the Treasury Management Association of New England, for which he was President in 1995-96. He also served on the Board of Directors for the American Red Cross of Central Mass from 1985 through 1992.
In 1976 he began his Masonic career by joining John Warren Lodge, Hopkinton. He served as the Worshipful Master, or presiding officer, in 1987-88. Masons use the original definition of "worshipful," meaning "honorable"; English mayors and judges are still addressed as "Worshipful." As Grand Master, Pageau was called "Most Worshipful." He was also a member of Rose of Sharon Lodge, Charlton; The Masters Lodge, Needham; and an honorary member of Dalhousie Lodge, Newton.
Most Worshipful Brother Pageau served as a District Deputy Grand Master in 1994-95. The lodges in the Commonwealth are divided into 31 Districts led by a District Deputy who is the Grand Master's representative there. During that year he was named a Grand Representative for Wisconsin. In 1996 Grand Master Arthur E. Johnson appointed him Deputy Grand Master, the second highest ranking Mason in the state. In that year he was also awarded the Henry Price Medal, the highest honor conferred by the Grand Lodge of Massachusetts. Following the completion of his one-year term, he joined the Grand Lodge Board of Directors, on which he served until assuming the position of Grand Treasurer.
He was active in several Masonic organizations. Brother Pageau was a member of the Scottish Rite in the Valley of Worcester. Between 1995 and 1997 he led the Chapter of Rose Croix, one of four bodies within Scottish Rite, as Most Wise Master. In 2002, he received his 33° at the Annual Meeting of the Supreme Council, 33°, Ancient Accepted Scottish Rite of the Northern Masonic Jurisdiction of the United States of America. About one-third of the country's 1.5 million Masons become 32° Scottish Rite Masons. Of those, less than 1% receives the 33° recognizing their service to humanity, their communities, or Freemasonry. He belonged to Saint Andrew's Royal Arch Chapter, Boston Council, and Saint Bernard's Commandery #12 of the York Rite. He was also a member of Aleppo Shriners, Wilmington, MA.
From the Worcester Telegram, July 29, 2012:
NORTHBOROUGH - Roger W. Pageau, 67, of Northborough, passed away unexpectedly on Saturday, July 28, 2012 at the UMass Memorial Healthcare-University Hospital after being stricken ill. He was the husband of Thelma (Chouinard) Pageau.
Born in Littleton, NH, he was the son of the late Armand and Arlene (Lemue) Pageau. He was educated in Littleton schools and was a graduate of the University of New Hampshire. From 1967 to 1973 he served with the Army National Guard attaining the rank of SP5.
Roger was employed in the finance department at New England Electric for 35 years prior to his retirement. He was a member of the First United Methodist Church in Westborough, the John Warren Lodge AF & AM in Hopkinton, the Scottish Rite Body of Worcester and Boston and was the former Grand Master of the Grand Lodge of Massachusetts.
He was a ham radio operator, enjoyed genealogy and was an avid sports fan, especially the Red Sox, Patriots and UNH Hockey.
In addition to his wife, he is survived by two daughters, Amy M. Seitz and her husband, Matthew, of N. Grafton and Dr. Gayle P. Pouliot and her husband, Jason, of Boston; one grandson, Nolan R. Seitz; two step brothers, Gary Blodgett of Texas and Everett Blodgett of Reading, MA; one aunt, Veronica Marsh of Littleton, NH and many nieces, nephews and cousins. Funeral services and calling hours will be held privately. Burial will be in Mt. Auburn Cemetery, Hopkinton.
In lieu of flowers, donations in his memory may be made to the American Heart Association, 350 Plantation St., Worcester, MA 01604 or to the First United Methodist Church Memorial Fund, 120 West Main St., Westborough, MA 01581.
Funeral arrangements are under the direction of the Britton-Summers Funeral Home, 4 Church St., Westborough.
AT GRAND LODGE, SEPTEMBER 2012
From Proceedings, Page 2012-107, 09/12/2012:
Brother Pageau was born in Littleton, New Hampshire on August 31, 1944, the son of Armen and Arlene Pageau and passed to the Celestial Lodge above at the University of Massachusetts Medical Center, in Worcester, Massachusetts on July 28, 2012 at the age of 67 years, 330 days.
He was educated in the Littleton, New Hampshire Public Schools and attended the University of New Hampshire from which he graduated with a Bachelor of Science Degree in Business Management.
Roger Pageau married the former Thelma Chouinard and became the father of two daughters, Amy M. (Pageau) Seitz of North Grafton and Dr. Gayle P. (Pageau) Pouliot of Boston. He was the very proud grandfather of Nolan S. Seitz.
He retired in 2003 from National Grid, formerly New England Electric, after 35 years of service and having risen to the position of Treasury Manager. Brother Pageau had many interests and hobbies, among them: Ham Radio operator wherein he enjoyed talking to many Masons and friends around the world. He also enjoyed working on the genealogy of his family tracing some roots back to France. He was an avid Boston sports fan and an ardent follower of the University of New Hampshire Hockey Team. His expert skill and craftsmanship in making custom fishing rods and golf clubs were well known among many of the Brethren.
The Masonic career of Most Worshipful Brother Pageau spread over some 36 years beginning in John Warren Lodge in Hopkinton, Massachusetts where he took his degrees, being raised to the Sublime Degree of Master Mason, March 9, 1976, and became Master of John Warren Lodge in 1987. He served our Grand Lodge as District Deputy Grand Master of the Natick 23rd Masonic District in 1994 and 1995, under the leadership of M.W. David W. Lovering. He was appointed Deputy Grand Master for the year 1996 by M.W. Arthur E. Johnson thus becoming a Permanent Member of Grand Lodge, and in the same year he was awarded the Henry Price Medal.
He served as the Grand Treasurer from 2003 to 2007 and was elected Grand Master at the December Quarterly in 2007 serving as Grand Master in 2008, 2009 and 2010 as the 86th Grand Master of the Grand Lodge of Masons in Massachusetts.
Brother Pageau was an affiliated and honorary member of several Lodges. He was also a member of all York Rite Bodies, serving as the Treasurer of Saint Bernard Commandery No. 12, Knights Templar; a member of Aleppo Shrine, Ancient Arabic Order of the Nobles of the Mystic Shrine in Wilmington. Also a member of the Red Cross of Constantine, a member of Massachusetts College, Societas Rosicruciana in Civitatibus Foederatis, he was serving as the Chief Adept IX at the time of his passing. Brother Pageau was a member of all the Scottish Rite Bodies in the Valley of Worcester where he served as Most Wise Master of Lawrence Chapter of Rose Croix and was also a member of Massachusetts Consistory in the Valley of Boston. He was coroneted an Honorary 33° Member of the Ancient Accepted Scottish Rite Northern Masonic Jurisdiction of the United States of America on September 2, 2002.
Brother Pageau will be remembered for his support of the many programs of our Grand Lodge, such as the Grand Lodge Scholarship Program, the Masonic Leadership Institute, the continuation of the Membership Program, his commitment to the Masonic Health System and its various endeavors as well as his service on many Grand Lodge Boards as well as the Masonic Education and Charity Trust and his devotion to youth. Brother Pageau was instrumental in the Grand Lodge providing financial support for the startup and continuing operation of the Worcester Scottish Rite Learning Center. He was also instrumental in developing a program to reinvigorate Massachusetts DeMolay which has resulted in the establishment of new Chapters as well as the reinstitution of older Chapters which had gone silent, all resulting in a dramatic increase in membership.
My Brother, we are ever grateful for your tireless service and devotion to our Grand Lodge, your always cheerful manner and your willingness to listen to and help your Brethren.
"May our Heavenly Father bless you and have you in his keeping in the Celestial Lodge above."
M.W. Edgar W. Darling
M.W. Arthur E. Johnson
M.W. Donald G. Hicks, Jr.
M.W. Jeffrey B. Hodgdon
M.W. Richard J. Stewart, Grand Master M.W. Albert T. Ames, Chairman
NOTES
CHARTERS GRANTED
RULINGS
---
Previous (Hodgdon) Next (Stewart)