Antiquity
From MasonicGenealogy
LODGE OF ANTIQUITY
Location: Boston
Dispensation may have been presented to Grand Master Sanford sometime in 1903.
Current Status: dispensation declined, but there is no documentation on it.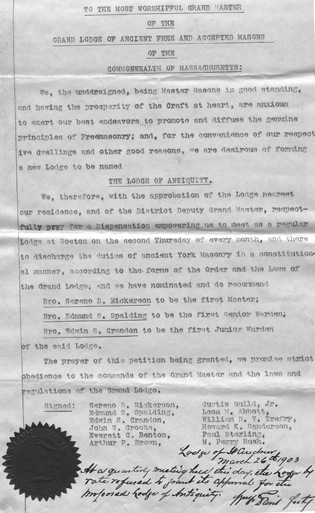 The petition for the Lodge of Antiquity, 1903
---
A DISTINGUISHED ROSTER
In March 1903, an extremely distinguished roster, including a Past Grand Master and two future Grand Masters, signed a petition for a dispensation for a new lodge in Boston called the Lodge of Antiquity. The petition (shown above) contains an endorsement by the Lodge of St. Andrew, but no other signatures or acknowledgements.
Though the recommended first Master, Brother Sereno Nickerson, was Grand Secretary at the time, there is no definite indication that the petition was ever presented and either approved or declined.
PETITIONERS
LEON M. ABBOTT, Grand Master 1917-1919
EVERETT C. BENTON, Grand Master 1912-1913
ARTHUR P. BROWN, DDGM; N
R. PERRY BUSH, Grand Chaplain 1909-1926
EDWIN S. CRANDON, DDGM
JOHN W. CROOKS, Master of Revere
CURTIS GUILD, JR., Governor of Massachusetts
HOWARD K. SANDERSON, Master of Golden Fleece Lodge
EDMUND S. SPALDING, Lawyer, member of Wyoming Lodge
WILLIAM D. T. TREFRY, Deputy Grand Master
---
LINKS
Massachusetts Lodges