MOGMEMooney
From MasonicGenealogy
ELVIS A. MOONEY 1911-2009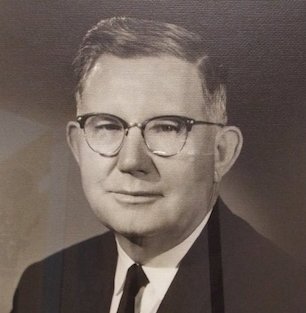 Picture courtesy of Missouri Lodge of Research Archive
Grand Master, 1968-1969
BIOGRAPHY
Elvis Mooney was born on May 10, 1911 at Bloomfield, Missouri to Alexander and Eva Mooney. After attending grade and high school in Bloomfield he earned his B.S. degree in Education from Southeast Missouri State College in 1934. From 1934 to 1940 he served as a teacher, principle and then superintendent of the Bloomfield High School. He resigned his position as Superintendent to enroll in the School of Law at the University of Missouri.
While in Law School, he entered the United States Military on November 2, 1942 and served as a member of the Naval Armed Guard in the capacity of a member of a gun crew on merchant ships, he was transferred to Submarine Chaser Training School, he was then assigned to the Western Pacific Command and before the end of the war, he was appointed a Commanding Officer of a naval supply ship serving the Western and Southwestern Pacific Theaters. At the time of his discharge in 1946, he held the rank of Lieutenant Senior Grade.
Returning to Law School he was granted a LL.B degree in June of 1948. He returned to Bloomfield in the capacity of a lawyer and in 1949 was elected Representative of Stoddard County to the General Assembly of Missouri, In 1951 he was elected Prosecuting Attorney of Stoddard County
Brother Mooney was raised in New Bloomfield Lodge No 153 in 1934 and served as Master in 1940. He served on the Jurisprudence Committee of the Grand Lodge, the Board of Directors of the Masonic Home and was appointed Grand Pursuivant in 1959 by Grand Master Grauel and elected Grand Master in 1968.
He was a member of the York Rite, the Scottish Rite, the Shrine and the Eastern Star.
Brother Mooney passed away March 16, 2009.
---