MAOtherBrothersO
From MasonicGenealogy
O1
O2
O3
OSGOOD, STEPHEN 1826-1911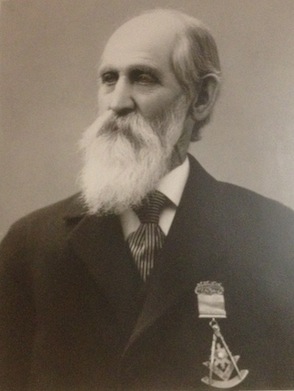 From Proceedings, Page 1911-115:
"STEPHEN OSGOOD, of Georgetown, was born in Salisbury, Mass.. Nov. 16, 1826, and died at his residence in Georgetown Aug. 11, 1911. At a very early age he shipped on a coastwise vessel and followed the sea for several years. In 1849 he made the journey to the gold fields of California, but soon returned, and was apprenticed to Samuel Plummer, of whom he learned the tailor's trade, which he followed for many years with great success.
"He was prominent in every department of local politics, having served as Selectman, Assessor and Overseer of the Poor of the town of Georgetown. He was for seven years a trustee of the Peabody Library a trustee of the Georgetown Savings Bank and a director and vice-president of the Georgetown National Bank. In 1871 he was a member of the House of Representatives of Massachusetts, and was a member of the Senate in 1879 and 1880. He was Postmaster in Georgetown from 1900 to 1904. Probably no citizen of Georgetown was more interested and active than Brother Osgood in all that went to make up the social, political and business life of the town. His wit was proverbial and he was a vocalist and musician of wide reputation.
"How passing beautiful that sleep
That gently falls upon the silvered brow of years,
And shuts the weary eyelids filled with tears,
And opens them no more to weep."
"Brother Osgood received the Masonic degrees in Merrimack Lodge, Haverhill, in 1863 became a member in 1866 and demitted Dec. 18, 1867, to organize and become the Master of Charles C. Dame Lodge, of Georgetown under Dispensation, April 5, 1868. He served as Master of said Lodge in 1868 and 1869. He was District Deputy Grand Master of the Sixth Masonic District in 1881 and 1882.
"Brother Osgood received the Capitular degrees in Pentucket R.A. Chapter in 1865 ; the Cryptic degrees in Haverhill Council in 1867, and the orders of Knighthood in Haverhill Cornmandery, K.T., in 1866.
"Brother Osgood's wife passed away several years ago, but he is survived by three sons, Louis K., Stephen and Charles C., the latter being a Past Master of Charles C. Dame Lodge and a Past Commander of Haverhill Commandery, and one daughter, Mrs. Charlotte O. Haskell, who for many years has presided over the home at Georgetown, where her constant devotion and faithful service made calm and comfortable the declining years of her aged parent.
"Brother Osgood's remains were buried in Harrnony Cemetery, Georgetown, Masonic services being held by Charles C. Dame Lodge."
---