MAOtherBrothersM
From MasonicGenealogy
MacGREGOR, FRED DAVIS 1866-1938
From Proceedings, Page 1938-151:
Right Worshipful Brother McGregor was born in Londonderry, New Hampshire, August 24, 1866, and died in Haverhill June 4, 1938.
Brother McGregor was educated in the Londonderry schools, Pinkerton Academy at Derry, and the Bryant and Stratton Business School at Manchester. He went to Haverhill in 1883 to seek employment, and found it in the shoe store of Bennett & Co. From this small beginning he rose to become recognized as Haverhill's first citizen. At the time of his death he was Treasurer of the Bennett & Co. Shoe Store, President of the Haverhill Savings Bank, President of the Haverhill Morris Plan Co., a Director of the Citizen's Co-operative Bank, and a Director of the Haverhill National Bank.
He served the city as a member of the Common Council, a member of the School Board, and as Mayor for two terms. Brother McGregor's interests were wide and varied. He was a leading member of the Universalist Church, which he served as Moderator for many years. There was hardly any movement - philanthropic, civic, or social, in the city which did not benefit by his sympathy and active participation.
He became a member of Saggahew Lodge in 1894, and was its Master in 1901 and 1902, and was District Deputy Grand Master for the Tenth Masonic District in 1911 and 1912, by appointment by Most Worshipful Dana J. Flanders. He was a Past High Priest of Pentucket Royal Arch Chapter, a Past Illustrious Master of Haverhill Council, Royal and Select Masters, a Past Commander of Haverhill Commandery, Knights Templar, a Past Thrice Potent Master of Merrimack Valley Lodge of Perfection, a Charter member of Merrimack Valley Council, Princes of Jerusalem, and a member of Mount Olivet Chapter of Rose Croix and Massachusetts Consistory. He was coronetted an Honorary Member of the Supreme Council, 33rd Degree, in 1912.
I cannot do better than quote the estimate of him given in a local newspaper - "His integrity and sincerity of purpose was never questioned. His home life was ideal, and his upright and Christian living an example for all to follow who cherish a good reputation. There wiil be a saddening vacancy in the clvic, business and fraternal circles where he moved that will daily accentuate the genuine sorow we who knew him best now feel as we prepare to say our last farewell to a great citizen and a true friend."
MacKENZIE, JUDSON C. 1851-1930
From Proceedings, Page 1930-278:
R.W. Bro. MacKenzie was born in Fall River June 3, 1851 and died in Fall River April 26, 1930. Bro. MacKenzie was educated in the Fall River schools and on graduation entered the employ of a shoe store. After a few years he left that line of work for the hay and grain business, in which he remained for the rest of his life.
He was entered in King Philip Lodge May 5, 1874, passed November 10, 1874, and raised December 22, 1874. He served his Lodge as Master in 1882 antl 1883. He served as District Deputy Grand Master for the then Twenty-sixth Masonic District in 1899 by appointment of M. W. Charles C. Hutchinson. Bro. MacKenzie's interest in Masonry was deep and wide leading him to the thirty-third degree and Honorary Membership in the Supreme Council of the Scottish Rite.
During the later years of his life he suffered much from ill health, and lived in close retirement in his home. He was a man of very genial and hearty character and made a host of friends.
MAGLATHLIN, EDWARD B. 1852-1916
From Proceedings, Page 1916-573:
R.W. Edward B. Magathlin was born in Duxbury, Mass., May 15, 1852 and died at his home in West Bridgewater, November 23, 1916.
After completing a public school education, he entered Antioch College in Yellow Springs, Ohio, and graduated in 1876. After a journey in Europe, he was elected principal of Partridge Academy, of Duxbury, remaining there five years. June 1, 1881, he was ordained to the Christian ministry, and was installed as pastor of the Unitarian Church at Harvard, Mass. In 1887 he accepted a call to the Unitarian Church at Westford, and in 1893 he was chosen as pastor of the First Parish in West Bridgewater.
R.W. Brother Maglathlin led a very busy life - preaching, teaching, and working in various religious and historical societies. He was a life member of the American Unitarian Association and of the Bridgewater Historical Society, of which he was Secretary ten years. He was Vice President of the Plymouth and Bay Conference; treasurer and past Master of West Bridgewater Grange; president of the Board of Trustees of the Howard Seminary, and chairman of the Public Library Trustees in West Bridgewater.
Of pleasing address, yet retiring disposition, he was earnest and devoted in whatever he undertook. Every duty received his best effort. This is eminently true of Masonry, to which he devoted his time and strength whenever and wherever desired. He received the Masonic degrees in Corner-Stone Lodge of Duxbuty in 1878; dimitted in 1892; and was elected an Honorary Member of that Lodge in 1903. He joined Paul Dean Lodge, of North Easton, in 1894, and served as its Worshipful Master in 1903 and 1904. He was District Deputy Grand Master of District Twenty-nine in 1911 and 1912. A faithful, devoted, earnest Brother has passed on to the reward of a humble Christian life.
MAHONEY, WILLIAM P. 1846-1906
Note: he took his first two degrees as King Hiram Lodge on Prince Edward Island.
From New England Craftsman, Vol. I, No. 7, April 1906, Page 235:
Brother Wm. P. Mahoney, aged sixty-two, died suddenly at his home in Newburyport, Mass., March 10. He was superintendent of the Bailey Hat Company of that city for ten years. Subsequently he was identified with the hat industry in Canada. He was a member of St. John's Lodge, King Cyrus Chapter and Newbury port Commanderv. K. T., and a thirty-second degree Mason. He leaves his wife.
MANN, CHARLES 1844-1905
From New England Craftsman, Vol. I, No. 2, November 1905, Page 68:
Brother Charles Mann died suddenly October 16, having been accidently struck on the head by a golf stick, the shock causing apoplexy. He was president of the Darrow-Mann Coal Co. Brother Mann was a member of Columbian Lodge, St. Andrew's Chapter, and Boston Commandery. He was widely known and extremly popular in social circles.
MANN, CHARLES F. 1869-1941
From Proceedings, Page 1941-194:
Brother Mann was born in East Bridgewater, Massachusetts, on April 12, !869, and died at Brockton on June 9, 1941.
After graduation at the East Bridgewater High School, and later at ihe Bryant and Stratton Commercial School, he entered the employ of ihe Carver Cotton Gin Co. of East Bridgewater as paymaster. In 1893 he was elected Treasurer of the East Bridgewater Savings Bank and continued in that position until his death. He was also an officer of the A. R. Parker Company and took an active part in the management of that Company.
Always interested in civic affairs, our Brother had served as Town Treasurer and on many of the town committees. Brother Mann was raised in Satucket Lodge Nov. 18, 1890 and seryed as Master in 1897 and 1898. Because of his outstanding work in that office, Most Worshipful Charles T. Gallagher, Grand Master, appointed him District Deputy Grand Master of the 24th Masonic District in 1900 and 1901, which office he filled with much credit to himself and the Fraternity.
He received the degrees in all of the York and Scottish Rite Bodies as follows: exalted in Harmony Royal Arch Chapter April 12, 1895, serving as High Priest in 1902 and as District Deputy Grand High Priest of the Seventh Capitular District in 1916 and 1917; greeted in Brockton Council, R. & S. M., December 17, 1903; knighted in Old Colony Commaldery, No. 15, K. T., August 12, 1895, of which body he was Eminent Commander in 1912-1914; received the degrees in the Scottish Rite Bodies in Boston in 1917 and had been District Representative of the Massachusetts Consistory for many years.
Funeral services were held at his late home on June 12, 1941, with committal at the Central Cemetery, East Bridgewater, by Satucket Lodge.
Brother Mann's place in civic and fraternal circles will be difficult to fiIl. His outstanding ability, combined with his inherent friendliness and courtesy, make his loss keenly felt by all privileged to know him.
MARBLE, ARTHUR D. 1853-1934
From Proceedings, Page 1934-79:
Right Worshipful Brother Marble was born in Hingham, April 10, 1853, and died there April 30, 1934.
He was of Mayflower ancestry and a descendant of one of the first settlers in Hingham, On his graduation from Derby Academy, where he was the class valedictorian, he entered the employ of S. L. Minot, a prominent Boston civil engineer. Three years later he moved to Lawrence to take a position as assistant to the City Engineer. A year later he was elected City Engineer of Lawrence and held that office forty-five years. On his retirement he returned to Hingham, where he spent the remainder of his life. His departure from Lawrence was marked by a testimonial dinner rendered him by a notable array of representative citizens of Lawrence in recognition of his distinguished service and outstanding private character.
He had strong literary tastes and was a frequent writer on local historical and biographical themes. He was a Trustee of the Lawrence Public Library and, later, of the Hingham Public Library, serving for a time as its Librarian. He was a member of the Hingham Historical Society and of the Lawrence Natural History Society.
His hobby was flowers. He studied them with loving care. Having marked artistic ability, he made an extensive and valuable collection of water-color illustrations of flowers, one of the finest known. This collection he bequeathed to the Boston Public Library.
Brother Marble took his Masonic degrees in Grecian Lodge in 1892 and was its Master in 1901 and 1902. He served as District Deputy Grand Master for the Eleventh Masonic District in 1912 and 1913, by appointment by M.W. Everett C. Benton.
He was a member of Mt. Sinai Royal Arch Chapter and of Bethany Commandery of Knights Templar. His was a very beautiful and useful life. The scientific and administrative tasks of his active life were diversified by his literary pursuits and lightened by his love of beauty, as shown in the study ofhis beloved flowers and his affectionate devotion in fixing their loveliness in beautiful paintings. The world needs such men and has all too few of them. The years of his life were many; but from the standpoint of loving and mourning friends they were all too few.
MARDEN, OSCAR A. 1852-1932
From Proceedings, Page 1932-147:
Brother Marden was born in Palermo, Maine, August 20, 1852, and died at his summer home in Stoughton August 27, 1932. He was educated at Westbrook Seminary and Boston University, from which he received the degree of Bachelor of Laws in 1876. He began the practice of law in Boston and soon after opened an office in Stoughton, dividing his activities between the two places. He was appointed a trial justice of Norfolk County and later, in 1891, he was appointed judge of the District Court of Southern Norfolk. He held this position up to the time of his death.
Brother Marden took his degrees in Rising Star Lodge in 1895. He was Master in 1904 and 1905, and served as District Deputy Grand Master for the Twenty-second Masonic District in 1907 and 1908 by appointment of M. W. John Albert Blake.
R. W. Brother Marden retained an active interest in Masonry so long as his health permitted. He was a familiar figure in the Board of Masonic Relief, where he long represented his Lodge.
R. W. Brother Marden was a faithful and conscientious lawyer and judge, a useful and public-spirited citizen, and kindly as well as just in all his personal relations. Such men as he are ornaments to our Craft and we are all poorer when one of them goes to his reward.
MARSH, GEORGE S. 1858-1932
From Proceedings, Page 1932-205:
Brother Marsh was born in Hingham, February 18, 1858, and died there November 8, 1932.
Brother Marsh was educated in the Hingham public schools and began his active life as an optician. He was later Treasurer of the Hingham Co-operative Bank and one of the Trustees of the Hingham Institution for Savings. He was a leader in the civic affairs of his community, serving as Postmaster, Selectman, Assessor, and for three years Representative in the State Legislature.
Brother Marsh became a member of Old Colony Lodge in 1882 and was its Master in 1893. He was later its Secretary for a considerable number of years. He was District Deputy Grand Master for the Twenty-fifth Masonic District in 1902 and 1903, by appointment of Most Worshipful Charles T. Gallagher and Most Worshipful Baalis Sanford.
Brother Marsh showed in Masonry those same qualities of dependable leadership which made him so prominent in his community. He was always one to whom his Brethren could look with confidence, and their trust was never found to be misplaced. He will be much missed, and is deeply mourned.
MARSTON, JONATHAN M. 1804-1857
MM 1847, Pentucket
Charter Member of Ancient York Lodge
From Moore's Freemason's Monthly, Vol. XVI, No. 6, March 185, Page 189:
John M. Marston, a well known and respected citizen of Lowell, died last night at his residence in that city, after a brief illness, from pleurisy and fever. Capt. Marston had a noble heart and generous disposition, and during a long residence in Lowell, by many and oft repeated unostentatious acts of kindness and friendship to the poor and needy, won the esteem of a host of his fellow-citizens, by whom, his sudden decease will be lamented. He was about fifty-three years of age, and leaves a family of five children to mourn the loss of an affectionate and indulgent parent.
MARTIN, ALBERT H. 1876-1921
From Proceedings, Page 1921-43:
R.W. AIBERT H. MARTIN was born in Foxboro, Mass., September 29, 1876, and died in Franklin, Mass., January 30, 1921. He was at his office on Saturday, January 29, but passed away suddenly on the next day. He attended the public schools in his native town, and after graduating from thd High Schoot in the class of 1894 he entered the Law School of Boston University, compieting a three years course in two years. In 1898 he returned to Franklin, where his parents had previously settled, and entered the law office of ex-Judge George W. Wiggin. He was soon admitted to the Massachusetts bar, opened a law office in Franklin, and had a very successful practice.
Following the death of the tax collector of Franklin in 1910, Bro. Martin was elected. to succeed him, and a year later, upon the death of the town treasurer, Bro. Martin was chosen to act as town treasurer. Bro. Martin was elected annually to both of these positions and held them both at the time of his decease. Hil ability as a title examiner and conveyancer was recognized and in that branch of the legal profession his services were constantly sought.
Bro. Martin was a Trustee of the Benjamin Franklin Savings Bank, a member of the Ray Memorial Association of the First Baptist Church, of the Norfolk County Bar Association, and auditor of the Young Men's Christian Association in Franklin.
Bro. Martin received the Masonic degrees in Excelsior Lodge A.F. & A.M., of Franklin; was Worshipful Master in 1900 and 1901, and was Distriet Deputy Grand Master for the Twenty-second Masonic District in 1918 and 1919. He was also a member and Past High Priest of Miller Royal Arch Chapter and a member of Milford Commandery, K.T. He was a very zealous Mason, very active in the work of the Lodge and deeply interested in all matters eoncerning the welfare of Freemasonry.
The funeral services, held in the Baptist Church, wer€ in charge of Excelsior Lodge. Rev. Mr. Johnson, the eulogist, characterized Bro. Martin's "life as possessing in a marked degree, character, integrity, ability, and service, standing 'four square', and fully meeting every test to which he was subjected, affirming that such a life could not fail to leave an impress upon the community." The town of Franklin will miss his efficient and tireless labor. His wife and three sons survive him, also his mother and a brother, who have the fraternal sympathy of all those who knew the worth and influence of Bro. Martin's life.
MARTIN, DAVID LORENZO 1874-1945
From Proceedings, Page 1945-426:
Brother Martin was born in Wesley, Pennsylvania, on June 7, 1874, and died at his home in Dorchester, Massachusetts; on December 6, 1945.
After graduation from Grove City College, Pennsylvania, he attended Boston University School of Theology and was ordained into the ministry in 1891. In 1909 he was graduated from the Boston University School of Medicine and served his church as a minister and the public as a physician until his death. During World War I he served in the Army Medical Corps, and later at a rehabilitation hospital in Carlisle, Pennsylvania, retiring with the rank of Major. Since 1935, he has served as Pastor of the First Church in Squantum, Congregational.
He was raised in Lafayette Lodge of Roxbury on January 14, 1907, and long served as Chaplain. He affiliated with St. John's Lodge of Boston on January 3, 1921, dimitting on December 1, 1924. He affiliated with Rabboni Lodge of Dorchester on February 18, 1932, and served as Master in 1941. He was Chaplain of Rabboni Lodge at the time of his death.
He was exalted in Mount Vernon Chapter, R.A.M., on April 1, 1920, and continued his membership until his passing. He was a member of the Scottish Rite Bodies of Boston, receiving the degrees in April of 1939.
He served as District Deputy Grand Master for the Fourth (Dorchester) Masonic District in 1943 and 1944 by appointment of Most Worshipful Albert A. Schaefer and Most Worshipful Arthur W. Coolidge. A few weeks prior to his death, he was awarded the Distinguished Service Medal by Most Worshipful Samuel H. Wragg.
Brother Martin was one of those men whose personality and love of service endeared him to all with whom he labored. His death is a distinct shock to his many friends because of his recent seeming improvement in health.
Funeral services were held in the First Church in Squantum, followed by Masonic burial services by Lafayette and Rabboni Lodges.
"Thy day has come, not gone;
Thy sun has risen, not set:
Thy life is now beyond
The reach of death or change,
Not ended, but begun.
O noble soul, O gentle heart,
Hail and Farewell!"
MARTIN, EDWARD C. 1841-1912
From Proceedings, Page 1912-96:
R.W, EDWARD C. MARTIN was born in Baden, Germany, April 14, 1841, and died in Attleboro, Mass., June 2, 1912. He came to America with his parents in 1843. They located in New York. In 1846 the family came to North Attleboro, where Brother Martin learned the jewelry trade; and afterward. for a number of years lived in Providence, R. I. In 1909, age and eyesight compelled him to give up his daily toil. Subsequently he took charge of the Masonic Apartments and devoted his time to the interests of the Fraternity in his adopted town.
In 1861 he enlisted in the First Rhode Island Detached Militia. The day following President Lincoln's proclamation Brother Martin enlisted for three months. His regiment was one of the earliest to reach the Capitol. He was discharged Aug. 11, 1861, and for several months was engaged in the recruiting service. He re-enlisted in the First Rhode Island Cavalry, which was assigned to the Army of the Potomac, and by faithful service he rose to the rank of Second Lieutenant. He was actively engaged in the battles in Virginia until taken prisoner at Middleburg and was confined in Libby Prison. After his exchange he returned to his regiment; followed Sheridan in the Valley Campaign until the close of the war. He early became a member of Prescott Post, G.A.R., of Providence, and was a charter member of William A. Streeter Post, G.S.R., of Attleboro, of which he was a commander.
Brother Martin received the Masonic degrees in St. John's Lodge, No. 1, of Providence, R. I., in 1866. He demitted and joined Ezekiel Bates Lodge, of Attleboro, Jan. 9, 1884. In the latter, after filling the position of Junior and Senior Warden, he served as Wor. Master from November, 1886, to November, 1888. He served as District Deputy Grand Master of the Twenty-third Masonic District in 1907 and 1908. During his active Masonic career he also held the positions of High Priest of King Hiram Chapter, Thrice Illustrious Master of Attleboro Council, R. & S.M., and Eminent Commander of Bristol Commandery, K.T., No. 29. In all these offices he was efficient, faithful, and zealous. Brother Martin is a notable example of the courage and loyalty of our foreign-born citizens.
He was Senior Warden of All Saints Church, in which funeral services were held June 5 in the presence of a very large congregation of mourners and friends of the deceased; a eulogy being pronounced by Rev. Bro. R. J. Mooney, Rector. Masonic services were held at the grave by Ezekiel Bates Lodge, all the Masonic bodies being officially represented, the William A. Streeter Post, G.A.R., acting as escort.
Thus closed the earthly career of a Brother, respected by his fellow citizens, beloved by the Fraternity, honored by neighbors and friends. He was faithful to his obligations and loyal to his adopted home, and leaves a memory fragrant with Christian living and Christian work.
MASON, JOSEPH B. 1836-1905
MM 1866, WM 1875, 1876, Revere
Grand Pursuivant 1886
Junior Grand Deacon 1887-1889
From New England Craftsman, Vol. I, No. 2, November 1905, Page 68:
Brother Joseph B. Mason died in Brighton, Mass , October 14. He was a Past Master of Revere Lodge, member of St. Andrew's R. A. Chapter, Boston Lafayette Lodge of Perfection, Past Em. Commander of De Molay Commandery K. T., member of the Grand Commandery of Mass. and R. I., one of the founders of the Muss. Union of Knights Templars Commanders, also an honorary member of St. Paul Lodge of Ayer, Mass.
He has been a faithful worker in all the positions he has occupied.
MASON, THOMAS C. d. 1864
From Moore's Freemason's Monthly, Vol. XXIII, No. 8, June 1864, Page 256:
We regret to learn that Br. Thomas C. Mason, a member of John Hancock Lodge, at Lawrence, in this State, was killed in one of the recent battles in Virginia. He was a Corporal in Company B., Mass. Heavy Artillery.
MATHEWSON, WILLIAM WATSON 1868-1947
From Proceedings, Page 1947-368:
Brother Mathewson was born in Troy, New York, on November 10, 1868, and died at his home in Millers Falls, Massachusetts, on October 29, 1947.
He attended the public schools of Troy and then learned the trade of a molder. In the year 1900, he removed to Millers Falls and entered the employ of the Millers Falls Company with whom he remained until his retirement in 1939.
He was raised in Bay State Lodge on February 10, 1902, and served as Worshipful Master in the years 1907 and 1908. He served as District Deputy Grand Master of the Fourteenth Masonic District in 1919 and 1920, by appointment of Most Worshipful Grand Masters Leon M. Abbott and Arthur D. Prince.
His activity in the York and Scottish Rites is shown by the following offices held by him:
High Priest, Franklin Royal Arch Chapter
Illustrious Master, Titus Strong Council, R. & S.M.
Eminent Commander, Connecticut Valley Commandery No. 23
Thrice Potent Master, Greenfield Lodge of Perfection
Sovereign Prince, Greenfield Council, Princes of Jerusalem
Most Wise Master, Greenfield Chapter of Rose Croix
He received the 32nd Degree in Massachusetts Consistory on February 23, 1917, and was coronetted an Honorary Member of the Supreme Council, Thirty-third Degree, on September 20, 1921.
Brother Mathewson was a keen student of the ritual and served as Instructor in Bay State Lodge as long as his health would permit. In spite of his many activities in the York and Scottish Rites, he was a faithful attendant at his Lodge and was always ready to serve in whatever capacity help was needed.
Funeral services were held at his late home on Friday, October 31, 1947, with interment at Highland Cemetery in Millers Falls.
We shall miss our Brother, his cheery, kindly personality, for to know him was to respect and love him. We shall ever cherish his memory.
MAWDSLEY, JONATHAN 1721-1795
From the Bulletin of the Newport Historical Society, Vol. 97, July 1936, in an article about Mawdsley House,
Born in England in 1721, he came to Newport in early manhood and married here in 1747 Sarah Clarke, descendant of one of Rhode Island's early governors, Walter Clarke. Captain Mawdsley was a man of energy and enterprise, a merchant of irreproachable character, (said to have been commander of a privateer,) and through his extensive commercial affairs acquired a large fortune. He was engaged in many ventures on the sea, and also was concerned in the refinement of spermaceti, of which Newport at this time had a monopoly, and since in 1770 he was appointed "Inspector of Lighthouses", he may he considered to have been an expert on the subject.
The Captain interested himself in all the affairs of Newport; he aided in the erection of Mason's Hall, where any Royal governor who should pass through the country might be entertained; was churchwarden and vestryman of old Trinity Church and became a Director of the Redwood Library. In 1767 he was elected Governor's Assistant, the highest honor that his townsmen could pay; "Evincing their opinion of him as an upright worthy citizen".
Captain John Mawdsley was "possessed of Ease and Affluence" says a contemporary account. "Hospitality and urbanity marked his steps! The Stranger participated of his bounty and the blessing of the poor rested on his head. No man's table was surrounded with a greater number of friends! No one shared more fully the smiles of adulation."
It is pleasant to picture the beautiful panelled parlor in the old house, gay, beneath the soft gleam of wax candles, with the fine imported gowns of Colonial belles and the velvets and laces of their attendant cavaliers, as Captain Mawdsley and his lady do the honors of the occasion. Down the quaint little flights of steps leading to the ancient kitchen in the rear, must have come many a tray laden with old Madeira, and the delicate small cakes so dear to the hearts of all good housewives.
Newport was at this time a successful and enterprising town, and her solid citizens denied themselves none of the amenities practiced by eighteenth century gentry everywhere. Trade was thriving, friends were social, and the ladies of the little provincial capital have left a tradition of charm and beauty that is still remembered.
Newport's days of prosperity, were now, however, rapidly drawing to a close. The colonies were becoming more and more estranged from the mother country John Mawdsley seems to have done his best for all parties.—In January 1774, he was one of the "gentlemen of a committee", which included William Ellery, the Signer; Colonel Joseph Wanton; John Collins and Henry Ward, all of them prominent men. This committee was instructed by the Town Meeting to wait on the importers of English goods in the town, and inform them that no tea might be brought to land, while subject to a duty, since the country had not agreed to any such taxation. That he was willing to act on this committee shows that Captain Mawdsley sympathized with the position of the colonies in this respect, and approved of the "virtuous and steady opposition" which they proposed to this attack upon the liberties of America, as they considered it.
The repeal of the hated Stamp Act was hailed with joy by those who believed it would smooth away all difficulties. On the anniversary of this "glorious event", March 1768, many gentlemen assembled in different parts of the town, spending the day in decent festivities;—among these was Captain Mawdsley, who politely entertained a number of friends, when "the glass circulated in honor to the British and American patriots".
There was but little further cause of rejoicing for the merchant. Revolution drawing near, in 1776 Captain Wallace threatened the town with bombardment. Mawdsley was one of a committee sent to appease the angry Briton with Beef and Beer. He seems to have apprehended real danger, since later during Count d'Estaing's attempt to take the town, when great guns thundered, he had the Oil-house, next his dwelling, in readiness as a place of refuge for his neighbors. One shot actually lodged in the wall above their heads, but without doing damage.
The English occupation of Newport ended in 1779, and most of the Newport Tories accompanied the fleet to New York. John Mawdsley had "determined to continue in the town, and convince his fellow citizens that no just reproach could be thrown upon him;— but through compulsion and necessity was obliged to go", with the rest. As a result his property was ordered confiscated, but in 1783, on petition of divers inhabitants of the State, he was re-instated in citizenship and his lands returned to him.
It was too late, however, for a man over sixty years of age to repair his shattered fortunes. His ships lost, the commerce of Newport at a standstill, it appeared that Captain Mawdsley "was left to the Recollection, without the Fruits, of his wonted Liberality". Still, however, "a sociable and agreeable companion", he lived to the age of seventy-three, encouraged and aided by the Free Masons and the Members of the Marine Society, wliose assistance he had so fully earned, in the days of his prosperity.
. . . As has been said, John Mawdsley returned to Newport and died in 1795. His second wife and but three of his fourteen children survived him.
MAY, ERNEST 1879-1947
From Proceedings, Page 1947-369:
Brother May was born in Dedham on August 21, 1879, and died at his home in Norwood on November 19, 1947.
After graduation from the public schools of Norwood, he entered the employ of the Plimpton Press to learn the trade of bookbinding, and remained with that Company for almost twenty-five years. He then took a course in embalming, established his own business as an undertaker, and thus continued until his death.
He was raised in Orient Lodge on March 19, 1923, and served as Worshipful Master in the years 1933 and 1934. During the years of 1943 and 1944, he served as District Deputy Grand Master for the Twenty-fifth Masonic District, by appointments of Most Worshipful Grand Masters Albert A. Schaefer and Arthur W. Coolidge.
His Masonic activities included membership in Hebron Royal Arch Chapter, Temple Commandery, K.T., Hyde Park Council, R. & S.M., and the Scottish Rite Bodies of Boston. He was also active in the following bodies: Norwood Chamber of Commerce, Sons of Union Veterans, Massachusetts Funeral Directors Association, First Congregational Church of Norwood, Tiot Lodge of Odd Fellows, and Norwood Rotary Club.
Freemasonry, particularly in Orient lodge and the Twenty-fifth Masonic District, has lost an active and faithful member in the passing of Ernest May.
Funeral services were held in the First Congregational Chqrch in Norwood on Friday, Noyember 23, and were conducted by Brother Reverend William F. English, Chaplain of Orient Lodge. The large attendance of Brethren and fellow-townsmen attested the very high regard in which Brother May was held.
MAYNARD, ELISHA BURR 1842-1906
From New England Craftsman, Vol. I, No. 9, July 1906, Page 400:
Hon. Elisha B. Maynard, associate justice of the Superior Court, died in Springfield Mass., May 28. Elisha Burr Maynard was born in Wilbraham Nov. 21, 1842. He worked his way into college and entered Dartmouth in 1863 and was graduated in 1867 with high honors, having spent his junior year at Amherst.
On leaving college he entered the law office of George M. Stearns and Marcus F. Knowlton of Springfield, and in 1868 was admitted in the bar..
In June, 1891, Governor Russell appointed him justice of the Superior Court of Massachusetts.
Judge Maynard achieved a wide reputation as an able, honest and upright lawyer and advocate. In the general practice of his profession he acquired a large business and rapidly rose to a foremost place at the bar.
He was a member of the Springfield City Council in 1872 and 1873, and was also a member of the school committee in 1892 to 1898. In 1879 he was a representative to the General Court. He was mayor of Springfield in 1887 and 1888.
He aided in founding aud was a trustee of the Springfield Industrial and Technological Institute; he was a trustee of the Springfield Hospital and Old Men's Home and vice president of the Dartmouth Alumni Association of Central Massachusetts, lie was a Knight Templar and a member of the Winthrop Club and the University Club of Boston.
From Biographical History of Massachusetts, Vol. 2:
ELISHA BURR MAYNARD, justice of the court of Massachusetts, was born in Wilbraham, Hampden County, Massachusetts, November 21, 1842, and died at his home in Springfield, May 28, 1906. His father, Walter Maynard, was a farmer, a member of the City Council of Springfield, a man of progress, brimful of good-nature and always ready to give a helping hand. His mother, Hannah (Burr) Maynard, was the daughter of Elisha and Hannah (Larned) Burr, and his grandparents on both sides were of the best New England stock, including many representative families. Elisha Burr Maynard was brought up in the country until fourteen years old, when his father removed to a farm on the outskirts of the city of Springfield. He attended school winters and worked on the farm summers, this work including driving a milk cart, and marketing in the city the produce from the farm. In speaking of his life at this time he says: "The steady work and my reliance upon myself, to a great extent, in obtaining my education, added much to my success in later years. When it was decided that I was to attend college, that being the special desire of my mother, it was arranged that I should work one half a day on the farm, the remainder of the day to be devoted to study preparatory to entering college. My instructor was Marcus P. Knowlton, subsequently Chief-Justice of the Supreme Judicial Court of Massachusetts. I also taught country schools five winters during this period, boarding around the first two, and I taught night school three winters during my college course. The most satisfactory suit of clothes I ever had I obtained by picking up chips and trading them with a clothes dealer for a suit. In my college education I helped myself so far as I could, and beyond that, my parents did all that could be desired to help me." His reading that he found most beneficial in fitting him for his life-work, aside from those books pertaining to his possession, he names in order: biography, history and classical English. Being prepared to enter college, he matriculated at Dartmouth and was graduated A.B. in the class of 1867. He then studied law in the office of Stearns & Knowlton, the junion partner of the law firm being his former tutor, and he was admitted to the bar upon examination in 1868. He opened a law office in Springfield, and his progress at the bar was such as would be expected from a man of so thorough a preparation and he was soon recognized as a leading spirit in the community. He was a member of the City Council, 1871-72, a representative in the General Court of Massachusetts, 1879; mayor of Springfield, 1887 and 1888; member at large of the Springfield school board six years, between 1891 and 1898, and on June 30, 1891, he was appointed a Justice of the Superior Court of Massachusett He was married August 25, 1870, to Kate Carol Doty, who died April 4, 1889, leaving three children, seven having been born of the marriage. He was married secondly, July 19, 1893, to Luella Eliza Fay, of Springfield. He was brought up a Baptist in religious belief, but when he married, his wife being a member of the Congregational denomination he attended that church with her, and their children were brought up in that church. In political faith he has always been a Democrat. He is a member of the Winthrop, Historical and Reality Clubs of Springfield, the Mayors and Dartmouth Clubs of Boston, the Western Massachusetts Dartmouth Club and he is affiliated with the Springfield Commandery of Knights Templars. He found inspiration to strive for higher positions in his profession through reading the lives of leading men, and the ambition instilled by the precepts of his mother who was characterized by him: "a model mother." In speaking to young men he says: "I have tried in my private, social and professional life to be courteous to every one; to do well whatever has been entrusted to my care; to be honest and fair with whomsoever I have had to deal, my opponents as well as my clients. In my judgment a young man who starts out in life with a purpose to make the most of himself, to lead an upright life, to respect the rights and feelings of his fellow men and to be industrious along the line he has adopted for his life-work, will be sure of the confidence and respect of his fellows and will round out a life of more than fair success."
McCLELLAN, JOHN 1813-1878
From Proceedings, Page 1878-162:
Resolved, That the Grand Lodge of Free and Accepted Masons of Massachusetts, with a unanimous expression of grief, deplores the loss of its worthy Brother, John McClellan, Esq., of Boston, who departed this life Sept. 29, 1878, after a protracted illness. For the last seventeen years Brother McClellan had been annually elected Treasurer of this Grand Lodge, and had performed the duties of the office to the entire contentment of the Fraternity. The statement of this fact renders it almost useless to say that his integrity, punctuality, courtesy, and right-minded ability commanded the respect and confidence of this Grand Lodge.
In other positions held in this Grand Lodge, and in various other cognate Masonic institutions, during over thirty-three years, our departed Brother had won the love and affection of the Brethren by the zeal and intelligence with which he pursued the benevolent purposes of the Fraternity, and the stability which his firm character gave to his Masonic work. This Grand Lodge bears further witness to the amiable and kindly qualities which adorned the heart of our departed Brother, and which the Fraternity often honored by placing him on its Committees of Charity and Boards of Masonic Relief.
In private life, whether in the domestic circle or in business, the like qualities of the heart and soundness of judgment marked his conduct, and won the esteem of those who knew him best.
Resolved, That the Recording Grand Secretary be directed to spread upon the records this testimonial of our esteem and sorrow, and that he furnish the family of the deceased with a copy of these resolutions.
For the Committee,
CHAS. LEVI WOODBURY.
Junior Grand Steward 1855, Grand Sword Bearer 1856, Senior Grand Deacon 1860, Grand Treasurer 1861-1878
McDONALD, JOSEPH S. 1872-1940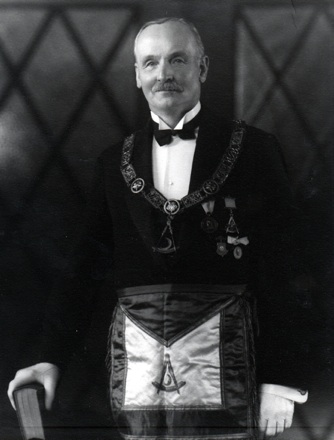 From Proceedings, Page 1940-319:
Brother McDonald was born in Lota, Chile, June 22, 1872, and died in Valparaiso, June 24, 1940.
By profession he was an engineer, and was closely associated with the development of the railroads of Chile. His Masonic record shows a deep interest in the Craft, and is unique. He was raised in Bethesda Lodge, Valparaiso, October 2, 1893, and he served as Senior Deacon in 1894-1895. Due to change of residence in 1897, he dimitted from Bethesda Lodge and affiliated with Saint John's of Concepción. He served as Master of this Lodge four times: 1898-1901; 1904-1905; 1907-1908; 1918-1920. In 1910, he affiliated with Saint John's Lodge No. 616, Scottish Constitution, at Coquimbo, Chile, and served as Master 1911-1914. ln 1922, he re-affiliated with Bethesda Lodge, Valparaiso, and served as Master 1925-1926.
He was appointed District Deputy Grand Master of the Chile District in 1926 by Most Worshipful Frank L. Simpson, and served in that position until his death.
In addition to his activities. in Craft Masonry, he took an active interest in the Capitular Degrees, and served as High Priest of King Cyrus Chapter No. 1 of Valparaiso in 1931. He was awarded the Henry Price Medal in 7926.
Right Worshipful Brother McDonald endeared himself to a host of friends by his quiet yet pleasing personality and his deep interest in the welfare of his associates. Because of his keen and active interest in Masonry, and his fine judgment, based on long Masonic experience, he will be greatly missed by the Craft in Chile, His life will be an inspiration to those left behind who must carry on.
McMASTER, LAUREN LESLIE 1881-1943
From Proceedings, Page 1943-166:
Brother McMaster was born in Wakefield, Massachusetts, on July 4, 1881, and died there on October 10, 1943,as the result of an automobile accident.
He attended the public schools of Wakefield and later, in 1904, graduated from Brown University. For the next few years he was employed in the wholesale dry goods business, and lived in Chelsea until the loss of his home in the great conflagration in 1908. He then returned to Wakefield and became issociated with the leading news and periodical store, becoming the owner in 1915 and continuing as such until 1933. He then became rhe manager of the local office of the Western Union Telegraph Company, remaining there until April, 1943, when he became associated with the Malden and Melrose Gas Light Company.
He was very active in civic, business and fraternal orginizations, serving on the Board of Selectmen as Chairman in 1921, as an organizer and first president of the Wakefield Chamber of Commerce, and for many years was active in the Rotary Club, Baptist Church and Y.M.C.A.
He was raised in Star of Bethlehem Lodge of Chelsea on June 21, 1911, dimitting in 1913 and affiliating with Golden Rule Lodge in the same year. He served as Master of the latter Lodge in 1929.
He was District Deputy Grand Master of the (Melrose) 7th District in 1931 and 1932, by appointments of Most Worshipful Brothers Herbert W. Dean and Curtis Chipman. He was the first Master of the 35th Lodge of Instruction and was its strong supporter until his death. Much of the success of that Lodge was due to his active work and deep interest. For some years he was an active member of the Grand Lodge Committee on Education.
He was a Past Commander of Hugh de Payens Commandery, K.T., also the Prelate, and the rites of that Body were conducted at his grave. Funeral services were held in the Baptist Church, Wakefield, on October 13, 1943, and the large attendance and beautiful foral tributes testify to the high esteem in which he was held.
The closing words of Brother Reverend Ralph J. Bertholf, Pastor of the Baptist Church, at the funeral services beautifully express the thoughts of those who knew and loved Brother McMaster:
"With profound gratitude we acknowledge the richness of his character. In love and sympathy we pay our tribute. We have all profited by his life and good works. Like his immortal soul, they will never die. They have become part of the collective goodwill of our community and our wodd. He has joined the Choir Invisible -

"Of those immortal dead who live again
In minds made better by their presence; live
In Pulses stirred to generosity,
In deeds of daring rectitude, in scorn
For their miserable aims that end with self,
In thoughts sublime that pierce the night like stars,
And with their mild persistence urge men's search
To vaster issues.
He has joined the Choir Invisible
Whose music is the gladness of the world."
MERRILL, MORTON B. 1840-1918
From Proceedings, Page 1918-272:
R. W. MORTON B. MERRILL was born in Amesbury, Mass., August 12, 1840, and died in that town June 19, 1918.
After attending the local public schools he learned the trade of carriage trimmer and most of his life was spent as a supcrintendent of that department in some of the largest carriage manufactories in Amesbury. His great-grandfather was Col. Isaac Merrill who commanded a regiment of Minute Men at the battle of Bunker Hill.
Brother Merrill received his first Masonic light in Warren Lodge, of Amesbury, in 1863, and from that time until his death he was a zealous worker in the interests of the Fraternity.
In 1868 and 1869 he was the leading spirit in the formation of Bethany Lodge, of Merrimac, and was its first Master, serving for three years. He was District Deputy Grand Master of the Ninth Masonic District in 1883.
In 1864 he received the Capitular Degrees in North Hampton (N. H.) Chapter of Royal Arch Masons. He joined Trinity Chapter, of Amesbury, in 1873 and was its High Priest in 1878, 1879, and 1880. He joined Haverhill Council of Royal and Select Masters in 1871, was active in the formation of Amesbury Council in 1889, and was its Thrice Illustrious Master in 1891. Having received the Orders of Knighthood in Haverhill Commandery, Knights Templars, in 1871, he demitted and joined Newburyport Commandery, Knights Templars, in 1906. In 1884 he reeeived the 32° in Massachusetts Consistory.
October 4, 1863, he married Miss Sarah P. Martin of Amesbury, who survives to mourn the loss of a very devoted husband.
Brother Merrill possessed neither material wealth nor collegiate edueation but he did possess what money cannot buy - sterling qualities of character, strength for the right, zeal for the truth, which, united with his genial nature, won for him a host of friends wherever he was known. Upon the Lodges before mentioned he left the impress of his zeal, fidelity, and influence, and his name and memory rvill be fondly cherished by them.
His abiding interest in Masonry and his care for the future of the Order and of the Brethren are evinced by the fact that out of an estate by no means large he left a legacy of one thousand dollars to the Grand Lodge charities.
MESSINGER, JAMES ALFRED 1837-1907
From Proceedings, Page 1907-19:
W. James Alfred Messinger, of Taunton, was born in Norton, Mass., in October, 1837, and died at his residence in Taunton, Feb. 21, 1907. For twenty-five years he was in the employ of M. M. Rhodes & Sons, and for the last ten years of his active life was employed by the Taunton Iron Works.
Brother Messinger received the Masonic degrees in King David Lodge, of which he was Secretary for several years, and Master in 1883. He was a Grand Steward of this Grand Lodge four years, and was District Deputy Grand Master of the Twenty-third Masonic District in 1890, 1891 and 1892.
Brother Messinger was a person of the strictest integrity, deeply interested. in all that concerned our Fraternity, and by his genial ways won the affection of the Brotherhood.
MICK, JOHN JAY 1902-1988
From TROWEL, Spring 1989, Page 12:
Affectionately known by Greater Boston members of the Craft as "Mr. Mason," Wor. John Mick died at his Arlington home last April. His passing at age 86 was followed in only a few months by his wife, Arva. The couple had been wed 52 years and are survived by sons Jay and Jeffrey, and daughter Diana. Recognized as a fierce champion of Masonry throughout his life, Bro. John fully understood the summit of human knowledge and our duty to God and man.
Born is Lisbon, OH, in 1902 and educated in that city and at the Univ. of Cincinnati, he came to New England in 1927 following his college graduation. A chemical engineer, he worked 40 years for B.F. Goodrich Co, in Watertown. With an early inclination toward the Craft, he was initiated in Maywood Lodge No. 869 in Maywood, IL, in 1927. Crafted in the same Lodge, Bro. Mick came to Boston where he was raised in 1928 in Columbian Lodge as a courtesy candidate. Bro. Sid Abbott of Columbian Lodge and retired curator at the Ancient and Honorable Artillery Co. of Boston, had worked one of the gates.
An affiliate of Brookline Lodge in 1942, Bro. John presided in the East in 1951 and again in 1983 when that Lodge was merged to form Norumbega and Brookline Lodge. In 1967, M. W. Thomas A. Booth presented him with the Joseph Warren Distinguished Service Medal.
Exalted in St. Paul's R. A. Chapter in 1931, he served as High Priest in 1943. He was an affiliate of St. Andrew's Chapter and, at age 75, also served as their High Priest. Presented the Paul Revere Distinguished Service Medal in 1952, he was a D. D. Grand High Priest and, in 1968, was elected Grand Scribe. He was also Grand Representative to California. Greeted in Boston Council in 1943, he served as Illustrious Master in 1945 and also served two years as Recorder. Knighted in DeMolay Commandery No. 7 in Boston in 1942, he served as Commander in 1946 and held honorary membership in six other Commanderies. Holder of the York Cross of Honour in Massachusetts Priory, he was Grand Warden in 1960 and Grand Representative to Utah for 20 years.
A member of Aleppo Temple, A. A. O. N. M. S., since 1942, Bro. John had served on the Board of Governors of I the Shriner's Burns Institute in Boston, and with Boston Court 103, Royal Order of Jesters. He was a holder of the Robert Gardiner Wilson, Jr., Distinguished Service Medal. A 33rd Degree Mason since 1972, Bro. Mick entered Scottish Rite Masonry in 1949 in the Valley of Boston. The Mass. Council of Deliberation had honored him with its Meritorious Service Award. He and Mrs. Mick were members of Belmont United Methodist Church.
MONTAGUE, DAVID THOMPSON 1864-1945
From Proceedings, Page 1945-424:
Brother Montague was born at Bridgewater, Vermont, on April 2, 1864, and died in Wakefield, Massachusetts, on October 18, 1945.
He was raised in Simon W. Robinson Lodge of Lexington on April 8, 1889, and dimitted on January 13, 1896. He affiliated with that Lodge again on May 11, 1908, and continued his membership there until his death. On March 2, 1896, he affiliated with St. John's Lodge of Boston, serving as Master in 1906 and 1907, and ever maintained an active interest in the affairs of the Lodge.
He served as District Deputy Grand Master for the First Masonic District in 1914 and 1915 by appointment of Most Worshipful Melvin M. Johnson. In 1939 he was awarded a Masonic Veteran's Medal for fifty years of continuous membership in the Craft.
He was exalted in Somerville Royal Arch Chapter on May 16, 1895, and served as High Priest in 1907-1909. He was District Deputy Grand High Priest of the Fifteenth Capitular District in 1910 and 1911, and Grand King of the Grand Chapter R.A.M. in 1972. He was greeted in Orient Council, R. & S.M., on June 10, 1896, and knighted in DeMolay Commanderl, K.T., on June 26, 1895. He received the Scottish Rite Degrees in Boston in 1897, and served as Thrice Potent Master of Boston Lafayette Lodge of Perfection for three years, 1919-192L He was coronetted an Honorary Member of the Supreme Council, A.A.S.R., 33°, on September 20, 1921.
His early education was at Goddard Seminary and Castleton Normal School, both in Vermont. In 1889 he received the A.B. Degree from Tufts College, and in 1892, the LL.B. Degree from Boston University. He practiced law in Boston for fifty years, until ill health caused his retirement in 1945. His public service was long and notable, serving as a member of the Boston City Council Registrar of Probate for Suffolk County, member of the Massachusetts House of Representatives for three terms and of the Massachusetts Senate for one term. He was a member of the Boston Licensing Board for twenty years, being Chairman for fourteen years.
Funeral services were held at the Lakeside Cemetery Chapel in Wakefield on October 21, 1945. The large attendance of Brethren and associates in civic and legal affairs, gave full testimony of the high place in which he was held by those with whom he had worked so long and so well. Ever friendly and willing to serve, he has left a vacancy in our ranks that calls for a deepened interest by his Brethren.
MOODY, EDWARD D. 1852-1907
From Proceedings, Page 1907-19:
W. Edward D. Moody died at his residence in Leominster, Mass., Feb. 10, 1907, in the fifty:fifth year of his age. He was a Past Master of Wilder Lodge, of Leominster; past High Priest of Thomas Royal Arch Chapter, of Fitchburg, and past Commancler of Jerusalem Commandery, of that city. He was also District Deputy Grand Master of the Twelfth Masonic District in 1895 and 1896. Brother Moody was a zealous and faithful Freemason. He was of a quiet and retiring disposition and, aside from his connection with the Masonic Fraternity, his interest and pleasure were in his home. He often expressed his desire to devote his spare time to Masonic work, which he did, until his last illness. Brother Moody has passed on - but his work abides.
MOORE, MARCUS 1824-1864
MM 1857, WM 1859, Monitor
Served with the Army (noted in GL white card)
From Moore's Freemason's Monthly, Vol. XXIII, No. 6, May 1864, pp. 206-208:
THE LATE DR. MARCUS A. MOORE.
None but a parent can fathom a parent's grief. What father can look into the depths and mysteries of his own soul and solve iis sorrowing emotions — review the sources of life and joy, of good and happiness, of duty and character, and trace the countless tissues of affection that make the fabric of a father's love, that guards infancy to manhood, and follows manhood from honor to the grave! The brightest visions of life are darkened by the relentless hand of Death, and yet through the gloomy portals of the tomb the glorious light of immortality, and of a Christian's hope, shines upon the troubled soul to cheer and to exalt it.
The home of the Editor of this Journal has been desolated by the departure of one in whose being centered all the affections of a loving father—all the cherished plans of a father's hope. Language is but a feeble instrument to relieve affliction ; but so far as it is possible for a bereaved parent's heart to be consoled for the loss of a good and dutiful son,—whose life as a child, and as a man, became the source of happiness to his kindred, and whose character became an honor to his country,—that consolation must be found in the generous sympathy of friends :—and this sympathy has been afforded to us to so wide an extent, and from such unexpected quarters, that we cannot but give expression to our warm and grateful appreciation of the kindness ; nor will it, we trust, seem unbecoming in us to insert in this Magazine two of the more public of these expressions, which appeared in leading Boston papers, whose editors have now, not for the first time, given proof of their friendly , and courteous feelings, both to our Brotherhood in general, and to ourselves personally.
Boston Post, Saturday April 2, 1864: OBITUARY NOTICE.
We have published a notice of the death of one who deserves something more than a passing mention, not only from the fact of his having served his country faithfully and now died for her piematurely, but also as being the son of an old and highly respected citizen, and himself a man honored and beloved by a very numerous circle of friends. Dr. Marcus A. Moore, of Waltham, was originally trained for the army, and maintained a high position in all his studies at West Point, until a severe illness, contracted while camping out in a very wet and inclement season, rendered him unable to endure longer the severe discipline of that excellent institution. When at length his health was restored, he applied himself to the study of surgery and medicine, under the instruction of Dr. Winslow Lewis, of this city, who has more than once assured the writer of these lines that Marcus Moore was, with one exception, the best anatomist and surgical operator of all his pupils.
After having graduated honorably at Harvard College in Medicine and Surgery, he entered upon practice first in this city, where for more than six years his gratuitous services to the sick poor elicited strong expressions of gratitude from the Rev. Dr. Wells and others connected with the St. Stephen's Home. Subsequently he was induced to remove to Waliham, where, two years previous to the breaking out of the rebellion, he was unanimously chosen Captain of the Waltham troop of Cavalry, which, under his training, soon became noted for its high state of discipline and efficiency. This troop promptly came forward to offer its services to the State, when the President made his first call for volunteers, in 1861, with the condition that it might retain its own officers. This condition was declined by the Governor; but Dr. Moore then undertook to raise a troop for the Government service in accordance with its own regulations. The respect and affection entertained for him by his old comrades and others soon enabled him, not only to fulfil his engagements, but to assist largely in the formation of a second troop; and in the course of a few weeks he joined the camp at Readville with as fine a body of men as were in the service. Both Colonel (now General) Williams and Colonel Sargent frequently bore public testimony to their high state of discipline, and to the skill and ability of their Captain. After some three months stay in the Readville camp, he accompanied his regiment to Hilton Head, and continued to discharge arduous duties there with unremitting promptitude and diligence until at last his health gave way before the evil influence of malaria, and bad water, added to a more than ordinary amount of fatiguing duty, and after being confined to the hospital for some weeks he was ordered home on sick leave, as the last chance of saving his life, bearing with him the seeds of a malady from which lew ever recover. Since then his sufferings have been very severe, although at times there seemed to be grounds for hoping a return of health. These however proved only deceptive gleams of hope. Of late he has gradually wasted away, till few indeed would have recognized in his pale face and emaciated form the erect and fine looking cavalry officer of 1861. Dr. Moore was a Mason of high standing, being a member of the Huston Encampment, of St. Paul's Royal Arch Chapter, and of the Boston Consistory; and also Past Master of Monitor Lodge, Waltham.
His life from boyhood to its close has been marked by generosity, truth and manliness. He has been a good husband, a good citizen, and a good soldier; and his end, at last, has been a most peaceful and happy one. The writer, a " Brother" from another land, but no kinsman, has known and loved him well in life, and was with him in the hour of death, and he feels that of none can it be more truthfully said than of Marcus Moore.
Multis ille bonis fiebilis occidit. - H.
Boston Courier, Tuesday, April 5, 1864 DR. MARCUS A. MOORE.
On Sunday the remains of Dr. Marcus A. Moore, late Captain in the First Mass. Cavalry, were followed to their final resting place at Mount Auburn, by a numerous cortege of mourning relatives and friends, amongst the latter of whom were conspicuous the delegations from the Boston Encampment, St. Andrew's Chapter, Monitor Lodge of Waltham, of which bodies the deceased had been a member, together with some of the chief officers of the Grand Lodge. The funeral service was performed at the Church of the Messiah, by the Rev. Drs. Randall and Wells, and its beauty and sublimity were much enhanced by the able services of the choir. The coffin was borne by pall bearers selected from the Masonic bodies named above, who, however, with much good taste, considering it was the Sabbath day, wore no other badges or insignia than simple black and white ribbons, with the name of the body to which they severally belonged. On arriving at Mount Auburn certain portions of the Masonic Ritual for the burial of the dead were read by Dr. Winslow Lewis, P. Grand Master of the Grand Lodge.
Although Dr. Marcus Moore had not been much before the public, his memory deserves, on many accounts, the tribute of a brief record of his life, and that probably much more than the memory of some more public and conspicuous men. His life was throughout a life of Duty, to whose calls he was ever prompt in obedience. All who knew him, and the circle is a wide one, bear testimony to his high character for integrity, generosity, and amiability in all the relations of private, and warm and unflinching patriotism in those of public life. Dr. Moore was educated at West Point Academy, where he gained academical distinction ; but, his health failing, he was obliged to leave that institution, and resign his intention of entering the army.
Subsequently, he devoted himself to the study of surgery and medicine, under the instruction of our fellow citizen, Doctor Winslow Lewis, who speaks in the highest terms of his deceased pupil's professional skill. After successfully graduating in the medical school of Harvard University, he practised for about seven years in this city, devoting much of his time and care to the suffering poor. In this way he rendered valuable aid to the Rev. Doctor Wells, in attending the sick poor of St. Stephen's Home, and the reports of the institution, for several years, contained handsome acknowledgments of his services. As a specimen of these, we cite this extract from the report of 1848: "Dr. M. A. Moore has continued to give to my people his gratuitous services. He has been untiring in his efforts by night and by day, and has been very successful in his treatment of the many cases to which I have requested his attention. Had he heard, as I have, blessings implored for him, for his acts of kindness, he would feel better paid, than he finds himself sometimes, when they are ' pay-patients.'" From Boston he was led to remove to Waltham, where, in addition to the practice of his profession, he conducted for some years extensive chemical works. On the breaking out of the war, for two years previous to which event he had been captain of the Waltham troop of cavalry, he powerfully and promptly aided the State Government in raising the whole of one troop, and great part of another, for the First Massachusetts Cavalry, and, during three months' stay at Readville, he not only brought his own troop into a high state of discipline, but also afforded very valuable assistance in maintaining order and good discipline at a time of considerable excitement in the regiment.
On the last day of 1861, Capt. Moore accompanied his men to Philadelphia, enroute to Hilton Head, where, so long as health lasted, his energy and sterling soldierly qualities continued to elicit the warm approval of his superior officers. Extreme fatigue, bad air, and bad water, after a while, however, prostrated him in the hospital, whence he was compelled to return home invalided ; and a ling period of ill health, accompanied at times by severe suffering, has at last been calmly and happily closed in the sleep that "knows no waking." Thus cut down in the early prime of manhood, as the direct result of persisting in the discharge of his military duties, when health had already begun to fail, Marcus Moore leaves to his sorrowing father, wife, and friends the consolation uf a memory rich in many virtues, and unstained by any vices; and, to his fellow countrymen an example, well worthy of imitation, of prompt, but quiet, unostentatious response to the calls of Duty, alike by the bed of sickness and death, and in the camp and field of war.
From Moore's Freemason's Monthly, Vol. XXIII, No. 8, p. 254, June, 1864:
At a regular meeting of the members of Monitor Lodge of Free and Accepted Masons, held at Masons' Hall, in VValtham, on Monday evening, 18th April, 1864, the following preamble and resolutions were unanimously adopted :
Whereas, it has pleased the Supreme Ruler of the Universe to take from our midst our respected Brother Marcus A. Moore, by death, in the promise of manhood — Therefore
Resolved, That Monitor Lodge has lost one whose faithful services to our Institution rendered him worthy of our high esteem and affectionate regard.
Resolved, That while we mourn his loss, it is not without the happy reflection, that his Masonic teachings have produced a lasting influence on the members of Monitor Lodge.
Resolved, That we deeply sympathize with those who have been called to suffer that grief which can only attend the severing of domestic ties.
Resolved, That Monitor Lodge be draped in mourning for the space of thirty days.
Resolved, That a copy of these proceedings be sent to his family, and entered on the Records of this Lodge.
A true copy — Attest,
Charles M. Peirce, Sec. of Monitor Lodge.

It is with more than ordinary feelings of sorrow and regret, that we announce the death of a friend — the beloved son of a valued friend and Brother — Dr. Marcus A. Moore, of Watlham, Mass., the son of R. W. and Ill. Brother Charles W. Moore, Esq., Grand Secretary of Massachusetts, and the able and enlightened editor of the Freemasons' Monthly Magazine.
We heard of this lamentable event but a few days since, and could hardly bring ourself to give credence to it, foi when last in Boston we had heard favorably of him. Our departed Brother, at an early period of the rebellion, raised a company of dragoons in Waltham, entered the service of his country as Captain, and was sent to Hilton Head. There, faithful in the discharge of hii) every duty, as an officer and soldier, he was subjected to severe exposure, and as a consequence, contracted a diabetic disease, accompanied by a carbuncular inflammation, against which he struggled manfully and hopefully; but in vain, for from its effects, he was called to a higher, and better, and purer world on the 30th of March last, in the 39th year of his age.
We first had the pleasure of making the acquaintance of our lost friend, at the hospitable board of his worthy father, on the day of his return from the South, in May, 1862, and probably never was a more joyous family gathering than on that occasion.
We subsequently met him in New York, on his way to Washington, to obtain a release from his command, owing to his absolute inability to perform the duties of the same ; and again, last May, we grasped his manly hand at the meeting of the Grand Consistory 32d, for the Northern Jurisdiction, at Boston, in the full hope of three weeks hence again renewing an acquaintance, the memory of which we shall ever cherish.
But he is gone. We shall see him no more on earth; and from the very bottom of our heart do we sympathize with, and offer our sympathies to, the dear relations he has left behind—his fond and amiable wife—and the father, mother, and sisters he loved so well, and who so well loved him in return.
Our late Brother was a P. Master of Monitor Lodge, a member of St. Paul's R. A. Chapter, of Boston Encampment K. T., and of Boston Sov. Consistory, 32d. He was a pupil of our esteemed friend and Ill. Brother, Dr. Winslow Lewis, of Boston, and in 1847 received his degree of M. D. from Harvard University.
In every relation of life he was highly esteemed, and wherever known will be sincerely mourned.
His funeral took place on the 3d inst.,( April,) from the Church of the Messiah, Boston.
From Moore's Freemason's Monthly, Vol. XXIII, No. 9, July 1864, pp. 287:
We condole with our Brother, the editor of the Freemasons' Monthly Magazine, in the loss of his son.
Dr. Moore was originally designed for the army, but his illness at West Point rendered him unfit for continued exposure. He became a medical student of great promise, under Brother Winslow Lewis, and subsequently graduate of Harvard Medical College. His Masonic cultivation was manifest in the very commencement of his practice. For six years the humble sick, mainly and gratuitously, occupied his attention.
Dr. Moore entered the volunteer service as a Captain, and acquitted himself creditably, until his health gave way at Hilton Head.
Our Brother and Sir Knight has gone thus early to his eternal rest. Peace to his remains, and a tear over his abridged usefulness. Our sympathy is with father, wife, and friend. May the sorrows of earth prepare us for the joys of heaven !— Freemason, Washington, D. C.
MORRILL, CHARLES P. 1839-1913
From Proceedings, Page 1913-156:
DR. CHARLES PLUMMER MORRILL was born in Chesterville, Me., Sept. 18, 1839, and died at his home in North Andover on Friday, June 27, 1913. His parents were prominent citizens of their own generation; and were children of the first settlers in that region.
Brother Morrill was educated at the Farmington Academy, Farmington, Me. He attended Bowdoin College as a medical student until his enlistment in the Civil W.r. At the expiration of his military service he completed his studies in medicine at Georgetown (D. C.) University, from which in 1866 he received the degree of M.D. In September, 1866, he married Ellen S. Corbett of Farmington, Me. He resided in Washington one year, then for a while in Minnesota, but in 1872 he settled in North Andover and practiced his profession. For forty-one years he was an able, faithful, and beloved physician in that town. It is said of him that "he always worked for those things which would make the people of the town in which he lived better and happier." For twenty-five years he served as a member of the School Committee.
Brother Morrill received the Masonic degrees in Maine Lodge, No. 20, of Farmington, Me., in 1863, and demitted Jan. 28, 1870. He became, a member of Cochichewick Lodge of North Andover, Aug. 13, 1875, and was its Master in 1878 and 1879. He was District Deputy Grand Master of the Tenth Masonic District for three years, 1889, 1890, and 1891.
He was exalted in Mt. Sinai R.A. Chapter of Lawrence, Feb. 21, 1889, and was elected its High Priest Sept. 30, 1897, serving one year. He received the Royal and Select degrees in Lawrence Council in 1895, and was knighted and became a member of Bethany Commandery, K.T., of Lawtence, June 25, 1889. He was elected its Commander, Sept. 26, 1899, and served one year. Such faithful, earnest, and sweet-spirited Brothers add to the usefulness and strength of our Order.
MORROW, ANDREW C. 1872-1934
From Proceedings, Page 1934-115:
Right Worshipful Brother Morrow was born in Winooski, Vermont, February 27, 1872, and died in Norwood July 10, 1934.
Brother Morrow's active business life was spent in the service of Winslow Bros. and Smith Co., manufacturers of sheepskins and woolskins, for which firm he was merchandise manager.
Brother Morrow took his Masonic degrees in John Abbot Lodge in 1905, dimitting therefrom in 1913. In the meantime, he moved to Norwood in 1908 and immediately affiliated with Orient Lodge, of which he was Master in 1925 and 1926. He was District Deputy Grand Master for the Hyde Park Twenty-fifth Masonic District in 1927 and 1928, by appointment by M. W. Frank L. Simpson.
Brother Morrow was interested in all branches of Freemasonrr, and rendered them all valuable service. He was a Past High Priest of Hebron Royal Arch Chapter, Past Thrice lllustrious Master of Hyde Park Council, Past Commander of Temple Commandery, K.T., and a member of the Scottish Rite Bodies of Boston. When seized by his last illness, he was Master of the Thirty-seventh Lodge of Instruction.
He was a man of social instincts and of a peculiarly lovable nature. A very wide circle of friends mourns his untimely loss.
MORSE, HERBERT F. 1842-1912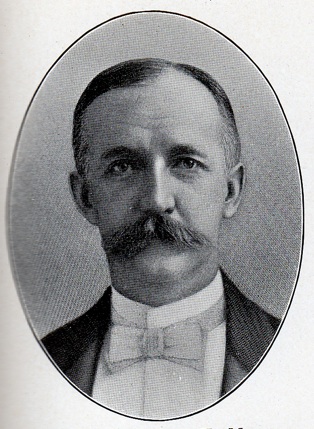 From Proceedings, Page 1912-24:
WOR. HERBERT F. MORSE, of Roxbury, was born in Foxboro, Mass., Sept. 22, 1842, and died March 7, 1912, at his residence in Roxbury. He came to Boston in 1860, and continued in business in Roxbury until his decease.
Brother Morse received the degrees in Washington Lodge in 1874, and was Wor. Master in 1895 and 1896. In the latter year the Centennial of Washington Lodge was celebrated. He served as Junior Grand Deacon of this Grand Lodge in 1909 and as Senior Grand Deacon in 1910.
Brother Morse was elected Deputy Grand High Priest of the Grand Royal Arch Chapter in 1906; Thrice Illustrious Master of Roxbury Council 1891-1893; Eminent Commander of Joseph Warren Commandery, K.T., in 1887 and 1888, and in 1899 became Grand Commander of the Grand Commandery of Massachusetts and Rhode Island.
Brother Morse held a high rank among business his word was as good as his bond. In Freemasonry he was active in various Bodies and freely spent his strength, time, and means to advance its interests. To know him was to respect, honor, and love him.
MORTON, ALBERT C. 1834-1899
From Proceedings, Page 1899-143:
The sad intelligence was received last evening of the death of R.W. Albert C. Morton, District Deputy Grand Master of the 13th Masonic District. The event was not altogether unexpected, as be had been for several months so seriously ill of Bright's disease that he had been unable to make any of the official visitations in person. His last letter to us, however, written a fortnight ago, announced that his condition had somewhat improved, and that he hoped to be with us to-day.
MOTT, EDWARD d. 1906
From Proceedings, Page 1906-47:
W. Bro. Edward Mott was Master of King David Lodge in 1860-1-2, and District Deputy Grand Master of the Twenty-third Masonic District in 1903-4. He died in Taunton May 12, 1906. He was a rnember of King David Lodge for fifty-two years, and a most faithful and active Freemason.
MOWER, EBENEZER 1761-1861
From Proceedings, Page VI-375:
To record the death of one whose life has been protracted to a century, is seldom allotted to any "chronicles of the times." This long duration of existence so seldom granted, is so striking an exception to the fiat which the Almighty established as to our length of years, that the centenarian is a phenomenon of vitality.
If in addition to this great length of years, can be superadded the consistency of a virtuous life, an uniformity in the paths of honor, and uprightness, truly the death of the departed is peculiarly worthy of note. That life which has so long "answered life's great end" should grace our records as incentives to let our light so shine. In noticing the decease of our most venerable Brother Ebenezer Thomas [Mower] of Worcester, who died Feb. 14, 1861, aged 100 years and four months, we have to record the life of one who 67 years was a member of our order, and was a zealous and faithful one, not in profession only, but in practice.
He was initiated in the Morning Star Lodge, Worcester. Feb 18. 1794. and the same year became a member. R. W. Isaiah Thomas, being the G. Master of the G. Lodge. He held many of the most active and important offices there to the acceptation of his brethren. Our venerable and highly respected Brother Dr. John Green informs us, that "he was esteemed prompt and efficient in the discharge of every duty, honest and upright in his dealings with his fellow-men and beloved by every one," and entertained to the last a strong and lively interest in that institution to which he dedicated his youth, manhood and old age.
Length of years were vouchsafed him, but better than these, was consciousness of a long and well spent life.
From Moore's Freemason's Monthly, Vol. XIX, No. 11, September 1860, Page 350:
Worcester, Aug. 27, 1860.

Charles W. Moore, Esq.
Dear Sir and Brother,— I notice in your valuable Magazine for the present month, the statement that Col. John Johnson, of Cincinnati, O., has been a member of the Masonic Order for sixty-five years, (being now in his eighty-sixth year,) and that he is probably the oldest Freemason in the United States; — that Joshua R. Jewett, of Granby, Ct., (now eighty-nine years old,) is supposed to be the oldest Freemason living in Connecticut, having been initiated in January, 1797.
The Brethren in Worcester congratulate McMillan Lodge, No. 141, Ohio, and the Craft in Granby, Ct., in their possession of such venerable and worthy members. They admit their right to be proud of such "Jewels," and would remind them, ever to remember and cherish them with peculiar veneration for their personal and Masonic virtues, and for the services they have rendered the Fraternity.
At the same time, allow the members of "Morning Star Lodge," and the craft in Worcester, to indulge a fraternal pride in the reflection that they possess a " Jewel" older than either of those above named, in the person of Br. Ebenezer Mower, a native of, and still resident in Worcester, who, if he shall live till the tenth of October next, will reach the age of One Hundred years.
Bro. Mower was initiated February 18, 1794, and raised to the degree of Master Mason April 24, 1794, by W. M. Isaiah Thomas, in Morning Star Lodge, and held the offices of Senior Deacon and Junior Warden in that Lodge. He retains his faculties to a wonderful degree, and his interest in the fraternity is unabated, although for years he has been unable to attend the communications of the Lodge.
Bro. Mower has voted at every Presidential election. Is he not the oldest Freemason in the United States?
Fraternally yours,
Wm. A. Smith, of Montacute.
MUNGER, ERNEST L. 1867-1922
From Proceedings, Page 1922-30:
R.W. ERNEST L. MUNGER was born in Torrington, Conn., January 28, 1867, and passed on at his residence in Gloucester January 21, 1922.
When a young man he entered the electrical business and was employed by the General Electric Company in Lynn. In 1896 he settled in Gloucester as Superintendent of the local lighting company. He put new life into the enterprise, brought his business knowledge and acumen into use, and produeed a great growth of the company's interests. He was very popular with the employees and officers of the company and with those with whom he came in contact in a business way.
R. W. Brother Munger received the Masonic degrees in Acacia Lodge, of Gloucester, in 1899, and after several official promotions became Master of that Lodge in 1904 and served two years. He was elected Treasurer of the Lodge in 1906 and held that office until his decease. He was also a member of William Ferson R. A. Chapter, of Gloucester, and of Bethlehem Commandery, K. T., of Beverly. He was appointed District Deputy Grand Master for the Ninth Masonic District in December, 1921, and died in office January 21, 1922.
R.W. Brother Munger was deeply interested in Acacia Lodge and freely gave of his time and influence for its welfare. His absence from his accustomed place in Acacia Lodge will be greatly deplored by all the members.
Brother Munger is survived by a widow, one brother, and two sisters, to whom the Fraternity extends its expressions of sincere sympathy.
The Most Worshipful Grand Master appointed as his successor R.W. Aaron Cogswell, of Essex, who has been duly installed and is now in active discharge of his duties.
MUNROE, GEORGE H. 1852-1912
From Proceedings, Page 1912-26:
R.W. GEORGE H. MUNROE was born in East Cambridge, Mass., July 29, 1852, and died at his residence in Belmont, March 11, 1912.
Brother Munroe was engaged in the insurance and real estate business in Cambridge for a number of years, and served the city as one of its Assistant Assessors, removing to Belmont about three years ago. He was widely known for his interest in music, and his talents as a singer were freely used for the benefit of the Masonic and religious bodies with which he was connected.
Brother Munroe received the Masonic degrees in Putnam Lodge, of East Cambridge, in 1881. He was Senior Deacon of that Lodge in 1886, Senior Warden in 1887, and Wor. Master in 1888 and 1889. He was District Deputy Grand Master of the Second Masonic District in 1911 and 1912. He was High Priest of Cambridge Royal Arch Chapter in 1902 and its Secretary from 1g02 until his decease. He received the Cryptic degrees in Cambridge Council, and became its Recorder. He was a member of Cambridge Commandery, K.T., and was a Life Member of Massachusetts Consistory.
By the passing on of Brother Munroe, the community has lost a public-spirited citizen, his acquaintances have lost a true friend, and the Fraternity a zealous Brother.
"Sleep, dear friend: such lives as thine
Have not been lived in vain,
But hold an influence rare, divine
On lives that here remain."
MURRAY, OWEN B. 1878-1939
From Proceedings, Page 1939-198:
Right Worshipful Brother Murray was born in Dennisport, September 28, 1878, and died there March 12, 1939.
Brother Murray's whole life was spent in his native town. As a very young man he became a clerk in a clothing store. Continuing with the same concern, he was its owner at the time of his death. He was a Selectman of Dennis from 1931 to 1936.
He became a member of Mount Horeb Lodge, of Harwich, in 1920 and was its Master in 1931. He was District Deputy Grand Master for the Provincetown Thirty-second Masonic District in 1934 and 1935, by appointment of Most Worshipful Curtis Chipman and Most Worshipful Claude L. Allen.
An editorial in a local newspaper says of him: "He lived unselfishly, was pleased at every opportunity to do something for others, and never did he refuse to do his good deed. . . . His kindly presence will be missed, not only in his native Dennis, but throughout the entire county."
---