MAOtherBrothersG
From MasonicGenealogy
GATCHELL, JEREMIAH 1836-1906
From Proceedings, Page 1906-47:
Hon. Jeremiah Gatchell, past Master of Blackstone River Lodge, died at his home in Blackstone May 3, 1906. He served as District Deputy Grand Master of the Nineteenth Masonic District in 1890-1-2, and was a member of this Grand Lodge at the time of his decease, as proxy of his Lodge. He was very prominent in town affairs; was a State Senator in 1875 and 1876; was appointed Savings Bank Examiner by Governor Gaston and later was appointed, National Bank Examiner by President Cleveland. Brother Gatchell was greatly interested in Freemasonry, especially in Blackstone River Lodge, and was an active exponent of Masonic principles.
From Biographical Review:
HON. JEREMIAH GATCHELL, National Bank Examiner, a prominent resident of Blackstone, Mass., was born in Woonsocket, R. I., July 13, 1836, son of John G. and Mary (Warren) Gatchell. He belongs to a family of English origin that has been settled in New England somewhat more than two hundred years.
His grandfather was Jeremiah Gatchell, of Marblehead, Mass., who served as a soldier in the Revolutionary War and in the War of 1812, and was afterward lost at sea. His grandmother Gatchell, whose maiden name was Elizabeth Gifford, being left a widow with a large family, went to live in Blackstone, where employment could be found in the mills; and she later removed to Woon- socket. She received a pension from the government.
John G. Gatchell, son of Jeremiah and Elizabeth, was born in Marblehead in 1813. He settled in Blackstone in 1847, and resided here for the rest of his life. He was for some years engaged in the manufacture of carriages. He was quite active in public affairs, and held several important town offices. He married Mary Worrall, daughter of Ottiwell Worrall, of Dorchester, Mass. Two sons were the fruit of this union, namely: Moses, who entered the service as Captain in the Fifteenth Regiment, Massachusetts Volunteers, and was killed at the battle of Ball's Bluff; and Jeremiah, the subject of this sketch. The father died in October, 1897.
Jeremiah Gatchell obtained his education in the public schools and at the Wilbraham Academy. When sixteen years old he entered his father's carriage factory, and at the age of twenty was admitted to partnership. The firm of J. G. Gatchell & Son carried on business in Blackstone until 1865. He then engaged in another line of business at East Blackstone in company with Thomas Worrall, and after continuing in that for about three years he sold his interest in order to embark in the manufacture of cotton yarn, in which he carried on quite an extensive business for four years. At the end of that time he closed his factory.
Politically, Mr. Gatchell is a Democrat, and was formerly a leading spirit in the public affairs of Blackstone. He was Town Clerk four years, chairman of the Board of Selectmen for the same length of time, and Commissioner of the Sinking Fund for fifteen years. During the years 1874 and 1875 he was a member of the State Senate, serving as chairman of the Committee on Public Lands in the first session, and in the second being assigned to the same chairmanship, and also to the Committee on Towns. He was appointed Postmaster by President Johnson in 1864, and held office until 1866. In July, 1875, he was appointed Savings Bank Commissioner by Governor Gaston for three years. He was reappointed by Governors Rice, Long, and Robinson, and resigned to accept his present position of National Bank Examiner, tendered him by Secretary of the Treasury Manning. At the time of his original appointment as Commissioner of Savings Banks he was the only examiner in Massachusetts. During the panic of 1892 he was subject to duty wherever called, and was placed in charge of insolvent banks in New York and New Hampshire. He is still financially interested in business enterprises in Blackstone, and is treasurer of and a heavy stockholder in the Electric Light Company. He is a member of Blackstone River Lodge, F. & A. M. , and has served as [District] Deputy Grand Master.
In October, 1855, Mr. Gatchell married for his first wife Rosetta Wood, daughter of Thomas F. Wood, of Woonsocket. The only child of this union died in infancy. His first wife died in 1857; and in September, 1864, he wedded Larietta Stafford, daughter of Christopher Stafford, also of Woonsocket. Of this union there is one daughter — Edith, who was born November 23, 1874, is married to W. H. Chase, and resides in Woonsocket.
GAY, EBEN FLAGG d. 1875
From Proceedings, Page 1875-56:
Our deceased Brother Eben Flagg Gay was installed as Grand Tyler on the 27th of December 1855, and for each year thereafter until 1872. He was again installed in the same office December 29, 1874, for the year 1875. After a long Masonic life he died with his sword in hand.
Brother Gay was an excellent example of the beneficent teachings of our Institution in one of its most important features. He had great kindness of heart, and was ready to wear himself out in good works for others. He had great geniality of manner, which made him an excellent companion. He was not deficient in any of those traits which made the hearts of those who knew him well yearn towards him. But, while not deficient in other qualities, his great characteristic was that truly Masonic virtue, fidelity.
Jf there is any virtue which Masonry peculiarly inculcates, it is fidelity, faithfulness, truth. Its possession gives courage, manliness and honor in all our dealings with our fellow-men. Let the teachings of the Lodge in this respect have their perfect work, and this virtue becomes so developed in the members of our society, that it pervades all the dealings of the individual Brother and becomes a part of his very nature. This was the case with Brother Gay. His faithfulness in every trust made his services desired by everybody, and his love of Masonry attracted the attention of those holding the patronage of our Society.
As he opened the doors of earthly Lodges to the true and faithful, may we not hope that his truth and faithfulness will assure the opening to him of that grandest of all Lodges, where the wicked cease from troubling, and the weary find rest.
BENJAMIN DEAN,
WILLIAM W. THOMES,
JOSEPH B. MASON,
Committee.
GAY, LEMUEL 1790-1866
From Proceedings, Page VII-75:
Report. Whereas; it has pleased the Allwise Disposer of events to remove from this life our Right Worshipful and worthy Brother Lemuel Gay of Stoughton, District Deputy Gd. Master of the 5th. Dist. therefore
Resolved. That we are called to mourn, the loss of one, who during a long and useful life, maintained the character of an honorable, high minded and public spirited citizen, of one, who at different times, sustained offices of trust and responsibility under the authority of the United States of Mass. the county of Norfolk, and his native town. He was born May 1. 1790, and died Feb. 15th. 1866. thus having nearly attained the age of seventy-six years, He was buried with Masonic honors, the funeral took place on the 18th. of Feb. last, and was attended by an unusually large number of the Fraternity. There were present on that occasion, one Encampment of Knights Templars, one Royal Arch Chapter, and eleven Lodges either in full or represented.
Resolved secondly. That any obituary notice of our departed friend, would be incomplete without stating his firm inflexible and manly opposition to the wanton and malicious attacks of Antimasons. He was one, who with others, bore the burden and heat of the day, at a time that tried men's souls and against whom Antimasonic bigots and fanatics aimed their Parthian arrows. Antimasonry is now obsolete, and almost forgotten, yet it is the duty of us all, more especially the younger members of our Fraternity, now basking in the sunshine of prosperity to cherish with gratitude the memory of those departed Brethren who, in a dark and gloomy hour, maintained their integrity, and with heroic courage fought the "good fight of faith."
GEORGE, EDWARD BARTON 1852-1917
From Proceedings, Page 1917-134:
R.W. EDWARD BARTON GEORGE, of Haverhill, was born in that part or the city called Rocks Village August 19, 1852, and died in the Massachusetts General Hospital, Boston, May 9, 1917.
His father being in comfortable circumstances, Brother George was enabled to pursue his studies through the public schools, graduated at the Haverhill High School in the class of 1870, and then attended Amherst College. On his return to Haverhill he decided to take up the study of law, entered the office of Mr. Jeremiah P. Jones, and was admitted to the Massachusetts Bar March 7, 1876. In 1879 he became Clerk of the Police Court in Haverhill and held that position seventeen years when, in 1896, he was elected Clerk of the Essex County Superior Court. He held this position by frequent elections until his decease - a period of twenty-one years. As a court official he was efficient and courteous and won the friendship of the very many people with whom he eame in contact in the discharge of his duties. In the First Session of the Superior Court, May 9, 1917, before Judge Bell and in the Second Session before Judge Thayer the death of R.W. Brother George was announced and both courts immediately adjourned out of respect to the deceased clerk.
R.'W. Brother George received the Masonic degrees in Merrimack Lodge, Haverhill, in 1882, receiving membership June 21st of that year. He was Master of the Lodge in 1886 and 1887 and District Deputy Grand Master of the Tenth Masonic District in 1896 and 1897. He was High Priest of Pentucket Royal Arch Chapter, of Haverhill, in 1886 and 1887, and also a member of Haverhill Commandery, Knights Templars.
Brother George is survived by a widow and three children.
Attorney W. Scott Peters remarked:
"As to his home life, he was an ideal husband and father, and the seeming ambition and desire of his life in late years has been to live for the loved ones of his famity. It can be truly said by nature he was a great man and the only limits to his sphere of activity and business achievements were those which he sought to place around himself. I think that he was one of the ablest sons of Haverhill in my generation."
Judge Ira A. Abbott made the following statement:
"Aside from the personal friendship which had existed between Mr. George and myself for many years, the feature of his long and distinguished career which I find has impressed itself most strongly on my mind is the extraordinary aptitude, amounting to genius, whieh he showed in so executing the duties of his office of Clerk of Courts that there was never, so far as I know, any effort or even desire on the part of any member of the bench or bar to replace him by another. Now that it has become necessary to provide a successor the value of his services and the difficulty of finding anyone who will even measurably come up to the standard he set will be fully appreciated."
The world is happier and Masonry is richer because of his life and service.
GERRISH, WILLIAM HAMILTON 1837-1922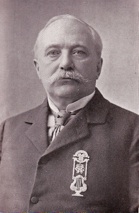 From Proceedings, Page 1922-296:
Since our last regular Communication, death has once more invaded the circle of our fellowship and taken from us one whose presence was a delight, whose service to Masonry was freely given and of most generous proportions - our Grand Organist, Worshipful Brother William Hamilton Gerrish. Death came to him in somewhat tragic form and it was a matter of regret to us that he could not have been permitted to fall asleep and gently go to the rest that awaits the life well spent. But when we gazed upon his still form over which his Brethren had pronounced. the solemn service, we knew that rest was his; that the weariness of the years had given place to the peace that passes all understanding. Beyond the discord of life he had gone into the eternal harmony; and those who knew and loved him best would be the last to call him back.
Time permits me to touch but briefly the story of his career. For lwenty-six years he was Organist of the Grand Lodge; and while this seems an extended period, it is short when compared with his terms of service in twenty-two other bodies where he labored, in one of which he was Organist for fifty-four years. Such a record is unique and serves as an inspiration to us all. And though Worshipful Brother Gerrish meets with us no more he has left behind the harmony born of his love of the beautiful and the sweet strains of it will ever allure our thoughts to that which is high and noble.
Still, still with thee when purple morning breaketh,
When the bird waketh, and the shadows flee;
Fairer than morning, lovelier than the daylight,
Dawns the sweet eonsciousness, I am with thee.

So shall it be at last, in that bright morning,
When the soul awaketh, and life's shadows flee;
O in that hbur, fairer than claylight dawning,
Shall rise the glorious thought, I am with thee.
As the Organist plays to us the harmony which Brother Gerrish set to these records of immortal hope let us rise in tribute to his memory.
MM 1865, Washington
Grand Organist, 1882-1892, 1908-1922
GERRY, E. PEABODY 1846-1911
"From Proceedings, Page 1911-117:
R.W. BROTHER E. PEABODY GERRY was born in Standish, Me., Nov. 2, 1846.
When he was twelve years of age, his parents moved to Boston and he entered the Eliot Grammar School, and later the Mayhew, receiving a Franklin Medal while a member of the latter school. He prepared for college at the Boston Latin School and graduated from Dartmouth College in 1869. After teaching school one year at Hudson, he entered the Harvard Medical School, and received his degree in medicine there in 1874. After his hospital service, he settled in Jamaica Plain and entered upon general practice.
Brother Gerry was deeply interested in societies looking to local improvements, and was a member of the Bonrd of Aldermen of the City of Boston in 1900 aud 1901. He declined further service. His last public service was an investigation into the milk situation in Boston.
R.W. Brother Gerry receivecl the Masonic degrees in 1873 in John Abbot Lodge, of Somerville. He joined Eliot Lodge, of Jamaica Plain, Oct. 16, 1878, and became Wor. Master of that Lodge, serving in 1884 and 1885. He served as District Deputy of the Fourth Masonic District in 1887, 1888 and 1889. He died at his summer home in Phillipston June 22, 1911 with the sincere regrets of his associates and the Fraternity of which he was an honored member."
GIBBS, WILLIAM E. 1859-1935
From Proceedings, Page 1935-76:
Right Worshipful William E. Gibbs was born in Russell, April 3, 1859, and died at his home in Westfield, May 7, 1935.
Brother Gibbs' family removed to Westfield when he was seven years old and the rest of his life was passed there. He early entered the employ of the H. B. Smith Company, and remained with them until his retirement from active business a few years ago.
Brother Gibbs took his Masonic degrees in Mount Moriah Lodge in 1900, and was its Master in 1905 and 1905. He served as District Deputy Grand Master for the Eighteenth Masonic District in 1913 and 1914, by appointment of Most Worshipful Everett C. Benton and Most Worshipful Melvin M. Johnson.
Brother Gibbs was a member of Evening Star Royal Arch Chapter, Westfield Council, Royal and Select Masters, and Springfield Commandery.
Brother Gibbs was devoted to the ideals and spiritual purposes of Masonry, and untiring in his efforts to inspire the same devotion in others. His death deprives our Fraternity of one of its most zealous members.
GIFFORD, HARRY P. 1876-1942
From Proceedings, Page 1942-22:
Brother Gifford was born in Salem, Massachusetts, on February 26, 1876, and died there on January 2, 1942.
He was educated in the public schools of Salem and upon his graduation from high school, entered the employ of the Salem Five Cents Savings Bank as a messenger. He became President of that institution in 1927 and held that position until his death.
At the age of twenty-six he was elected a member of the Common Council of Salem, later serving as Alderman and also on the local school board. ln 1924 he was elected to the Massachusetts Senate and served for two terms. His activities in civic, social, fraternal and banking associations were many and varied and are a clear indication ofthe qualities of leadership possessed by our Brother, who remained active in all these fields of endeavor until his passing.
He was made a Master Mason in Essex Lodge on April 25, 1905, and served as its Master in 1916 and 1917. In Grand Lodge he served as District Deputy Grand Master of the 8th Masonic District in 1919 and 1920, by appointment of Most Worshipful Leon M. Abbott and Most Worshipful Arthur D. Prince. He also held membership in all of the collateral Masonic bodies.
An outstanding citizen and Mason has left us and we who knew and loved him mourn.
GILLIS, JOHN H. 1894-1941
From Proceedings, Page 1941-45:
Right Worshipful Brother Gillis was born in Jamaica Plain, Massachusetts, October 23, 1894, and died suddenly in Boston, February 14, 1941. After graduation at the Northeastern University School of Accounting, he followed that profession until his untimely death.
ln l9l7 he enlisted in the United States Army and served his country until 1919, when he was discharged from the service.
He received the degrees in West Roxbury Lodge in 1919 and was Worshipful Master in 1930. He served as District Deputy Grand Master for the (Roxbury) Fourth District in 1935-1936, by appointment of M. W. Claude L. Allen.
He was a member of Roslindale Chapter, R. A. M.; Boston Council, R. & S. M., and Joseph Warren Commandery, K. T. He is survived by his widow, Ruth Eaton Gillis, and by a son and daughter.
Suddenly stricken in the midst of his usefulness, he is mourned by a great number of friends and Brethren.
GOODWIN, WILLIAM, 1797-1885
From Proceedings, Page 1885-139:
Col. WILLIAM GOODWIN, a veteran of the war of 1812, died in the city of Chelsea, on Sunday, February 22, 1885, at the advanced age of eighty-eight years. He became a Mason in 1818, receiving his degrees at St. Stephen, N.B., becoming Master of St. Croix Lodge in 1826, holding subsequently the office of Deputy Grand Master of the Fraternity in Maine.
Upon removal to Chelsea, Mass., he affiliated with Star of Bethlehem Lodge in 1856. During the sixty-seven years of his Masonic life he was constant in attending the meetings of the Masonic Bodies to which he belonged, even when failing sight and tottering step rendered that duty and pleasure almost perilous. His presence among the sick and distressed brought sunshine and cheerfulness, and his words and sympathy conveyed comfort and consolation. The funeral services were held in Masonic Hall, a large company of Brethren representing the Masonic organizations of Chelsea being present. The service consisted of an address by Prof. Charles, H. Leonard, D.D., Grand Chaplain, and the rendering of the Masonic burial rites by Wor. Sylvester R. Adams, assisted by the members of the Fraternity.
GOULD, ROBERT FREKE 1836-1915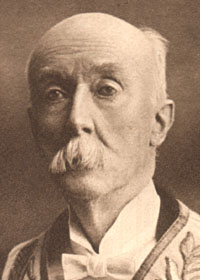 This Masonic scholar and the founder of the modern rational and critical school of Masonic historians passed away on the 26th day of March last, at his home in England. Born in Ilfracombe, Devon, in 1836, he was initiated in 1855 in the Royal Navy Lodge, No. 429. He had an active military career, which began as Ensign in the 86th Regiment of Foot April 13, 1855, and saw foreign service with higher rank at Gozo, at Malta, at Gibraltar, at the Cape of Good Hope, and in India. Throughout the campaign of 1860, in China he commanded a Company in the action of Sinho and in the storming of Tanghu for which he was given a medal with clasp. He served also during the operations against the Taepings in the vieinity of Shanghai in April and May, 1862, which resulted in the capture by escalade of several walled cities and fortified towns.
But it is as a Mason that we know him best. He was a founder of Meridian Lodge, No. 743, and its first Worshipful Master, of Tuscan Lodge, No. 1027, of Quatuor Coronati Lodge, No. 2076, and its Worshipful Master in 1887, and of the Lodge of King Solomon's Temple, No. 8464, and its first Worshipful Master. He was a member of numerous other Lodges and ranked as Past Senior Grand Deacon of the Grand Lodge of England. His Masonic talents were also recognized by honorary membership in the Grand Lodges of Iowa, Ohio, the District of Columbia, and British Columbia. In other Masonic bodies he was active officially and otherwise.
His Masonic writings are not numerous but are very valuable. His Concise History of Freemasonry is perhaps the best volume with which to begin the study of Masonic history. This work was awarded a prize of 4,000 francs by the Grand Orient of Belgium, as being the best Masonic book written during the decennial period ending in 1909. It has been published, also in American, Dutch, and Belgian editions. While he has fallen into some errors with regard to American Masonic history, due to his adopting some erroneous statements of others which he assumed to be fact, we of Massachusetts ought not to let the occasion of this Communication go by without thus testifying our appreciation of his Masonic labors. Our Deputy Grand. Master has well said: "If James Anderson in some sense is the Herodotus of Masonic History, Brother Gould is emphatically our Thucydides."
GREEN, FERNANDO, d. 1886
From Proceedings, Page 1886-139:
BROTHER FERNANDO A. GREEN. Brother Green, who filled the position of Engineer at the Masonic Temple, Boston, from October 19, 1877, until his decease, died at his home in Montvale, February 26, 1886. He was a faithful, competent employee, ever ready to render assistance about the Temple, neat and efficient in his department, economical in his expenditures, thoroughly reliable in the management of the steam-apparatus, a most competent engineer and obliging Brother. He became a member of Mount Lebanon Lodge May 13, 1878, and was buried with Masonic honors by the Brethren thereof on Sunday, February 28, 1886.
GREEN, LORENZO L. 1856-1929
From Proceedings, Page 1929-214:
Brother Green was born in Medford October 10, 1856 and died there December 2, 1929. His family was prominent in the city affairs of Medford and closely identified with Masonry. One of his brothers, R.W. Charles M. Green, who died in 1928, was Deputy Grand Master in 1902. The greater part of his active life was spent in the banking business.
Brother Green was raised in Mt. Hermon Lodge in 1894 and was its Worshipful Master in 1902 and 1903. He was appointed Grand Lecturer Deeember 27, 1927 and held that office at the time of his death.
Brother Green held high place in the Capitular Rite. He bacame a member of Mystic Royal Arch Chapter in 1897 and was its High Priest in 1905 and 1906. At the expiration of his term in 1906 he was appointed Grand Lecturer and served the Grand Chapter in that capacity for thirteen years, retiring to accept election as Deputy Grand High Priest, which office he held in 1920. He joined Medford Council Royal and Select Masters in 1903. He was knighted in St. Bernard Commandery in 1909 and was its Commander in 1923.
The great confidence in which he was held by his Brethren was shown by his election in 1914 as Treasurer of Mt. Hermon Lodge, Mystic Chapter, and Medford Council, a1l of which offices he held at the time of his death.
As a Grand Lecturer he was distinguished not only by his absolute correctness in ritual and skiil in teaching it, but by his gentleness and eourtesy. He never permitted an error to pass unnoticed, but his corrections never left a sting.
He was a very gracious and kindly gentleman and went through life leaving sweetness and light wherever he passed. He is widely mourned and will be long remembered.
GREENHALGE, FREDERIC 1842-1896
From Proceedings, Page 1896-13, in Grand Master's Address:
Following the example of one of my predecessors, who with warm eulogy referred to the decease of Brothers who were not members of this Grand Lodge, I call your attention to the. great sorrow of our Fraternity in the sudden decease of our beloved Brother, His Excellency Governor Frederic T. Greenhalge. He was a member of Kilwinning Lodge, of Lowell, and though his public duties prevented his active participation in its work, yet he took great interest in our Order and cheerfully discharged every Masonic duty he was called upon to perform. His life was a practical example of Masonic principles.
The last Masonic occasion in which he took part was when he joined with the Grand Lodge and King Solomon's Lodge on the 17th of June last in celebrating the Centennial of the erection of the monument to Gen. Joseph Warren on Bunker Hill. His Address upon that occasion commemorated the name of Warren and added lustre to his own name.
I deemed it proper to express to the bereaved family the fraternal sympathy of the Most Worshipful Grand Lodge of Massachusetts, which I did in the following letter:
MASONIC TEMPLE, BOSTON, March 6, 1896.
MRS. ISABEL NESMITH GREENHALGE:

DEAR MADAM : In behalf of the Fraternity of Ancient Free and Accepted Masons in the Commonwealth of Massachusetts, I desire to express our profound sorrow at the sudden decease of your husband, our beloved Brother, His Excellency the Governor of Massachusetts, Hon. Frederic T. Greenhalge.
We recognized him not alone as a statesman, with broad, patriotic views, as a Congressman alert and faithful, as a Governor wise, prudent and courageous, as a friend true, genial and helpful, but as a Brother actuated by the holy principles of our Order. He illustrated them in both his public and private life.
Accept the expression of our sincere sympathy for you and yours in this great sorrow. We deeply and most affectionately sympathize with you in your bereavement, and assure you that He who looks with infinite compassion upon the afflicted in the hour of their desolation will fold the arms of His love and protection around all those who put their trust in Him.
With profound respect and sympathy, I remain,
Yours respectfully,
EDWIN B. HOLMES,
Grand Master of Masons in Massachusetts.
The following reply was received from the private secretary of the late Governor:
COMMONWEALTH OF MASSACHUSETTS,
EXECUTIVE DEPARTMENT, BOSTON, March 11, 1896.
DEAR SIR:

Mrs. Greenhalge, owing to the large number of messages received, has requested me to acknowledge and thank your organization for the sincere expressions of sympathy forwarded to her at Lowell. It was certainly very comforting to her in her affliction to know that there existed so deep a feeling of regard among the people for her honored husband.
Very truly yours,
H. A. THOMAS.
GREENWOOD, JONATHAN 1801-1885
From Proceedings, Page 1885-122:
R.W. JONATHAN GREENWOOD was born in the town of Framingham, June 18, 1801, and passed his entire life upon the homestead of his father. Upon attaining his majority, in 1822, he was initiated in Middlesex Lodge, of Framingham, and continued through his entire Masonic life, of sixty-two years, a true and devoted Mason. Like others of the Craft, he was faithful to his Brethren and Lodge, in defending Middlesex Lodge and protecting its Charter during the anti-Masonic excitement. Associated with him in this noble work were other Brethren, among whom was Rev. Charles Train, the father of R.W. Charles R. Train, a minister of the Baptist Church, and a Past Master of the Lodge, who would neither renounce his religion nor his Masonry. For six years the Lodge held its meetings in secret places known only to Masons; at one time in an attic and by the light of a single candle.
Bro. Greenwood was elected Worshipful Master in 1840, and held the office for three years. He was also a member of Concord R.A. Chapter, Worcester County Commander, and Boston Consistory. He was District Deputy Grand Master from 1842 to 1856 inclusive, and was a signer of the Declaration of the Freemasons in 1831. He died January 12, 1885.
GROVER, EMORY 1842-1920
From Proceedings, Page 1920-84:
R. W. EMORY GROVER, of Needham, was born in Newton, Mass., November 22, 1842, and. died in Dedham March 5, 1920. When young he removed with his parents to Lawrence, where he attended the public schools and, with the class of 1861, completed. his studies at Phillips Academy, Andover, Mass. He then began the study of law, which was temporarily suspended in September, 1862, when he entered service in the War of the Rebellion. After his discharge he completed his iaw studies, was admitted to the Suffolk Bar, and began practicing his profession. In 1868, Governor Bullock appointed Brother Grover a trial justice for the County of Norfolk and in 1898 he became trial justice of the Court of Northern Norfolk. He held this position until his decease. He continued in the practice of law fifty-five years. Affable, just, and generous, he honored his distinguished co-laborers on the bench. He was not less a helpful friend to the unfortunates brought before him.
Bnother Grover received the degrees of Aneient Craft Masonry in Dalhousie Lodge, Newton, in 1870, and January 9, 1875, he dimitted therefrom and became a charter member and first Master of Norfolk Lodge, Needham. He served as Master three years, 1874, 1875, and 1876, and was appointed District Deputy Grand Master for the Twenty-first Masonic District in 1889, 1890, antl 1891. Notwithstanding his application to his chosen profession, in all these years, from 1870 to 1920, he has been a loyal worker in the interests of Freemasonry. His estimate of the value of the principles upon whieh our Institution is established urged him to his best endeavor for its support.
---