MAOtherBrothersE
From MasonicGenealogy
ELDREDGE, HERBERT SANFORD 1864-1946
From Proceedings, Page 1946-248:
Brother Eldredge was born in Milford, Massachusetts, on January 12, 1864, and died at his home in that City on August 28, 1946, after a lingering illness of five years.
After graduation at the Milford High School in 1881, he conducted a paint store in Milford, later entering the florist business with his late wife.
He was raised in Montgomery Lodge of Milford on September 24, 1885, and was its Worshipful Master in 1894 and 1895 and its Secretary for twenty-two years. He served as District Deputy Grand Master for the 20th Masonic District in 1902 and 1903, by appointments of Most Worshipful Brothers Charles T. Gallagher and Baalis Sanford.
He was a Past High Priest of Mt. Lebanon Chapter, R.A.M., Past Commander of Milford Commandery, K.T., and a member of Milford Council, R.& S.M.
Masonic burial was conducted by Montgomery Lodge on Saturday, August 31, at Vernon Grove Cemetery in Milford.
Brother Eldredge devoted over sixty years in service to the Craft and we say farewell to him with deep regret.
ELDRIDGE, NATHAN DAVIS 1885-1947
From Proceedings, Page 1947-193:
Brother Eldridge was born in South Dennis, Massachusetts, on August 6, 1885, and died at Hyannis on March 19, 1947.
After attending the public schools of Dennis, he became a stone mason, and later, custodian of the school buildings in Dennis.
He was raised in Mount Horeb Lodge of Harwich on October 8, 1920, and served as Master in 1929, 1930 and 1945. He served as District Deputy Grand Master for the (Provincetown) 32nd District in 1942 and 1943, by appointment of Most Worshipful Albert A. Schaefer, Grand Master.
Brother Eldridge was interested in the affairs of his town, serving as a special policeman, member of the volunteer fire department, and cem6tery commissioner. His interest in youth made him active in the establishment of the Cape Cod Chapter of DeMolay, and as Instructor and Advisor of that Chapter.
In recognition of his outstanding service to Freemasonry, he was awarded the Distinguished Service Medal in March, 1947, by Most Worshipful Samuel H. Wragg, but died before conferment could be made. The memory of his interest and service will long abide with us.
ELLIS, BARTLETT 1795-1883
From Proceedings, Page 1883-228:
Bro. Bartlett Ellis, a signer of the [Declaration of 1831 Declaration of 1831], a Mason of fifty-eight years' standing, and a life-long resident of Plymouth, was born August 26, 1795, and died November 2, 1883. He was raised a Master Mason in Plymouth Lodge, December 8, 1825, and, through his protracted life, his daily walk illustrated the gentle teachings of our Craft. He was a man of retiring disposition, not inclined to accept any official positions in Masonry, but most loyal to the Institution, and held in high esteem by his fellow-Craftsmen. His Masonic life covered, within a few months, the entire history of his Lodge, and, in the eightieth year of his age, he enjoyed the pleasure of attending its fiftieth anniversary. A man of unswerving integrity of character, and great kindness of heart, our worthy Brother was a type of that numerous class of Masons whose even and modest lives are made useful and honorable by the faithful discharge of the duties of good citizenship and neighborly kindness, and whose silent example is always an influence for good to those around them. I take pleasure in paying a tribute, however imperfect, to the memory of so good a Mason and. so worthy a man.
ELLIS, EDWARD JARVIS 1854-1939
From Proceedings, Page 1939-199:
Right Worshipful Edward Jarvis Ellis was born in Bath, Maine, April 4, 1854, and died at Hyde Park June 4, 1939.
He was educated in the schools of his native city and took up his residence in Hyde Park when about twenty-two years of age. He entered the service of a firm of leather merchants and later became a partner, continuing there until his retirement from active business. He was prominent in local affairs, civic as well as Masonic.
Brother Ellis took his degrees in Hyde Park Lodge in 1893 and was its Master in 1905 and 1907. He became its Secretary in 1921 and continued in office until his death. He was District Deputy Grand Master for the Twenty-fifth Masonic District in 1913 and 1914, by appointment of Most Worshipful Everett C. Benton and Most Worshipful Melvin M. Johnson. He was also the District Representative on the Board of Masonic Relief.
In the collati:ral branches of Masonry he was a member and Past High Priest of Norfolk Royal Arch Chapter, a member and Past Master of Hyde Park Council, Royal and Select Masters, a member and Recorder of Cypress Commandery, Knights Templar, and a member of the Scottish Rite Bodies in Boston.
Right Worshipful Brother Ellis was very efficient in all his undertakings. Always calm, affable, and kindly, he made friends wherever he went. Hyde Park has lost a good citizen; Masonry has lost an efficient and well-loved worker.
ELLIS, WARREN B. 1838-1922
From Proceedings, Page 1922-430:
Our good Brother Ellis died at his home in Brookline last Friday (Dec. 8). He was District Deputy Grand Master in 1891 and 1892 for the First District. He was raised in Mt. Lebanon Lodge on March 20th, 1865, and was Worshipful Master of that Lodge in 1875 and 1876.
He received the Royal Arch Degree in St. Andrew's Chapter on May 29th, 1867, and was its High Priest in 1886 and 1887. He was District Deputy Grand High Priest in 1893 and 1894, and Grand High Priest in 1899, 1900, and 1901. He received the Super Excellent Degree in Boston Council in 1868 and was Knighted in Boston Commandery on January 16th, 1889.
In the Scottish Rite he was a member of Boston-Lafayette Lodge of Perfection, Giles F. Yates Council, Princes of Jerusalem, Mt. Olivet Chapter of Rose Croix, and Massachusetts Consistory.
Brother Ellis was born in the town of Bourne on October 22, 1838. He came to Boston when he was seventeen years of age and worked a short time as a surveyor. In 1856 he entered upon a mercantile career and for nearly twenty years he was the representative of a New York importing house, Iater becoming the Manager of the Franklin Educationai Company.
The work in which he spent his latest years and in which he found a field for the exereise of the literary instinct which was his and the expression of the high concept of Masonry which he entertained, was in the publishing of the New England Craftsman, and the editorials which came from his pen and the valuable matter pertaining to the Craft to which he gave publicity were valuable contributions to the promotion of Freemasonry.
We shall miss him from his accustomed place and to full many of us his going is the loss of a dearly beloved personal friend, the embodiment of honor, always kindly and true, just and considerate.
His life was clean and he was deeply religious. His home was ideal and his friends were legion. The memory of our Brother is blessed and he goes to his grave in a ripe old age as a shock of corn that is ready for the harvest, and in the celestial Lodge on high, received we doubt not with the "well done, good and faithful servant," waits our coming in God's appointed time.
ENDICOTT, EUGENE P. 1848-1914
From Proceedings, Page 1915-90:
R. WOR. EUGENE F. ENDICOTT was born in Chelsea, Mass., October 14, 1848, and passed away December 10, 1914.
He passed his entire life in Chelsea; attended the public schools and early showed those sterling principles that guided his whole life. As a boy he was of a quiet disposition and considerate of all his associates. As a man he was rigid in his integrity, devoted to the welfare of his fellowmen; upright in every position; faithful to every trust, and conscientious in the discharge of every duty. He served. his native city in all branehes of the city government. He served as Mayor of Chelsea, afterwards was elected to the State Legislature, and finally served twenty-four years on the School Committee, sixteen years as its Chairman.
Brother Endicott was Worshipful Master of Star of Bethlehem Lodge, of Chelsea, in 1880 and 1881, and was District Deputy Grand Master of the Third Masonic District in 1902 and 1903.
In all positions he showed marked ability and served with a sincere desire to give his best services for his fellowmen. The right way was the best way and was his way. He was universally respected and loved. and his passing away was a great loss to us all.
ESTEY, CHARLES A. 1850-1916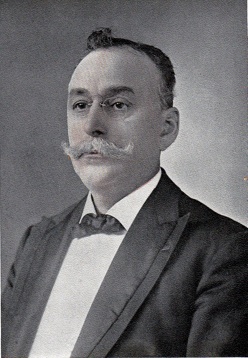 From the collection of the Grand Lodge of Masons in Massachusetts
R.W. Charles A. Estey was born October 3, 1850, at Frederickton, New Brunswick, and died in Boston, April 21, 1916. His boyhood was spent in his native town, but at the age of fifteen years he came to Boston and found employment. Not long after he moved to Leominster and engaged in business for himself. Later he removed to Orange. In 1874 he returned to East Boston and received an appointment in the ferry department of this city. Through his fidelity and faithful discharge of his various duties he was repeatedly promoted until he attained the position of clerk and cashier of the department, positions he held at the time of his death.
R.W. Brother Estey received the Masonic Degrees in Orange Lodge, of Orange, Mass., in 873, and became a member thereof June 9, 1873. He dimitted October 11, 1880 and joined Mount Tabor Lodge of East Boston, November 18, 1880. He held various positions in Mount Tabor Lodge and was its Master in 1907 and 1908. He was District Deputy Grand Master of the Third Masonic District in 1912 and 1913.
Brother Estey received the Capitular Degrees in St. John's Royal Arch Chapter, of East Boston, and was a life member of St. Andrew's Royal Arch Chapter, of Boston. He received the Cryptic Degrees in East Boston Council Royal and Select Masters and the Temple Orders in William Parkman Commandery, of East Boston, of which he was a Past Commander. He received the Degrees of the Scottish Rite in the various Bodies in Boston and was created a Sovereign Grand Inspector-General September 18, 1906.
The sudden death of Brother Estey was a great shock to his many friends. In the course of a very few hours he passed from an apparent state of health into that sleep that wakens not. He was of a pleasing, kindly disposition, agreeable in public and private intercourse, faithful in his friendships, and attentive to every duty. He won and retained the respect of the Fraternity and left a memory that will be fondly cherished by all who knew him.
EVERETT, J. MASON 1828-1886
From Proceedings, Page 1886-138:
Wor. Brother J. Mason Everett, who died April 2, 1886, was born in the town of Canton, on the sixth day of January, 1828, and was buried with the formalities of our Order, by the Brethren of Blue Hill Lodge, April 4, 1886.
He was a Charter member of Blue Hill Lodge, and its first Worshipful Master, occupying that official position during the years 1864, '65, and '66. He received an appointment as D.D.G.M. of the Thirteenth Masonic District from M.W. Charles C. Dame, December 27, 1867; and was reappointed by M.W. William S. Gardner, December 29, 1868, and December 28, 1869, serving the Grand Lodge with fidelity and ability for the three years. His life record was noble and upright, energetic and successful.
---