MAOtherBrothersE
From MasonicGenealogy
ELLIS, BARTLETT 1795-1883
From Proceedings, Page 1883-228:
Bro. Bartlett Ellis, a signer of the [Declaration of 1831 Declaration of 1831], a Mason of fifty-eight years' standing, and a life-long resident of Plymouth, was born August 26, 1795, and died November 2, 1883. He was raised a Master Mason in Plymouth Lodge, December 8, 1825, and, through his protracted life, his daily walk illustrated the gentle teachings of our Craft. He was a man of retiring disposition, not inclined to accept any official positions in Masonry, but most loyal to the Institution, and held in high esteem by his fellow-Craftsmen. His Masonic life covered, within a few months, the entire history of his Lodge, and, in the eightieth year of his age, he enjoyed the pleasure of attending its fiftieth anniversary. A man of unswerving integrity of character, and great kindness of heart, our worthy Brother was a type of that numerous class of Masons whose even and modest lives are made useful and honorable by the faithful discharge of the duties of good citizenship and neighborly kindness, and whose silent example is always an influence for good to those around them. I take pleasure in paying a tribute, however imperfect, to the memory of so good a Mason and. so worthy a man.
ESTEY, CHARLES A. 1850-1916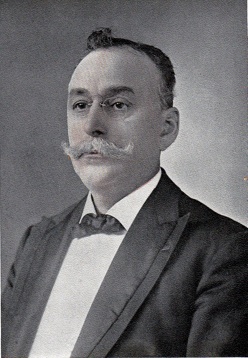 From the collection of the Grand Lodge of Masons in Massachusetts
R.W. Charles A. Estey was born October 3, 1850, at Frederickton, New Brunswick, and died in Boston, April 21, 1916. His boyhood was spent in his native town, but at the age of fifteen years he came to Boston and found employment. Not long after he moved to Leominster and engaged in business for himself. Later he removed to Orange. In 1874 he returned to East Boston and received an appointment in the ferry department of this city. Through his fidelity and faithful discharge of his various duties he was repeatedly promoted until he attained the position of clerk and cashier of the department, positions he held at the time of his death.
R.W. Brother Estey received the Masonic Degrees in Orange Lodge, of Orange, Mass., in 873, and became a member thereof June 9, 1873. He dimitted October 11, 1880 and joined Mount Tabor Lodge of East Boston, November 18, 1880. He held various positions in Mount Tabor Lodge and was its Master in 1907 and 1908. He was District Deputy Grand Master of the Third Masonic District in 1912 and 1913.
Brother Estey received the Capitular Degrees in St. John's Royal Arch Chapter, of East Boston, and was a life member of St. Andrew's Royal Arch Chapter, of Boston. He received the Cryptic Degrees in East Boston Council Royal and Select Masters and the Temple Orders in William Parkman Commandery, of East Boston, of which he was a Past Commander. He received the Degrees of the Scottish Rite in the various Bodies in Boston and was created a Sovereign Grand Inspector-General September 18, 1906.
The sudden death of Brother Estey was a great shock to his many friends. In the course of a very few hours he passed from an apparent state of health into that sleep that wakens not. He was of a pleasing, kindly disposition, agreeable in public and private intercourse, faithful in his friendships, and attentive to every duty. He won and retained the respect of the Fraternity and left a memory that will be fondly cherished by all who knew him.
EVERETT, J. MASON 1828-1886
From Proceedings, Page 1886-138:
Wor. Brother J. Mason Everett, who died April 2, 1886, was born in the town of Canton, on the sixth day of January, 1828, and was buried with the formalities of our Order, by the Brethren of Blue Hill Lodge, April 4, 1886.
He was a Charter member of Blue Hill Lodge, and its first Worshipful Master, occupying that official position during the years 1864, '65, and '66. He received an appointment as D.D.G.M. of the Thirteenth Masonic District from M.W. Charles C. Dame, December 27, 1867; and was reappointed by M.W. William S. Gardner, December 29, 1868, and December 28, 1869, serving the Grand Lodge with fidelity and ability for the three years. His life record was noble and upright, energetic and successful.
---