Difference between revisions of "MAGLWSutton"
From MasonicGenealogy
Line 189:
Line 189:
 
 
 

It was unanimously ''Voted'', That the report of the committee be accepted and spread upon our Records, and that R.W. Brother [http://masonicgenealogy.com/MediaWiki/index.php?title=MAGLMWilder Wilder] be requested to furnish a copy of his remarks for record.

 

It was unanimously ''Voted'', That the report of the committee be accepted and spread upon our Records, and that R.W. Brother [http://masonicgenealogy.com/MediaWiki/index.php?title=MAGLMWilder Wilder] be requested to furnish a copy of his remarks for record.

 
+
 
+
 
+
 
+
 
+
 
+
 
 
 

==== FROM LIBERAL FREEMASON, 1882 ====

 

==== FROM LIBERAL FREEMASON, 1882 ====
---
Revision as of 13:33, 9 October 2019
WILLIAM SUTTON 1800-1882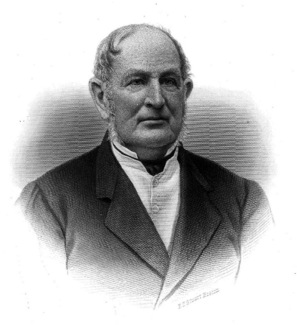 Senior Grand Warden, 1866
NOTES
BIRTHDAY, JULY 1879
From Liberal Freemason, Vol. III, No. 7, October 1879, Page 192:
The birthday of Brother Gen. William Sutton, was celebrated on July 26, with ceremonies appropriate to so important an event. The Mt. Calvary Chapter of Rose Croix of Lowell, turned out in full numbers to meet its highly esteemed member, and to assist in adding to the pleasure of the day. A number of brethren from Boston met the Lowell brethren at Salem, and all went to Ipswich, where the General had amply provided for transportation, by water, to Plum Island.
The time passed quickly at the Island, for to many the location was new, and the means of enjoyment were plenty. The dinner was a bountiful one, and the brethren did full justice to it, especially to the well-cooked chowder. After dinner, Brother Sutton was introduced, and received with cheers by the audience. He briefly set the example of speech-making, and was followed by a number of others, who congratulated themselves on the pleasure of being present, and heartily endorsed the remark of the General, who said that he was growing younger, for last year he celebrated his 21st birthday, but he felt as if this one was his 20th. When the company separated was with many good wishes for the long life and good health of Bro. William Sutton.
BIOGRAPHY
FROM CENTENARY HISTORY OF WILLIAM SUTTON LODGE, OCTOBER 1967
From Proceedings, Page 1967-421:
This seems to be a suitable place to insert a brief biography of R. W. William Sutton, for whom the Lodge was named, and whose generosity on many occasions provided gifts and lodge properties, many of which are in use to this day.
William Sutton was born in Salem, Mass., on July 26, 1800, scion of a family whose roots and traditions extended to Lexington and Bunker Hill. His life was spent in many areas of activity and public trust. His business life was that of the tannery and the shipping trade, which he inherited from his father. He conducted both businesses from his majority until the age of 78. He was a Director of the South Danvers Bank, Salem Commercial Bank and Commercial and Holyoke Insurance Companies. He was also President of the First National Bank of Salem for 45 years.
His public service included Treasurer of the Essex Agricultural Society, Head of the Salem Fire Department, President of the Charitable Mechanics Association and Overseer of the Poor. He also served five terms in the Massachusetts House of Representatives, two terms as State Senator, two years in the Governor's Council, Trustee of the State Insane Hospital and Rainsford Hospital.
His military career progressed by merited promotions from the Danvers Cadet of his youth to the rank of Major General. Too old for active service during the Civil War, he was detailed for hospital work, and received honorable mention at the close of his efficient service.
His Masonic career began in 1822 when he became a member of Jordan Lodge in Peabody. He then joined Essex Lodge in Salem when he was 34. He held many Masonic Offices, among which was the station of Senior Grand Warden of the Most Worshipful Grand Lodge of Massachusetts. He was active in Scottish Rite Masonry, and received the honorarium of the 33° in 1862, and became an active member of the Supreme Council in 1875. The Lodge of Perfection at Salem, instituted in 1863 as the result of his efforts, bears his name, as does Sutton Royal Arch Chapter in Lynn.
William Sutton laid down his Working Tools and was raised to the Celestial Lodge Above on April 18, 1882.
MEMORIAL
FROM PROCEEDINGS, 1882
From Proceedings, Page 1882-141 - An extensive memorial:
"Since our last Quarterly Communication, Major-General William Sutton, born in Salem, July 26, 1800, deceased in Peabody, on April 18, 1882 ; and thus another of the venerable men who cluster upon the confines of earth and time has passed beyond our sight. Graceful, easy, natural, was his going, as it were
"but a change of life,
Less than the void between two waves of air;"
and yet how many places listen for his counsel, how many a pain waits for his healing benefaction, how many spirits walk in loneliness for lack of his hospitable company! Death seldom seals a life more varied in its usefulness, more constant in its activity, more beautiful in its purposes, more benign in its humanities, more bountiful in its charity, more restful in its faith, more steadfast in its peace, than that which was gathered and taken from us in this year's early spring.
"And now what can we do wiser than to refresh our affections and soften our sympathies, by thinking upon what our illustrious Brother was permitted to accomplish here, and threading out the motives and forces which moved him .for so long, an age to so many and so good deeds? —for our lives are history when we are gone, and what they were, and what we have left by means of them, is all of the wisdom that we have contributed to strengthen our brother-man or beautify the human spirit. First of all is the heritage, the ancestral endowment that devolves upon each new generation. For more than two hundred years, almost from the beginning of our colonial history, the Suttons have been prominent, stable, influential citizens of Essex County, transmitting from father to son the sober family virtues, as they have also the plain family names of Richard, William, Eben. The grandfather of our deceased Brother was Richard Sutton, who was a participant in all the war of the Revolution, and did active service in the initial battles of Lexington and Bunker Hill. The father, William Sutton, born in Ipswich, was for many years a merchant in the city of Salem, engaged in the shipping business, and in the hide and leather trade. He died in 1832. The mother was born Elizabeth Treadwell, of the same Ipswich, a worthy and considerate woman; and there were two children of the marriage, —William, of whom we speak, and a brother Eben, who deceased about 1864.
"No brilliant greatness shone in. the family, but rather a steadily burning light of active goodness and even virtues, which are a perennial blessing to every community they illumine. Our Brother, William Sutton, after completing his education at the common schools of Salem and Ipswich, in 1817, entered the business house of his father, and continued there in subordinate capacities until he reached the age of twenty-one years. The entire business, its capital, its responsibilities, and its cares were then transferred to. the son, and the father withdrew; from all active counselling in its affairs. From this time, 1821, up to 1878, a period of fifty-seven years, William Sutton, the son, carried on the business in all its branches, with prudence, energy, and abundant success. It was then, in imitation of the paternal example, transferred to his son Eben, who is still engaged in its prosecution.
"For a number of years Bro. William Sutton was a member of the firm of Shepard, Bertram, Weston & Sutton, engaged in the shipping trade to the coast of. Africa, conducting a very responsible and lucrative business, until circumstances compelled the breaking up of the joint interest, and the dissolution of the firm. The several interests were purchased by Mr. Bertram, one of the members of the house, who henceforward conducted the traffic on his own separate account and became one of the wealthiest men of Salem.
"Bro. Sutton was also largely interested in the whaling business, until the exigencies of that branch of industrial commerce compelled its removal from Salem to more open and eligible ports. During all this long period also he was busy in the pursuits of agriculture, which.were ever specially congenial to his taste, and to which he. gave himself unreservedly when, in 1878, he formally retired from trade and commerce. At his father's death he became" the owner of four acres of land, beside the mansion-house, and to this property he added by purchase from time to time until his estate, situated in Salem and Peabody, comprised four hundred acres. He was the owner, also, of a farm of three hundred acres in the town of Ipswich, and on the decease of his brother he became the owner of one thousand acres in the handsome and flourishing towns of Andover, Middleton, and Boxford. The land and factories in Andover and vicinity he entrusted to the management of his son; but the farms in Ipswich, Peabody, and Salem he managed himself, and in the labor of their oversight and culture he passed the buoyant joys of his age. 'This is my business now,' he was in the habit of saying; and up to thetime of his last sickness he was accustomed to rise with the daylight, and enter upon his farm duties with a ready cheerfulness that refused to recognize the. infirmities of age, and exhibited no seeming of burden, distrust, or complaint.
"Bro. Sutton was financially a very wise and prudent man, and his peculiar and trustworthy abilities in this direction were utilized by his fellow-citizens in many ways, and in the discharge of a variety of confidences, requiring great shrewdness, fidelity, and labor. He was, in 1832, elected a Director in the South Danvers Bank, and, in 1834, a Director of the Salem Commercial Bank. Of the latter institution he was made President, on June 15, 1835, in which office he served continuously during the existence of the Commercial Bank, and also when and after it organized under the statutes of the United States as the First National Bank of Salem, in all forty-five years. Warned by the accession of age, and not by any failure of abilities, when he had measured fourscore years, he peremptorily declined a reelection, against the urgent entreaties of directors and stockholders. He was succeeded by his son Eben. What can measure his worth and ability in this position better than the fact, that when he entered upon the presidency of this bank it was loaded down with unproductive and doubtful credits, and had not for years paid any dividend; but from his accession to his resignation the bank never failed to pay its regular semi-annual dividend of from three to five per cent and in 1880, on his retirement, had accumulated, in addition, a handsome surplus?
"He was a Director in the old Commercial Insurance Company until it ceased to transact business, and in the Holyoke Insurance Company from 1850 onwards. For twenty-five years he was Treasurer of the Essex Agricultural Society, and was promoted, in 1869, to be its president, and served until, in 1879, he refused further election, determined to concentrate the residue of his business life upon the more congenial pursuits of agriculture. In this Society also his financial skill and wisdom were potent for good, for when he entered upon his official duties the Society was considerably in debt; but when he retired he had the proud satisfaction of turning over to his successor an institution free from debt, its first capital unimpaired, and a cash surplus of twenty thousand dollars.
"Again, he was a citizen whose services and counsel were sought for on a great variety of occasions and in many relations. For thirty years, from 1832 to 1862, he was the: official and active head of the Fire Department of Salem, and on retiring from office was made the recipient of a handsome service of silver, presented by the City of Salem, with added contributions from private individuals. For eight years he was one of the Overseers of the Poor in Salem. He was also for many years President of the Charitable Mechanics Association of Salem, and was a liberal contributor to the funds for the erection of their new building, the Mechanics' Hall. For five successive years, ending in 1837, he represented his fellow-citizens of the town of Salem in the lower branch of the Legislature; was twice elected a member of the State Senate, in 1855 and in 1867, arid for two years a member of the Governor's Council, with Governor Clifford in 1853 and Governor Emory Washburn in 1854. As a member of the Legislature he served on some of the most important committees, among others, those on Finance, the Military, and on Charitable Institutions.
"On all public occasions of great interest, such as the reception extended to General Jackson on his visit to Salem, the visit of the Hon. George Peabody, of London, to his native town, and the funeral ceremonies attending the return of his body to his.ancestral homeland their deposit in the bosom of earth dear and sacred to him, our Brother Sutton was the man generally looked up to, to devise, arrange, and conduct the appropriate ceremonies.
"In labors connected with public and private eleemosynary institutions he was abundant. For six years, from the time of its first opening, he was Trustee of the State Insane Hospital, located at Taunton; he was Trustee of the Rainsford Hospital, on the island of that name in Boston Harbor, and, by virtue of that office, was a member of the Boards of the three State Almshouses, and when, for the purpose of a more efficient oversight and management of these several trusts, the separate Boards were consolidated and organized as one general Board, he was made Chairman of the new government, and was thus brought into intimate contact with and supervision of all these institutions of State Charity. For eight years before, and during the war of the Rebellion, he was intrusted with the special charge of the Rainsford Island Hospital, and responsible for its proper administration.
"For all the long years of this busy and manifold life, the residence of General Sutton was fixed and stable, — neither moved from fancy nor shaken or disturbed by flood, wind, or earthquake, — and yet was singularly migratory, having been situated during his public life in four different municipalities. At first he lived in Salem, ancLwhen the boundary line between Salem and Danvers was straightened he was left in Danvers. When, by legislative authority, the town of Danvers was divided, he found himself in the town of South Danvers; and when again, in honor of a great and good man,, the Legislature changed the name of South Danvers, he who had settled in Salem, and had never moved nor prayed for removal, became a resident of the memorial town of Peabody, and here, with the honors of an unceasing and successful toil, with, the full confidence of all who knew him, generous, charitable, loving and beloved, he died and was gathered to his fathers, — to that
"Pure sleep, from which he will awaken,
Refreshed as one who hath partaken
New strength, new hope, new love, new faith."
"We pass now to the consideration of a very large and interesting part of the life of General Sutton. He was a military man by passion and by service. At the early age of seventeen he became a member of the Salem Cadets, and almost from this early day untilhis death he never ceased to, fill some office in the military department of the State. Having filled subordinate positions, he was commissioned, Nov. 10, 1821, Lieutenant, and May 20, 1823, Captain of the Danvers Light Infantry. He was elected Captain of the Salem Cadets, March 8, 1836, but ranking as of his first Captaincy in 1823 ; was promoted to be Colonel of the 6th Regiment, 4th Brigade, 2d Division of the Massachusetts Volunteer Militia, July 21, 1840; to be Brigadier-General of the 4th Brigade, Feb. 18, 1841, and to be Major-General commanding the 2d Division, Feb. 22, 1850. He was the Senior Major-General of the Militia of Massachusetts until its reorganization, Dec. 20, 1864, after the war of the Rebellion was closed, when he retired with the rank of Major-General, and thence afterwards served as the Commander of the Veteran Corps of the Salem Independent Cadets.
"At the breaking out of the war of the Rebellion, by virtue of his rank as Senior Major-General, he was summoned by Governor Andrew to report at the State House forthwith for duty. He was at the time in New York on business,, but at once left it, and obeyed the summons. The Governor, with that clear wisdom and decision that characterized his whole conduct in this public exigency, rehearsed to him the details ofthe national trouble, the nature of the impending dangers, and the necessity that the troops under his command should be ready to march at a moment's notice. General Sutton replied that His Excellency might perhaps consider him as too advanced in life, or in other respects not the man for the emergency; that, for himself, he was ready to command, or to resign his command and go with the troops in any capacity His Excellency should prefer; that his will should be law, and receive his prompt obedience. The Governor responded to him that there were duties that would give full employment to his time, and talents, and ordered him to retire at once to Faneuil Hall, take charge of all troops that should rendezvous there, see that they were fully organized and equipped, and ready to march whenever the word should come, and to report to him every morning. Previous to his arrival a squad of forty city police had been detailed to preserve, order and subordination about the Hall; but immediately upon the arrival of General Sutton they were all relieved from duty.
"Military order was established, and the work entrusted to his hands went forward with remarkable despatch and efficiency, resulting in that prompt forwarding of troops which has now become both the history and the pride of the old Commonwealth. He was also appointed, and for more than three months steadily employed, on a committee to examine the newly elected officers of the various military organizations, and to decide upon their fitness for the positions to which they had been chosen, preparatory to the issuing of their commissions. He was detailed to accompany His Excellency at all reviews, and in all visits to the forts, hospitals, or camps of the soldiers.
"At the order ofthe Executive, Oct. 17, 1862, he, in company with his friend, Dr. Winslow Lewis, made a tour of the States of New York, New Jersey, Pennsylvania, and Rhode Island, to visit and examine into the condition of the various military - camps and hospitals, and ascertain particularly the care and treatment afforded to Massachusetts soldiers; to determine the nature and extent, of their maladies or injuries; the adequacv of the. remedial treatment to alleviate the sufferings of the sick and wounded, and.to report to the Governor the name and condition of all soldiers of this State found disabled, and all facts.of importance, and any suggestions for the improvement of the service.
"This duty was performed with scrupulous fidelity and boldness, and gratuitously. Fortified by the medical and surgical skill of his learned companion and friend, Dr. Lewis, whose long experience, not only in this country, bat in the hospitals of most of the European nations, enabled, him to speak, with scientific accuracy and authority, he did not hesitate to criticise hospital management, the conduct and habits of superintendents, or the treatment of individual cases. The utmost consideration was paid to his suggestions by the governments, State and National - abuses were corrected; incompetent officers removed; useful reforms greatly promoted; and more than one suffering soldier diad reason to thank the honest fidelity of their brothers of the Massachusetts mission for the preservation of both limb and life. Their counsel and services were also gladly, received by the officers and superintendents of these new hospitals, which were an abnormal feature of American life. Hastily appropriated, equipped, and officered, it was inevitable that inexperience should leave many things to be corrected, many things to be desired.
"The clear business tact and judgment of General Sutton, clothed with the delegated authority of Massachusetts to look after and care for her sons, wounded or sick, supplied what was a great necessity of the times, and worked an essential good to the soldiers, and more especially to the general hospital service of the war. On retiring from these labors, at the conclusion of the war, he received a.grateful, testimonial of his services, from the great War Governor of Massachusetts, which was very precious to him, and was as follows : —
[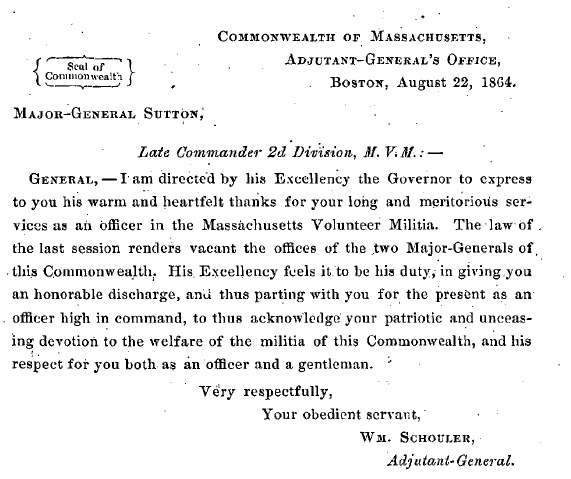 "Brother Sutton was. twice married; first, in 1821, to Miss. Nancy Osborn, of Salem, with whom he spent more than fifty years of domestic happiness, until her death, in 1875, and by whom he had eight children, three sons and five daughters :
Elizabeth Treadwell, born August. 25, 1822, and married to Dr. Lawson Pierson, of Salem.
Anna Osborn, born June 25, 1824, and married to Mr. Robert Brookhouse, of Salem.
Helen Leslie, born. July 1.8, 1827, married to the Hon. Alfred A. Abbott, of Salem, for many years the accomplished Clerk of the Courts for Essex Co.
William, bom Nov. 9, 1829.
Caroline Osborn, born Nov. 5, 1833, married to Robert Daniels, Esq., of South Danvers, and now deceased.
Eben, born Dec. 31, 1835.
John Suter, born June 18, 1838, and
Emma, born April 10, 1844, and deceased at the age-of seven.
His second marriage, in 1879, was to Mrs. Susan M. Stevens, of Peabody ; this marriage also proved a happy one, and his amiable wife contributed much to the solace of his declining years.
"For more than sixty years Bro. Sutton kept regularly a journal, in which he daily made entry of the places where he was, the day and hour of his going and returning, with brief notices of the weather. Slight as this daily record was, it proved on more than one occasion of the greatest value. It is a fact of great interest, that for his whole life, till he had reached the advanced age of eighty years, and notwithstanding his extensive business relations, he never had a lawsuit, never employed a lawyer, except as a conveyancer. His copious knowledge and sound judgment sufficed for every emergency. In his very old age he had, on the strongest assurances, been overpersuaded to endorse the commercial paper of an established firm to the amount of $150,000 or upwards. Suddenly the notes began to come to protest, and it was found that the assets of the firm had disappeared, and to all appearance, for a season, without fraud. Bro. Sutton met the contingency with calmness and resolution. His personal property was converted to cash and applied to the liquidation of his notes, till $100,000 of liabilities had been retired from the market. Circumstances now occurred which excited suspicion, and led to the first employment of a lawyer; and with good results, for the attempt to collect of him another large amount of notes bearing his endorsement was successfully resisted; so that our Brother was enabled to look upon his depleted treasury with somewhat of thanksgiving, and particularly that the peace and comfort of his few remaining days were secure from further assault.
"But the relations in which he felt the greatest joy, and where life had its most exuberant fulness, feeding his intellect, kindling his love, and employing his charity, were his affiliations in Free and Accepted Masonry. His application to receive Masonic light was made to Jordan Lodge, of Danvers, now Peabody, where he was raised to the sublime degree of Master Mason, Feb. 12, 1823, and of which, he immediately after became a member. Upon the death of his father, in 1832, he removed his residence to Salem, and at the same time transferred his Masonic home to Essex Lodge, of Salem, affiliating at once with that Body. On the 9th day of January, 1857, he was exalted to the degree of Royal Arch, in Washington Chapter, of Salem, and immediately enrolled himself as a member. The Cryptic degrees were conferred upon him, March 28, 1861, in Salem Council of R. and S. Masters. He was created a Knight of the Temple and of Malta in DeMolay Commandery, of Boston, and on May 27, 1857, admitted to membership. In none of the foregoing Masonic Bodies did he hold any office; but when, chiefly at his suggestion and through, his efficient influence, a new Commandery was located in Salem, and named after his friend and colleague, Winslow Lewis Commandery, he became one of the Charter Members, and presided as its Eminent Commander for the term of twelve successive years. He was active and influential also in the formation and establishment of Olivet Commandery, Lynn. He received the degrees of the A. and A. Rite in the Bodies located at Lowell, Mass., and took membership in the Massachusetts Consistory, of Lowell, May 1, 1863. He was created a Sov. Grand Ins. General of the 33° and Honorary Member of the Supreme Council for the Northern Jurisdiction U.S.A., May 21, 1862, and elected an Active Member of the same August 19, 1875.
"He was District Deputy Grand Master of what was then the second, but now the fifth, Masonic District for six years, commencing December 29, 1859. He was elected Senior Grand Warden of the Grand Lodge in 1865, and was a member of the Board of Directors of the Corporation at the time of his decease. His services to the Institution, at the time of the building of the Masonic Temple, were timely and of the greatest value. His words of encouragement were made emphatic by practical deeds, and his associates recognized his services by naming one of the large apartments Sutton Hall, in his honor. The four figures, Faith, Hope, Charity, and Wisdom, which adorn this Hall, were gifts of his munificence. His marble bust occupies in this Hall a position of prominence and honor. In 1879 he donated to the Grand Lodge a Library of Masonic literature which he had been twenty years in collecting, and which is known as the Sutton Library. His nature was as generous as it was active, and equally affluent by day and by night in the ministry of affection, word of encouragement, and the sinews of work. The love and gratitude of his Masonic Brethren were shown in their electing him to Honorary Membership in their respective Bodies, and these at least may be enumerated as instances : —
Jordan Lodge, of Peabody.
Essex Lodge, of Salem, February 6, 1866.
Wm. Sutton Lodge, of Saugus. :
John T. Heard Lodge, of Ipswich, December 19, 1877.
Robert Lash Lodge, of Chelsea, March 2, 1868.
Liberty Lodge, of Beverly, December 28, 1868.
Ashler Lodge, of Rockport.
Kilwinning Lodge, of Lowell.
Starr King Lodge, of Salem, May 24, 1865.
Washington R.A. Chapter, of Salem, July 27, 1865.
Winslow Lewis Commandery K.T., of Salem.
De Molay Commandery K.T., of Boston, October 25, 18G5.
Olivet Commandery K.T., of Lynn.
St. Omer Commandery K.T., of South Boston, April 19, 1869.
Sutton Commandery K.T., of New Bedford.
Sutton Lodge of Perfection, of Salem.
Mt. Calvary Chapter of Rose Croix, of Lowell, May 22, 1879.
"Besides these honors and relations among his Brothers of the Masonic Institution, he was deeply and intimately bound in friendly membership with other societies. He was a member of the Massachusetts Charitable Mechanic Association from January 19, 1837, till his death; of the Salem Charitable Mechanics Association from the time he was its President, July 5, 1824, till his death; of the Salem Marine Society, from Feb. 25, 1836, and afterward an Honorary Member.
President of the Salem and Danvers Aqueduct Co.
Vice-President of the Salem Institute for Savings,
Vice-President of the Essex Institute of Salem.
Member of Salem Board of Health from July 31, 1832.
Trustee of Peabody Institute, of Peabody.
President of the No. Andover Woollen Mills Corporation;
Director of Naumkeag Cotton Mills.
Honorary Member of British Charitable Society.
Member of Rockport Agricultural Society.
Member of State Agricultural Society of Massachusetts.
Life-Member of the U.S. Agricultural Society.
Member of the New England Historic Genealogical Society, and a benefactor.
"Brief as is this sketch of our deceased Brother Sutton it is long enough to reveal to us his wonderful power to assimilate a variety of interests, and to harmonize their multitudinous demands upon his time, his labor, his intellect, and his affections; for nothing with him was neglected or deferred, nothing was confused or obscured, nothing was overlooked or forgotten. The works of his life found orderly beginning and quiet ending, as precise in place and time and order of execution as the movements of a disciplined army; he was himself calm and composed as the commander on parade; the passage of events was to him a panoramic beauty; the will and power that impelled their motion, a pastime. He loved his fellow-men; he worked for them with all his thought and love, wherever he was, and amid all duties; in the peace of rural toil; in the bustle of commerce; in the storm of war; in the pains of the hospital; in the communions of the Lodge.
"Rest, tired hands, and head, and heart,
Well hast thou done on earth thy part,
By strength and toil, with wealth and love,
Each duty done, rest now above.
"And as we take our parting look of him who has been so busy, pure, and upright in his own spirit; such a help and guide to the needy ones of earth; so-prompt to march in his country's cause; so brave a keeper of the Templar's faith, — we can but sorrowfully say,
"Now is the stately column broke : —
The beacon-light is quenched in smoke : —
The trumpet's silver sound is still: —
The warder silent on the hill."
Respectfully submitted,
EDWIN WRIGHT,
MARSHALL P. WILDER,
CHARLES C. DAME,
Committee.
"At the conclusion of the reading of the Memorial, Brother Wilder spoke as follows::—
"MOST WORSHIPFUL GRAND. MASTER, — As the oldest member of our Fraternity present, I rise to express, my entire approval of this memorial sketch of our deceased Brother Sutton, which has been so ably drawn by the chairman of our committee, and to which I have affixed my name; but, as an intimate friend of our departed Brother, associated with him in agricultural, historical, military, and various other departments of public service, as well as a Brother Mason for nearly fifty years, I ask the privilege of adding a few words of testimony to his worth.
"Our beloved Brother Sutton has gone. His seat in this Hall will hereafter be filled by another. We shall much miss his presence and wise counsels in our deliberations, and his prompt action to advance the principles and objects of our Order. Yes, he has gone forever from our sight; but he will be gratefully remembered among those noble patrons and promoters of Freemasonry and the public good who >rest from their labors, and whose works, do surely follow them; with those of our Brethren, — with Washington, Lafayette, Garfield, of imperishable renown, —with those beloved Brethren of our own circle — with Moore, Lewis, Titus, and others of benevolent designs. These have fallen around us, alike in the maturity of }rears, and renowned as pillars in the temple of Freemasonry ; and now Providence calls on us to inscribe on our star-spangled roll of worthies the name of Sutton, who has been gathered to his fathers in the maturity of years, like a shock of corn fully ripe in its season. Thanks to a merciful Providence that his useful life was so long continued to us, and that his sun was permitted to go down shining in all its brightness.
"When we think of the benefactions which he has bestowed, and the services he has rendered to the cause of, Freemasonry, and especially to this Grand Lodge; the interest which he ever manifested in its welfare, and the confidence which he has inspired in the hearts of our Brethren, we most gratefully render to his memory a record of worth which history will cherish and our Fraternity will revere when our voices are silent in death, — when that marble bust, which to-day seems almost to speak to us, shall have crumbled into dust.
"Our Brother and friend hath gone to his rest,
With record of worth and life richly blest,
For blessings bestowed and labors of love
We doubt not his name lives on record above."
It was unanimously Voted, That the report of the committee be accepted and spread upon our Records, and that R.W. Brother Wilder be requested to furnish a copy of his remarks for record.
FROM COUNCIL OF DELIBERATION, 1882
From Proceedings of the Massachusetts Council of Deliberation AASR NMJ, 1882, Page 41:
FROM LIBERAL FREEMASON, 1882
From Liberal Freemason, Vol. VI, No. 2, May 1882, Page 30:
For more than fifty years William Sutton was a central figure in the life and history of Essex County. Born in Salem, Mass., on July 26th, 1800, of highly respectable parents, he with his only brother, Eben, also deceased, came into possession of a sufficient fortune, at a time of life when the majority of men are salaried only.
The natural generosity which characterized his entire life, though backed with native shrewdness, was scarcely a match for the greed which beset him in innumerable guises, or for the cupidity which assailed his open purse through many local and general mediums.
It was a common thing in church architecture that a bell or clock tower should be included; the lack of means was too insignificant a cause to hinder the work, for every committeeman knew personally, or otherwise, that the pliable good nature of William Sutton could be coaxed into giving a bell or a clock, and the bolder ones would occasionally include both." Thus it has come to pass that bell and clock, on church or school-house, will long continue to sound their dumb praise of him who was for so many years a benefactor as well as a central figure in Essex County.
In all local enterprises his aid or name was sought, and many an additional girder and beam, column and capital, roof and cupola have been added or extended in consequence of his even passive approval; but his influence was not limited to school and church enterprises, or bounded by local or special interests only. He encouraged agriculture, fostered commerce, directed manufacturing interests, was director in and treasurer of corporations, engaged in mercantile pursuits, was known in banking circles, and when Salem attracted to itself a liberal portion of the East India trade, he shared in the risks of the mercantile marine, as well as. in the profits. Straightened, occasionally perhaps, by reason of help extended by him to other men, he nevertheless lived a life of plenty, disliked by none, but having a host of friends to admire his simplicity of character, his rugged honesty, and now to regret the death of one who was truly good without claiming to be great.
The family is one of the oldest in New England, and dates back to as early as 1650. Richard Sutton then lived in Roxbury, but about two hundred years ago he moved to Andover, where he had bought lands which descended to William, recently deceased. One of Richard's sons moved to Newbury, and one to Ipswich, and from the latter, the farm, including the favorite summer residence of William, descended. In the course of a conversation held with William in Ipswich, in the summer of 1880, he took occasion to say, that this particular farm had been in the family over two hundred years, and that the lower-end of Plum Island, called the Bluff, was once the property of the Sutton family. Speaking more at length of his own affairs, he said that he then had a farm of 1200 acres in Andover, two in Ipswich of 200 acres each, and one in Salem and Peabody of 400 acres — making a total of 2000 acres. His ownership and rights in mills, houses and tenements for operatives he seemed to take a purely business interest in, but the lands which had remained so long in the family were evidently regarded by him with much greater satisfaction.
In 1833 he built a commodious mansion in Salem and into it he moved with his wife whom he married that year. Though he continued to occupy this house, he sometimes mystified his acquaintances by saying that he had lived for so many years in the same house, but had also been a resident in four different towns. This he would afterwards explain, by telling of the dividing of towns and the change of town lines by acts of the State legislature, and so it happened that the house which he built in Salem was subsequently transferred to Danvers, next to South Danvers, and finally to Peabody, where he leaves his second wife, whom he married two or three years ago, a widow.
Early in life he became interested in the militia, and received his first commission as Lieutenant in the Danvers Light Infantry, on November 10, 1821, from which he was promoted to be Captain. He afterwards commanded the Salem Cadets, and was chosen Brigadier-General of the Fourth Brigade, Second Division, and on February 2, [850, was elected Major-General M. V. M., which position he held until 1864, when the three divisions were consolidated.
He was a member of the State Legislature in 1833 and to 1838, of the Senate in 1855 and in 1868, of the Executive Council in 1853-54, and was a Trustee of some of the State Institutions, notably that at Rainsford Island.
In addition to his private business, which as has been indicated was large and varied, he was at one time Chief Engineer of the Salem Fire Department, and to this we may add that for a period of forty-five years he was a Director of the First National Bank in Salem, and President of it for the greater part of this period.
Familiar as he was in the affairs of business life, he was even more intimately known in Masonic circles, where he has not been excelled by any mason of his time in honesty of purpose or strength of attachment to the institution of Freemasonry. Having barely attained to lawful age, he applied for the degrees and was made a Mason in Jordan Lodge, Danvers, Mass., July 31st, 1821. This Lodge dates from 1808, andean feel a just degree of pride in its age and usefulness, and in the distinguished names borne upon its rolls, including that of Rufus Choate who was at one time its Senior Warden.
The evil influences of the anti-Masonic period were pronounced and long-continued in Essex County, and the revival of Masonic work was long delayed in consequence thereof. It was not until the close of 1856 that Brother Sutton made ny further progress in Freemasonry, but having done so, he rapidly advanced through all the degrees of the York Rite.
On January 9th, 1857, he was exalted in Washington Royal Arch Chapter in Salem; on May 27th following, he was created a Knight Templar in De Molay Commandery in Boston; and on January 31st, 1861, was admitted a member of Boston Council of Royal and Select Masters in Boston.
The manner in which he impressed himself upon his brethren is happily illustrated in the various ways in which his" name has been honored. Sutton Royal Arch Chapter was established in Lynn, in 1863; Sutton Commandery of Knights Templars in New Bedford, in 1864; and William Sutton Lodge, in Saugus, in 1866. With the rituals in use he was familiar, but his influence was more apparent as a benefactor and patron. Always ready, even anxious to do some kindly act, he was one to whom Grand Master Winslow Lewis would naturally turn, and the long and warm friendship which existed between these genial spirits was creditable to both.
On the 27th of December 1859, Grand Master Lewis appointed Bro. William Sutton, D. D. G. Master of what was then the Second Masonic District; a position which he held for six years, and adorned by the truly fraternal manner in which he performed its duties. In December 1865, he was elected Senior Grand Warden, from which he retired to be elected to the Board of Directors, a position he occupied until his death. To this we may add that the Grand Lodge Hall in the Masonic Temple in Boston, a handsome specimen of the Corinthian order in architecture, has for some years borne the name of "Sutton Hall."
The project of forming a Commandery of Knights Templars in Salem was consummated in 1865, and the names of Lewis and Sutton became more closely allied. Winslow Lewis Commandery was established, and William Sutton was its first Eminent Commander, an office in which he was continued until 1871, and to which he was again elected in 1875—76, and 1877. In this office he took great delight, and enjoyed the relations it served to establish with an eager zest; in it his hospitable nature found scope and opportunity for coveted exercise.
In May, i860, the name of William Sutton appears in the printed Proceedings of the Supreme Council, N. J., as a Prince Rose Croix, when he, with others, was recommended to the Sovereign Grand Consistory, as "worthy of advancement." On May 21st, 1862, he received the Thirty-third degree and was elected an active member August 19th, 1875. He was an honorary member also of Massachusetts Consistory, in Boston. In this Rite he took an active interest, and was largely interested in establishing Sutton Lodge of Perfection, in Salem, in which he was an honorary member.
These several organizations have many tokens of the munificence of our brother. It can add nothing to the affection with which he was regarded, to attempt to enumerate them, though we may mention that the elegant banners of Sutton Commandery of New Bedford, St. Omer of South Boston, Winslow Lewis of Salem, and Olivet Commandery of Lynn were his gifts, and "Sutton Hall " received additional decoration by reason of his liberality. But it is doubtful if any of his doings will survive him longer than the splendid library he had been twenty years in collecting, and which he presented to the Grand Lodge in 1879. This is now in the Masonic Temple in Boston, where it is inscribed and known as the "Sutton Library."
His well-known position in the moneyed world was a source of much strength and encouragement to Grand Lodge in all financial matters connected with the Masonic Temple, and no one could feel more gratified than himself at the large reduction of the debt incurred in erecting it. Indeed, it would have been to him as a year of jubilee, could he have lived to see the debt entirely extinguished. The figures of Faith, Hope, Charity and Wisdom, which he caused to be added to the adornments of Sutton Hall, do well exemplify his Faith in God, his Hope in immortality, and his Charity, not toward his brethren only, but toward all mankind, while the figure of Wisdom stands in constant admonition to the Craft, to seek her, whose ways' ar.e of pleasantness, and whose paths are of peace, for "wisdom is better than fine gold."
His death succeeded a long life of usefulness, and occurred at his family residence in Peabody, on Tuesday, April 18th, 1882.
He leaves a widow and six children : three sons and three daughters. To these descend a name honored among men, especially among Masons, who hold in sweet remembrance the many virtues of their Brother, William Sutton.
From Liberal Freemason, Vol. VI, No. 4, July 1882, Page 125:
We print a copy of resolutions adopted by William Sutton Lodge in Saugus, relating to this distinguished Mason and his association with that Lodge.
Whereas, our Lodge has suddenly been called to mourn the loss of a kind and generous Benefactor in the death of R. W. William Sutton.
Resolved, That we can point our members to no better example of

life of charity.

Resolved, That we are indebted to him, not only for his generous gifts, but his kindly interest in our success and prosperity so often manifested.
Resolved, That we tender to the family of our deceased brother, our sympathy in their bereavement, feeling in their loss our own.
Resolved, That a copy of these Resolutions be sent to the family of Brother Sutton, that they be spread upon our records, and a copy sent to the Liberal Freemason.
Saugus, June 11th, 1882.
Chaklks W. Newhall, Secretary of William Sutton Lodge.
BIOGRAPHY, SEPTEMBER 1942
From 75th Anniversary of William Sutton Lodge, 1942-115:
He was born at Salem on July 26, 1800, and during most of his lifetime was engaged in the tannery business and the shipping trade. He lived a life of most unusual activity and public service. He served for forty-five years as President of the First National Bank of Salem, declining re-election at the age of eighty. He was a Director of two insurance companies, was for twenty-five years Treasurer of the Essex Agricultural Society, during thirty years was head of the Salem Fire Department, and served in other capacities. He was for five terms a Representative to the General Court, was State Senator for two years and was a member of the Governor's Council. His keen interest in military affairs resulted in his becoming a Major-General in the U. S. Army during the Civil War. Being too old for active service, he was detailed to the Medical Department and received honorable mention at the close of hostilities for his services. In Freemasonry he became a member of Jordan Lodge in Peabody when he was twenty-two years of age. Later he became a member of Essex Lodge in Salem and held membership in and served in various Masonic organizations. In 1866 he was Senior Grand Warden of the Grand Lodge of Masons in Massachusetts. He received the Thirty-third Degree in 1862. By his will, he left his Masonic library to the Grand Lodge of Massachusetts. The Lodge of Perfection at Salem and Sutton Royal Arch Chapter in Lynn were both named for him.
General Sutton's death occurred at Peabody on April 18,1882, when he was eighty-two years of age. A committee of William Sutton Lodge was appointed to attend his funeral and it was ordered that the lodge-room be draped in mourning for six months.
---