MAGLWRidings
From MasonicGenealogy
WILLIAM RIDINGS 1872-1939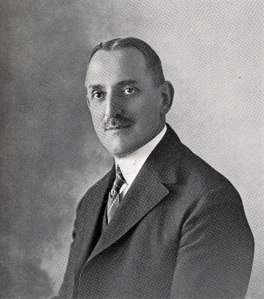 Junior Grand Steward, 1911
Junior Grand Warden, 1921
MEMORIAL
From Proceedings, Page 1939-291:
Right Worshipful Brother Ridings was born in England, January 1, 1872, and died in Fall River July 11, 1939.
Right Worshipful Brother Ridings came to Fall River in early life and engaged in the undertaking business which he followed successfully until his death.
He took his Masonic Degrees in Mount Hope Lodge in 1895 and was its Master in 1907. He was also a Charter Member of Massasoit Lodge. He served the Grand Lodge as Junior Grand Steward in 1911, and District Deputy Grand Master for the Thirtieth Masonic District in 1913 and 1914 by appointment of Most Worshipful Everett C. Benton and Most Worshipful Melvin M. Johnson, and as Junior Grand Warden in 1921. He was very active in the Scottish Rite, being a Past Most Wise Master of St. Andrew's Chapter of Rose Croix. He was elected to the Thirty-third Degree and Honorary Membership in the Supreme Council in 1939, but unfortunately did not live to receive the Degree.
Brother Ridings loved Masonry and lived it. Always kindly, sympathetic, and helpful, his business afforded countless opportunities for doing good. Always cheerful and genial, he made friends everywhere he went. He will be widely mourned both inside and outside the Craft.
From Proceedings, Page 1939-328:
Born January 4, 1872; died July 17, 1939
Bill Ridings is dead! This startling and shocking message came to us on July 11th. Only within a few days we had seen and talked with him, when he appeared in his usual health and in that happy spirit which always spread the sense of happiness and good cheer that has always impressed those of us who were privileged to know this good man and Mason. Struck down in the prime of life, in the midst of his great usefulness, the Craft in Fall River especially will sadly miss his Masonic fidelity and sound judgment.
Although well and favorably known in the community life, his chief efforts outside of the conduct of his business were in his church and his Masonry. These two activities seemed to attract his loyal devotion and the sincerity of the attachment to both was outstanding.
The great Caesar once said that the best kind of death was that which was unexpected. Such was this and although a great shock to those who loved him best, it seems much more bearable than to see such a man suffer a long and distressing illness.
To those of us who remain behind to carry on the duties which he bore, there are happy memories to console us and the inspiration that his life gives us is an example to follow. He was kind, sympathetic, and cheerful. His generosities were known only to himself and the recipients of his bounty.
Regretfully we call to mind that in a few short weeks he would have arrived at the peak of Scottish Rite Freemasonry, an office in which his talents would have been appreciated and highly valued.
It is well, when blows like this strike us, that we have the Masonic faith to uphold us, believing that death is but the opening of a way to better life and service. Hopeless would be the thoughts of those who are left behind if Masonic teachings and faith did not sustain us in these hours.
Such a life of service in the community, in the church, and in the Fraternity cannot fail in its infuence upon all those whocome within its sphere. Equally with his Masonic interests, Brother Ridings was a devoted member of the church with which he was identified, and its pastor, who conducted the funeral service gave expression to this well deserved tribute:
"William Ridings had a great capacity for friendship. He was blessed with an ability to sympathize and understand and his sympathy and understanding never descended to mere intrusiveness. Fraternity was more than a word to him; he lived the word. Many knew him as a brotherly man and he exemplified in his life the very finest type of brotherhood. Few-indeed are the things a man can promise to himself to retain to the end of life. Health fails. Property has a way of slipping through the fingers. Associates drop from our side. But in the case of the most fortunate men friendship remains and blessed is the man who retains the capacity for friendship. William Ridings did that. He was a great friend for a multitude of people, life is the poorer because of his passing."
Right Worshipful Brother Ridings lived an active Masonic life as evidenced by the following Masonic record:
Raised in Mount Hope Lodge, March 22, 1895
Worshipful Master 1907
Grand Steward, Grand Lodge 1911
District Deputy Grand Master 1913-1914
Junior Grand Warden-1921
Charter Member Massasoit Lodge
Exalted in Fall River Chapter October 31, 1904
Received and acknowledged in Fall River Council June 4, 1919
Knighted in Godfrey de Bouillon Commandery, K. T. No. 25, February 16, 1910
Eminent Commander 1916-1917
Received Degrees of A.A.S.R. in Fall River Lodge of Perfection, December 12, 1911
Samuel C. Lawrence Council, Princes of Jerusalem November 16,1914
Saint Andrew Chapter, Rose Croix April 1, 1918
Most Wise Master 1932-1935
Massachusetts Consistory October 28, 1921
Brother Ridings lived his life in a way to make this world a little pleasanter place to live in and left it a little better than when he entered it, which is all any man can hope or expect to do.
We enjoyed his presence among us' we are grateful for his high service and we grieve deeply and sincerely his going into the unknown. We rejoice in mutual faith at this journey's end he will find the joy and peace of the Everlasting Life.
Arthur D. Prince
George M. Jackson
William M. Jackson
Committee
---