MAGLTStephens
From MasonicGenealogy
W(ALTER) TERENCE STEPHENS, 1928-2013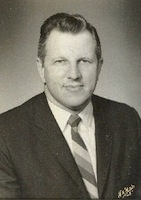 ---
MEMORIAL
Right Worshipful Walter Terence Stephens (1928-2013) passed away on August 8th, 2013. He served the Grand Lodge of Masons of Massachusetts as its Deputy Grand Master in 1979 under the administration of Most Worshipful Arthur H. Melanson.
Bro. Stephens was born on December 12th, 1928 in Arlington, Massachusetts. He was the son of Walter Lionel Stephens and Agnes Ethel Stephens. He was educated at Franklin Technical School in Boston. He worked for Atlas Elevator Company in the service department for over thirty years.
He was raised in Thomas Talbot Lodge in Billerica on May 5, 1959. He served as Worshipful Master of his lodge from October of 1965 until October of 1966. He continued to serve the lodge as Secretary from 1967 until 1995, and from 2008 until his death.
Bro. Stephens was also an affiliate member of Wamesit Lodge in Tewksbury, Tahattawan Lodge in Littleton, Merrimack Valley Daylight Lodge in North Andover, Lynnfield-Zetland Lodge in Wakefield, and Frank W. Thompson Lodge in Bedford.
His service to Grand Lodge began in December of 1972, when he began his term as District Deputy Grand Master of the old Lowell 12th Masonic District, a post he held until December of 1974. He became a permanent member of our Grand Lodge after he was appointed to serve as Deputy Grand Master by Most Worshipful Arthur H. Melanson for the 1979 year.
He received the Joseph Warren Distinguished Service Medal in 1973, the Henry Price Medal in 1979, and the Veterans Medal in 2009. Bro. Stephens served his country faithfully in the United States Navy from 1946 until 1952.
He continued his service to the fraternity as a Grand Representative to New York, a post he held from 1980 until his passing. Most recently, he has served as a Trustee for Thomas Talbot Lodge since 2012 and the Secretary of Wamesit Lodge since 2009.
Ill∴ Bro. Stephens was highly involved in the Scottish Rite, serving as Sovereign Prince of Lowell Council, Princes of Jerusalem, and as Secretary for the Valley of Lowell for many years. He was honored by the Rite for his dedication by being coroneted as a Sovereign Grand Inspector General of the Ancient Accepted Scottish Rite of the Northern Masonic Jurisdiction; the 33° is the highest honor afforded to a brother of the Rite.
Terry was also a recipient of the Honorary Legion of Honor from the International Supreme Council of the Order of DeMolay, and served as a dedicated advisor for many years. He was rewarded for his service to DeMolay by being made an Honorary Member of the Supreme Council.
Another one of our great columns has broken. Terry will be sorely missed by all of those who had the pleasure of knowing him in life. The thoughts and prayers of our Grand Lodge are with his Masonic brothers, his friends, and most importantly, his family.
Calling hours have been scheduled for 4:00pm-8:00pm on Monday, August 12th at the Burns Funeral Home in Billerica (www.burnsfuneralhomes.com). The Masonic Service will begin at 7:00pm.
The funeral is scheduled for 10:00am on Tuesday, August 13th at St. Anne's Episcopal Church in Billerica.
---