MAGLRMcKechnie
From MasonicGenealogy
ROBERT J. McKECHNIE 1883-1950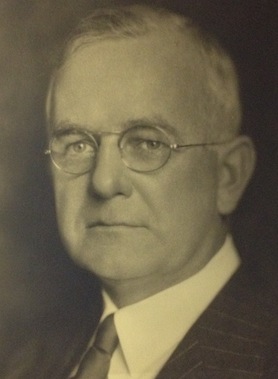 Grand Standard Bearer, 1925
Grand Marshal, 1926-1928; 1932-1934
Senior Grand Warden, 1929
MEMORIAL
From Proceedings, Page 1950-240:
Right Worshipful Robert J. McKechnie was born in Durham, Canada, May 3, 1883, the son of Daniel and Mary (Benson) McKechnie. When he was seven years old, his family came to the United States and settled in Taunton, Massachusetts, where Brother McKechnie grew up, receiving his education in the schools of that City. He married Cora F. Williams of Taunton on September 8, 1909. Mrs. McKechnie survives him. There were no children.
R.W. Brother McKechnie early became associated with the coal industry and for thirty years was engaged in that business with the Staples Coal Company of Taunton, serving as president of that company for the last six years he was with it. For eight years prior to his death he was connected with the C. H. Sprague Company of Boston in the capacity of assistant to the president of that company. During World War II, Mr. Richard L. Bowditch, President of the Sprague Company was Fuel Administrator for Massachusetts, and Brother McKechnie served as assistant to Mr. Bowditch in this capacity. After the war, he compiled data for the Sprague Company on fuel tonnages to New England, particularly of bituminous coal. This work required him to spend much time in Washington, D. C. in research and in attending hearings, and he was in the Capitol City when he died suddenly on Tuesday, April 18, 1950. Funeral services were held Friday, April 21, at the First Parish (Unitarian) Church in Taunton, of which Brother McKechnie was a member, and in which he had served for many years as Moderator.
R.W. Brother McKechnie had a lively interest in the civic affairs of the City of Taunton. For several years he was a member of its Common Council. He was trustee of the Morton Hospital in that City and was active in the annual drives for the Community Chest.
Brother McKechnie's service to the Masonic Fraternity was long and distinguished. He was received in Alfred Baylies Lodge of Taunton on November 21, 1906, passed on December 19, 1906, and raised on February 6, 1907. He served in the various offices of the Lodge and was elected Worshipful Master in 1910. He received the Royal Arch Degree on April 9, 1923, the Super Excellent Degree on June 13, 1923, and the Order of the Temple on June 23, 1923, in St. John's Commandery, No. 1, at Providence, Rhode Island. He became affiliated with St. Bernard's Commandery, No. 12, of Boston on February 10, 1932. He became a member of the several Scottish Rite Bodies as follows: Fall River Lodge of Perfection, February 6, 1933; Samuel C. Lawrence Council, Princes of Jerusalem, Fall River, March 6, 1933; St. Andrew Chapter of Rose Croix, Fall River, April 3, 1933; he affiliated with Mt. Olivet Chapter of Rose Croix, Boston, October 20, t933, and was elected to Massachusetts Consistory, Boston, April 28, 1933. He was Senior Warden of Mt. Olivet Chapter of Rose Croix in 1945, declining re-election to that office in April, 1946, because his business duties required extended absences in Washington.
In Grand Lodge, Brother McKechnie served as Grand Standard Bearer in 1925, and in 1926 to 1928, he served as Grand Marshal under Most Worshipful Frank L. Simpson. He was elected Senior Grand Warden in 1929. After his year in office as Grand Warden, he accepted appointment and served as Grand Marshal during Most Worshipful Brother Chipman's term of office in 1932, 1933 and 1934. This very unusual service was characteristic of him and of his attitude toward Freemasonry. He sought nothing for himself, but welcomed the opportunity to be of service to others.
R.W. Brother McKechnie's character was not one difficult of appraisal. He was a forthright man of strong opinions, of good sense and judgment in all the practical affairs of life. But withal, he possessed a high idealism, to which the speculative philosophy of Masonry made a strong appeal. He was loyal and sincere in his dealings with others, and was impatient if not intolerant of pretense and hypocrisy. He had a charming personality and made friends quickly and easily, and these he bound to himself with the golden bonds of real affection. Serving as he did for six years as Grand Marshal and a year as Senior Grand Warden, he came into contact with a very large number of the Brethren, especially with the officers of the Lodges, to whom he was generally and affectionately known as "Bob." He was one of the best known Masons in the jurisdiction in the years in which he was active, and none stood higher in the esteem of those who knew him.
But for his high sense of duty, he might well have given more of himself to the service of the Fraternity. Urged by many to permit his name to be put forward for the office of Grand Master, he rejected these suggestions because he did not feel he could devote to that office, for which he had the highest respect and regard, that measure of effort which his conception of obligation would demand of him, in view of other duties which were a heavy drain on his time and energy.
He left the best of inheritances, a good name, the memory of a good man, a record of good works, and a host of friends who sincerely mourn his passing with a grief which is assuaged by the conviction that all is well with him.
Fraternally submitted
Frank L. Simpson
Rutherford E. Smith
Russell M. Borden
Committee
---