MAGLORoberts
From MasonicGenealogy
OLIVER AYER ROBERTS 1838-1922
[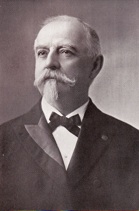 Junior Grand Warden, 1908
MEMORIAL
From Proceedings, Page 1922-429:
Oliver A. Roberts was Junior Grand Warden of this Grand Lodge in 1908 and for long years he was our Librarian. He had a genius for detail and many of the plans that he devised have been of large practical value to the Grand Lodge and to the Craft in general. He had an interest in his department which amounted almost to that of a concept of a personal possession.
He was always present and will be greatly missed from his accustomed place and work, but he was five and eighty years of age and was able to be with us up to a few days before the end, which came very suddenly on December 4th.
From Proceedings, Page 1922-565:
Brother Roberts was born in Haverhill, Mass., March 17, 1838, and he graduated from the High School of that town in 1857, spent one year at Yale College, and graduated from Antioch College, Ohio, in 1868.
In 1862 he enlisted in the 50th Regiment of Massachusetts Volunteer Infantry and was appointed Sergeant Major, and at the expiration of his term of service re-enlisted in the 110th Ohio Regiment and was discharged June 25th, 1865, at the close of the war. After an experience as publisher and as a teacher, he was ordained to the ministry and held pastorates in the Christian Church at Le Grand, Iowa, New Bedford, Mass. and Salisbury, Mass.
He accepted a position at our Masonic Temple in 1886, and at the time of his death had been in the employ of the Grand Lodge for thirty-seven consecutive years and had served under fifteen Grand Masters.
Brother Roberts was raised in Merrimack Lodge, of Haverhill, in 1862. In 1864 he dimitted and joined Springfield Lodge, of Springfield, Ohio, dimitted from that Lodge in 1868 and became a charter member and first Senior Warden of Yellow Springs Lodge, Yellow Springs, Ohio; dimitted from there in 1869, and joined Polar Star Lodge of Le Grand, Iowa; dimitted from there in 18?2 and joined Star in the East Lodge, of New Bedford, and was its Chaplain for seven years. He joined Warren Lodge of Amesbury, Mass., in 1882, and was elected Master the same year, serving one term. He was District Deputy Grand Master for the Ninth District for three years from 1884 to 1886, and was Junior Grand Warden of the Grand Lodge in 1908. He was an Honorary Member of Hiram Lodge, of Arlington, St. Mark's Lodge, of Newburyport, and Warren Lodge, of Amesbury.
He received the Chapter Degrees in Springfield, Ohio, in 1867, dimitted in 1872 and united with Adoniram Royal Arch Chapter, of New Bedford, and was Chaplain for several years and in 1886 was appointed Grand Chaplain of the Grand Chapter of Massachusetts. He was an Honorary Member of King Cyrus Chapter, of Newburyport. He received the Council Degrees in Springfield Council, of Springfield, Ohio, and was an Honorary Member of Melrose Council, of Malden, Mass. Brother Roberts received the Order of the Temple in Sutton Commandery, of New Bedford, in 1872, dimitted and joined Newburyport Commandery and was its Eminent Commander in 1881. He was Associate Member of Hugh de Payens Commandery of Melrose and was its Prelate for several years. He received the Scottish Rite Degrees in the four bodies of Boston in 1874 and 1875, and was Prior of the Council of Deliberation for twenty-six years and for several years Grand Prior of Massachusetts Consistory.
Brother Roberts was intensely patriotic and he was a member of the Grand Army of the Republic at New Bedford and later of Buckholder Post of Yellow Springs, Ohio, and he was in demand as a speaker on Memorial Days. He was always public spirited and served. the city of New Bedford as School Committeeman from 1876 to 1878. He was a member of the Board of Trustees of the Public Library in the same city for three years and City Auditor for two years. In Melrose he was a member of the School Committee from 1896 to 1898. In 1882 he was a member of the House of Representatives, representing Amesbury and West Newbury.
Brother Roberts was a lover of Masonry and the copy of the old records from 1733 to 1792 which he prepared, as well as his collection of newspaper reports of important Masonic events, and his card catalogue of the Brethren in Massachusetts, hear testimony of his painstaking interest in the department so long entrusted to his charge. Brother Roberts married in March 11, 1864, Miss Emily W. Botsford, in Yellow Springs, Ohio. Two sons were born to them: Oliver Brewster Roberts and Stephen Henry Roberts. Mrs. Roberts died on May 9th, 1914, and on June 5th, 1917, Brother Roberts married Sallie I. Hunt of Boston, who survives him.
Brother Roberts died on December 4th, at his home in Boston. His was a long and useful life and he will be gratefully remembered. for his contribution to this Grand Lodge and the welfare of the Massachusetts Brethren.
William M. Belcher,
Charles I. Pettingell,
John A. Wilson, Jr.,
Committee.
---
ADDRESSES
FEAST OF ST. JOHN, DECEMBER 1887
From Liberal Freemason, Vol. XI, No. 11, February 1888, Page 333:
HISTORICAL ADDRESS.
Festival of St. John, December 27, 1887, at Masonic Temple, Boston.
M. W. Grand Master: —
My contribution at this time will consist of a simple illustration, —
July 30, 1733, there was born in the Bunch of Grapes Tavern, "in King's Street, just below the Town House," Boston, a male child, of pure English ancestry. He was named St. John. At the baptism of this child, Henry Price stood as godfather, while the saints-in-waiting were Andrew Belcher, Thomas Kennelly, James Gordon, and others of equal character and fame. The child grew in wisdom, strength and beauty, and immediately found himself patronized by the first citizens of the colony. Eminent men gathered at his round-table, notably Benjamin Franklin, John, Earl of Loudoun, Robert Tomlinson, Major Erasmus James Phillips, Lord Colvill, Peter Leigh, and many others. King Arthur's round-table, with its knights and courtiers, pales in comparison with the festive board of this youthful St. John, with its men renowned in peace and war, renowned in letters and commerce, men of high character and marked excellence. This young man took an active interest in public matters, and was influential in the social and business interests of the colony. In Church and State, in trade and society, his admirers were among the most prominent citizens of a century and a quarter ago. He was represented on every colonial battle-field from 1733 to 1792. His soldier pupils bore brave arms from Quebec in the North to the everglades of the South, and trod the deck of nearly every war-vessel and privateer of the Revolution. His admirers were the judges, statesmen, generals, and toilers of those fifty-nine years. The eloquent exalted his virtues and sang his praises. Ministers of the Gospel, notably Brockwell, Walter, Browne, and Bass, gave this growing youth the endorsement of their pulpit utterances. He grew with surprising vigor, and ere he had attained his young manhood his influence was felt and his fame extended far and near.
To speak in a figure, with one hand he grasped the mountains of Vermont, while his other laid upon the rocky shore of Halifax; one foot was bathed in the waters of the Narraganssett, while the other rested upon the Alleghenies, and, by a supposable contortion, his brains and his heart were in Boston Vermont welcomed him, New York greeted him, Rhode Island received him, Philadelphia exalted him, in the person of Benjamin Franklin (whom St. John appointed first Master of a Lodge in that city). He was the first with no equal; the isles of the sea followed in his train; far-off Nova Scotia bowed to his authority, and the army of 1776 bore his emblems — the three Great Lights — on every tented field. The great Washington deigned to accept his hospitality, and Lafayette, Putnam, Hull, Lincoln, with scores of other revolutionary generals, colonels, and minor officers and privates, enrolled themselves under his banner.
He was, however, not always vigorous. Not by virtue of years, but through lack of exercise, he experienced dormant days. After each relapse he arose with new energy and new friends to pursue his destined work. The blockade of Boston especially prevented his wonted exercise. In 1792 he had reached a marriageable age, but he was poor, not over-strong, and needed careful nursing.
December 27, 1769, there was born at Mason's Hall, in Green Dragon Tavern, which stood next to the north-west corner of Hanover and Union Streets, a female child of Scotch ancestry. At the baptism of this child General Joseph Warren stood as godfather, while around him, in the gorgeous livery of the army of King George, stood the Masters and Wardens of the three Lodges in the English Army, and, in more modest colors, the officers of the Lodge of St. Andrew. Vigorously the sweet and beautiful child set out on her destined duty, and very soon achieved great influence and considerable size. Her winsome form(s) made an impression in towns far and near, and St. Andrew, St. Peter, St, Paul, St. Patrick, and other saints in fact, if not in name, rallied to the support of the Scotch banner she unfurled. She was cultured, beautiful and gay. At times her house was closed, her table deserted, and the fire on her hearthstone smothered. She had days of illness. When the first bashfulness of girlhood was overcome she indulged in occasional flirtations with the young man St. John, separated by such scolds and coldness as true lovers are apt to experience. Again they would meet, sit at each other's table, celebrate St. John's and St. Andrew's days, walk in the same processions, sing each other's virtues, and embrace each other, at times, in mutual and innocent fondness.
Judges knelt before her; the learned in the law and gospel enjoyed her hospitality. Loyalists found temporary shelter within her guarded home, and federalists of most loyal stamp were among her stanchest admirers. Paul Revere, Col. Thos. Crafts, Gen. Elisha Porter, Dr. Josiah Bartlett, and other noted men of '76, were devoted to her interests. General Gates, an officer of distinction, and Adjutant-General of the army when Washington took command at Cambridge, together with his family, partook of her hospitality one hundred and nine years ago to-day. One hundred and seven years ago to-day their places at the same generous board were filled by His Excellency Gov. Hancock, Major Keith and Hon. Benjamin Lincoln. Though born of warlike parentage, and with special attachments to the English hearthstone; though strongly loyal to the mother-country, she nursed the matchless Paul Revere, Colonels Burbeck, Crafts, Davis, and patriots almost without number. At her altar the tea plot was conceived and planned, and by her devotees the tea was steeped [in the waters of Boston Harbor. Her friends were temporarily savages that they might be freemen afterward. The fluctuations of trade, the vicissitudes of war, the call to the tented fields, and the ostracism of loyalists affected at times her health ; but convalescence, under the treatment of Drs. John Warren and Josiah Bartlett, as regularly returned. The war was over, illness was overcome, and at the age of twenty-two we find her patiently and earnestly pursuing her chosen duty.
In 1792, after years of intimate knowledge of her lover, she was willing to listen to a proposal. It was considered, accepted, and soon consummated. The bridegroom was fifty, nine and the bride was twenty-three years of age.
On the 5th of March, 1792, the nuptial knot was tied, and concord and good-fellowship, which no flight of years has since disturbed, was ushered in. John Cutler, Paul Revere, John Warren, Moses Michael Hays, Josiah Bartlett, Wm. Scollay, John Lowell, and seven others, were the happy participators in this happy event. The parties in contract — St. John's Grand Lodge and Massachusetts Grand Lodge promised to leave all others, and to cleave only to each other and be to each other true, devoted, and faithful while time should endure. Thus was the marriage of St. John's Grand Lodge of 1733 and Massachusetts Grand Lodge of 1769 productive of a glorious Masonic union. Immediately upon that event, the same year, month, day and hour, there was a birth. St. John and Massachusetts, thus joined in holy wedlock, then and there begat a child, who is here to-day at the vigorous age of ninety-five years. In his youth he grew grandly, toiled earnestly, and achieved mightily. He has had his ill clays and has felt the hurt of an unwarranted public persecution; but he has survived them, both and all, and to-day, with a vigor hitherto unexcelled, with a prosperity hitherto unattained, with an influence hitherto unequalled, the Grand Lodge of Massachusetts hopefully, patiently and lovingly undertakes the duties of 1888.
"On wings of light Hope's fairy form appears,
Smiles on the past and points to happier years:
Points with uplifted hand and raptured eye
To the pure dawn that floods the opening sky."
NEW ENGLAND CRAFTSMAN, NOVEMBER 1905
From New England Craftsman, Vol. I, No. 2, November 1905, Page 55:
Freemasonry a Blessing to Humanity
It is not my wish to write an encomium upon Freemasonry, but to narrate certain facts as evidence that Freemasonry has been and is a blessing to humanity.
"The acorn, covered with a handful of earth, yields to nature's power, bursts its shell, sends forth its tender shoot, which, blessed by the genial sun and gentle rain, draws from mother earth, life, strength, beauty, until it becomes a great oak, lifting its giant arms defiant to the storm, a welcome shade to the weary traveler, among whose branches the birds rest, nest and sing, deep rooted, strong, beautiful, a simple illustration of the silent working, the silent progress and astonishing development under the action of nature's laws."
This illustrates the origin and development of Freemasonry. Where the first seed was planted, we know not; when, we know not. The prehistoric period of Freemasonry — legendary and traditional - proves that the acorn had been planted; and the dawn of the historic period proves that the acorn had burst its shell, and the strong, sturdy shoot hailed the bright sun and the falling dew. The acorn has become a great forest, overspreading the earth. The oak is an oak in Europe, Asia and America, both before and since the flood. There are marked similarities in methods, principles and aims between the mysteries of ancient days and the Freemasonry of to day. In all there is one uniform expression of the human soul. An unpreaching, outlooking, progress to-day; immortality hereafter.
The work now being done by the Freemasons of Europe is certainly a blessing to humanity. I do not refer to the civil and political upheavals, or the overthrow of despotisms and the emancipation of the people surely going on, but the schools, hospitals, asylums, homes for the poor, maimed and ill, are blessings to humanity.
The Grand Lodge of England, in the 27 years of the Grand Mastership of the Prince of Wales, now King Edward VII, gave $10,000,000 to charity. The Royal Masonic Institution for Girls in London costs the Freemasons of England $100,000 annually. The Royal Masonic Institution for Boys costs the same, and the Royal Masonic Benevolent Institution for aged Freemasons and wives of Freemasons costs nearly as much annually. The Grand Lodge of Scotland donates annually to various charities $100,000. The Grand Lodge of Ireland supports a boys' and girls' school, a home for aged brethren and widows, and an orphanage for Masons' orphans. The Grand Lodges Union, of Germany, composed of eight Grand Lodges, maintains but one charitable institution, probably the largest charitable institution in the world. The Grand Lodge of Concord, at Darmstadt, in Hesse, gave in 1903 183,500 marks for the purpose of endowing free beds in the sanitarium at Newheim, for the benefit of children of poor members. Over 100 years ago, Princess Louise, whose husband was Grand Master of the Netherlands at the time of his death, bequeathed at her decease a large sum for charity to that Grand Lodge. This fund has increased under the frugal management of the Dutch financiers until it has reached the amazing sum of 14 million florins. It supports several Masonic charitable institutions.
The Grand Lodge of Hungary is among the first in exemplifying the principles of equality, fraternity, charity. In 1901 and 1902 the poorer classes in Buda-Pesth suffered from scarcity of food. Freemasons of that city established in the basement of the Masonic Temple a bureau of relief and supplied every needy and indigent person a loaf of bread each day. One million and a half of loaves of bread were given away each year, and in the winter of 1902, 3000 children received in addition a pint of milk each day.
The humane spirit of our Hungarian brethren does not rest with feeding the hungry, but also is interested in the social and spiritual welfare of the people. The Grand Lodge issued last year a circular letter "Admonishing the lodges to look after the youth of both sexes; to foster those who have no friends to protect the youth who comes from the country, whether rich or poor; to reclaim those who have gone astray, and not to leave them to prison reforms, but with Masonic heart and guidance bring them back to the path of rectitude and to restore them to society as useful members."
Isn't this Christian work, and are not these brethren walking in the Master's footsteps? Is not such an institution a blessing to humanity?
In our own country Masonic homes have multiplied rapidly during the last 25 years. In one-third of the States of our Union Masonic homes have been established. The Grand Lodge of the Empire State heads the column, with its building at Utica, costing a million of dollars, and its annual expenditure for maintenance of $68,000. The Ohio Masonic Home is a model, beautifully situated, complete in its appointments, where the aged and the young to the number of 150 have a delightful home. The Kentucky Masonic Home has been doing its humane work for many years, and it is a grand blessing to its inmates.
These homes are certainly doing a humane, Christian work. They not only preach charity, but they do it.
Freemasons are among the leaders in the world's political and civil pro gress to-day. They are the peace makers. Freemasonry is a blessing to humanity in that it is always 011 the side of liberty against despotism; of education against ignorance; of equality against slavery. Masonry opens a new temple, erects a new altar, around which brethren of the craft may gather in the spirit of true brotherhood. Differences are left outside, and all meet on the common ground of charity and fraternity. No place under the broad canopy of the sky is blessed with a deeper spirit of peace, a more winning atmosphere of good will, and a stronger sense of human weakness and of divine help than the Masonic lodge-room.
Masonry has made men better. It has led them to a higher and purer life. It has made them appreciate a noble manhood. It has taught them how to live, it has taught them how to die. It has permeated the civilized world with its principles. It is the handmaid of all that is best. Into whatever forests or deserts civilization has made its way the three great lights have illumed the path. Freemasonry exists not to burden, but to help; not to pull down but to build up; not to cherish hate but to inspire love.
Its permanent home is on Mount Gerizim, the mount of blessing. Without ostentation or boasting the Order does its work. It clothes the naked, feeds the hungry, builds homes for the homeless and asylums for the sick. It educates the ignorant and shelters the fatherless. It seeks the amelioration, betterment, happiness and prosperity of all men.
ADDRESS AT HALL DEDICATION, NOVEMBER 1905
From New England Craftsman, Vol. I, No. 6, March 1906, Page 194:
Freemasonry — A World Power Address at the laying of the corner-stone of the new Federal Building in Amesbury, Mass., Nov. 16, 1905, by request of the M. W. Grand Master.
The United States of America has been termed a World-Power. It has made its influence felt and recognize I beyond its shore lines. It rescued Cuba, possessed Puerto Rico, wrested the Philippines from tumult and darkness, Santo Domingo from bankruptcy and war, and was largely instrumental in effecting peace between Japan anil Russia. Our country has been exalted among the nations of the earth because, with no spirit of aggrandizement, it has served other peoples when in distress, disorder, insurrection or war. The wise diplomacy, supported by an efficient army and navy, by which these worthy ends were attained, challenges admiration and exalts the United States of America to a prominent place among the leadinu nations of the world. America became a world-power, when, beyond the boundaries of the states, the republic bared its strong right arm and gave liberty to fettered peoples, when it sought and obtained the promise of an "open door," when it achieved victories in foreign lands and seas, whc11 jts pleading voice was heard in the palaces of the Czar and the Mikado, yes, all over the globe, urging peace between warring nations. Surely the United States of America has become a world-power.
FREEMASONRY A WORLD POWER.
Greater than any national influence over the peoples of the earth is the influence of Freemasonry. It, indirectly, sways the sceptres of kingdoms and sheds light and glory in the humblest hamlet. Its power is not centralized in any earthly capital whence commands go forth to the ends of the earth, but its power resides in its millions of members. Its membership is coincident with humanity. It is the greatest and most potent of the secular organizations of our time. It is universal — and therefore its influence being world wide, it is a world-power.
Freemasonry exists — a vital force — not only on this densely populated coast, in the great valley of the West, and on our golden shore, but China opens her doors to new light and the isles of the sea waken to new truth; Masonic altars rise in the new states of Australia and torrid India fosters tlie universal brotherhood; Africa is girdled with Masonic lights all along ner shores and Lodges in the repub-hesof South America join the universal service and work. Italian and Hungarian, French and English, Swede and Norwegian, Turk and German — all sing the praises of Freemasonry and assemble in peace and brotherhood. The emperor Charles V, boasting that the sun never set in his dominions. The sun in his daily revolution finds each hour some hallowed spot — the domicile of a Lodge or the home of a Freemason — on which to spiritual temple whose pillars are Wis-shed his beams of light and heat. "The field is the world," and the laborers are found in every clime and country.
This vast brotherhood gathers in a spiritual temple whose pillars are wisdom, Strength and Beauty and whose walls are emblazoned Brotherly Love, Relief and Truth. Sameness marks its character everywhere. The Fraternity is not divided into sects or parties, jealous of each others success or influence, but is builded upon the same foundation, is governed by the same fundamental laws and everywhere seeks the same ennobling results. Political prejudices and religious dogmas are dropped at the outer door, and upon the ground of a common humanity, friendship binds, brotherly love cements, peace unites and the blessedness of a calm retreat from the anxieties and coufusions of life pervades the soul. Freemasonry holds men of every race, color and creed by its divine tie of brotherhood — "whose mind is truth, whose heart is friendship, whose hand is justice and whose action is charity."
If the results aimed at were reached then vice, crime, poverty and war would cease; concord would be established among all classes; friendship would cement the now divided humanity and peace would shelter all nations with its outstretched wings.
The prophet saw the stone, cut out without hands, which smote the image and the iron, the clay, the brass the silver, and the gold became like the chaff of the summer threshing-floors; and the stone that smote the image became a great mountain that filled the whole earth. Freemasonry more than any other agency known among men fulfills the grand vision of the prophet.
Freemasonry is a world-power in the influence its teachings and symbols have upon the hearts of men. Symbols are the language of Deity. They are the spiritual incarnated in the material. "The first learning in the world consisted chiefly in symbols. The original alphabet consisted of hieroglyphic characters, i.e., characters representing an idea not a sound. Mere words do not make such an impression on the mind as the language of symbols. The latter are a universal language. Symbols, with the lessons they teach, cherished by the Fraternity throughout the world, make the order a world-power.
The lamb-skin apron is an emblem of innocence everywhere, and exhorts the wearer to that purity of heart and conduct without which no one can obtain admission to the Celestial Lodge above; the hour-glass, a pathetic image of human life which all men everywhere realize: the clasped hands, denoting universal friendship, finds a brotherly response in every land; humanity recognizes that the All-seeing Eye never slumbers nor sleeps and that the profoundest secrets of the human heart are unveiled by its glance; the coffin and spade are universally recognized and impress men with that house appointed for all the living, while the blooming acacia, symbol of hope, fragrant with immortality, prophecies a better state of being where peace and love and life abide forever.
These and other symbols have a lasting impression upon the minds of men that counts for gain, strength, and hope. The outward symbol enforces the inward meaning and is a moral and spiritual betterment to our brethren everywhere.
The fraternity is suited to all men because its truth is absolute; it is suited to all conditions of men because its charity is unbounded; suited to all peoples because it stands on the same plane with humanity; suited to all religions, because, while opposing none, it makes practical and helpful the attempts at man's amelioration. This Fraternity is patient under reverses, calm amidst public tumult, tolerant of all faiths, practical in its teaching, benevolent toward the needy, sympathetic toward the sorrowing—the basis of whose faith is the Holy Bible and whose hope is the uplifting, progress and happiness of the human race.
---
EVENTS
50 YEAR ANNIVERSARY, MARCH 1912
From New England Craftsman, Vol. VII, No. 7, April 1912, Page 244:
There was a notable gathering; of Masons at Haverhill, Mass., Wednesday, March 20th, to greet Rt. Wor. Oliver L. Roberts in honor of his completion of a half century as a Mason. The ceremonies were in charge of Merrimack Lodge which held a special communication that was attended by upwards of 300 members of the craft, representing 43 different lodges throughout the country. Among the number were 70 masters and past masters of Merrimack and Saggahew lodges of Haverhill and the neighboring lodges of the cities and towns in Essex counly and southern New Hampshire. A banc|Uet was served at 6.30 o'clock. A reception followed, when those present were given an opportunity of meeting the distinguished guest, who expressed himself as greatly pleased to meet those of the younger generation of the craft who have followed in his footsteps.
A feature of the evening was the presentation to Mr. Roberts by Worshipful Master Albert H. Hale of Merrimack lodge of a parchment bearing a sketch of the old South Church, of which Mr. Roberts' father was the pastor and under which he maintained a general store. The parchment was suitably inscribed. Mr. Roberts in turn presented the lodge through Worshipful Master Hale with a large photograph of himself and also a Masonic volume of which he is the author.
Mr. Roberts celebrated his 74th birthday on Sunday, March 17. He was born in Haverhill in 1838. He attended the primary and grammar schools and entered the High School in 1851, graduating in 1857. After spending one year at Yale, in 1859 he entered Antioch College in Yellow Springs, O. When the rebellion broke out the college closed, the students having enlisted in the United States service, Mr. Roberts returned home and enlisted in the 50th regiment of Massachusetts volunteers. He was appointed sergeant-major and served as such until the expiration of his term of enlistment. Returning west, he re-enlisted in the 110th regiment of Ohio volunteers.
In 1870 he became pastor of the First Christian church in New Bedford and served as such for eight years. In 1877 he resigned and made an extensive tour of Europe, Asia and Africa. In 1880 he became pastor of the Christian church of Salisbury and after eight years' service resigned. In 1886 he began his labor in the office of the grand lodge, A. F. and A. M., of Massachusetts in Boston, in which he has been engaged for 26 years.
During this time he has written and published "The Pilgrimage of Boston Commandery, K. T., to San Francisco and Return," a volume of 460 pages, and a history of the Ancient and Honorable Artillery company in four volumes of 500 pages each; sermons delivered at Windsor Hotel, Montreal, and Profile House in the White Mountains, besides numerous articles for magazines and newspapers.
Mr Roberts delivered addresses at the Masonic centennial anniversary of King Cyrus chapter, R. A. M., in Newburyport in 1890; the centennial anniversary of Hiram Lodge of Arlington in 1897; the centennial anniversary of St. Mark's Lodge of Newburyport in 1903, besides others on various occasions.
Mr. Roberts received his first three degrees in Masonry in Merrimack Lodge on March 2, April 2, and May 7, 1862. He was admitted in 1868 and became a charter member of Yellow Springs Lodge of Ohio and was its first Senior Warden. On his return to Massachusetts he joined Star in the East lodge of New Bedford and was its chaplain for several years. On his removal to Salisbury he united with Warren Lodge and became its master in 1882. He was district deputy grand master of the Ninth Masonic District in 1884, 1885 and 1886. In 1905 he was appointed Deputy Grand Master by Most Worshipful John Albert Blake, but declined the appointment, and in 1907 was elected Junior Grand Warden of the Grand Lodge of Massachusetts. He has acted as Grand Chaplain of the Grand Lodge, and has filled other minor offices and is chairman of the committee on curiosities of the craft.
Mr. Roberts was Grand Chaplain of the Grand Royal Arch Chapter of Massachusetts for several years, errand Primate of the Massachusetts consistory, 32°, for nine years and Grand Prior of the Council of Deliberation for 27 years.
He was married on his birthday, March 17, 1864, to Miss Emily Wilbor Botsford of Yellow Springs, O., and now makes his home in Melrose. They have two sons, Oliver Brewster, sub-master of the Allen School, Newton, and Stephen Herbert Roberts, manager of the safe deposit vaults of the State Street Trust Company, Boston.
---