MAGLORoberts
From MasonicGenealogy
OLIVER AYER ROBERTS 1838-1922
[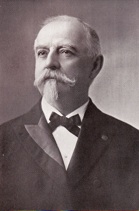 Junior Grand Warden, 1908
MEMORIAL
From Proceedings, Page 1922-429:
Oliver A. Roberts was Junior Grand Warden of this Grand Lodge in 1908 and for long years he was our Librarian. He had a genius for detail and many of the plans that he devised have been of large practical value to the Grand Lodge and to the Craft in general. He had an interest in his department which amounted almost to that of a concept of a personal possession.
He was always present and will be greatly missed from his accustomed place and work, but he was five and eighty years of age and was able to be with us up to a ferv days before the end, which came very suddenly on December 4th.
From Proceedings, Page 1922-565:
Brother Roberts was born in Haverhill, Mass., March 17, 1838, and he graduated from the High School of that town in 1857, spent one year at Yale College, and graduated from Antioch College, Ohio, in 1868.
In 1862 he enlisted in the 50th Regiment of Massachusetts Volunteer Infantry and was appointed Sergeant Major, and at the expiration of his term of service re-enlisted in the 110th Ohio Regiment and was discharged June 25th, 1865, at the close of the war. After an experience as publisher and as a teacher, he was ordained to the ministry and held pastorates in the Christian Church at Le Grand, Iowa, New Bedford, Mass. and Salisbury, Mass.
He accepted a position at our Masonic Temple in 1886, and at the time of his death had been in the employ of the Grand Lodge for thirty-seven consecutive years and had served under fifteen Grand Masters.
Brother Roberts was raised in Merrimack Lodge, of Haverhill, in 1862. In 1864 he dimitted and joined Springfield Lodge, of Springfield, Ohio, dimitted from that Lodge in 1868 and became a charter member and first Senior Warden of Yellow Springs Lodge, Yellow Springs, Ohio; dimitted from there in 1869, and joined Polar Star Lodge of Le Grand, Iowa; dimitted from there in 18?2 and joined Star in the East Lodge, of New Bedford, and was its Chaplain for seven years. He joined Warren Lodge of Amesbury, Mass., in 1882, and was elected Master the same year, serving one term. He was District Deputy Grand Master for the Ninth District for three years from 1884 to 1886, and was Junior Grand Warden of the Grand Lodge in 1908. He was an Honorary Member of Hiram Lodge, of Arlington, St. Mark's Lodge, of Newburyport, and Warren Lodge, of Amesbury.
He received the Chapter Degrees in Springfield, Ohio, in 1867, dimitted in 1872 and united with Adoniram Royal Arch Chapter, of New Bedford, and was Chaplain for several years and in 1886 was appointed Grand Chaplain of the Grand Chapter of Massachusetts. He was an Honorary Member of King Cyrus Chapter, of Newburyport. He received the Council Degrees in Springfield Council, of Springfield, Ohio, and was an Honorary Member of Melrose Council, of Malden, Mass. Brother Roberts received the Order of the Temple in Sutton Commandery, of New Bedford, in 1872, dimitted and joined Newburyport Commandery and was its Eminent Commander in 1881. He was Associate Member of Hugh de Payens Commandery of Melrose and was its Prelate for several years. He received the Scottish Rite Degrees in the four bodies of Boston in 1874 and 1875, and was Prior of the Council of Deliberation for twenty-six years and for several years Grand Prior of Massachusetts Consistory.
Brother Roberts was intensely patriotic and he was a member of the Grand Army of the Republic at New Bedford and later of Buckholder Post of Yellow Springs, Ohio, and he was in demand as a speaker on Memorial Days. He was always public spirited and served. the city of New Bedford as School Committeeman from 1876 to 1878. He was a member of the Board of Trustees of the Public Library in the same city for three years and City Auditor for two years. In Melrose he was a member of the School Committee from 1896 to 1898. In 1882 he was a member of the House of Representatives, representing Amesbury and West Newbury.
Brother Roberts was a lover of Masonry and the copy of the old records from 1733 to 1792 which he prepared, as well as his collection of newspaper reports of important Masonic events, and his card catalogue of the Brethren in Massachusetts, hear testimony of his painstaking interest in the department so long entrusted to his charge. Brother Roberts married in March 11, 1864, Miss Emily W. Botsford, in Yellow Springs, Ohio. Two sons were born to them: Oliver Brewster Roberts and Stephen Henry Roberts. Mrs. Roberts died on May 9th, 1914, and on June 5th, 1917, Brother Roberts married Sallie I. Hunt of Boston, who survives him.
Brother Roberts died on December 4th, at his home in Boston. His was a long and useful life and he will be gratefully remembered. for his contribution to this Grand Lodge and the welfare of the Massachusetts Brethren.
William M. Belcher,
Charles I. Pettingell,
John A. Wilson, Jr.,
Committee.
---