MAGLORoberts
From MasonicGenealogy
OLIVER A. ROBERTS
[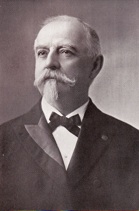 Junior Grand Warden, 1908
MEMORIAL
From Proceedings, Page 1922-429:
Oliver A. Roberts was Junior Grand Warden of this Grand Lodge in 1908 and for long years he was our Librarian. He had a genius for detail and many of the plans that he devised have been of large practical value to the Grand Lodge and to the Craft in general. He had an interest in his department which amounted almost to that of a concept of a personal possession.
He was always present and will be greatly missed from his accustomed place and work, but he was five and eighty years of age and was able to be with us up to a ferv days before the end, which came very suddenly on December 4th.
From Proceedings, Page 1922-565:
---