MAGLJJolicoeur
From MasonicGenealogy
JAY JOLICOEUR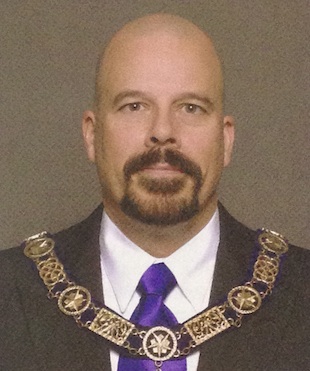 Deputy Grand Master, 2010
BIOGRAPHY
From TROWEL, Spring 2010, Page 16:
Rt. Wor. Jay A. Jolicoeur was installed Deputy Grand Master of Masons in Massachusetts. As the second highest officer of the Grand Lodge of Massachusetts, he will assist the Grand Master and preside over the Grand Lodge during his absence for the next year.
Brother Jolicoeur attended Holy Name Central Catholic High School, Worcester, and the College of the Holy Cross. He is President of Switchback Inc., Holden. He and his wife, Pamela, have two children, Adam, 25, and Brittany, 22. Adam will serve as the Grand Standard bearer for the next year.
He began his Masonic career in 1981 as a member of Rufus Putnam Lodge in Rutland. Bro. Jolicoeur served as master for several terms. He has been Rufus Putnam Lodge's secretary since 2003. He is also a member of Columbian Lodge, Boston.
In 2007 and 2008, Bro, Jolicoeur was the District Deputy Grand master of the 25th Masonic District. Earlier this year, he was presented the Joseph Warren Medal for Distinguished Service. The Deputy Grand Master is active in several Masonic organizations, including the Scottish Rite, Valley of Worcester. He also belongs to the York Rite's Eureka Royal Arch Chapter, Hiram Council Royal and Select Master Masons, and Worcester County Commandery #5. He is a member of Aleppo Temple and is a musket sergeant in their Minuteman unit.
In addition to his Masonic pursuits, Bro .Jolicoeur has long been associated with and also active in the Boy Scouts. He earned his Eagle Scout in 1972 as a member of Troop 180 in Holden. He was an assistant scout mater of the troop for several years. He subsequently served as scountmaster of Troop 175 Holden; he was also a Cub Scout Webelos den leader of Pack 175, Holden. Beween 2001 and 2007 Bro. Jolicoeur was an advisor for Venturing Crew 175, sponsored by Rufus Putnam Lodge. He is a founding member of the Massachusetts Masonic Eagle Scout Association.
SPEECHES
FEAST OF ST. JOHN, DECEMBER 2009
From Proceedings, Page 2009-197; reprinted in TROWEL, Spring 2010, Page 16:
The Traveling Man
Most Worshipful Grand Master, distinguished guests, Brethren all.
Our lives are constantly filled with doing new things - meeting new people, living new experiences, travelling to unknown places. It is only by doing the things which cause us to learn more, try more and do more that we expand our horizons. We must have a desire to take part in something greater than ourselves – that is Masonry. Every step along the path we follow is different and new, as is each step of a child. Children have a wonderful sense of adventure and curiosity to constantly learn new things. To them, everything is new and unknown. Babies experience their environment through touch and sight which gradually turns into understanding. There are many steps along the way in our careers and in our continuing education that constantly require us to step into the unknown. You are thrust into a new environment and you must adapt and learn how to cope. You are on a journey that never ends.
Have you been on that journey? How many of you have ever heard of the term 'Traveling Man'? How many of you have been asked – 'Are you a Traveling Man'? How many of you consider yourselves a traveling man? All right – do you really know what it means to be a 'Traveling Man'? Let's take a look at that. We learn in one of our lectures of the kinds of Masonry. I am going to use that same analogy to describe what I think it means to be a Traveling Man. I'll start the sentence and see if you can finish it: :My Brothers: there are two kinds of Traveling Man - Operative and Speculative."
By operative 'Traveling Man' we allude to a proper application of the useful action of motion. Whence a person will act, interact, and communicate and from which will result a due understanding and just relationship with others around us. It gives us the ability to expand our physical boundaries and make friends in places outside our own Lodge. And while it shows us that differences exist in the edifices in which Masons meet and the manner in which they speak, it demonstrates that the principles of Masonry are the same wherever we go.
By speculative 'Traveling Man' we learn to increase our understanding, desire more knowledge, develop deeper associations, and expand our comfort zone. It is so much a part of our Masonic education as to make it imperative that we never become satisfied with what we already know. It leads the curious to view the craft as a vessel in which we travel through life to gain the understanding of the world around us.
As Masons we must be both operative and speculative traveling men.
Traveling then, in its two meanings, can be described in the same way. What does it mean to travel? Well, it means to go out and see new things, expand your horizons. Many Masons do not travel out to more than their own Blue Lodge. Many Masons never see any other brethren but those in their own Lodge or the Lodges around them. Many Masons spend their entire career in the craft at their own Blue Lodge. While this is not a bad thing, it does limit one's education and restricts one's path along the journey of Masonry. Those that spend their entire time in a Blue Lodge can enrich the Blue Lodge in many ways. However, in order for you and your Lodge to expand and to grow and to improve it is necessary to go out and see what other Lodges may be doing. Meet other brethren different from those that constantly attend your own lodge. You must expand your comfort zone. Because it is only by expanding your comfort zone that you can feel more comfortable to go out even more. Many people do not want to change, to do something different, because there is the potential for embarrassment, misunderstanding and the fear of the unknown. But you have to always remember wherever you go in Masonry, no matter how far you travel, you are with other brothers. And this is the crux of the term 'Traveling Man'. To be someone who is not afraid to growing circle as a Mason while on the journey to understanding. Even though he may be a bit fearful of expanding his comfort zone, he will go ahead and do it nonetheless. He will improve himself in Masonry.
Had I not been a traveling man in the physical sense, I never would have become reacquainted with one of my cousins. On a visit to Mariners' Lodge in Cotuit, one of the new members in attendance, a Fellowcraft at the time, heard my name when I was introduced on the suite. Many of you may know the junior Past District Deputy Grand Master of that district, he has a penchant for golf – ask him about it sometime. After the meeting this Fellowcraft came to me and said one of his cousins had the same name as mine, when he told me his name I said the same and we realized that we were indeed each other's cousin, not having seen each other for over 30 years. Had I not travelled to be on that last official visit I never would have known that my cousin was also a member of the craft.
Early on in my life, I gained a first hand knowledge not necessarily of what it means to be a traveling man, but to be one who travels. My father was a career Navy man, retiring as a Chief Quartermaster after 34 years. He was the epitome of one who travels. He served in WWII in the Atlantic and Mediterranean, and then in Korea, and Vietnam. He and my mother lived all over the United States, including Alaska, Michigan, Maryland, Florida, California, Massachusetts, and probably some I didn't know about. Outside of the US they lived in England and Germany, and he traveled to several other countries while serving on board several ships. And for the first eleven years of my life I traveled with them, living in three different countries and four different states, never spending more than 2½ years in each and as little as 1½ years in others. I traveled so much, that as a child, I never really made many friends, not lasting friends anyway, because it hurt too much when I had to leave. It left a hole that I found harder to fill as I came to the next place and had to make new friends all over again. So after the third or fourth move I found it better not to make lasting friendships so that the hurt became less when it came time to move again.
The problem with that is after we moved into Massachusetts, we didn't move again. Even though my father stayed in the Navy, my mother decided that she was done traveling, and she wasn't going to move anymore. She told us it was time for my brother and I to finish a school. He was in High School at the time and I was in Junior High. So we stayed while my dad continued to do his traveling to home ports in Boston first, and then when the Boston Navy Yard was closed down to Charleston, SC. He went around the world several times and ended back at Holy Cross again teaching navigation. That's what originally brought us to Massachusetts. But even so, I still anticipated moving and I did not make lasting friendships. By the time I got to college, I had no one I could call a best friend. The one person I felt closest to in college passed away soon after graduation and the hurt began all over again.
But then I joined Masonry and that all changed. I got the idea to join while I was living in California at my first job out of college with the Boy Scouts, another fraternal organization where I found a home. It's interesting that the men I most admired while a scout turned out to be Masons in the Lodge I joined and other Lodges in the district. For most of my early career in Masonry, I was, and still consider myself to be, a Blue Lodge Mason. The night I was raised I was asked to join the line as Inside Sentinel and soon afterwards became engrossed in learning ritual, floor work, and protocol from some of the most demanding teachers and mentors a Mason could have. One in particular is now the District Deputy Grand Master for the 25th District. I loved it and have been in one chair or another ever since.
As I moved through the officer line, I started traveling more throughout the district, especially as a Warden and Master because one of their duties is to represent their Lodge on the District Deputy visits. I didn't make too many visits outside of the area because the Brookfield 21st and Worcester 22nd Districts were comprised of 17 Lodges in Central Massachusetts offering many opportunities to visit locally, so I did. I traveled almost exclusively within these Lodges. When I became District Deputy my travels really began and I found myself at the far corners of the state and nearly everywhere in between. I even found my way to the tip of the Cape – and Chatham too!
In Masonry I found what I had been missing: true friendship. Friendship that asks for nothing in return, friendship that no matter where I go will always be there, friendship and brotherly love without restriction and without the pain of losing it if I were to move again. So to me, joining Masonry really turned me into a traveling man. It allowed me to go out, to move, to see other people to go places I had never been, without the fear of losing what I had. 'To boldly go as others have gone before'. So I traveled, and I continue to travel, and to me the journey of Masonry both operative and speculative, both physical and metaphysical, expands my knowledge and understanding and will never end.
Never lose sight of the path you are on in that journey which teaches friendship, morality, and brotherly love.
When I was in Junior High School, I'm not sure of the timeframe during that period, someone, who to this day is still unknown to me, left something in one of my books that I think about often. But I only began to understand what it truly meant when I started my journey in Masonry. To me it sums up the Traveling Man. It was a short, simple poem:
"To Touch, To See, To Know –
A Hint of Darkness, a Hint of Light,
before it's time to go."
I don't know if that was an original poem by this person and I have been unable to determine if it is a part of a larger poem by someone else. But it's something I've kept all these years because it had a haunting ring. For it is in one of our degrees where these words have a stronger meaning as we learn about hearing, seeing, and feeling. How they relate to the words, "To touch, to see, to know". It's these senses that allow us to expand our understanding of Masonry. From that journey we start in darkness, on the path we take through Masonry to the light of understanding. As I initiated my path in Masonry, and traveled through the years, I remembered these few words and they began to have a greater meaning for me.
In parting, I challenge all of you ...
To Touch the lives of others by using the teachings of our craft to impart the principles that make our fraternity so important in our lives. To let everyone know by your actions that Freemasonry is an organization that instills in its members the caring that all should emulate.
To See that your actions can have an important and positive impact on the lives of those around you: your family, friends and brothers. In the home, community, place of worship and Lodge. To remove those prejudices that prevent you from seeing the goodness in everyone. To look at the broader picture, to see the forest, yet be mindful that it is made up of individual trees.
To Know that what you do is the right thing to do by striving to attain a greater understanding of the tenets of our institution and that this knowledge will expand your knowledge of the world around you.
To quench the Darkness of ignorance by never stopping your thirst for the Light of Understanding.
And ...
To Travel not only physically, but spiritually and intellectually on your Masonic journey.
Before it's time to go.
---