MAGLIBotting
From MasonicGenealogy
J. IRVING BOTTING 1887-1956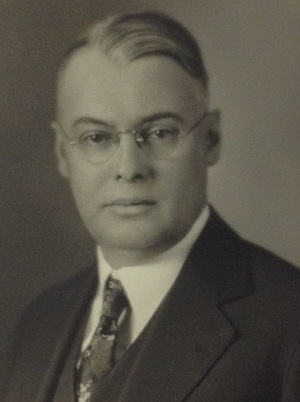 MEMORIAL
From Proceedings, Page 1957-38:
Right Worshipful Joseph Irving Botting was born in Hingham, Massachusetts, January 26, 1887, and died in Hingham on December 14, 1956. He received his education in the public schools of Hingham and in early manhood entered the employ of the Hingham National Bank. In 1917, when the Town of Hingham accepted the Town Accountant Act, he was appointed the first Town Accountant and served with distinction to the time of his retirement November 30, 1956. In connection with this position, he made an intensive study of town government and his advice and counsel were many times sought in the solution of civic problems. He had flattering offers to enter a broader field of endeavor, but felt impelled to render his services to his home town. His social interests, civic responsibilities and fraternal associations are well known. For several years he was president of the Hingham Institution for Savings and held this position at the time of his decease. He was a member and past President of the Hingham Rotary Club, a Trustee of the South Shore Hospital, and President of the Hingham Public Library Board. He was appointed Workmen's Compensation Agent and had been Chairman of the Retirement Board. For two years he was President of the Massachusetts Association of Contributory Retirement Boards, and for twenty-five years, Secretary and Treasurer of the Massachusetts Municipal Auditors and Accountants Association.
He was raised in Old Colony Lodge on June 11, 1912, and served as its Master in 1924, 1925 and 1926. Later he was elected Treasurer of his Lodge and served in this capacity for twenty-five years. He was appointed District Deputy Grand Master for the 27th Plymouth Masonic District in 1928 by Most Worshipful Frank L. Simpson, and in 1929, by Most Worshipful Herbert W. Dean. He was elected Senior Grand Warden in 1934 and was the recipient of the Henry Price Medal the same year. He was for many years District Representative for the 27th District on the Board of Masonic Relief. He was Grand Representative of Chile from 1931 to 1956. He was Master of the 18th Lodge of Instruction in 1930 and 1931. He was a Charter Member and Past High Priest of Wampatuck Royal Arch Chapter.
In all his activities he was faithful and assiduous in public trusts, amiable and exemplary in private life, and we shall always cherish the memory of a loyal friend, an upright citizen and a devout and sincere Brother.
Funeral services were held at the Hingham Congregational Church on December 16,1956, and were conducted by Reverend Brother Donald N. MacKenzie, Chaplain of Old Colony Lodge, and Reverend Brother Edwin T. Anthony, Chaplain of Plymouth Lodge.
Fraternally submitted,
Edward C. Holmes
Harold W. Baker
Philip A. Stoddard
Committee
---