MAGLHStevens
From MasonicGenealogy
HENRY W. STEVENS 1881-1957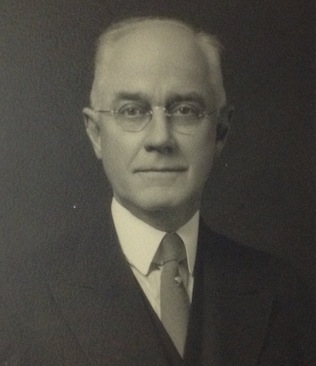 Grand Sword Bearer, 1935-1937
Senior Grand Warden, 1943
MEMORIAL
From Proceedings, Page 1957-81:
Right Worshipful Henry Warren Stevens was born in Gardner, Massachusetts, August 30, 1881, and lived there until he was graduated from the local High School in 1899. He was graduated from the Massachusetts Institute of Technology, Class of 1904, with the degree of Bachelor of Science in Electrical Engineering. For many years after his graduation he was secretary of his Class.
He entered the employ of what is now the Boston Edison Company in 1904. From 1912 until his retirement in 1946, he was Assistant Superintendent of the Street Engineering Department. For many years he lived in Newton, Massachusetts, before moving to the Allston district of Boston. He died at his home there, March 14, 1957.
Masonic funeral services were conducted by Mount Lebanon Lodge. He was buried in Evergreen Cemetery, Brighton. He was survived by his wife, Ruth Neal Stevens.
He was raised in Mount Lebanon Lodge, Boston, June 12, 1916, and was its Worshipful Master in the years 1929 and 1930. He became a charter member of Moses Michael Hays Lodge, Boston, January 16, 1933. In Grand Lodge he was Grand Sword Bearer for three years, 1935-1937, District Deputy Grand Master for the Boston First Masonic District, 1939-1940, Senior Grand Warden, 1943. He was Proxy for Darien Lodge, Balboa, Canal Zone, 1938-1947, and Grand Representative for South Australia since 1937. He was the holder of both the Distinguished Service and Henry Price Medals.
In the York Rite he was a member of Saint Andrews Royal Arch Chapter, Boston Council Royal and Select Masters and Saint Bernard Commandery, K.T., No. 12, all of Boston. He was also a member of ail the Scottish Rite Bodies, Valley of Boston, and for many years was a very efficient officer in Mount Olivet Chapter of Rose Croix. He was affiliated with Aleppo Temple, A.A.O.N.M. Shrine, and First Worshipful Masters' Association and Massachusetts College, Societas Rosicruciana.
During the later years of Brother Stevens' life his health was not too good and many of the responsibilities which he would otherwise have been ready and eager to assume were beyond his physical abilities. He was, however, a constant attendant at the meetings of the several Masonic organizations to which he belonged.
He was a "just and upright Mason." He lived by the teachings of the Fraternity and practiced its principles in his contacts with his fellowmen. Above all, he was a true friend, one always to be counted on when needed. He will be sorely missed by the countless number who knew and loved him.
"Beyond the sunset, indelibly limned
His Light shines on . . . a star undimmed."
T. Frederick Brunton
Frederic L. Pike
Harold F. Petherick
Committee
---