MAGLHStarr
From MasonicGenealogy
HARRY AUSTIN STARR 1894-1971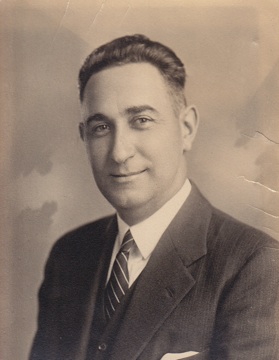 Junior Grand Warden, 1946
MEMORIAL
From Proceedings, Page 1971-302:
"Death has once more on February 8, 1971 removed from our ranks one of our most active and dedicated craftsmen, our beloved friend and brother, Right Worshipful Harry Austin Starr.
"Born in Fitchburg January 23, 1894, the son of John Shaw and Georgie Anne Starr, he received his education in the Fitchburg Public Schools and Mellors Business College at Waltham. In 1910, when barely sixteen years of age, he established a retail fuel business in Waltham of which he was the owner and operator under his own name up to the date of his death.
"He served overseas for two years during World War I after which he was married to Mary Keen Dawson of West Concord, who with their only son, Harry Austin Starr, Jr. survive. Raised in Monitor Lodge in Waltham on November 29, 1920, he had but recently received the Veteran's Medal commemorating 50 years of devoted Masonic service. Although for many of these years he was a member of the York Rite Bodies in Waltham, his Masonic activities were almost entirely confined to his Lodge, of which he was an Honorary Life Member, and to his Grand Lodge of which he was a permanent Member.
"Master in 1931, Junior Grand Steward. in 1933, District Deputy Grand Master of the Waltham Fifth District in 1936 and 1937 by appointment of M.W. Claude L. Allen and Junior Grand Warden under M.W. Samuel Holmes Wragg in 1946, he also served for many years as his Lodge's Representative to the Board of Masonic Relief. A highlight of his Masonic career was the occasion, when as Acting Grand Master in 1946, he was privileged to raise his son and namesake, Harry Austin Starr, Jr., as a Master Mason.
"In addition to many other evidences of his great service to Freemasonry, Rt. Wor. Brother Starr was the recipient in 1946 of the Henry Price Medal of our Grand Lodge and was appointed as the Grand Representative near our Grand Lodge of the Grand Lodge of Chiapas, Mexico in 1951, which honor he still held at the time of his death.
"Although a member of Governor Gore Lodge of Odd Fellows, a Past Worthy Patron of Electra Chapter, Order of the Eastern Star, and former president of two parent Teachers Associations, his non-Masonic activities were largely centered in Rotary. A former president of the Rotary Club in Waltham, he served as Governor of the l97th District of Rotary International in 1940-l94L He held a forty-two year record of perfect attendance and his influence was felt by his regular attendance at clubs throughout Eastern Massachusetts and particularly as a result of his efforts in building Rotary in Wesron, Brookline and Groton.
"The Waltham Red Cross, the Salvation Army, the Waltham Boys Club, the Chamber of Commerce and the First Parish Church in Weston also benefited from Rt. Wor. Brother Starr's interest and efforts. His service to his Church, to Masonry, to his community and to his fellow .man sets a high standard for each of us to attempt to emulate. If we, each of us, could live such a life which so affects the lives of others that our influence for good lives after us, like our distinguished Brother, we shall have truly achieved the immortality which is one of the landmarks of Freemasonry.
Respectfully submitted,
Whitfield W. Johnson
J. Philip Berquist
Robert H. Bauer
Committee
---