MAGLFSwain
From MasonicGenealogy
FRANK E. SWAIN 1877-1955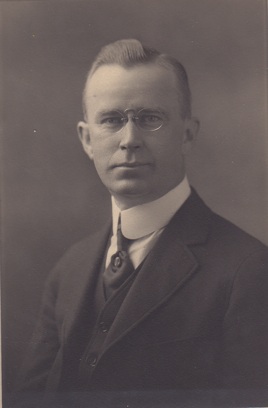 Senior Grand Warden, 1921
MEMORIAL
From Proceedings, Page 1955-133:
Brother Swain was born in Lynn, Massachusetts, on March 16, 1877, son of Frank Brown Swain and Mary Lavinia (Lear) Swain, and died at the Lynn Hospital on March 18, 1955. He was a direct descendant of John Swain, the first white child born on the Island of Nantucket.
He was educated in the Lynn Public Schools and a graduate of the Webster College of Business Administration. Upon his graduation, he entered the wholesale lumber business where he remained until the business recession in 1930. In 1935 he became President of John Macfarlane Company, Inc., Printers and Publishers in Lynn, and remained with that Company until his death.
In january 1898 he married Mary E. Foster, by whom two children were born, Kenneth and Elizabeth. His wife, Mary, died on June 2, 1927, and in August 1928 he married Mrs. Bessie Maude Bishop of Marblehead, who survives him. In 1941 he lost the sight of one eye and became totally blind in 1944. During this affliction he was further saddened by the sudden deaths of his two children, Elizabeth in 1941, and Kenneth in 1946.
He was raised in Mount Carmel Lodge of Lynn on December 23, 1901, and became a Life Member, receiving his Veteran's Medal in 1951. He became a Charter Member of Damascus Lodge on September ll,I9O7, and served as Master in 1914 and 1915 and as Secretary from 1936 through 1944. He became a Charter Member of Benjamin F. Arrington Lodge on March 7, 1929, and demitted on October 4, 1930.
In Grand Lodge he served as District Deputy Grand Master of the Eighth Masonic District in 1917 and 1918 by appointment of M.W. Leon M. Abbott. He served as Senior Grand Warden in 1921 and was awarded the Henry Price Medal in 1922 by M.W. Arthur D. Prince.
In the York Rite he was Exalted in Sutton Chapter on June 11, 1903; Greeted in Zebulun Council on December 24, 1903, of which he was Thrice Illustrious Master in 1909 and 1910; Knighted in Olivet Commandery No. 36 on February 7, 1906, In the Ancient, Accepted Scottish Rite, he received the Degrees in the Bodies in the Valley of Boston in 1919 and 1920, and was created an Honorary Member of the Supreme Council, 33°, on September 29, 1943.
Brother Swain was an ardent believer in the principles of Freemasonry, and not only loved, but lived their teachings. Because of his knowledge of the laws and procedures of Masonry, his advice was often sought by the Brethren of his District and was freely given when sought. He was of a deeply religious nature and never rebelled at the affliction and sadness that befell him. "Thy will, not mine, be done," clearly defines his attitude toward his Heavenly Father and his own affliction and grief at the seemingly untimely deaths of his beloved children. Shortly before his removal to the hospital, he gave a copy of his favorite poem to the Reader of his Christian Science Church with a request that it be read at his funeral service, showing his faith in Immortality and his assurance of a reunion with those who were so dear to him.
The Ship

"I am standing on the seashore -
A ship spreads her white sails in the morning breeze and starts for the blue ocean.
She is an object of beauty, and I stand and watch her until at length she hangs like a speck of white cloud just where the sea and sky meet to mingle with each other.
Then someone at my side says: 'There! she's gone!'
Gone where? Gone from my sight - that's all.
She is just as large in mast and hull and spar as when she left my sight; and just as able to bear her load of living freight to the place of her destination,
Her diminished size is in me-not in her! And just at that moment when someone at my side says, 'There! She's gone!' there are other eyes watching her coming; and other voices take up the glad shout, 'There she comes!'
And that is living! not dying!"
Fraternally submitted,
Claude L. Allen
Frank H. Hilton
Marshall W. Hunt
Committee
---