MAGLETaylor
From MasonicGenealogy
EARL WESLEY TAYLOR 1886-1972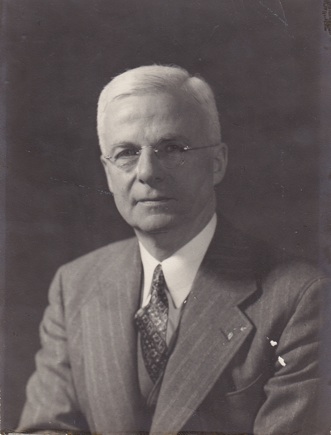 MM 1923, WM 1933, Belmont
Senior Grand Deacon 1936
Grand Marshal 1938-1940
Senior Grand Warden 1941
Grand Secretary 1952-1968
MEMORIAL
From Proceedings, Page 1972-183:
"Right Worshipful Earl Wesley Taylor was born in Cohoes, New York, on August 22, 1886 the son of William Henry and Anna Wells Taylor, and died in Newton, Massachusetts, on April 19, 1972.
"After graduating from Egberts High School in Cohoes, New York, in 1903, Brother Taylor attended the University of Rochester in New York State, and received an A.B. degree in 1907 and later attended Harvard University, and received an A.M. degree in 1911. Brother Taylor's lifetime profession of teaching started in the Geneva High School, Geneva, New York, in 1907 and 1908. His subject of primary interest was Latin. From Geneva, he taught in the Oswego High School in Oswego, New York, from 1908 to 1910, and in the Roxbury Latin School, Boston, Massachusetts, from 19ll to 1952, when he retired. Upon his retirement, he was elected 'senior Master Emeritus' by the Roxbury Latin Trustees.
"Following his retirement as a teacher, Brother Taylor became Grand Secretary of the Grand Lodge of Masons in Massachusetts in 1952, and served in that capacity until 1968. His tenure covered that of six Grand Masters.
"Brother Taylor received his Entered Apprentice degree in Belmont Lodge, Belmont, Massachusetts, on October ll, 1923 his Fellow Craft degree on November 8, 1923; and his Master Mason's degree on December 20, 1923. He served Belmont Lodge as its Worshipful Master in 1933, and as its Secretary from 1943 to 1951.
"In Grand Lodge, Brother Taylor served as Senior Grand Deacon in 1936; as Grand Marshal for Most Worshipful Joseph Earl Perry in 1938 to 1940; and as Senior Grand Warden in 1941. He was Director of Education from 1943 to 1952; on the Foreign Relations Standing Committee from 1947 to 1969; and as previously mentioned, as Grand Secretary from l9S2 to 1958.
"Brother Taylor was exalted to Royal Arch Mason in Belmont Royal Arch Chapter on January 14, 1925; and was created a Knight Templar in St. Bernard Commandery, Boston, Massachusetts, on May 9, 1945, and served in the latter body as Associate Chaplain. From 1957 to 1967, Brother Taylor was a member of St. Matthew's Conclave, Red Cross of Constantine in Springfield, Massachusetts. In 1938, Brother Taylor joined Boston Lafayette Lodge of Perfection, Giles F. Yates Princes of Jerusalem, Mt. Olivet Chapter of Rose Croix, and Massachusetts Consistory of the Scottish Rite. He presided as Most Wise Master of Mt. Olivet Chapter of Rose Croix from 1954 to 1957. Brother Taylor received the Henry Price Medal in 1938, and the Honorary Thirty Third Degree on September 28, 1955. From 1939 to 1955 he was the Grand Representative to the Grand Lodge of Arkansas, and from 1955 to 1969 was the Grand Representative to the Grand Lodge of Maine. He was an Honorary Member of Sinim Lodge of the District of China from 1952 until his death; and from 1945 to 1969 he was the Proxy to Sojourners Lodge of the Canal Zone.
"Brother Taylor married Helen Sanborn Travis of Cohoes, New York, on August 23, 1912, and they resided in Belmont, Massachusetts. They had one daughter, Elizabeth, who was born on December 23, 19l3; she graduated from Mt. Holyoke College in 1935, when she married Richard D. Wells. They presently reside in Westwood, Massachusetts. Brother Taylor's wile Helen died on April 14, 1950. On June 2l, l952, he married Muriel Alice Davis, and moved to Newton Centre, where he resided for the remainder of his life. While residing in Belmont, he was a member of Payson Park Congregational Church, where he was Superintendent of the Church School from 1921 to 1927; Deacon from l92l to 1923; Moderator for three years; and Clerk from 1938 to 1943. In 1957 he transferred his church membership from Belmont to the First Baptist Church of Newton Centre.
"Mrs. Taylor (Muriel Davis) was Librarian for the Grand Lodge for many years and she and Brother Taylor completed and donated to Grand Lodge an exhaustive and most valuable index of Grand Lodge Proceedings.
"In addition to his activities in Freemasonry, Brother Taylor was an avid outdoorsman with a summer home in Bridgton, Maine. He served as Recording Secretary of the Appalachian Mountain Club from 1927 to 1931; as its President in 1932 and 1933; and was a Life Member from 1939 until his death. Although meticulous himself, Brother Taylor was patient and helpful to Lodge Secretaries and others who might be far from perfectionists. A man of very strong beliefs, he was nevertheless charitable in his judgements of, and contacts with, persons of contrary beliefs. He was a fine, modest, public-spirited gentleman to whom this Grand Lodge is deeply indebted, and who well exemplified Freemasonry at its finest."
Fraternally submitted,
Joseph Earl Perry
Paul W. Rolston
Ronald F. Cassidy
Committee
---