MAGLDReynolds
From MasonicGenealogy
DANIEL REYNOLDS 1804-1881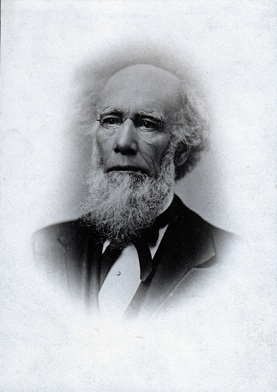 Junior Grand Warden, 1863.
MEMORIAL
From Proceedings, Page 1881-210:
"The death of Daniel Reynolds ended a long and useful Masonic life. From the time when, at the age of twenty-one, he knocked for admission at the doors of Hampden Lodge, till the hour when, surrounded bjr his: Masonic Brethren, he was laid in the grave, at the ripe age of seventy-six, he. was ever an active worker for the cause of Masonry.
"Daniel Reynolds was born at East Hartford, Conn., November, 1804. He moved to Springfield,,Mass., in January, 1821, being at that time employed as a blacksmith's apprentice. He soon after commenced work in the United States Armory, and was connected with that institution, with few intermissions, till the close of the war, the latter part of the time holding the position of Government Inspector. In 1865 he resigned his position at the Armory and engaged in manufacturing business with the Bigelow Manufacturing Company. A few years later he retired from business altogether, possessed of. ample competence for his declining years.
"There are few men who have seen more years of active Masonic service. His career as an officer of Masonic Bodies, so far as can be ascertained from our records, began in 1828, with his appointment as Master of the Third Veil in Morning Star Chapter. He was an officer of the Chapter, in various positions, for sixteen years, the last year being 1872. He was appointed Junior Deacon of Hampden Lodge in 1845, and was promoted through the various offices till 1851, when he was elected Master. This office he held four years. During the years 1857, '8, '9, '60 he was District Deputy Grand Master (Ninth District), and in 1863 was elected and installed Junior Grand Warden of the Grand Lodge of Massachusetts.
"He was an officer of Springfield Commandery for thirty years, twenty of which were in the office of Prelate. This office he held at the time of his death.' He was Eminent Commander in 1866. For five years he was an officer of Evening Star Lodge of Perfection, and for three years he held office in Massasoit Council of Princes of Jerusalem. He was for many years in official positions in Springfield Council of Royal and Select Masters; but the early records of this Body are not accessible, and the number of-years cannot be given. At the time of his death, besides holding membership in all the Bodies above mentioned, he was also a member of Mount Olivet Chapter of Rose Croix and Massachusetts Consistory. The total number of years in which, he has been an officer inone or more Masonic-Bodies exceeds forty. This figure, however, but feebly indicates his real value and worth to Masonry. For years he was the central figure around which the Masonic, life of Springfield seemed to crystallize. Two generations of Masons have come and.gone, leaving Daniel Reynolds a living exponent of the principles of our Order, exemplifying, both in and out of the Lodge, the precepts inculcated in it. No man ever loved Masonry with a more fervent affection than he. No man was ever more willing to sacrifice time, labor, and money for the good of the Institution.
"Mr. Reynolds was a devoted Christian; a member of the First Congregational Church of Springfield since early manhood, and for fifteen years one of its deacons. Earnest in the cause of Christ, he showed by his devotion, both to his church and his Lodge, that Masonry is the handmaid of Christianity, and exhibited to the world that a good Mason should ever be a good man. His life was a blessing, helping and stimulating all with whom he came in contact. Venerable in appearance, possessing a kindly and loving disposition, he was regarded with the most affectionate esteem by the hundreds of men with whom he was associated, and to whom his death was a sharp personal bereavement.
"During his last illness he seemed to be drawn more than ever to his Masonic friends, and they to him, and for more than two months prior to his death, the Brethren took turns in watching at his bedside. As he remarked a short time before his decease 'the boys liked to do it.' As he had not requested a Masonic funeral he was not buried with the ritual of our Order; but a large number of the Brethren followed his remains to the grave, and the double row of Masons, standing with uncovered heads and tear-dimmed eyes, as his body was lowered into the grave, was more eloquent than any spoken words could be. He died June 7, 1881. The silver cord was loosed, the golden bowl broken, the pitcher broken at the fountain, the wheel broken at the cistern. The dust returned to the earth as it was, and the spirit returned unto God, who gave it.
Fraternally submitted,
EDMUND P. KENDRICK, JOHN A. HALL,
AMOS O. KINNEY,
Committee.
---