MAGLCKimball
From MasonicGenealogy
CHARLES KIMBALL 1811-1879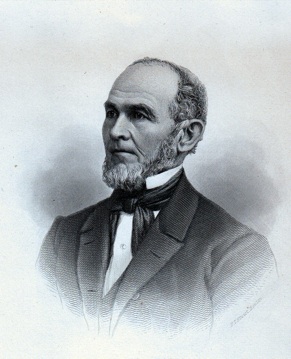 Senior Grand Warden, 1872
MEMORIAL
FROM PROCEEDINGS, 1879
From Proceedings, Page 1879-47:
The Committee appointed to prepare and present some fitting notice of the death of R.W. Chas. Kimball, Past Senior Grand Warden of this Grand Lodge, have attended to that duty, and beg to submit the following report: —
Again have our ranks been invaded by the invincible enemy, and a brother whose life was enriched by domestic endearments, adorned by virtues incident to faithful Masonic service, has been summoned to his final account. Another spirit, zealous and untiring in the interests of our Order, has left the scene of earthly companionship to join the communion of kindred beyond the veil.
Chas. Kimball was born at Littleton in 1811, and died at Lowell, March 6, 1879, being sixty-eight years of age. The period of time thus represented covers a life of activity and usefulness, characterized by fidelity and zeal in whatever position occupied. At the age of eighteen he became a teacher in the grammar schools of Boston. At one time he was in the Mayhew School, and finally was principal in the Boylston School. He was one of the famous body of 'Boston Masters,' of whom Wm. D. Swan and Barnum Field were leaders, and who attained considerable prominence at that time by a spirited controversy with Horace Mann. In 1859 he resided in Winchester, and while occupying the position of principal of the Boylston School, he was brought forward as a candidate for the post of sheriff of Middlesex County, and was elected. In January, 1860, he entered upon his new duties, and in the following May moved to Lowell, assumed personal charge of the Lowell jail, and resided in that city until the time of his death. He was widely known and highly esteemed as a citizen, and throughout the Commonwealth was honored for conspicuous ability in the discharge of the duties of his official position, extending over a period of nineteen years.
Laboring successfully for more than a quarter of a century in the school-room, he was always actively engaged in every enterprise which appertained to the educational interests of the day. He was eminently qualified for his high official position. While he believed in the necessity of discipline and justice among men, tenderness and philanthropy were prominent traits of character, to which the business of his life gave constant exercise. In 1839 he was married at Boston, and his wife, two daughters, and one son, survive him. In his domestic and social relations he was happy, as well as in business life. Ardent by temperament, energetic and kind, he was welcome always and everywhere, from his friends of influence and position, down to the humblest prisoner in his charge. A good man and a Brother has gone, and his place cannot be easily filled.
R.W. Bro. Kimball received the degrees of Entered Apprentice, Fellow Craft, and Master Mason, in Mt. Horeb Lodge, Woburn, January 7th, February 4th, March 13th, 1857. In 1858-9 he was Junior Deacon; in 1860, Junior Warden; in 1861-2, Senior Warden, and in 1863, W. Master of the same Lodge. He became a charter member of the Kilwinning Lodge, Lowell, in 1867; was appointed D.D.G.M. of the 7th Mas. Dis. in 1867-8, and was elected Senior Grand Warden of the Grand Lodge of Mass., December 13, 1871. He received the degree of Mark Master November 20th; Past Master November 26th; Most Excellent Master, December 17th; R.A. Mason, December 31st, 1860, in Mt. Horeb R. A. Chapter, Lowell. He received the Order of the Red Cross, February 1st, and the Order of the Temple, March 13th, 1861, in Pilgrim Commandery, Lowell.
He received the degree of Select Master, May 5th, Royal and Super-excellent Master, June 2d, 1862, in Ahasuerus Council, Lowell. When Pilgrim Commandery was admitted under the compact of the Masonic Association of Lowell, in April, 1867, Bro. Kimball was the first elected Trustee, and held that office until his death. The degrees of the A. and A. Scottish Rite, from the 4th to the 32d inclusive, were conferred by the Lowell Bodies, February 4, 1863, the Mass. Consistory being at that time located in that city.
On the 20th August, 1874, he received the 33d degree. Such is the outline of the life of our Brother, so far as statistics are concerned. But these dates are simply the outward expression of a hidden meaning which points to a career varied by labor, by trials, by mental conflicts, by pleasure, and by strict observance of the call of duty in the life of a good citizen, a pleasant companion, a Christian gentleman, and a Brother known and honored throughout the State on account of his many attractive qualities, and his truly generous nature.
As an expression of regard for the memory of our Brother, your Committee desire to present; the following preamble and resolutions: —
Whereas, By the death of R.W. Chas. Kimball, we are called to mourn the loss of one of the most widely known and highly honored Masons of the Commonwealth; and
Whereas, It is eminently proper that this Grand Lodge should place upon record some expression of sorrow for the loss thus sustained; therefore
Resolved, That we will tenderly revere the memory of our honored Brother for the zeal and fidelity with which he upheld the principles of our Order, and for the enthusiasm and the ability which he brought to the discharge of every duty.
Resolved, That, by his industrious and unsullied life, his generosity and courtesy, his devotion to the cause of Freemasonry, and his keen appreciation of the dignity of character which should belong to the upright Mason, our Brother may justly be regarded as an example worthy of imitation by all members of the Craft.
Resolved, That this Grand Lodge does most respectfully and tenderly sympathize with the family of our deceased Brother, and that the Recording Grand Secretary be requested to transmit to them a copy of these resolutions.
SOLON W. STEVENS,
CHAS. F. YOUNG,
Committee.
FROM LIBERAL FREEMASON, 1879
From Liberal Freemason, Vol. III, No. 1, April 1879, Page 22:
The "Shadow of Death" has rested heavily upon the Masonic Fraternity in Massachusetts during the year just past, and the Brethren have had frequent occasion to bring "an offering of tears" to the bedside and to the tomb of a departed Brother.
Again has "the silver cord been loosed and the golden bowl has been broken," and the Masons in the city of Lowell have been called to mourn the departure of one of their beloved. So well was he known, that the rumor saying he was ill excited alarm which ended in grief at the announcement of his death. The secular press spoke kindly of him, and a sketch by the Boston Journal, we quote:
"The announcement of the death of Charles Kimball, High Sheriff of Middlesex county, will surprise many of his friends, as he had only been confined to his house for a day or two, and within a few days had attended to business in boston. During the winter Mr. Kimball took a severe cold which caused inflammation of the lungs, and although his friends were alarmed at his condition they did not apprehend any serious results would follow. But at the beginning of the week Mr. Kimball had an attack of acute pneumonia, and died at his home in Lowell at eight o'clock Thursday morning, March 6th, 1879.

"Mr. Kimball was born in Littleton in this State October 14th, 1811, and came to Boston when a young man, where he spent many years in the occupation of teaching, having been Master of the Mayhew School and also of the Boylston School, then located on Fort Hill.

"In November, 1859, he was appointed Sheriff of Middlesex county, and had held that office for nearly twenty years. His official duties were discharged in a conscientious manner, and he gained the respect of all with whom he had business. In social life he was a most congenial companion, and few men had more warm friends. In the city of Lowell he occupied several positions of trust, and honor, and had served ten years as a member of the School Committee, was a director of the Lowell Hosiery Company, a trustee of the Merrimac River Savings Bank, and a trustee of the ministry at large."
In all the circles of Masonry, in the York and in the Ancient and Accepted Rites, Brother Kimball was well and favorably known. His was a welcome presence, because he was a genial Brother.
He was made a Mason in Mt. Horeb Lodge, Woburn, Mass., in 1857, was its Junior Deacon the year following, and served in higher offices, being Master in 1863. He was exalted to the Royal Arch Degree, December 31st, i860, in Mt. Horeb Chapter; Knighted, February 1st and March 13th, 1861 in Pilgrim Commandery, both of Lowell; he was also a member of the A. and A. Rite, including the grade of Honorary 33°. It is needless to say that Brother Kimball was interested in Freemasonry,— his brethren knew that and elected him Senior Grand Warden of the Grand Lodge of Massachusetts in 1871.
FROM COUNCIL OF DELIBERATION, 1879
From Proceedings of the Massachusetts Council of Deliberation AASR NMJ, 1879, Page 102:
"The hope of heaven our spirit cheers;
No more we grieve for sorrows past,
Nor any future conflict fear,
So we may safe arrive at last."
The voice that for fourteen years has so feelingly spoken these words at every working meeting of Mount-Calvary Chapter of Rose Croix is silent now, and the pillar of Hope is draped in mourning. The spirit of Ill. Bro. Charles Kimball has left its "tenement of clay," and free from any future conflict here, safe arrived in the Father's abode, awaits its recompense for the deeds done in the body : the brightness of the earthly record left for our contemplation must be a forecast of the welcome to the freed spirit in its new field of duty.
Our Brother was born at Littleton, Mass., Oct. 14, A.D. 1811. His education was from the public schools of his native town and the academies at Westford and Andover. At the early age of eighteen he became a teacher in the public schools of Boston, and there continued for nearly thirty years, the latter part of the time residing at Winchester in Middlesex County. In 1859 he was elected sheriff of Middlesex, and soon afterward removed to Lowell, where he died March 6, 1879.
His life of sixty-eight years was an active and useful one, and his labor in the Masonic field is but the type of what he did in the many business and charitable organizations with which he was connected.
Bro. Charles Kimball first saw light in Masonry in Mount Horeb Lodge at Woburn, having been initiated Jan. 7, crafted Feb. 4, and raised March 13, 1857, by Ill. Bro. William D. Stratton, the present M. W. and P. M. of Mount Olivet Chapter of Rose Croix, Boston. He was Junior Deacon in 1858-59, Junior Warden in 1S60, Senior Warden 1861-62, and W. Master in 1863.
On the 13th of March, 1867, he severed his connection with Mount Horeb, and became one of the charter members of Kilwinning Lodge at Lowell.
He was District Deputy Grand Master of the Seventh District in 1867-68, and on the 13th of December, 1871, was elected Senior Grand Warden of the M. W. Grand Lodge of Massachusetts.
His attachment to "Blue" Masonry was very strong: hence, while he found time to receive and work in the several higher degrees of both Rites, he was always a constant attendant at the meetings of his Lodge and the Grand Lodge.
He received the degrees in Mount Horeb R. A. Chapter, Lowell, being exalted to the Royal Arch Dec. 31, i860, and those of the Council in "Ahasuerus," Lowell, in 1862.
On the 13th of March, 1861, he was created a Knight Templar in Pilgrim Commandery, and was the representative of that body in the "Masonic Association" of Lowell, from the time of its admission, April, 1867, until his decease.
Feb. 4, 1863, Bro. Kimball received the degrees of the Scottish Rite from the Fourth to the Thirty-Second Degree inclusive, in the several Bodies of the Rite located at Lowell, and at once took an active part in all.
The members of Lowell Council of P. of J. will not soon forget his earnest and heartfelt manner when bidding the King "let his oppressed people go free," and must feel that the part of the "wise and good man" was in the right hands.
At the annual meeting in May, 1865, I11 Bro. Kimball was elected M. E. Senior Warden of Mount-Calvary Chapter of Rose Croix, which office he continued to hold by regular elections until the present year, when, for the first time in fourteen years, his form was missed from their annual meeting, to be seen no more on earth.
On the 20th of August, 1874, he received the Thirty-third and last degree of Freemasonry; and rather peculiar it seems to consider, and interesting it must have been to the parties thus meeting, Bro. Stratton, who seventeen years before gave him his first light as an Entered Apprentice, was a companion aspirant in receiving his last and highest Masonic honor.
Sunday, March 9, 1879, public funeral services were held in the Unitarian Church, under the direction of Kilwinning Lodge; and nearly four hundred Masons, including the M. W. Grand Master, I11. Deputy of the Supreme Council, 33°, and the Governor of the Commonwealth, testified their appreciation of the worth of Bro. Kimball by attending the services at the church, and walking to the cemetery, where the Masonic burial-service was conducted by the M. W. Grand Master, Charles A. Welch.
Representatives were present from the several Masonic and other organizations with which he had been connected; and the bearers and "Guard of Honor" were from his former associates of Pilgrim Commandery. At the church an eloquent eulogistic address was delivered by Rev. Bro. Josiah L. Seward, K. T. and Chaplain of Kilwinning Lodge. We present it in full, and think it worthy of preservation in our archives ; for it very fully and concisely represents what our dear Bro. Kimball was in his daily walk and life.
REV. MR. SEWARD'S TRIBUTE
Friends, — This large assembly of the personal friends and neighbors of our late honored Brother; the presence of so many citizens from neighboring towns and cities, representing officially the State, the county, our municipality, the Masonic Fraternity, and various civic and social organizations; these floral tributes; these unusual demonstrations of sympathy,— are all a manifest eulogy upon the life and character of our friend who has been so suddenly removed from our earthly companionship.
Tuesday and Wednesday anxious crowds, gathered here and there upon our streets, were anxiously asking, "Is he better?" Thursday morning the reply was, "He is gone." No, not gone. We cannot have it so We would rather say with good Adam Clarke, "Death to a good man is but passing through a dark entry out of one little dusky room in his Father's house into another that is fair and large, lightsome and glorious, and divinely entertaining." And we may supplement this happy thought with the observation of an old Greek philosopher: "No evil is honorable; but death is honorable: therefore is death not evil." The apostle said, "Blessed are the dead who die in the Lord; for they rest from their labors, and their works do follow them."
Many are the precious works whose influence and memory shall follow him, our genial friend and companion, whose life was ever active, and had been employed in various fields of usefulness both public and private. It would have been impossible for one of such an active temperament to have remained inactive anywhere. Had there been any moments which could have been spared from business and official duties, they would have been employed in reading and study, and adding to his already varied mental acquisitions. He possessed a lively interest in the scientific progress of the day. He was interested in the history and progress of our political institutions, and especially anxious to learn each new fact respecting social problems,— so far, at least, as they had reference to his official duties.
We should expect, therefore, that a person of such an ardent, impulsive temperament, both mental and physical, would have made his influence felt; and such was indeed the case. Beginning his education in his native town of Littleton many years ago, he acquired a thirst for education which his town could not then satisfy. We trace his steps to the well-known academy in Westford, where he was a classmate of some of our own citizens, and still later he might have been seen hard at work in the classic school at Andover.
He had a rare faculty of imparting to others that learning which he had acquired, and we are not surprised to hear that he was for many years a most successful teacher in one of the Boston schools. Here were performed works which shall follow him long, long after his body shall have returned to the dust. Who can measure the value of the labors of a faithful teacher? The intellectual stimulus imparted to the mind, the practical utility of the knowledge acquired, and the force of the moral and manly precepts imparted to the character — by what standard shall we measure these? Next to the pulpit, perhaps even before the pulpit, are to be placed the influences exerted by the teachers of our country upon their pupils. Blessed be they who have performed this service well; for, when they rest from their labors, their works shall follow them. By valuable testimonials have his Boston pupils signified to our late friend their appreciation of his late services. But the influence upon the destiny of our country of the lives of those many men and women whom he helped in their education is the grandest testimony to his fidelity. These are blessed works which follow, in their influence, for all time.
For more than a quarter of a century he labored in the schoolroom, and found increasing pleasure in his work from year to year. Delighting in the work, he could not fail of being eminently successful as a teacher, as he always was. His educational duties were not confined to the practical work of teaching. For several years he served this city in the most efficient manner as a member of the School Board.
In the official position which he held for the last twenty years, he has likewise performed works whose influence shall be lasting. He had pre-eminent qualifications for the office. Humanity and philanthropy were conspicuous points in his character. Few men were ever more moved by human sorrow and suffering. While he believed in the necessity of discipline and justice among men, and never refused any duty pertaining to his official position, he never for a moment violated the precepts of Him who taught us to love even our enemies. While he discharged with fidelity the duties of his office, he never ceased to have the tenderest of human feelings towards the most unfortunate, yea, even towards the most wretched men. The prisoners under his charge were his warm friends, and their grief to-day is genuine and sincere. They always felt that he would never refuse them any favor that would be compatible with the requirements of his official position. At the same time his rules were firm and positive. He was not a person who could be trifled with, or made to swerve from the boundary-line of his duty. He acted upon principle, with justice and humanity ever in sight.
Humanity is not a characteristic so common as to be unworthy of special mention in cases where it constitutes an important element in one's character. Few men have more of this valuable prerequisite in dealing with men than Mr. Kimball. He had a good knowledge of human nature. He sympathized with all that was pure and noble in any character, even if there were other points in the character that did not merit respect. He had likewise an impulsive nature. He was affected with a righteous indignation always, which feeling he could hardly repress, when he witnessed any act which was mean and sordid. He was peculiarly sensitive in this regard. He could not tolerate a mean act, thought, or deed; and he very often gave a hasty expression to his own feelings, if he felt that all was not as it should be.
He was faithful and punctual in the performance of duty, and believed that no one should undertake what he could not do, and that he should do what he had undertaken. He was very sympathetic, and had a regard for the wants of the poor, the sick, and the unfortunate. As a member of one of the charitable boards of the city, he has been placed where his valuable counsel has been of essential service. His sympathy was not confined to words: he was generous as well, always giving his full share for the various kinds of charitable work in our city. If all men were to give as liberally in proportion to their means, certainly the poor could never suffer.
As an associate and companion, there were few who were his equals in affability and courtesy. He never forgot to be a perfect gentleman. He everywhere remembered all the civilities and courtesies which the occasion called for. He was kind and sparing in his judgments of others, never tolerating those harsh criticisms and censures upon our fellow-men which amuse the idle hours of so many less worthy persons. His presence was therefore prized in social gatherings and on festive occasions. This, too, is another quality which is not sufficiently attended to in these days. A criticism of the weak points in the characters of neighbors and acquaintances, and a disposition to live too much in one's own self, and to gratify selfish propensities,— these are too common traits of character. The opposite, generous, courteous character is, therefore, most worthy of notice.
Neither was our friend wanting in business ability, as shown by the high trusts which were from time to time reposed in him. The representatives here to-day from so many business interests are a testimony to his position in the business world. There are those among us who can refer to many years of social and business relations with him, and all bear the same testimony to his business ability and integrity. He was true always to his word. He made it a point of honor to keep engagements, and to carry out his plans in good faith.
In his family, too, the same marks of generosity and unselfishness were visible. He was kind and indulgent, and never forgetful of those who needed his sympathy and counsel and help. His views of public affairs were peculiarly his own. He was an independent thinker, and one who did much thinking. He had his own views in regard to all the questions of the day. Though he usually acted with a party, yet he never violated his conscience in a vote or in a public act of any kind. His religious views were likewise his own. They were, of course, in sympathy with the prevailing tenets of the church which he attended; but he never believed because others did. He thought for himself in these matters, as the laity ought always to think, and was prepared with reasons for all that he professed. All men are liable to err, especially in religious matters; but it is always wholesome to believe on principle. We should believe on principle, as much as we do any thing else according to principle. The use of reason will not lead all men to the same church any more than it will lead all men to hold similar views on any other subject; but the use of reason does give strength and character to religious thought. Theological studies and questions were interesting to him, and he could give reasons for the faith which he professed: I could gladly commend this habit of independent thought to all. In these days of money-making, we give too little attention to religious concerns and to theological studies. It would do us all good if we were to think of all these great questions of life and death and futurity.
There is an intimate relation between this world and the next. Our conduct in this life will most certainly have its influence upon our condition in the immortal life. It will not be hollow professions of belief, it will not be sectarianism, that will save us from misery here or hereafter, but a firm reliance on the principles of Jesus, the application of these principles to our conduct: these are what shall save us. Jesus will not say in that day, "What have you believed?" He will say to those who come crying, "Lord, Lord," "I never knew you." They who are accepted will be those to whom he can say, "Inasmuch as ye have done it unto one of the least of these my brethren, ye have done it unto me." These are great questions. We should not neglect them. We cannot escape the penalty due to sin, nor shall we lose the reward due to virtue. It behooves every one to see to it that his acts are religious acts; for all acts that are not worthy are irreligious.To be really religious, to always come within the circle of the Golden Rule, and to hold true thoughts of God, Christ, and immortality, — to do all this requires thinking, and, the more rational the thinking? the more judicious and valuable will be the conduct.
Our friend had given these questions much thought; and the purity of his life bears testimony to the soundness of his thinking. Of his influence in the home circle I would not speak. It would be wrong to intensify the grief of these mourning friends by invading the sanctity of their domestic fireside, and recalling the many tender associations of the past. You who have known him as husband, father, brother, relative, know his personal worth, his unselfish devotion to your interests, his never-failing love and sympathy. You will find consolation in recalling a life devoted to duty,— an honorable life, which reflects honor upon his name. You will find consolation in knowing that you have the sympathy of a large circle of friends, and in knowing that his loss is felt deeply wherever he was known. It has been gratifying to know how many expressions of sympathy have come from all classes of our citizens. Persons of all parties and sects have united to honor his memory. Yesterday two Sisters of Charity called at his residence to express sympathy, and to bear testimony to his many acts of courtesy and philanthropy with which it had fallen to their lot to become acquainted.
You will also find consolation in that which is the Christian's trust, — the hope of the better life, so distinctly mentioned by Jesus, by Paul, and by the apostles. Let his firm faith in the reality of such a life strengthen your hope of meeting him there, where God "shall wipe away all tears from the eyes, and where there shall be no more death, neither sorrow, nor crying, nor pain."
You who were his official associates will miss him more than my words can explain. His genial manner, his ready, helping hand, and smiling face, as you recall them in your imagination, will doubtless be a pleasant recollection, and will help you in many trying moments to bear with fortitude the difficulties of your position.
You who have been his business associates, and have counselled with him upon business matters, will look back with pleasure upon his firmness and integrity, and be inspired to emulate these noble points of character.
You who have come here to-day from other municipalities — representing, many of you, official positions, including the highest official in the State — bear testimony to the respect and esteem in which our friend was held. Your presence means more than this. It is a tribute to real worth. It was because our Brother was worthy, that you honor these obsequies by your presence, and it is fitting thus to honor true merit. So frequent are the instances of broken trusts and promises, of infidelity and insincerity, that it is right and meet thus to do honor to an honest and conscientious life.
Masonic Brethren, another Brother has passed from our earthly Lodge to receive more light in the celestial Lodge above,— a worthy, valued Brother, whose place in our visible Lodge was well filled, and whose place in the invisible Lodge, will, beyond doubt, be worthy. Faithful in the performance of his Masonic work, he had been advanced to the highest Masonic degree, and had been honored with a position in the Grand Lodge. He had worn worthily that badge of the Mason which reminds us of that purity of life and conduct which are so essentially necessary to admission to the celestial Lodge. Many times he has explained the meaning of the square, level, and plumb, and he has now entered that undiscovered country from whose bourn no traveller returns.
We could not wish him to return to this world of care: we feel that his duties while here have prepared him for still greater duties in the higher Lodge. Brethren, behold what havoc the scythe of Time makes in our ranks! These events have a solemn lesson for us. They teach us, that, as we near the boundary-line which divides our earthly life from the great unseen, we should cherish all the more faithfully the grand Masonic virtues of fortitude, temperance, prudence, and justice, and never forget the three valued Masonic tenets of brotherly love, relief, and truth.
Friends, these solemn services should impress us with a sense of our need of divine help and strength in the performance of our various duties in life. We should always live mindful of the fact that we are preparing for an eternal life. This earth-life is a discipline, a preparation for that other and better life. How much better it will be depends on our efforts here. There is a vital connection between the two lives, or rather between the two states of the same life, for there is but one life for the same person. The immortal life is but the earthly life continued. The intelligence and spiritual nature which are acquired in the earthly form are the treasures which we take with us, and the only treasures. Let it be your earnest study to apply your attention to the acquisition of wisdom and spiritual gifts. May the talents intrusted to each one by the heavenly Father be well invested, that at his bidding he can say to each one of you, "Well done, good and faithful servant, enter thou into the joy of thy Lord."
"The dear ones who are worthiest of our love
Below are also worthiest above.
Too lofty is his place in glory now
For hands like ours to reach and wreathe his brow:
A few poor flowers we plant upon his tomb,
Watered with tears to make them breathe and bloom."
Fraternally submitted.
W. F. Salmon, 33°.
Joel Spalding, 33°.
C. C. Hutchinson, 33°
Committee.
---