MAGLCKimball
From MasonicGenealogy
CHARLES KIMBALL 1811-1879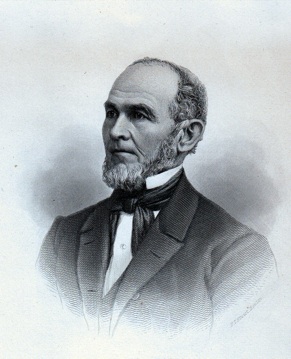 Senior Grand Warden, 1872
MEMORIAL
FROM PROCEEDINGS, 1879
From Proceedings, Page 1879-47:
The Committee appointed to prepare and present some fitting notice of the death of R.W. Chas. Kimball, Past Senior Grand Warden of this Grand Lodge, have attended to that duty, and beg to submit the following report: —
Again have our ranks been invaded by the invincible enemy, and a brother whose life was enriched by domestic endearments, adorned by virtues incident to faithful Masonic service, has been summoned to his final account. Another spirit, zealous and untiring in the interests of our Order, has left the scene of earthly companionship to join the communion of kindred beyond the veil.
Chas. Kimball was born at Littleton in 1811, and died at Lowell, March 6, 1879, being sixty-eight years of age. The period of time thus represented covers a life of activity and usefulness, characterized by fidelity and zeal in whatever position occupied. At the age of eighteen he became a teacher in the grammar schools of Boston. At one time he was in the Mayhew School, and finally was principal in the Boylston School. He was one of the famous body of 'Boston Masters,' of whom Wm. D. Swan and Barnum Field were leaders, and who attained considerable prominence at that time by a spirited controversy with Horace Mann. In 1859 he resided in Winchester, and while occupying the position of principal of the Boylston School, he was brought forward as a candidate for the post of sheriff of Middlesex County, and was elected. In January, 1860, he entered upon his new duties, and in the following May moved to Lowell, assumed personal charge of the Lowell jail, and resided in that city until the time of his death. He was widely known and highly esteemed as a citizen, and throughout the Commonwealth was honored for conspicuous ability in the discharge of the duties of his official position, extending over a period of nineteen years.
Laboring successfully for more than a quarter of a century in the school-room, he was always actively engaged in every enterprise which appertained to the educational interests of the day. He was eminently qualified for his high official position. While he believed in the necessity of discipline and justice among men, tenderness and philanthropy were prominent traits of character, to which the business of his life gave constant exercise. In 1839 he was married at Boston, and his wife, two daughters, and one son, survive him. In his domestic and social relations he was happy, as well as in business life. Ardent by temperament, energetic and kind, he was welcome always and everywhere, from his friends of influence and position, down to the humblest prisoner in his charge. A good man and a Brother has gone, and his place cannot be easily filled.
R.W. Bro. Kimball received the degrees of Entered Apprentice, Fellow Craft, and Master Mason, in Mt. Horeb Lodge, Woburn, January 7th, February 4th, March 13th, 1857. In 1858-9 he was Junior Deacon; in 1860, Junior Warden; in 1861-2, Senior Warden, and in 1863, W. Master of the same Lodge. He became a charter member of the Kilwinning Lodge, Lowell, in 1867; was appointed D.D.G.M. of the 7th Mas. Dis. in 1867-8, and was elected Senior Grand Warden of the Grand Lodge of Mass., December 13, 1871. He received the degree of Mark Master November 20th; Past Master November 26th; Most Excellent Master, December 17th; R.A. Mason, December 31st, 1860, in Mt. Horeb R. A. Chapter, Lowell. He received the Order of the Red Cross, February 1st, and the Order of the Temple, March 13th, 1861, in Pilgrim Commandery, Lowell.
He received the degree of Select Master, May 5th, Royal and Super-excellent Master, June 2d, 1862, in Ahasuerus Council, Lowell. When Pilgrim Commandery was admitted under the compact of the Masonic Association of Lowell, in April, 1867, Bro. Kimball was the first elected Trustee, and held that office until his death. The degrees of the A. and A. Scottish Rite, from the 4th to the 32d inclusive, were conferred by the Lowell Bodies, February 4, 1863, the Mass. Consistory being at that time located in that city.
On the 20th August, 1874, he received the 33d degree. Such is the outline of the life of our Brother, so far as statistics are concerned. But these dates are simply the outward expression of a hidden meaning which points to a career varied by labor, by trials, by mental conflicts, by pleasure, and by strict observance of the call of duty in the life of a good citizen, a pleasant companion, a Christian gentleman, and a Brother known and honored throughout the State on account of his many attractive qualities, and his truly generous nature.
As an expression of regard for the memory of our Brother, your Committee desire to present; the following preamble and resolutions: —
Whereas, By the death of R.W. Chas. Kimball, we are called to mourn the loss of one of the most widely known and highly honored Masons of the Commonwealth; and
Whereas, It is eminently proper that this Grand Lodge should place upon record some expression of sorrow for the loss thus sustained; therefore
Resolved, That we will tenderly revere the memory of our honored Brother for the zeal and fidelity with which he upheld the principles of our Order, and for the enthusiasm and the ability which he brought to the discharge of every duty.
Resolved, That, by his industrious and unsullied life, his generosity and courtesy, his devotion to the cause of Freemasonry, and his keen appreciation of the dignity of character which should belong to the upright Mason, our Brother may justly be regarded as an example worthy of imitation by all members of the Craft.
Resolved, That this Grand Lodge does most respectfully and tenderly sympathize with the family of our deceased Brother, and that the Recording Grand Secretary be requested to transmit to them a copy of these resolutions.
SOLON W. STEVENS,
CHAS. F. YOUNG,
Committee.
FROM LIBERAL FREEMASON, 1879
From Liberal Freemason, Vol. III, No. 1, April 1879, Page 22:
The "Shadow of Death" has rested heavily upon the Masonic Fraternity in Massachusetts during the year just past, and the Brethren have had frequent occasion to bring "an offering of tears" to the bedside and to the tomb of a departed Brother.
Again has "the silver cord been loosed and the golden bowl has been broken," and the Masons in the city of Lowell have been called to mourn the departure of one of their beloved. So well was he known, that the rumor saying he was ill excited alarm which ended in grief at the announcement of his death. The secular press spoke kindly of him, and a sketch by the Boston Journal, we quote:
"The announcement of the death of Charles Kimball, High Sheriff of Middlesex county, will surprise many of his friends, as he had only been confined to his house for a day or two, and within a few days had attended to business in boston. During the winter Mr. Kimball took a severe cold which caused inflammation of the lungs, and although his friends were alarmed at his condition they did not apprehend any serious results would follow. But at the beginning of the week Mr. Kimball had an attack of acute pneumonia, and died at his home in Lowell at eight o'clock Thursday morning, March 6th, 1879.

"Mr. Kimball was born in Littleton in this State October 14th, 1811, and came to Boston when a young man, where he spent many years in the occupation of teaching, having been Master of the Mayhew School and also of the Boylston School, then located on Fort Hill.

"In November, 1859, he was appointed Sheriff of Middlesex county, and had held that office for nearly twenty years. His official duties were discharged in a conscientious manner, and he gained the respect of all with whom he had business. In social life he was a most congenial companion, and few men had more warm friends. In the city of Lowell he occupied several positions of trust, and honor, and had served ten years as a member of the School Committee, was a director of the Lowell Hosiery Company, a trustee of the Merrimac River Savings Bank, and a trustee of the ministry at large."
In all the circles of Masonry, in the York and in the Ancient and Accepted Rites, Brother Kimball was well and favorably known. His was a welcome presence, because he was a genial Brother.
He was made a Mason in Mt. Horeb Lodge, Woburn, Mass., in 1857, was its Junior Deacon the year following, and served in higher offices, being Master in 1863. He was exalted to the Royal Arch Degree, December 31st, i860, in Mt. Horeb Chapter; Knighted, February 1st and March 13th, 1861 in Pilgrim Commandery, both of Lowell; he was also a member of the A. and A. Rite, including the grade of Honorary 33°. It is needless to say that Brother Kimball was interested in Freemasonry,— his brethren knew that and elected him Senior Grand Warden of the Grand Lodge of Massachusetts in 1871.
---