MAGLCHuntley
From MasonicGenealogy
CHARLES WILLIAM HUNTLEY 1917-1993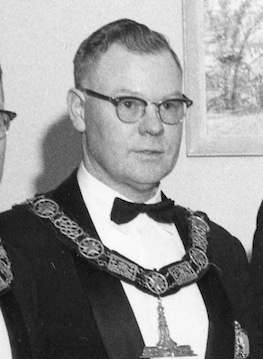 BIOGRAPHY
From TROWEL, Spring 1986, Page 8: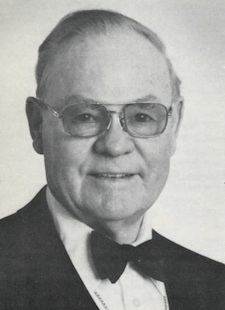 In an unassuming and dignified manner, Bro. Charles William Huntley has served Masonry, the town of Wellfleet on Cape Cod, and the Commonwealth's court system with honor and distinction. In December he was installed for a second term as Grand High Priest of the Grand Royal Arch Chapter of Massachusetts.
His Masonic career began March 5, 1941, when he was Raised in Adams Lodge of Wellfleet. Seven days later he married the former Margaret Jane Cushing in Seabrook, NH. That wedlock resulted in the births of Richard C, Janet M., and Dorothy J. Huntley.
Bro. Huntley was Master of Adams Lodge in 1953 and 1954 and has been Treasurer since 1960. He was D. D. G. M. of the Provincetown 32nd District in 1957-58 and was elected Senior Grand Warden of Grand Lodge in 1961. Master of the 15th Lodge of Instruction in 1955-56, he was appointed in 1966 as Grand Representative for the Grand Lodge of Florida at the Grand Lodge of Massachusetts. He served on the service and education committees of Grand Lodge and is past president of the Cape Cod Past Masters Association.
The first advisor of Nauset Chapter, Order of DeMolay, he has been conferred with the Legion of Honor. He has been a restaurant operator, service station owner, and carpenter, and has been a deputy sheriff and Superior Court officer for 20 years.
He has served the town fire department for 25 years and is a director of the Cape Cod Chapter of the American Red Cross.
Holder of the Henry Price and Joseph Warren Medals of Grand Lodge, Bro. Huntley was Exalted in Joseph Warren Royal Arch Chapter, Provincetown. He was High Priest of that Chapter from 1976 to 1979. Serving as Grand Captain of the Host 1979-81, he was Deputy Grand High Priest in 1982. The Benjamin Hurd, Jr., Medal was awarded to him in 1981 and he is a member of the MA Chapter of Research.
Greeted in New Bedford Council, Royal and Select Masters, in 1972, he affiliated with Cape Cod Council six years later. Knighted in Sutton Commandery, New Bedford, in 1980, he affiliated with Cape Cod Commandery No. 54 the same year.
A member of the Scottish Rite Bodies, Valley of Boston, he received the Meritorious Service Award in 1981, has been a Captain in the Guard, and on Sept. 27, 1984, the Supreme Council honored him with the Thirty-third Degree. His military service in the Navy was a five-year hitch as an aviation machinist's mate first class. The Wellfleet United Methodist Church has felt the presence of Bro. Huntley for many years.
Descended from John Huntley who was known to be in
Boston in 1647, his grandfather migrated to Boston from Nova
 Scotia where Bro. Charlie was born in 1917.
MEMORIAL
From Proceedings, Page 1994-52:
Born in East Boston, Massachusetts, on April 19, 1917
Died in Plymouth, Massachusetts, on November 7, 1993
Right Worshipful Charles William Huntley moved to Wellfleet, Massachusetts at the age of thirteen (13). He completed his early education in the Wellfleet public school system. At an early age he became a member of the Wellfleet United Methodist Church. He was a loyal servant of the church serving as a Church School Teacher; Lay Reader; Finance Board and Chairperson of the Administrative Board of the Church. He also was a member of the Federated Church of Hyannis where he also served on the Finance Board and Co-Chairperson of the Stewardship Program.
Right Worshipful Charles W. Huntley had an interesting and varied business career. He found himself extremely interested in theater and became a part-time projectionist for thirty-eight years. He was owner of the Big Chief Cottages; The Lighthouse Restaurant and The Huntley Gulf Station and Flying A Service Stations all located in Wellfleet, Massachusetts. Having a gift to work with his hands, he found himself in the carpentry business for over eight of his early years. He served his town as Fire Chief during 1952-1954. In 1960, Right Worshipful Charles W Huntley was appointed a Court Officer and Deputy Sheriff for Barnstable County and at the time of his retirement in 1987, was the Chief Court Officer at the Barnstable Superior Court.
During World War II, he served his country in the Pacific aboard the aircraft carrier Ticonderoga.
On March 12, 1941, at Seabrook, New Hampshire, he married Margaret J. Cushing, who survives along with their two daughters, Mrs. Janet M. Horton of East Sandwich and Mrs. Dorothy J. Chadwick of Manchester, Connecticut; Five (5) Grandsons; One (1) Granddaughter and One (1) Great Granddaughter. A son, Richard Charles Huntley predeceased him.
Right Worshipful Charles William Huntley was raised a Master Mason in Adams Lodge, A.F. & A.M., Wellfleet, on March 5, 1941. FIe served his Lodge well. He was Master in 1954-55 and 1987-88. He also served as Treasurer for over Twenty (20) years. He was an affiliated member of King Hiram's Lodge, A.F. & A.M. of Provincetown and Fraternal Lodge, A.F. & A.M. , Centerville. He was District Deputy Grand Master of the Provincetown 32nd Masonic District in 1957 and 1958: elected Senior Grand Warden for the year 1961 and was appointed to serve on the Grand Lodge Service Committee from 1961 through 1973; served on the Grand Lodge Education Committee 1974-76 and was Grand Representative of Florida since 1966.
Right Worshipful Charles W. Huntley was exalted in Joseph Warren Chapter, R.A.M., on April 23, 1950; greeted in New Bedford Council R.& S.M., on April 3, 1971; and Knighted in New Bedford Commandery No. 16, K.T.. He served as presiding officer of each of the York Rite Bodies and was the Grand High Priest of the Grand Royal Arch Chapter of Massachusetts in 1985-87.
Right Worshipful Charles W. Huntley completed the degrees of the Scottish Rite in the Valley of Boston on February 24, 1950 and immediately became active with the Consistory Guards. He was named Captain Of The Guard in 1975 and served in that capacity until May, 1991. In recognition of his outstanding service to the Fraternity, he was created a Sovereign Grand Inspector General, 33°, Honorary Member of the Supreme Council on September 26, 1984, at Boston, Massachusetts.
Right Worshipful Charles W. Huntley was a member of Order Of Eastern Star, Chapter 145, Wellfleet where he served as Worthy Patron. Right Worshipful Charles W. Huntley was active in DeMolay and served on many committees. His pleasure came as a DAD and in recognition of his service he was presented the Legion Of Honor in 1972.
Right Worshipful Charles W. Huntley was also a member of Aleppo Temple, A.A.O.N.M.S.; York Rite College No. 43; Colonial Council No. 19, Knight Masons; The Royal Order of Scotland; Massachusetts Convention of High Priests; Cape Cod Past Masters Association; The Past District Deputy Grand Masters Association; and The Cape Cod Deputy Sheriffs Association.
Right Worshipful Charles W Huntley was the recipient of many awards and honors including The Joseph Warren and Henry Price Medals from Grand Lodge; The Benjamin Hurd Medal from The Grand Chapter and the Meritorious Service Award from the Massachusetts Council of Deliberation.
A Masonic Service was held at the Nickerson Funeral Home on Wednesday, November 10, 1993. at 8:00 P.M., under the auspices of Adams Lodge, A.F. & A.M.. A service of Thanksgiving for the Life of Charles William Huntley was held on Thursday, November 11, 1993 at 2:00 P.M. at the Federated Church of Hyannis. Interment took place at Pleasant Hill Cemetery Wellfleet, Massachusetts.
"WELL DONE GOOD AND FAITI]FUL SERVANT."
Fraternally Submitted:
Right Worshipful James M. McBride
Right Worshipful Frederick H. Schulenburg
Right Worshipful Stafford E. Davis
---