GMSimpson
From MasonicGenealogy
FRANK L. SIMPSON 1875-1954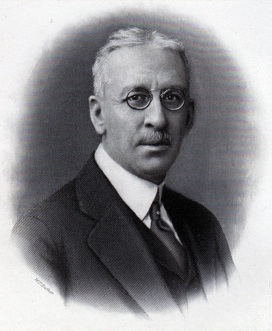 Deputy Grand Master, 1924
Grand Master, 1926-1928.
---
TERM
NOTES
PORTRAIT, NOVEMBER 1932
From New England Craftsman, Vol. XXVIII, No. 3, November 1932, Page 115: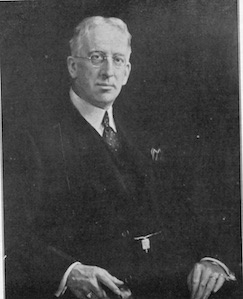 The portrait of Most Worshipful Frank L. Simpson, Past Grand Master of the Grand Lodge of Massachusetts A. F. and A. M., which appears as the frontispiece of this issue of The Craftsman, is a reproduction of a painting ordered by Grand Lodge for its permanent gallery of Grand Masters in Masonic Temple, Boston, and is from the brush of Scott Clifton Carbee, an artist of distinction, of this city.
Mr. Carbee, who is founder of the Scott Carbee School of Art, first studied drawing with Professor Bartlett, late of the Massachusetts Normal Art School, and painting with Hugo Bruel of Providence, R. I., and later under Bouguereau and Ferrier of Paris. He was also a favored student of Max Bohm in Etaples, France, and Florence, Italy. That illustrious teacher recognized the rare talent of Mr. Carbee and has a worthy follower in his own footsteps. Mr. Carbee's work has been exhibited in the Paris Salon, as well as the principal exhibitions of this country.
His work is its own eulogy, and no one who is at all familiar with the features and characteristics of the distinguished brother whose portrait we print, and viewing the actual painting, will fail to note its fidelity to form and feature and its abiding merit as a most excellent addition to an illustrious company.
MEMORIAL
From Proceedings, Page 1954-180:
Most Worshipful Frank Leslie Simpson was born at North Barnstead, New Hampshire, on March 19, 1875, the son of Charles Edward and Sarah Abbie Clark Simpson. On September 20, 1905, he married Mabel Elizabeth White, by whom he had one son, Donald Robert, who survives him. He passed away suddenly on September 2, 1954.
He was graduated from Boston University, College of Liberal Arts, in 1898, and received his LL.B., cum laude, from its Law School in 1903. A Fellow in the Law School in 1903-4, he was further honored with the degree of LL.M. in 1910. In 1943 he received the honorary degree of J.D. from Suffolk University.
He was an outstanding member of the Massachusetts Bar, to which he was admitted in 1903. In addition to the general practice of law, he was Librarian and Instructor in Boston University Law School, 1904-07; Assistant Professor of Law, 1907-10; and Professor of Law, 1910-1943. From 1943, he was Dean of Suffolk University Law School.
He was a member of many professional associations including The American, Massachusetts and Boston Bar Associations, The American Law Institute and the Massachusetts Law Society. He was a member of Phi Beta Kappa, Gamma Eta Gamma, and Theta Delta Chi.
He was an author of note, his works including "Bigelow's Cases on Bills and Notes" (1905), "Simpson's Cases on Torts" (1908), and "Massachusetts Law" in six editions between 1915 and 1944. In 1933 he was Chairman of the Special Crime Commission, and gave generously of his time in many fields of public service.
He received his degrees in Damascus Lodge, Lynn, in 1911 and was its Worshipful Master in 1919. He was a charter member of Bethlehem Lodge, Lynn, in 1919. He became a member of the York Rite bodies in Lynn in 1912-3, and of the Scottish Rite bodies in Boston in 1920. In t927 he was made an Honorary Member of the Supreme Council, 33°.
In Grand Lodge he served as Junior Grand Deacon in 1921, Deputy Grand Master in 1924, and Grand Master in 1926-1928. From 1929 to 1954 he was Grand Representative of the Grand Lodge of Maine.
As Grand Master, Most Worshipful Brother Simpson was one of the hardest working men who have occupied that office. Even before becoming Grand Master he was largely responsible for the system of Grand Lodge dues which, alone, have made possible a great deal of the most vital work of Grand Lodge. In his first year he initiated a far-reaching reorganization of the business and operational functions of the Grand Lodge. The Relief Department, the Education Department, the Service Department were either created or reorganized under his leadership and he inaugurated the Budget System now in effect and, also, the uniform receipt for dues and a careful revision of the system of districts throughout the state. He also appointed a committee to consider the elimination from the ritual of "some portions which are not to be taken literally." Under his leadership the Veteran's Medal was established and conditions were prescribed under which the Henry Price Medal may be worn.
It was a source of satisfaction to him to charter Boston University Lodge, on September 8, 1926, thus completing the triad of the only three University Lodges known to exist in the Craft even up to the present time. He became a charter member of the Lodge in his Alma Mater and delivered an address when it was constituted September 29, 1926, and in the following December, had as the Speaker at the Stated Communication, Bro. Daniel L. Marsh, who, only a few months before, had become President of the University on whose Faculty the Grand Master was a Professor.
The system of Lodges of Instruction was inaugurated by Most Worshipful Brother Simpson and the first charter was issued by him on May 27, 1927. Largely through his efforts, the Masonic Hospital at Shrewsbury, known as Juniper Hall, the gift of Mrs. Gertrude Clarke Whittall, was established in 1927. The Representative System for the exchange of representatives between Grand Lodges was established in 1928 on his recommendation.
Thus Most Worshipful Brother Simpson gave unsparingly of his talents and left his imprint on some of the most constructive advances taken by the Craft in recent times.
F'raternally submitted,
Joseph Earl Perry
Claude L. Allen
Frank H. Hilton
Committee
---
SPEECHES
AT HALL DEDICATION IN SPRINGFIELD, FEBRUARY 1926
From Proceedings, Page 1926-31:
Worshipful Master and my Brethren:
This is an occasion for happiness and it has indeed been a happy one. I congratulate you, my Brethren of 
Springfield, upon your accomplishment and upon the con
summation of your dreams and of your efforts. And you 
have wrought not for yourselves alone, and for those who
 shall succeed you, but for all your Brethren in Massa
chusetts and wheresoever dispersed over the face of the
earth; for an achievement such as yours has been and is
 of benefit to the whole Fraternity; nay, if rightly inter
preted, will be of benefit to all mankind. I bring you the congratulations and the felicitations of your Brethren of this Grand Jurisdiction, who rejoice with you in this fruition of your hopes.
Von have labored long and anxiously and finally the last stone as been laid, the Square, Level, and Plumb have been put aside, the operative mason has ceased his labor, and this beautiful edifice now stands, majestic and symmetrical, to speak in us and for us to the present and to future generations. What story shall it tell?
It is written in the second chapter of the Second Book of Chronicles:
"And Solomon determined to build an house for the name of the Lord, and an house for his kingdom.

"And Solomon sent to Hiram the King of Tyre, saying. As thou didst deal with David my father, and didst send him cedars to build him an house to dwell therein, even so deal with me.

"Behold. I build an house to the name of the 
Lord my God to dedicate it to him, and to burn be
fore him sweet incense, and for the continual shew-
bread, and for the burnt offerings morning and even
ing, on the sabbaths, and on the new moons, and on 
the solemn feasts of the Lord our God. This is an
 ordinance forever to Israel.

"And the house which I build is great; for great is our God above all gods.

"But who is able to build him an house, seeing the heavens and heaven of heavens cannot contain him? Who am I then, that I should build him an house, save only to burn sacrifice before him?"
It has been the effort of men of all ages to ascertain and define the relations of man to God and the instinctive belief in the immortality of the soul. There is ample evidence, not only in the medieval period, but in the civilizations of the Romans, Greeks, Hebrews, Chaldees, and Egyptians, of the study of cosmic science and the attributes of Deity, and the various doctrines of His religion.
It has been asserted by competent authorities that the conventional masonic art was so allied with theology that every part of a Temple taught a special lesson of its own; that form and symbol gave to each stone a meaning and a significance whereby those who had been initiated into the mysteries could read and understand the ideas which the operative mason had embodied in the temples of the Egyptian and Syrian civilizations as clearly as though they had been written in the language of the people.
The probability is that this Masonic art was not a discovery and development in each of the ancient civilizations. The similarity which can be traced in the content of the ancient mysteries and the art of architecture as they have been discovered and traced through tile civilizations of Egypt, Syria. Greece, Rome, and in more modern times, leads to the inference, at least, that a very ancient discovery w;is developed and cultivated and carried from one center to another by those who had been initiated, at the invitation of religious and political rulers, in order to express in permanent and enduring structures the spiritual feelings of the people. There is no doubt that the essential motive in the construction of public and religious edifices of ancient times was the exposition of the doctrines of the popular religions by embodying in holy buildings symbols designed to recall to and impress upon the mind the truths of the theology then current.
The Master Mason of those times, as a consequence of the intimate connection between ancient religions and the symbolism of architecture - and, indeed, the reliance of religion upon architecture for its interpretation, must have had accurate knowledge and understanding of the theological beliefs of the people among whom he practised his art, and it was in the light of this knowledge thai he planned and constructed the buildings which should express those beliefs.
It is known that the priesthood of Egyptian civilization had mystical ceremonies of initiation which spread to other and later civilizations, and exerted a strong influence upon secret religious societies which have been traced into comparatively modern times. To what extent the operative mason was familiar with the ceremonies of these 
initiations has not been determined; but it has been as
serted by competent authority. that "when the novice was taken in charge to be initiated and instructed, there was a double course which he was made to follow. On the one hand he was trained in the science of architecture; he was taught the laws of building and acquired skill in construction. There was another part of his training, however, which has not been so much emphasized, but which after all may be found lo be the most vital in the inheritance which has come down from those ancient Brethren to us of the Masonic Fraternity today . . . To Palestine, in Greece and in Egypt to those of the Craft were imparted teachings concerning the Infinite Architect of the Universe and the destiny of the human soul." (Wor. and Rev. R. Perry Bush, 1910 Mass. 873 et seq.)
Whatever may have been the extent of the participation of the operative architect in the mystical initiations of the priesthood, it must have been sufficiently extensive to enable him to ascertain and understand the doctrines and beliefs which, through his art, he was to embody in the structure which he designed and erected. To those who understand the teachings of the ancient religions and the symbolism of the art of architecture, the holy buildings of the early civilizations vividly express the lessons of man's relation to and dependence upon God, of morality, and of the immortality of the soul.
It was with such an historical background as this that our Ancient Constitutions were framed, and study of the seven liberal arts and sciences became a part of Masonic practice. And it was through this practice, originally more significant than the speculative science, that the Fraternity advanced to that period when the erective genius of the Craft could construct that modern Temple of Speculative .Masonry, symbolical not only of the art of building but of those fundamental truths and philosophy of life upon which it is founded.
As we dedicate this Temple to the uses of Masonry, we may, then, in trite Masonic spirit, rejoice in the "art which embellishes the structure, the beauty which marks its design, the taste and genius which if displays." In these respects, it stands and will remain as a beautiful monu
ment to the development and perfection of the art of architecture which Masonry in ancient and modem times has done so much to achieve.
But pleasing as it is to the eye, and expressive as it is of the noblest achievements of architecture, the symmetry and beauty of its proportions are but symbols of its greater significance as the expression of Truth, Brotherhood, Charity, and Love, for who are we that we should build Him a house save only to burn sacrifice before Him?
In December, 1899, the Masonic Temple in Boston was dedicated, and on that occasion .Most Worshipful Charles C. Hutchinson, Grand Master, delivered an eloquent dedicatory address. I can do no better on this occasion than to quote to you a part of what he said:
"We dedicate this Temple to the cause of intellectual improvement, in the hope that the Institution may here exert its most salutary Influence upon the mind; to the remembrance and perpetuity of the Fraternity, to the end that its name and mystery, surviving the decay of earthly temples, may be safely transmitted to future generations . . .

"We dedicate it in the name of that Almighty Being whose presence as a cloud filled the Temple of Solomon.

"May those who enter here find repose, refreshment, and peace
 . . . May the stranger and sojourner in the land enjoy here the
blessing of welcome and shelter. May Charity and loving kindness
 be ever enthroned among its columns. May the cause of brotherhood find here a voice to plead for it, and every thought and pur
pose to bring man into closer communion with that ineffable spirit of wisdom and love which is the source of all intelligence find a shrine from which shall proceed an inspiration for all men to make Truth, Justice, and Charity, living principles to quicken them to higher achievements and nobler lives."
My Brothers, as we stand in the halls of this beautiful Temple, and dedicate it to the uses of our ancient Order, let us not forget that our responsibilities increase with our resources and opportunities, hut here and now dedicate ourselves anew to promote the honor and maintain the dignity and character of our Great Fraternity.
Let us resolve that this Temple shall be a monument not only to the aesthetic in architecture, but of that Brotherly Love which regards all men as the children of one Almighty Parent and which unites men of every country, sect and opinion: of that Benevolence which is quick to relieve the distressed, to soothe the unhappy, to sympathize with their misfortunes, to compassionate their troubled minds: and of that Truth which influences us against all hypocrisy and deceit and prompts us to promote each other's welfare and to rejoice in each other's prosperity.
Thus shall we burn sacrifice before Him.
AT CONSTITUTION OF EVERETT C. BENTON LODGE, APRIL 1926
From Proceedings, Page 1926-117; also New England Craftsman, Vol. XXII, No. 3, January 1927, Page 370:
My Brethren:
In accordance with the ancient forms and ceremonies of our Craft a new Lodge has here been Constituted and authorized by competent authority to exercise the rights and privileges, and charged to perform the duties and obligation, of a Lodge of Free and Accepted Masons. That the ambitions and efforts of men who have sought this consummation have been crowned with success is a cause for congratulation, and on behalf of your Brethren of this Jurisdiction I tender yon their felicitations and welcome Everett C. Benton Lodge into the Grand Lodge of Massachusetts.
Ii must be a source of satisfaction and thanksgiving to yon who have labored to form this Lodge thai you have been enabled to.take your place in this great Brotherhood; and I assure you that it is equally a source of gratification to us that another instrumentality has been added to those who profess to seek to advance the welfare of the human race.
To those who understand Masonry, the service which it has rendered, and the place which it holds in the esteem of the world, the privilege which is theirs who constitute a new Lodge is of no slight or insignificant value. For centuries men of highest type, those possessing the most admirable qualities of character, and those imbued with the noblest ideals of manhood, have sought affiliation in its ranks.
In these days, the Fraternity holds the confidence, in increasing measure, of those who are concerned for the integrity and development of our civilization and the preservation of our institutions; and it has had a popularity which may not prove to be an altogether unmixed blessing.
The right, therefore, which has here been conferred upon you, my Brethren, by the Grand Lodge — the sovereign Masonic authority— of initiating those whom you shall choose into the ranks of this great Order is one of grave import: and, I am sure, is one which is duly appreciated and highly esteemed.
It should not be lost sight of, however, that the privi
leges which you enjoy and which have here been conferred, are of less consequence than the serious obligations which
 have been imposed and which you have solicited. A Lodge of Free and Accepted Masons exists for service to our fellow men, and it performs that service, if at all, in the degree in which it trains its members, not only to understand the principles upon which our Order is based, but to read to those principles in their daily contacts with the world: for it is by the influence of the trained Mason in his individual capacity, co-operating with every activity for the betterment of civilization, that our Fraternity seeks to exert its benign influence.
The sudden and very large increases in membership within the past years, and the burden of work of conferring degrees, as well as the operation of other causes which need not here be mentioned, have combined to divert attention from the primary purposes for which Lodges are Constituted; and this Lodge has come into being at a time when, not only in this Jurisdiction, hut throughout the Masonic world. there is taking place an awakening to the need of more attention to the matter of educating the Craft in the more fundamental things of Freemasonry.
In the matter of Masonic education there are two things which seem to me to be most fundamental as well as most generally manifested. First I refer to what seems in be a very general lack of understanding of the governmental organization of our Institution, the structure of our Masonic government, and the powers and relationships of the Grand Lodge and of the particular Lodges. It requires argument to demonstrate that a widespread and growing unconcern and unfamiliarity with the character of a government on the part of those who profess their allegiance to it, is a source of danger and a menace to the security of any sovereignty, whether it he political. fraternal, or of any other character.
Those who have given the most careful and thoughtful consideration In political conditions in America today are in substantial agreement that there is no greater threat to its welfare and security than the growing tendency on the part of those best qualified by inheritance, training, and ideals, in disregard their duties as citizens and to withhold their interest from the many structural changes which are constantly being proposed by advocates who have as little respect for the ideals and principles which animated our Masonic forefathers, as they have little understanding Of the true theories of a representative constitutional democracy.
And as this sort of attitude is a menace to the continued stability of the political government, so it is a source of danger to our Masonic sovereignty, and merits earnest consideration.
Secondly, I refer to what seems to me to he a lack of understanding of the purposes and programs of Masonry, not only as to what they mean but as to what they are. I am not speaking of the definitions of .Masonry in general terms. The formulation or generalization of the fundamental philosophy of the Order, at least so far as formula goes, is a favorite theme, and is more or less familiar ground for those who continue their active interest in Masonic association. We have often heard and doubtless have been benefited by bearing, that "Freemasonry is a series of traditions, orally presented and dramatically enacted; it is a body of mystic science growing out of the very roots of creation; and is a system of morality, inculcating in its disciples, in the guise of emblems and allegories, the duties they owe to (Sod, their fellows and themselves." (1899 Mass. 232.)
"Masonry is not a pleasure alone, nor a business, nor a trade, nor a spectacle, nor a profession. It is a joyous duty, a noble manhood, a charitable life. It is not an outward display, symbolic charms, or flittering hosts; Masonry is an inward possession. It is not a matter of gain, luit of giving) not one of hoarding, but of diffusing." (M. W. Abraham H. Howland, Jr., Grand Master, 1886 Mass. 115).
Masonry is a system of moral philosophy whose aim- is to bring men to a realization of universal brotherhood as the foundation of a structure of moral and spiritual character, and aims to teach by forms and ceremonies as well as by precept, a philosophy or rather tin philosophy of life — the due relationship of man to God and to his fellow men; and to develop and maintain a proper equilibrium between the moral and spiritual development of the soul and the human and selfish instincts and ambitions, and the subordination of the latter to the former. It aims to teach us that life has some purpose in the plans of the Almighty, and that although it is not permitted us to see and grasp the whole of that purpose, enough seems to have been vouchsafed to us to indicate that life is part of a progress or progression, or al least it should be a progression, to a higher plane of what we may call a moral existence.
This and other equally idealistic definitions have a familiar and, in truth, a pleasing sound.
Urn valuable as they undoubtedly are, generalized formulæ are not of themselves sufficient. Not only do they have a tendency, If left unsupported by specific application, to lull us into a sort of mental lethargy and to inspire in us a complacent; satisfaction at belonging to such an Institution, but they are difficult to interpret in terms of individual conduct and institutional enterprise, especially in ii Fraternity having such a traditional character as our own.
As I conceive it, Masonry has very real and very definite objectives, and very specific and exclusive programs for the accomplishment of its aims; and with other objectives and programs, however worthy or even essential they may be, Masonry in its organized capacity has absolutely nothing to do.
It is doubtless worthy and an essential objective of human endeavor to establish and maintain an orderly sys
tem of government and of law, in which justice and equality of right and of opportunity shall prevail; and 
under which the weak shall he protected against the ag
gressions of the powerful. But with the programs and
 policies by which this objective shall be attained, Masonry 
in its organized capacity has nothing to do.
It will not be disputed that it is a worthy, nay, indispensable objective: of civilized society to encourage the study of the attributes of the Deity, and to establish the practice and forms of worship; but with these forms or the policies through which this objective is sought, at least in any theological sense. Masonry has nothing to do.
Man is a social animal; the development of his social instincts is a proper and worthy objective of society in its progress towards an ever increasing civilization. The formation of social groupings, and the leveling influence of such associations are of great political and civic as well as of individual value and interest. But with such groupings and programs, however worthy and valuable they may be, Masonry in its organized forms has nothing to do.
The same thing may he said of other policies, such as educational and welfare enterprises. No one doubts nor disputes the worthy character of these things; no one denies that they are essential to human progress, or that they merit and should receive the interest and support of all good men. But the question is not of their value, their worthiness, nor of their indispensable character; and argument based upon these considerations begs the question.
"To adopt the policy of participation in political, religious or welfare propaganda would convert our Dodges into debating clubs, in which the advocates and opponents of any and all political, social and religions change would be free to press their views and to institute new Masonic tests in their behalf. All this is very foreign to the traditions as well as the aims of Masonry. According to our usages we cannot go out into the market places in search of pro
selytes, nor scramble with the free citizens in the outside
world in a race of propagandism."
Masonry is a traditional association which has never undertaken to do all the good things which ought to be done. It has undertaken to do a few of the essentially and fundamentally good things, and primarily to establish a universal recognition of the Brotherhood of Man and the Fatherhood of God. In its effort to accomplish these aims, concerning which there can be no dispute nor even difference of opinion, among men of whatever creed or race, Masonry has been careful to avoid any programs concerning the virtue or content of which there can be differences or dissention. It has realized, as I believe no other association of men has realized, that only upon principles which must command instant and unanimous assent, can it hope to accomplish objectives which involve, as of their essence, universal agreement.
It is no mere tradition that closes our doors against dis
cussions of political, theological, welfare, "and other exciting topics"; nor is the prohibition of such discussion due to any lack of interest in them on the pari of the in
dividual Mason. Masons have always been leaders in every field of human endeavor for the betterment of the condition of mankind. And the Masonic Order has viewed with satisfaction and complacency its sons growing strong iii the love of their fellow men, as it has striven to make them strong.
Masonry seeks to inculcate in its followers a zeal for education, an enthusiasm for justice and equality, and a love for benevolence and charity. It aims to stimulate a reverent attitude toward tile Deity and brotherly love toward all mankind. Its teachings are calculated and intended to arouse in its initiates a passion for thai which is good and true.
But Masonry adopts no policy and undertakes no program to which every man who believes in a personal God cannot, nay must not subscribe without reservation. More than that. Masonry forbids the introduction of any programs or policies upon which men disagree and condemns any attitude of partisanship or any activity as an organized or official effort which involves questions [l1 expediency, or judgment, or oven of reasonable choice.
That these observations are not the mere dicta of individual opinion, permit me to claim your attention to what Masonry itself says by way of statement of its purposes and objects in the Preamble to the Grand Constitutions: First. Masonry "is religious in that it touches monotheism; . . . worship of God is ever a part of its ceremonial; . . . yet it is not theological."
Masonry then seeks to inculcate a belief in a personal God, the One Almighty Parent of all mankind; it opposes polytheism, pantheism, and atheism, hut it is not concerned with theological or sectarian differences, nor is it hostile to any man who accepts its sole dogma of monotheism. Tt does not attempt to usurp the functions of the church nor to obtrude itself into the church's field of activity.
In interpreting this principle with reference to the eligibility to membership of applicants who subscribe to prevailing Oriental religions based on a belief in a Supreme Deity, Most Wor. Melvin M. Johnson said: (1915 Mass. 227)
"It is an unchangeable Landmark of the Fraternity that there is but one Masonic dogma . . . our sole dogma is the Landmark of belief in a Supreme Being. No man can be made a Mason unless he is a believer in monotheism . . . Beyond that we inquire and require nothing of sectarianism or religious belief."
In the "Old Charges of Free and Accepted .Masons," the Regulations concerning God and Religion were as follows:
"A Mason is obliged by his tenure to obey the moral law; and if he rightly understands the Art, he will never in a stupid atheist, nor an irreligious libertine. But though in ancient times Masons were charged in every country to be of the religion of thai country or nation, whatever it was. yet it is now thought more expedient only to obligate them to thai religion in which all men agree, having their particular opinions to themselves; that is, to be good men and true, or men of honor and honesty, by whatever denomination or persuasion they may be distinguished . . ."
This has been the invariable law of Masonry, at least ever since the re-establishment in 1717.
Masonry has an interest and a concern thai its position and attitude on this fundamental and vital principle of its organization shall not be mistaken nor misunderstood by any man who is candid and fair enough to ascertain the facts before forming his conclusions and his judgments; and it can not afford to compromise it by any toleration of an attitude of negation or repudiation on the part of those who have accepted membership in its ranks under the most solemn obligations to stand to and abide by its laws and regulations. In this respect, as in all others. "As Masons we are in duty bound not only to acquaint ourselves with the character of our Institution, but to use all skill and every ability to preserve thai character."
Second. Masonry "is educational in that it teaches a perfect system of morality, based upon the Sacred Law, by a prescribed ceremonial; and it also provides libraries and opportunities for study therein.
Here, as in its Ritual, appears Masonry's purpose to inspire a zeal for education and that its members shall be "general lovers of the arts and sciences." But its program is specific and involves no elements upon which there can be partisan opinion. It aims "to teach a perfect system of morality, based upon the Sacred Law" and by a prescribed ceremonial, which contains only fundamental and immutable truth, and which we know cannot be objected to by any man who accepts the dogma of Monotheism and its corollary, the Brotherhood of Man.
Third. .Masonry "is benevolent in that it teaches re
lief of the poor and distressed as a duly and exemplifies the
duly by relief of sick and distressed Brethren, by caring 
for the widows and orphans of the Brethren, by maintain
ing homes for aged and distressed Brethren and their de
pendents."
"The principal advantage derived to society from a 
Masonic Institution is the encouragement and extension of its benevolent and charitable principles; and, when these 
cease to be the governing object of its members the Institution is disrobed of its greatest ornament." (1911 Mass. 84.)
Fourth. Masonry "is a social organization only so far as it furnishes additional inducement that men may forgather in numbers, thereby providing more material for its primary work of training, of worship, and of charity."
There is undoubtedly ample place in Masonry for the development of the social instinct of its members; but it should never be forgotten that social activities are a means to an end and never should he magnified into an end of themselves.
There is always danger that self-interest in the guise of satisfaction of very human desires shall displace the more serious and beneficial activities of any organization which exists solely for the good it may do to others, and constant vigilance must be exercised to keep the gratification of sense and of appetite within due bounds. That this is the scope and purpose of the teachings of Masonry will readily appear to those as familiar with the Masonic ritual as you are.
These, my Brethren, are the purposes for which Masonry exists; these are the purposes for the accomplishment of which Masonic Lodges are constituted, and it is my earnest hope that the vitality of our programs and the serious character of the mission of our Fraternity may never become subordinated to other and less noble aims. If in the future career of this Lodge you strictly adhere to the Landmarks and fundamental purposes of our Institution, then the issue of this occasion will be not only of benefit to yourselves, but indeed a blessing to mankind.
AT CONSTITUTION OF HESPERIA LODGE, APRIL 1926
From Proceedings, Page 1926-132:
My Brethren:
It is not merely in compliance with custom, nor in any conventional sense, that I extend to you on behalf of your Brethren of this Jurisdiction hearty congratulations, and welcome Hesperia Lodge into the Grand Lodge of Massachusetts. This is an occasion the deep significance of which may not easily be exaggerated. Laudable and noble ambitions have here been realized. A sincere wish to be of service lo your fellow men has here found articulate expression, and there is just cause for our happiness and rejoicing.
I would not deem it proper at such a time as this to say a word which might mar in the slightest degree the joy which is rightly yours; and I would have you feel that your success has aroused in all your Brethren feelings of satisfaction and gratification which are akin to your own. But I feel that I understand the seriousness of purpose which animates those who have projected this new Lodge, and therefore I beg to claim your attention for a few moments to the high import of the ceremonies of this evening.
You have witnessed here this evening the exercise of one of the highest attributes of sovereignty. A new organism has been created by the supreme authority in Masonry in this Grand Jurisdiction. The Grand Lodge, in which alone resides the power and authority to constitute Lodges in this Commonwealth, has conferred upon you, my Brethren, the right to convene as a Lodge of Free and Accepted .Masons, and to initiate into this Fraternity those whom you shall select, agreeably to the Constitutions, as worthy and capable of rendering service for the advancement of civilization through their understanding and interpretation in their lives of the tenets and principles of our ancient and honorable Institution.
This Lodge has been constituted at a significant time in the history and development of Masonry. During the past few years, and particularly in this jurisdiction, there has been an awakening to the vitality of our programs, and a self-examination which is determining the reality of our professions. This self-examination and introspection have disclosed many elements of strength, and particularly have discovered that the heart of Masonry is sound; but they have also disclosed thai in certain respects and touching certain habits there are practices and conditions which merit particular consideration, and which doubtless require remedial action. I have referred on other occasions to conditions and practices which, if persisted in. will constitute a threat to the future stability of our Order, and I am constrained to believe thai this is an occasion upon which reference may properly be made to one phase of what may well he deemed a growing evil.
Events of recent limes seem to indicate that there is a widespread lack of understanding, if not indifference, concerning the immediate purposes of Masonry, i.e., the program by which it professes to establish its aims, and of the governmental structure of the Institution. I have not at my disposal the time nor is this occasion for speculation concerning the causes of this condition of things, but I venture the suggestion that one cause, and possibly the principal cause, is the tremendous growth which the Fraternity has experienced during the past twenty-five years. At the close of the nineteenth century, there were two hundred thirty-six Lodges In the Jurisdiction, having a membership of thirty-nine thousand eight hundred seventy-one, and Masonry in America was then in its one hundred sixty-seventh year.
At the close of 1925, there were three hundred sixteen Lodges in the Jurisdiction, two being under Dispensation, having a membership of over one hundred twenty-two thousand, fifty-two Lodges having been constituted and more than fifty-two thousand members having been admitted during the last ten years. During the prior fifteen years of this century there had been an increase of twenty-nine Lodges and thirty thousand members, and the total increase since the end of 1899, has in eighty-one Lodges and over eighty-two thousand members.
This remarkable growth in so brief a period, and the consequent pressure of the work of conferring the degrees, together with other significant causes which I do not pause to mention, which have operated especially during the same period, have tended to distract our attention from those extremely valuable and indeed essential phases of
our Masonry which I have mentioned — the purposes of
 our Institution as stated in the Preambles of our Constitu
tions, the governmental mechanism by which our Order functions, and its laws and rules of conduct.
I have been most profoundly impressed during the past few years by the misconceptions which I have encountered in both these respects, and I am convinced that they are serious enough amply to justify the plans which are being put into operation for a program of Masonic education among the Brethren, and particularly of initiates, in the character and purpose of the Organization of which they are members.
We are enjoying (or suffering from, I am not quite sure which) a material prosperity which is not only extraordinary, but which is well nigh engrossing our exclusive attention. Probably never before in its history has the Fraternity enjoyed a better reputation anions the uninitiated. It has attracted and enrolls among its members men of ability and distinction. and many who hold high places of trust and honor in the State and Nation.
The perfection of the ritualistic performance by our officers is a source of gratification to ourselves and has evoked words of high praise from distinguished Masons who have visited us from other jurisdictions.
In the accumulation of funds and other physical properly and equipment the Fraternity is today upon a larger financial basis than ever before. Beautiful and commodious Temples have been erected in many parts of the jurisdiction, and in many others projects are under consideration for further construction. Never has the Fraternity been so well and so comfortably housed.
However satisfying these things may be, however, they are not a substitute for nor an equivalent of a real and vital understanding of our objectives; and unless they accompany and are consequent upon such an understanding; and unless they are but the means of the accomplishment of our real purposes, they are worse than empty things, and may become a source of real danger to the future prosperity, if not to the integrity, of our Institution.
This is not merely the reiteration of an old cry, nor can 
it be brushed aside as the alarmist note of pessimism. Not.
only are the conditions which I have described observable
to anyone who will take the trouble to look with a candid
 and not merely with a complacent eye, but the history and
 experience of all organizations of men, of whatsoever na
ture they may be, demonstrate that they are not weakened 
and destroyed by industrious poverty, nor do they always
 flourish and grow strong because of an abundance of riches 
and luxury. In truth, not only have virility and vitality
 not increased in proportion to the accumulations of material wealth, but they have diminished in the face of
 them, and often because of them, and because the signifi
cance of material possessions has been exaggerated far
 beyond their real values. It would be pedantic and doubt
less unnecessary to illustrate from the many examples
 which history affords us of the dangers which lurk in the
 acquisition by such associations of great riches and the 
indulgence in ease and luxury; nor does time permit argu
ment of the point. It may safely be assumed, I venture to think, that there will be general agreement in the proposition that, given a comparative affluence in wealth and numbers, an organization such as ours is must suffer and must become weakened by a long continued and general ignorance of its structure and indifference towards its purposes. The only questions which may be indulged are whether such ignorance and indifference exist and what are we going to do about it.
For my own part I am convinced by my observations and experiences that they do exist in a marked degree, and hence I feel justified on such a significant occasion as this, when a new Lodge is being formally constituted, in presenting for consideration observations touching the governmental structure of our great Fraternity.
Shortly after the "Four Old Lodges" came together to form a Grand Lodge in London in 1717, a regulation was adopted "that the privilege of assembling as Masons, which has hitherto been unlimited, shall be vested in certain Lodges, or Assemblies of Masons, convened in certain places; and that every Lodge to be hereafter convened, except the four old Lodges at this time existing, shall be legally authorized to act by a warrant from the Grand Master for the time being, granted to certain individuals by petition, with the consent and approbation of the Grand Lodge in Communication and without such warrant no Lodge shall be hereafter deemed regular and
 constitutional." From this time on to the present time 
no Lodge has been duly constituted except such as have 
been authorized and constituted by authority of the sovereign governing body within the territorial limits of its jurisdiction. This is the significance of the provisions of the Ancient Charges that no new Lodge shall be formed except by permission of the Grand Lodge.
"A complete change was wrought in the practice of the Fraternity by the formation of the Grand Lodge in 1717, and the adoption of the regulation (which I have quoted above). A fresh impulse was given in the Order, and, under the authority of the Grand Lodge of England, regularly warranted Lodges were established throughout Great Britain; and from 1717 to the present time no assembly of Masons, in what we call the York Rite, has been deemed regular or legitimate which does not derive its authority, either directly or indirectly, from the Grand Lodge of England."
Prior to 1721 the general meetings of the Craft, "which were usually held once a year, were called 'General Assemblies,' and all of the Fraternity, even the youngest Entered Apprentices, were permitted to be present." (Mackey, Mas. Jur., p. 27). When the Grand Lodge was formed in thai year, and new Lodges were admitted, quarterly communications were held, and to these communications only the Masters and Wardens were admitted as representatives of their members, and all the members were admitted only to the Annual Feast which took the place of the Annual General Assembly.
Brother Mackey says. "The members of the Four Old Lodges, having first secured their inherent rights by the adoption of a resolution in the Grand Lodge that no new law should ever be passed which would infringe their immemorial privileges, thought it no longer necessary that they should attend the communications of the Grand Lodge; and they too, like the other Lodges, trusted implicitly to their Masters and Wardens as their representatives in the Grand Lodge." '(Ibid., p. 416 et. seq.). (This change was due largely to the inability to accommodate all the Brethren at meetings of the Grand Lodge.)
Fellow Crafts and Entered Apprentices continued to be admitted to the Annual Assembly until 1736, when a regulation was adopted "that no brothers should he admitted into ilic Grand Dodge but those that are the known members thereof, viz.: the four present (The Grand Master. Deputy Grand Master, Senior and Junior Wardens) and all former Grand Officers, the Treasurer and Secretary, the Masters and Wardens of all regular Lodges . . . except a Brother who is a petitioner or a witness in some case or called in by motion." (Ibid., p. 419.)
The principle of representation having thus been established in England at the time when the first Deputation for a Grand Lodge in this country was issued. Grand Lodges in America have always been composed of the Grand Officers and the Masters and Wardens of the Lodges, and the members of the Craft have never been entitled to attend the Grand Lodge except through their representatives, though in Massachusetts every Master Mason is entitled to attend the Annual Stated Communication and Feast of St. .John the Evangelist, held on the 27th of December.
This is the meaning of the provisions of our Constitutions—in Section 200, that "The Grand Lodge, when congregated, is a representation of every individual Brother of its jurisdiction"; and in Section 305, that "Each Lodge is a constituent pan of the Grand Lodge, which is the representative body of the whole Craft and of each particular Lodge and individual member."
Before a Master is installed into his office, he must promise to support the Ancient Charges, "as Masters have done in all ages." He agrees "to submit to the awards and resolutions" of his "Brethren when convened, in every ease consistent with the Constitutions of the Order;" he promises "a regular attendance on the Committees and Communications of the Grand Lodge, on receiving proper notice;" and he agrees both in his obligation as Master and in the Ancient Charges, according to the best of his abilities, strictly to comply with the Constitutions and "every edict of the Grand Lodge or General Assembly of Masons, that is not subversive of the principles and ground work of Masonry."
While these charges are assented to by the Worshipful Master at his installation, it should be borne in mind that they are binding upon all members of the Craft — constituting as they do the Ancient Charges and Regulations of the Fraternity. They may be found set forth in full in the Proceedings of the Grand Lodge of Massachusetts for the year 1917 at page 165 and following.
It is provided in our Constitutions that Lodges shall have the right to convene and to receive Entered Apprentices, pass Fellow Crafts, and raise Master Masons, and to establish funds for charitable purposes; but each Lodge is a constituent part of the Grand Lodge, which is a representative body Of the whole Craft, and of each particular Lodge and individual member.
The Grand Lodge "when congregated, is a representation of every individual Brother of its jurisdiction." It is the sovereign Masonic authority and is vested with the power to enact laws and regulations for the government of the Craft; to investigate, regulate and decide all mat
ters concerning the interests of the Craft, of particular Lodges, or of the Brethren; to establish and preserve a uniform system of work and lectures; and to issue charters to Lodges, and to suspend or revoke the same. It is composed of the officers and permanent members, and of the Masters and Wardens of each particular Lodge, who constitute in overwhelming numbers the majority of this governing body.
It is an unfortunate fact that all too frequently there is a failure to understand thai the ultimate governing responsibility of the Craft, in a very large measure, rests upon the shoulders of the Worshipful Masters mid Wardens of our Lodges, and I am persuaded that a vast service will be accomplished if the fact, and the significance of the fact, that the laws and Constitutions which we have promised to support and obey under most solemn sanction, are laws and Constitutions, responsibility for which rests with those whom the members of the Craft have chosen as their representatives might be fully recognized.
In 1883, when the question was before the Grand Lodge of defining what constituted Masonic bodies, in the form of an amendment to what is now Section 700 of the Grand Constitutions, during the course of the debate, M. W. Sereno D. Nickerson, Past Grand Master of Masons in Massachusetts, and at the time Recording Grand Secretary, said: "What is the Grand Lodge? It is the representative of the whole Fraternity. It is nothing more nor less than the Masters and Wardens of the Lodges throughout the Commonwealth In their hands rests all the power of this Grand Lodge, and for the last fifteen or twenty years each of our Grand Masters has striven to impress this doctrine upon the minds of the Brethren, and has urged upon the Lodges the importance of being represented in Grand Lodge and properly discharging their duties here: because they are responsible for the action of the Grand Lodge, great and special pains have been taken to secure a full representation of the Lodges today. Now, who is to say — who should say — what is Masonry, and what is not, if not the representatives of the whole Fraternity - the Masters and Wardens of the Lodges? Where can we rest that power more safely than in their hands? It is an authority I trust will be maintained forever, in this Jurisdiction at least. . . . Every one of us has taken a solemn obligation at the altar of Freemasonry to stand to and abide by the particular regulations of the Grand Lodge under whose jurisdiction we may reside,— not this Grand Lodge, but any Grand Lodge under which we may be located." Replying to an argument made against the amendment by a Junior Warden from a Waltham Lodge, the Grand Secretary proceeded, referring in the Constitutions then in force: "The Brother from Waltham told us he could find nothing in the Constitutions which would warrant this amendment. In Part I, Art. IV. Sec. 1 he will find the Grand Dodge described as 'the Supreme Masonic authority in this Commonwealth.' In Sec. 2 of the same Article it is declared thai the Grand Lodge has 'the inherent power of investigating, regulating, and deciding all matters relating to the Craft'; and in Part IV. Art. I. Sec. 7, the Grand Lodge is described as an assembly in which 'all the powers of the Fraternity reside.' Now, what power has the Grand Lodge if it cannot say what is Masonry, and what is not? Are we at the mercy of the sweet will of any Brother who may choose to start a Masonic degree? If it is not Masonry, the Grand Lodge has nothing to do with it. The addition of the word Masonic — the building upon the foundation of the Master Mason brings the new organization under the control of the Grand Lodge. It seems to me that it must be clear to every Brother who will consider the subject calmly and dispassionately thai the Masters and Wardens of Lodges — the representatives of the whole Fraternity — are the rightful depositories, and only safe depositories, of this great power, which clearly must rest somewhere."
This, my Brethren, in brief outline, is the government of out Craft. Lodges are not debating societies, nor are they deliberative or legislative assemblies. The only legislative assembly known to our Masonry, or which has the power and authority to declare what is Masonry and to speak for it. is the Grand Lodge. It is the duty and function of the Lodge, as well as its high prerogative, to initiate Apprentices, pass Fellow Crafts, and raise Master Masons; and through the "prescribed ceremonial" to teach a perfect system of morality, by the practice of benevolence to teach the duty in relieve the distressed, and generally through practices which are traditional and fixed, to develop its members for greater usefulness to their fellow men.
To those who understand and appreciate the contribution which Masonic training has made to the advancement of civilization and the formation and encouragement of its basic institutions, the indifference of Masons to the structure of Masonic government can be viewed only with feelings of alarm. In it lies a source of danger not only to Masonry but to America and to the stability of free institutions everywhere.
As Hesperia Lodge here begins its life, there is no more immediate service to which it can dedicate its Masonic endeavors than that of contributing to a better understanding of the government, laws, and purposes of this Fraternity among those whom it receives into membership in our Craft.
Thai this Lodge will correctly appraise its opportunities and value its privileges in conformity with our Landmarks and ancient usages, is our fervent wish and confident expectation. Thus shall you prosper in till your doings.
AT THE 125TH ANNIVERSARY OF PACIFIC LODGE, JUNE 1926
From Proceedings, Page 1926-177:
Worshipful Master and Brethren:
I appreciate deeply the privilege of being with you on this occasion and of participating in this one hundred twenty-fifth anniversary of Pacific Lodge. I bring you the felicitations and good wishes of your Brethren of Massachusetts, and wish for you continued happiness and prosperity in the years to come.
I have listened with great interest to the recitals of your historian. You have a long and satisfying history of usefulness, and history is always interesting, not only because it deals with the most human of all things - the lives and accomplishments of men; but because of the light it throws upon the fundamental springs and motives of human conduct, thus affording a guide for the future.
The custom of celebrating anniversaries is very old, and it is a fixed practice in our Fraternity. From time to 
time, anniversaries are celebrated in our Lodges, com
memorating long periods of life and activity, and recount
ing the service of this or that part of our Order. Allow
ing for the incidental variations naturally involved 
recitals of the doings of separate groups, through them runs a certain common strain, and through them are refle
cted common attributes or characteristics of the Order of
 Freemasonry — attributes which speak of permanency, sta
bility, and stimulus in the lives of men. What is there in 
Masonry which has produced these results, and the interesting hold which it exerts upon the interests of men?
It cannot be because persons of great character and attainments have been pleased to support it and to participate in its activities. This is rather an effect than a cause, and there have been many associations and movements which have, for a time, attracted great names, but these have not persisted. It cannot be because of a favorable opinion entertained by those who are not affiliated with it. This, likewise, is an effect and not a cause. And it cannot be due alone to the pronouncement of good principles. Profession alone does not establish great movements, nor has it vitality, unsupported, to effectuate permanence of organization.
This does not mean that essentially right and fundamentally true principles are not requisite to continued existence and permanent influence. No organization has existed during long periods of time which has not rested upon such sure foundations, and history is full of the rise and fall of orders which have not been based on eternal truths and affirmative virtues.
We may never be fearful of the ultimate fate of organizations in movements which are founded on Ignorance, bigotry, selfishness, or hate. Our concern about them need only be only with problem whether they should be destroyed at once because of the temporary harm they do, as the offending member of civil society is destroyed or confined, or whether we should endure them with snob patience and fortitude as we may command, until God, in His own good time, shall remove them from our midst. This depends largely on questions of policy and upon the resistance of which society is capable.
But something more than the formulation and proclamation of right ideas and true principles is required, and I am persuaded that that something is the constant and increasing effort on the part of those who have given expression to true ideas and have organized themselves to further them, to approximate in their own conduct and action the attainment of their professed ideals.
An analysis of Freemasonry both In its content and its experience shows that causes of the permanence of its organization and its influence upon the life of society respond to these tests.
There is universal agreement that religion, to the extent of a recognition of the existence of a Supreme Being, brotherhood, benevolence, and education are fundamentally and essentially true and good ideas. Thus Masonry conforms to an underlying condition or source of permanence.
And the history of our Order taken as a whole and especially referring to periods of crisis or of awakening, shows tenacity to principle, and general trend toward an approximation of conduct to profession. Whenever the threat to its life has arisen, whether from open attack from without, or from insidious weakening through selfishness, complacency, or ignorance within, Masonry as an Order has met the menace squarely and has not compromised with principle. It has come through every period of strain and of stress, renewed in rigor and vitality to meet afresh the inevitable recurrence of that testing which shall determine its right to a position among the vital forces in society.
As we look back today upon one hundred and twenty-five years of the history of this Lodge, and contemplate with grateful hearts the service and the sacrifice of those whose lives and actions have made this occasion such a happy one, let us not forget that we shall not be free from the problems which they faced, nor shall we escape the responsibilities and duties which they discharged with such fidelity. We too shall have our testing, nay, we have it now, and we gather strength and inspiration which shall enable as to meet it from the noble men who have bequeathed to us so priceless a heritage.
AT THE CONSTITUTION OF BOSTON UNIVERSITY LODGE, SEPTEMBER 1926
From Proceedings, Page 1926-514:
Brethren of Boston University Lodge:
In accordance with customs which have the sanction of generations of usage, you have been constituted into a regular Lodge of Free and Accepted Masons, and I have a large measure of satisfaction and pleasure, on behalf of your Brethren of Massachusetts. in welcoming yon into the association of Lodges in this Grand Jurisdiction, and into Fellowship in the Grand Lodge.
That there is n deep significance in this ceremony and this consummation will readily be admitted by all who perceive the opportunities which are thus afforded for service to mankind and for influence in the direction of a broader experience in the fundamentals of moral existence.
But I venture to think that the true appreciation and appraisal of the significance of such an occasion as this will vary according to the degree of conviction of the ultimate ruefulness of our Institution as a determining factor in civilization, and as well according to the extent of true understanding of its purposes and the traditional scope of its activities.
We are living in an age of fraternalism, in which there is a wealth of organizations based upon ideas of charity and benevolence. Associations of all sorts, and with varying aims and purposes, have been formed during the past one hundred years, some of which have objectives differing in essential respects from those of this ancient Fraternity. During the past decade or two there has been a very marked tendency, especially on the part of the people of this country, to affiliate with these associations, and influenced by varying motives. During all of this time the Masonic Institution has existed with its traditional aims and purposes unaltered so far as official pronouncements are concerned. It has been an inevitable consequence. however, of associations which its members have formed in other connections, and of the tremendous increases in its membership, thai certain views of Its activities and the proper scope of Its functioning have been affected, and there is the possibility, if not the danger, that its ancient traditions will undergo modifications unless constant watchfulness is exercised to guard against innovation and change.
To such an extent has this danger been sensed by those most familiar with the laws and traditional practices of the Fraternity, and by those who are charged with the obligations of administration, that in recent years significant and wide spread efforts have been made to inform the Craft of the real purpose of the Institution, and of the definite and limited scope of its activity, and of the fashion in which it aims to accomplish the purpose for which it was Instituted. More and more, insistence is being put upon the training and education of the Craft in the fundamentals of true Masonry.
As stated by my immediate and distinguished predecessor,
"As Masons we are in duty bound not only to acquaint 
ourselves with the character of our Institution, but to use 
all skill and every ability to preserve that character. In this day of the world when the multiplication of life's
 relationships seems to forecast possibility of an overwhelm
ing perplexity, we are driven to a self-examination that 
proves or disproves the legitimacy of our claim to a place 
among the determining forces of society. As we have said 
to you before, Masonry cannot avoid this necessity for self-
examination, and we believe that each of us is concerned as never before in order that the ancient integrity of our Institution shall be preserved and that the traditional character of our association shall be a reality as well us a public
profession. . . . We must be concerned not only 
for the character of Freemasonry but also for its reputation. We must not forget that Freemasonry is a public institution and at all times is open to examination by society. What value is there in our knowing that
 the heart of Masonry if sound if the public does not know it? Sometimes the public has grave doubts and rightly so. We base our judgment of the Institution upon an intimate knowledge of its philosophy, an understanding of its principles and purposes, and while we often see evidences of labor that could hardly obtain the approbation of the Master we discount the value of this in comparison with the unchanging wish of Masonry itself."
Time does not permit of an extensive discussion of the ultimate and fundamental purposes of our Institution on this occasion, nor indeed is there necessity for so doing. My thought in this connection has been expressed recently and on another similar occasion, and it will suffice for the moment to repeat a part of what was then said. "Masonry is a traditional association which has never undertaken to do all the good things which ought to be done. It has undertaken to do a few of the essentially and fundamentally good things, and primarily to establish a universal recognition of the brotherhood of man and the Fatherhood of God. In its effort to accomplish these aims, concerning which there can be no dispute nor even difference of opinion, among men of whatever creed or race, Masonry 
has been careful to avoid any programs concerning the virtue or content of which there can be differences or dissention. It has realized, as I believe no other association of men has realized, that only upon principles which must command instant and unanimous assent, can it hope to accomplish objectives which involve, as of their essence, universal agreement . . . Masonry adopts no policy and undertakes no program to which every man who believes in a personal God cannot, nay must not subscribe without reservation. More than that, Masonry forbids the introduction of any programs or policies upon which men disagree and condemns any attitude of partisanship or any activity as an organized or official effort which involves questions of expediency, or judgment, or even of reasonable choice."
As stated by a committee in a report to Grand Lodge in 1884, "Freemasonry is a progressive power for good. Its mission is to bless mankind. Unsectarian in character, it seeks to benefit its worthy objects, regardless of party or creed. Its existence cannot be imperilled, nor the influence of its beneficence thwarted by either the malignity of fanatics or the charlatanry of jugglers. The purity of its aims, the morality of its teachings, and its power for the promotion of 'human amenity and social sympathy' constitute the reason for the love which the Brethren bear to one another, and also for their ever-growing attachment to the principles taught in the ritual of the Order."
What I wish to emphasize is the obligations which rest
 upon us all to understand the purposes for the accomplishment of which a Masonic Lodge is constituted and which form the motive for the existence of our Institution.
The success of this Lodge will depend, then, not on the numbers of those who may become members of it, or on the attainment or accomplishments in the activities of the world of those who may apply for initiation: nor, indeed,
 will its success depend upon its accumulation of material
 wealth. To a degree which hardly permits the consideration of any other element, its success will depend upon the
 contribution which it shall make to the understanding of 
Masonry on the part of its members and to the extent to 
which they react to the training and the ideals which they 
shall here receive; for the true function of the Lodge is so 
to train and inspire its members in the fundamental truths 
of our Order, that they shall react to them in their contacts
 with the world. It is not the purpose, nor the aim of this 
Institution to affect society through the admission into its 
ranks of large numbers. There is ample authority in the
 Proceedings of the Fraternity in this Jurisdiction for the
 proposition that large increases in membership are not
 conducive to its welfare, if, indeed, it may not be said that
 inordinate growth is contrary to its traditions, as well as
 its spirit. M. W. Samuel Wells declared in 1891, "It is
part of the unwritten law of Masonry that it shall not 
grow rapidly." In reporting upon the address in which
the Grand Master made this declaration, the committee of
 the Grand Lodge stated that the growth in membership
 had not been "more rapid than the true interests of the 
Fraternity demand. If the contrary has sometimes been the case, it has not been tile fault of Brother Wells' administration. His influence has constantly been thrown In the opposite direction. It may be remarked, in passing, that this is a point on which we can never be too much on our guard."
I feel at liberty on this occasion to suggest the caution
c ontained in these pronouncements, and to urge upon you 
the admonition thai it is in the quality of your member
ship, and the degree to which they may respond to a true
 understanding of the purposes of the Fraternity, and react to these ideas, that not only the success of this Lodge, but
 the welfare of the Craft, must ultimately depend.
That this lodge may have such success is my earnest desire. That it will be its objective is my confident belief. I wish you God-speed.
AT A CORNER STONE LAYING IN QUINCY, OCTOBER 1926
From Proceedings, Page 1926-381:
My Brethren and Friends:
The corner-stone of this new Temple has been laid in accordance with the law and ancient usages of this venerable and honorable Fraternity, and the beginning of this undertaking has been signalized in due form mid fixed ceremony.
The plans have been designed, the foundations laid, the implements of operative Masonry have been confided to the architect, and the craftsmen are ready and eager to proceed with the erection of this structure, according to the rules and principles of architecture and of Masonry. All this has been done in a spirit of consecration, invoking the Approval and blessing of the Supreme Architect on the work.
What structure is it which is about to be erected? What shall this building be, which here today we have formally begun with ceremony which speaks to us of ages past when our Craft was an operative art, erecting temples to God, and building into enduring structures of stone their faith, their ideals, and their hopes?
You, my Brethren, will erect a building which will afford comfort and convenience to those who shall congregate here to practice our rites and to learn the lessons of Masonry — the service of God and of our fellow-men. In it you and they shall find the ease and happiness which come from appropriate accommodation to the needs of your assemblies.
Von will erect a home in which you will meet as Broth
ers as in a family, where cares will be lightened and
burdens abated. Here you shall find solace in disappointment, warm sympathy in misfortune, and the glad welcome of friends as you gather about your altars. Spirit 
and courage shall here be refreshed, strength shall be renewed, and new inspiration shall come to quicken resolution, to brighten hopes, and to stimulate impulses to nobler lives. Faith shall here be revived — faith in the wisdom 
and love of the Father, faith in yourselves and in your
 fellow-men. Aye! This shall indeed be your home to
 which you will return from your journeys, whose associations shall be dear to you when afar.
You will erect a structure which shall be an ornament to your city and which shall speak to the stranger within your gates of civic pride. You will thus contribute a part to the adornment of your community, and repay in a measure tho debt you owe for the benefits and privileges which your community has conferred upon you. For the relationships of the true citizen are those of reciprocal obligations. The duties are not those alone of the community or of the State; but the citizen is under heavy responsibility to contribute to the well being of his community, to obey its laws, to participate in its life, to contribute to its welfare, to make it n better and a more beautiful place to live in. And these are the peculiar duties of the Mason who is bound to pay a proper respect civil magistrates, to be a good citizen, as well as a peaceable one, and to support as well as to submit to the laws of the country in which he resides. Thus he is under double ties of allegiance and of honor to perform all of the duties of citizenship and to contribute of his substance and of his talents to the well-being of his city, his state, and his country.
These things you will accomplish; but desirable and
 satisfying as they are. notable as will be your achievement 
in building a commodious and convenient house, and in
 constructing an edifice which shall be an adornment of 
your city, you will fail of the highest accomplishment if your efforts stop with such attainments; for you have undertaken more than this.
You have undertaken to build a Temple of Freemasonry. You have placed it on the public highway in the heart of a populous city. You have celebrated its beginning by a public ceremony to be witnessed by all who may have the interest or the curiosity to look. It will stand in the public gaze for years to come, known of all men as a building dedicated to the practice of the principles and trusts of our Institution. Whether you will it or not, this building will speak to the world: to generations yet unborn it will tell a story and proclaim in tones which will not be mistaken what the world will be eager and interested to hear. You are erecting, then, a symbol, a token, which shall bear witness of the character and quality of the principles we profess.
In the conduct of this undertaking your work will not be completed when the stones are laid and your working tools are put aside, for that structure must be built from day to day and from generation to generation, and in its erection each one has a part — all have work to do.
What will be the story this edifice shall tell? What ideals of life and conduct will it symbolize? What principle- shall it proclaim to a world that hungers for human brotherhood and is groping for God?
It is indeed a Temple of Freemasonry. It will speak of obedience to and respect for law and constituted authority; of a passion for free institutions, and of patriotism. Tt will countenance no threat nor attack upon the principles of our fathers, no weakening of our institutions, no disrespect to our flag.
It will speak of good citizenship, and performance of civic duly, not as a sacrifice, but as the exercise of a cherished privilege. It will speak of equality before the law and breathe the spirit of liberty and democracy.
It will speak of a moral and spiritual education as the opportunity of all of our people. It will speak of tender benevolence and of charity that heeds no distinctions hut delights to do good and to help. aid. and insist the unfortunate and the fallen.
It will speak of a brotherhood which regards all men as the children of an Almighty Parent, and which seeks to unite men of every country, sect, and opinion and to conciliate true friendship; which accords to the opinions of others the respect which it demands for its own and makes no distinction of race or creed, but which holds that all mankind are kin and aims at a practical application of the Golden Rule.
It will speak of a faith in God, a living, virile faith and love with abiding confidence in His wisdom and power.
This is the edifice which you are building and which you will complete only to the extent that you understand and exemplify in your lives the teachings of Freemasonry; for these things are what Masonry teaches; these things are what Masonry is. These are the principles which you must build into your Temple, and of which, more than of stone and mortar, its structure is composed. And this you must do by your own interpretations of its tenets in your lives and actions.
Only as this structure shall symbolize these things will it be a Temple of Freemasonry. Only as it shall bear witness to the world, through you and those who shall follow you, of these principles of our Institution, will it be completed, a symbol of that love of God and of universal brotherhood which is the spirit and the profession of our Craft.
That this is the structure you have begun is our confident hope; that you may complete it with Strength and Harmony is our fervent prayer.
AT A CORNERSTONE LAYING IN BLACKSTONE, JULY 1927
From Proceedings, Page 1927-199:
My Brethren and Friends: In conformity with the time-honored usages of our Institution, and in cheerful compliance with the wishes of those with those who are interested in this undertaking, we have laid the comer-stone of this building and have solemnly consecrated it to the purposes of Christian worship.
The Grand Lodge of Masons in Massachusetts has met this, as it has met every call of similar nature, from a sincere desire to lend its countenance and support to every work conceived for the moral and material advancement of mankind. We have no purpose nor desire to swell a pageant or to take part in a ceremonial to subserve the ends of mew display. The sacred ceremony of laying of the corner-stone of temples devoted to piety and the worship of God is sanctioned by over three thousand years of usage in different stages of civilization and has a warrant in the Holy Book of our Christian religion.
The rites in which we have been engaged have been handed down to us by the founders of Masonry and are based upon reverence for any work of man's hands which has been undertaken and performed for useful and noble ends. The traditions of our Craft, embodied in forms and ceremonies full of significance, have come down in as from the early builders, and especially from the great masters of the middle ages whose works, the "cloud-capped towers, the gorgeous palaces, the solemn temples." still remain the wonder and the admiration of the world.
The forces which have shaped modern life and civilization have left their impress upon the character of our Fraternity, turning its activities away from the operative Masonic art an into new channels of speculative thought, and 
giving to it a wider fellowship and a broader scope. But 
we still fondly cling to the traditions which are the life-blood of our Institution; and may the time never come when we shall lose our reverence for that sincerity and thoroughness in design, that skill and completeness in the execution and adornment, which give the stamp of honor and nobility to every man's work.
This Fraternity, made up of men representing every class and interest in society, is alive to every movement affecting the genera] welfare. It has always had the fullest sympathy with Christian effort and aspiration. Ii is loyal to the ideals of free government and has respect for duly constituted authority. It aims to inculcate in its adherents love of God, submission to the decrees of the Supreme legislature, respect for civil magistrates, and obedience to law. Its foundations real upon faith in the Fatherhood of God and the Brotherhood of all men.
From the very nature of its organization and according to the specific mandates of its laws, it holds aloof from all sectarian entanglements, and never fails to give its hearty God-speed to the good men of every religious denomination who are endeavoring to advance the Kingdom of God and the principle of peace on earth and good-will among men.
It is our earnest prayer that the religious society, in whose behalf our services this day have been performed, may find in this community a field of labor which shall hear fruit acceptable to God. May the hearts of its members be purified of all merely personal and sectarian aims; and mav they find m the work here to be performed in the structure about to be erected, their highest aspirations and their greatest source of contentment.
The corner-stone of a new temple has been laid; may the walls which are now to he reared shelter a happy and united people whose God shall he the Lord forever.
AT THE CONSTITUTION OF JOEL H. PROUTY LODGE, MARCH 1928
From Proceedings, Page 1928-68:
My Brethren:
I congratulate you upon the success that you have achieved in your undertaking to establish a new Lodge in this community and extend to you on behalf of your Brethren of this Grand Jurisdiction hearty felicitations and good wishes. I am happy to welcome you into the family of Masonic Lodges in Massachusetts.
On such an occasion as this one might with propriety discuss the privileges and responsibilities of those who have undertaken the administration of a new Masonic Lodge. It would be highly appropriate to point out what a high privilege has been conferred upon you by the sovereign Masonic authority of this Grand Jurisdiction and that great opportunities confront you for distinctive service to your fellow men. to your community, and to your State. I am disposed, however, on this occasion to discuss before you circumstances which will indicate the particular service that is rendered to our Craft by those who form new Lodges in this day; and especially am I impelled to this course by the conviction which I have long entertained that ideas and all it tides touching the size of Lodges have been developing within our Jurisdiction during recent years which are not only inconsistent with our traditions, and incompatible with the purposes of our Fraternity, but menacing to its future prosperity and effectiveness. A careful survey not only of recent conditions but of customs and ideas which prevailed among our ancestors, has satisfied me that we have experienced during the last few decades a condition of growth which is unhealthy and which, if not restrained, threatens not only to change the foundations of our Craft but. to divert it from its proper purposes and objectives. The condition to which I refer is that the number of our Lodges has not increased in the proper ratio to the increase in our membership, and that we have experienced a growth in size of some of our Lodges which has rendered it practically impossible for them properly to perform the true functions of a Masonic Lodge. Not only is this true, but it is also true, in my opinion, that this growth has been due to a certain shift in our objectives and to the development of an attitude quite inconsistent with the real purposes of our institution as these are set forth in the Preambles to our Grand Constitutions.
The fundamental purpose of our Institution is to train its members; its main objective is to teach — the recognition of an Almighty Creator; a perfect system of morality by a prescribed ritual; benevolence through precept and practice. Our ritual is designed to imprint on the memory wise and serious truths. Our law requires regular attendance upon our Stated Communications in order that through contact with our ceremonies the idealism of the Craft may become the habitual thinking of its adherents. It is not the function of Freemasonry to gather within its folds great numbers nor to accomplish objects of benevolence through institutional enterprise administering huge foundations.
Men do not become Freemasons merely by passing through the several stages of initiation into a Masonic Lodge and thereafter maintaining good standing by the regular payment of dues. "Initiation may entitle a Brother to the privileges of the Institution; hut it does not make the Mason. The possession of the telescope does not make the astronomer. He must study his science, or the instrument will be of little value to him. The Mason must study the principles, the laws, usages and purposes of his Craft, or he must be content to remain the possessor of the telescope, without the requisite knowledge to quality him to use it. The moral and intellectual improvement it affords to his more scientific Brother, he cannot realize." (Charles W. Moore, Freemasons' Monthly Magazine, Vol. V, Introduction.)
This process of study is largely to be accomplished in a Masonic Lodge, which all are required to attend. Obviously this cannot he done in Lodges whose membership is so large that only a fraction of the members can attend at Stated Communications.
The condition of growth to which I have referred is violative of many definite and significant pronouncements of the Grand Masters and of the Grand Lodge. As indicating the attitude which Masonry in this Commonwealth has taken officially, I beg to draw your attention of some of these pronouncements. In 1911 (See 1911-83) a Committee of the Grand Lodge composed of M. W. Bros. Charles T. Gallagher and Melvin M. Johnson and R. W. Bro. George H. Rhodes submitted a report containing the results of a study made by this Committee of the growth of the Fraternity within this jurisdiction. The Committee said:—
"We have only 12 more Lodges bow than we had in 1888, yet the number of Masons has more than doubled in our State, and the same proportion holds good in Boston.

"While the average membership is now about 250, in 1888 it was but 130.

"Over the State we have 132 Lodges with more than 200 
members; of these 71 have over 300, 31 over 400, 15 over
 500, 9 over 600, 2 over 700, and one over 800 members.

"In Boston 25 Lodges have over 200 members, of which 13 are over 300, 7 over 400, 3 over 500, 2 over 600, and 1 over 700 members.

"From these details we adduce the principle thai there are already too ninny large, overgrown bodies: their attendance being too great in many eases to meet in an ordinary Lodge room, as frequently the visitors out-number the members manyfold; the older members and those who should be the most interested and active are liable to lose their interest because of the crowded conditions, and the general tendency must be in many cases to make the work of the Lodge a dramatic spectacle accompanied with ah opportunity for refreshment, diverting the attention of the Brethren too much from the principles of Charity, Relief and other fundamentals which arc the basis of our existence."
The matter of size of Lodges was again referred to by the Grand Master (M. W. Bro. Melvin M. Johnson) in 1916 (1916-178). He said:
"I have long been of the opinion that many of our Lodges are altogether too large, and that better Masonic and equally good financial results would he obtained if there were more Lodges, with smaller membership. You may be interested to learn that the average membership of Lodges in Massachusetts is higher than in any other Jurisdiction in America with the single exception of the District of Columbia, which being compact and having no country Lodges is really not comparable."

"There are only five other jurisdictions having an average membership of over two hundred, namely, Rhode Island, 247, Pennsylvania, 244, Connecticut, 236, New York, 229, and New Jersey, 209. Twenty other jurisdictions in the United states average between one and two hundred, and twenty-two others less than one hundred. The average Lodge membership for the whole United states is 124. Our average, therefore, is more than twice the average membership of all Lodges in this country. This is unhealthy growth."

"It is hard to say that there is any fixed number of members which should not be exceeded, Conditions vary in different places. It is, however, always true that where the membership is so large that each member present cannot know all the others, and where only a very small percentage of the members can ever have the opportunity of serving the Lodge in official capacities, the interest of the members lessens and each individual member feels less responsibility for the welfare of the Lodge and for the exercise of the duties and responsibilities of Masonry as well. It is a practically universal rule that the smaller the membership the larger percentage of members attend the meetings. . . . What is even much more necessary is the creation of a sentiment in favor of more and smaller Lodges where the Brethren may be more united, may be thrown into closer fraternal intercourse, may have more opportunity to serve, and where the tenets of our institution can better he inculcated.

"If it he argued that for financial consideration large Lodges must he built up, the complete answer is that no other jurisdiction in the whole Masonic world (save only the District of Columbia) averages such large Lodges as does Massachusetts, and certainly other jurisdictions are prosperous and successful. The tendency of great Lodges is to lessen rather than to enhance the Masonic development of each individual member. The accomplishments of Masonry have never been gauged by financial eonsiderations. When these become the criteria, then it is time to halt and to recast our activities, for then the grand aims and purposes of our Fraternity are sure 10 he obscured."
From 1916 to 1919 we experienced the beginnings of the rush caused doubtless by war conditions and in that period the average size of our Lodges had grown from 260 in 1916 to 317 in 1919. In the latter year, the Grand Master (M.W. Bro. Leon M. Abbott at the December Communication, said (1919-350):
"I am very much impressed that many of our Lodges are much too large in membership. It seems to me self-evident that a Lodge that is obliged to hold meetings several times a month in order to confer the degrees upon large numbers of candidates cannot properly discharge its many important duties to the Craft and to its own members. The conferring of degrees is very far from being the sole object and purpose of a Masonic Lodge. It is the close personal touch. the mutual exchange of ideas, the warm comradeship that brings men constantly together with hearts and minds influenced by the beautiful lessons and teachings of our Institution, that makes our membership truly worth while. Over and over again 1 have heard members of some of our large Lodges say that they knew very few of their own membership and so did not fro to their Lodge meetings very often. In some cases Lodge-rooms will not accommodate a third of their members, to say nothing of visitors. This subject of the size of Lodge membership is so important that I earnestly recommend that a committee be appointed to consider the whole question deliberately and at length and to report at some future Communication of the Grand Lodge."
In consequence of the foregoing recommendation, the Grand Lodge voted that a Committee be appointed to consider the question of the size of Lodges. In accordance with this vote the Grand Master appointed the following Committee: M. W. Bros. Melvin M. Johnson and Dana J. Flanders, R. W. Bros. D. Edward Miller, Frank M. Weymouth and William N. McLane (1919-438). This Committee reported at the June Communication of 1920. The Committee said (1920-196):
"The average membership of Lodges in Massachusetts is larger than in any other jurisdiction in the world with which a proper comparison may be made. We beg to incorporate as a part of this report what appears in the printed proceedings of the Grand Lodge for June 14, 1916, pages 178 to 181 inclusive, wherein it is said that 'elephantiasis is a disease equally injurious to an animal, a human, or a Lodge.' On this as well as financial aspects we beg also to incorporate herein pages 83 to 86 inclusive, of our printed proceedings for June 14, 1911. See also 1913, Mass. 249."
There follow quotations from the pages above referred to. and the Committee proceeded:—
"Our Lodges were too large even before the present tremendous influx. Now we are adding to that membership by leaps and bounds. The present Masonic fiscal year will show that we have made more than twice as many Masons as in the preceding fiscal year, which itself was by far the largest in our history. It is not uncommon at the present time for a Lodge already too large to have thirty, forty, or even fifty candidates under consideration or in process of receiving the degrees and to have ten or fifteen meetings of the Lodge scheduled during a calendar month, at most of which more than one degree is worked.

"In the opinion of your Committee the results of the present situation are injurious alike to the Craft at large, lo the particular Lodges, to their officers, to their members and to the candidates. The officers of the Lodges are overburdened with work. They have to give more time and attention to their Masonic duties merely to accomplish the conferring of degrees than ought to be expected of men who are busy with the affairs of life. They are obliged to repeat the ritual over and over again, a practice which tends under the circumstances to become monotonous and to render the work less impressive. Moreover, the time consumed in degree work and preparation therefor makes it almost impossible for the officers to attend to those other Masonic duties which aid Brethren and candidates in 'the application of Masonic principles to present day problems to the end that Freemasonry may become a more active agent in behalf of civilization.' Thus overburdened, officers necessarily fall short of accomplishing all that they ought to he able to accomplish. In order to build up a large Lodge they lose what is of greater value — the inculcation of the spirit of Freemasonry.

"There is a corresponding failure on the part of the candidates to receive the full inspiration which should come from their Masonic fellowship. The function of Masonry is not the mere conferring of degrees. When a member becomes a Master Mason, the Fraternity's duly toward him has just begun. He will realize his duties as a Freemason only when he knows what Freemasonry really is and what are its aims. Most initiates are hungry for such teaching. Our Lodge officers chosen from all walks of life do not under present conditions have the time to study ways and means other than by "work" to teach the fundamental principles of the Craft and supplement the ritual.'

"It is thus impossible for overworked officers to accomplish our true aim of making; our Brethren heller Masons and enabling them by a broader understanding of Masonic principles to work more effectively for civic righteousness and the betterment of humanity.

"As things are now, when the candidate has received his third degree he is almost invariably dropped from further attention. Whether he has any further Masonic life depends largely upon his own persistency. This ought not to be. When a candidate has received the third degree the Fraternity's duty toward him has just begun, but we cannot expect him to appreciate this unless the officers and members of his Lodge pay some attention to him and at least point out to him his opportunity for service.

"The Brethren of the Lodge apart from the candidates are deprived of that intimate fraternal association with their fellows which is obtained in a smaller Lodge. The larger the Lodge, the fewer close associations any member has with the others. In some of our smaller Lodges almost everyone in attendance can greet nearly all of the others by name. In our larger Lodges, however, a member is almost upon the same plane as a visitor: indeed, often receiving less attention. The result is that the proportion of members who attend their Lodge is in inverse ratio to the size of the Lodge and those who do attend get little out of it except that repetition of ritual which, if there be nothing further, becomes tiresome. Therefore the Lodge meetings lose the strength of their invitation and their impulse. The comparatively few Brethren who are left to give active attention to Lodge affairs arc unable to devote the lime required to the investigation Of applicants and the introduction of candidates.

"Overburdening officers and loyal members with such duties has a marked tendency to make many men refuse active service and decline to become officers, especially such men as are perhaps the best material for officers — men whose business and professional activities will prevent their accepting Masonic duties which make so great demands upon time and strength.

"More Lodges can be erected up to a number sufficient to take care of acceptable applications, in which case the average membership of each Lodge will be materially smaller. This seems to your Committee to be a desirable result. More and smaller Lodges, therefore, is, we believe, the proper solution of present unsatisfactory conditions."
I have quoted thus extensively from this Committee's Report, to indicate with what care the Committee had studied the question before it. and to show that an exhaustive and detailed statement of the evils which our practices were producing, was clearly and frankly made to the Grand Lodge nine years ago.
The Committee recommended amendments to the Grand Constitutions to limit the amount of work which could be performed in any Lodge in any year, as follows:
"A Lodge located within the Commonwealth of Massachusetts and having over 200 members shall from its own candidates make not more than thirty-five Masons in any fiscal year (September 1 to August 31 inclusive). Such a Lodge haying over 600 members shall make not more than thirty Masons; having over 1000 members, not more than twenty-five."
A study of the losses in membership from all sources, that is to say. from death, dimits, suspension, discharges, and expulsions, over a period of the last twenty-five years, indicates that the limitations suggested in the above amendments would not tend to diminish the size of Lodges, whether of 200 or of a thousand members. The average losses of a Lodge during the above-mentioned period from all causes is approximately two and one-half per cent of its membership of the preceding year: that is to say, a Lodge of a thousand members will average to lose twenty-live of its members in the succeeding year, a Lodge of 600 members will average to lose fifteen of its members, and so on. The effect of the suggested amendments therefore would be that Lodges up to a thousand members might continue to grow. Only those above a thousand members would tend to diminish in membership, A Lodge of a thousand members might remain stationary in its membership if it admitted the maximum number permitted by the proposed amendments. A Lodge of 200 members, initialing the maximum number permitted by the amendments, might grow nearly 30 members a year; it would be possible for such a Lodge to become a Lodge of 500 members in ten to fifteen years. Certainly the amendments could hardly be considered drastic if the conditions reported by the Committee were well-founded.
The amendments were referred to a Committee composed of M. W. Bro. Leon M. Abbott, and R. W. Bros. Edwin A. Blodgett and Herbert W. Fletcher, and this Committee reported at the March Communication of 1921. (1921-51) It recommended non-adoption.
This Committee did not dispute the facts recited by the Committee of 1919; on the contrary, it recognized that the evils which the former Committee had found to exist were "serious" ones; it stated that it fully appreciated "the force of the facts and reasoning contained in the exhaustive and admirable report proposing the amendments." The only fact stated by the Committee and bearing upon the merit of the amendments was that "there are now sixteen new Lodges under dispensation, others in process of organizing, and still others in contemplation." This, the Committee stated, had caused "the Committee to feel that conditions are so changing that some, at least, of the serious evils which the proposed legislation is intended to remedy will not long continue to exist." The Committee concluded by saying:
"While your Committee fully appreciate the force of the facts and reasoning contained in the exhaustive and admirable report proposing the amendment limiting the number of candidates to be admitted in any fiscal year, it is of the opinion that at the present time and under existing circumstances it would be unwise to make any change in our Grand Constitutions as to the size of Dodges or the number of candidates, and we therefore recommend that the proposed amendment be not adopted."
This report was accepted without discussion or debate and the proposed amendment was not adopted.
In view of the statements contained in the report of the Committee on the Constitutional amendments, it seems apparent that the Committee was Largely affected by the circumstance that dispensations had been issued for a considerable number of Lodges during the year 1920.
It is pertinent to observe, however, that, notwithstanding the prophecies of the Committee above referred to, the conditions immediately following 1922 settled back into the practices which had prevailed prior to 1920. While the average size of our Lodges in the Commonwealth in 1919 was 317, by 1920 this average had increased to 412,— a growth in the average size of our Lodges in seven years of ninety-five per Lodge!
What is of equal importance and significance is that, while in 1920 there were 58 Lodges with a membership of more than 500, the number of Lodges with a membership of more than 500 had increased so that in 1926 there were 93 of such Lodges.
It seems clear that the growth we have experienced during the last forty or fifty years and the increase in the size of our Lodges is contrary to the opinion of competent Masonic authority id' the earlier days of our Craft in this Common wealth. The opinions of the most learned Masons during the early part of the second half of the hist century, so far as I can discover by a rather diligent search, and the experiences and practice of our Craft during the same period, indicate that our recent experiences are utterly contrary to the settled practice of our Fraternity during the years when it was established as an institution of significant influence in society. In 1855, R. W. Charles W. Moore declared (Freemasons' Monthly Magazine, Vol. XIII, Introduction):
"We may be assured that a small Lodge, composed of worthy and excellent members, honorable, high-minded, and virtuous in their principles, faithful workmen, and desirous of carrying into the world the spirit of our institution is far preferable and much more honored by Hie public, than a Fraternity made up of a swarm, some of whom have no character in their community, and whose sole object was not to improve themselves in Masonry, but to promote their own interest or ambition.
In 1866, a charter was granted to Lafayette Lodge of Roxbury. The Committee on Charters and By-laws, reporting to the Grand Lodge, said (Freemasons' Monthly Magazine, Vol. XXV, p. 278):
"Your Committee desire to call the attention of the Grand Lodge to the following clause in Art. IX of the By-Laws:

" 'Only fifteen applications shall be accepted during any one year.'

"The conservative spirit existing among the petitioners is evinced by this provision of the By-Laws. It has been apparent for many years that the immense amount of work done by many of the Lodges in this Jurisdiction is tending to destroy the great object of Masonry. The beauty of our Ritual, and the good-fellowship among the members of our Lodges, cannot he conserved when the chief aim is to make Masons and money. The inevitable result of overburdened work is to impair the effectiveness of our ceremonies; to weary the Brethren by constant repetition, and thereby render the attendance small; to destroy the unity and intimacy of the Brethren and to sap the very foundations of our Institution."
This Committee was composed of M. W. Bro. William S. Gardner, R. W. Bro. G. W. Warren, and R. W. Bro. William W. Baker.
I do not have at my command the statistics for 1866. I have, however, made a comparison between the work done in 1870 and the work done in 1925, with the following result:
| | | |
| --- | --- | --- |
| Candidates | 1870 | 1925 |
| Under 10 | 97 | 91 |
| 10 to 15 | 43 | 66 |
| 16 to 20 | 23 | 57 |
| 21 to 35 | 5 | 31 |
| Over 25 | 3 | 55 |
| Largest | 29 | 58 |
| Average | 10¼ | 16½ |
| No. of Lodges | 175 | 292 |
| No. of Initiates | 1791 | 4804 |
It will be observed that the overburdened work of the earlier period had been increased 60 per cent in 1925, and the evidences are about us that the results prophesied by the Committee of which M. W. Bro. Gardner was chairman have been realized.
The number of Lodges constituted, the total number of Lodges and of members, and the average size of Lodges in this Commonwealth from 1860 to 1927, inclusive, are as follows:
Year
Constituted
Lodges
Members
Averages
1860
101
6,741
67
1870
80
181
20,101
115
1880
40
221
25,147
1890
5
226
30,880
137
1900
5
231
41,019
178
1901
0
231
42,093
182
1902
0
231
43,415
188
1903
1
232
45,084
194
1904
0
232
46,715
201
1905
0
232
48,415
209
1906
0
232
50,308
217
1907
0
232
52,260
226
1908
1
233
54,431
234
1909
0
233
56,657
243
1910
2
235
58,294
248
1911
1
236
60,844
2S8
1912
2
238
62,879
264
1913
5
243
65,026
268
1914
3
246
67,184
274
1915
3
249
70,147
282
1916
1
250
71,415
286
1917
2
252
74,255
295
1918
1
253
76,942
304
1919
2
255
80,860
317
1920
2
252
90,760
353
1921
12
269
101,269
376
1922
12
281
108,312
386
1923
5
281
113,198
396
1924
4
290
117,647
406
1925
3
293
119,847
409
1926
3
296
121,884
412
1927
2
298
123,661
409
The following tabulation shows graphically the rapidity of growth of Lodges, and reveals the seriousness of the present situation:
Year
To 100
100-200
200-300
300-400
400-500
500-600
600-700
700-800
700-900
900-1000
1000-1100
1100-1200
1200-1300
1870
118
77
19
7
1880
92
66
17
4
1890
82
101
32
9
2
1900
56
101
46
16
11
1
1905
44
89
52
28
12
5
1
1
1910
32
72
61
40
15
6
7
1
1
1915
25
69
63
40
26
13
5
6
1
1
1920
15
64
48
41
31
21
18
9
4
4
1
1
1925
14
64
49
44
29
34
11
19
8
11
2
4
4
1926
12
68
47
45
31
32
12
18
10
10
3
4
4
1927
13
70
44
43
37
31
13
17
8
12
2
6
2
From 1860 to 1870 the membership grew from 6741 to 20,101, — a growth of 13,360. During those ten years, 80 Lodges were constituted. From 1890 to 1920. the membership grew from 30,880 to 90,760,— an increase of 59,880. During those thirty years, only 36 new Lodges were constituted.
From 1860 to 1880 our membership increased from 6,741 to 25,147, — an increase of 18,406; 120 new Lodges were constituted during these twenty years.
From 1880 to 1926, our membership increased from 25.147 to 121,884,— a growth in membership of 96,737. Only 75 new Lodges were constituted during these forty-six years!
In 1880, when Masonry in Massachusetts was 147 years old, the average membership in our Lodges was 114; in 1926, only 46 years later, that average had increased to 412. Every year of those 46 years had shown an increase in the average size over that of the preceding year.
In 1880, there was only one Lodge with a membership of more than 400; in 1926, there were 124 Lodges with a membership of more than 400 each, and eleven Lodges with a membership of 1000 or more, each.
It has been since 1880 that all, or nearly all, of the collateral groups or organizations, not recognized as Masonic, but which predicate their membership, in whole or in part, upon Masonic membership, have sprang up. It is a well-known fact that drives for membership are not infrequent in these organizations; and, I regret to say, that they are not unknown in collateral Masonic Bodies, recognized as such by our Grand Constitutions.
During the same period, from 1880 to 1926, there has been an alarming falling off in the attendance of members at Lodge meetings — especially at those at which the First and Second Degrees are worked. A fairly accurate and complete survey has been made, and this shows thai the average attendance at Regular Communications of the Lodge is over 40 per cent less than that of fifty years ago, notwithstanding the fact that during the latter part of this period pretentious and sometimes extravagant programs of entertainment and refreshment have been adopted in some of our Lodges as inducements to members to attend.
What connection there may be between these facts may be the subject of difference of opinion. It cannot, however, lie disputed that there is a considerable body of very respectable opinion thai there is a definite connection — that of cause and effect, between the conditions heretofore recited.
My own observations and the consideration of data in my possession have lead me to the conclusion that there is such connection and that the conditions of inordinate growth and the development of practices and ideas, apparently unknown to our Craft seventy-five years ago, are of such a nature as to give cause for serious concern to those who are anxious that the ancient traditions of our Institution shall be preserved and that our Fraternity shall not be transformed into something that is not Freemasonry.
I am aware — everybody is aware — that there are those who clamor that Masonry should get "up-to-date." The cry is an old one, and I feel constrained to say that it is generally the cry of those who have given little thought and less study to what Freemasonry is and what its objects and purposes are. The cry really means that Freemasonry should cease to he Freemasonry and become something else.
The ideals and philosophy of Freemasonry are up-to-date. The truths it seeks to inculcate are not and never can he out of date. It may be admitted that they are old; so is the law of gravitation; — so is the Bible.
The purposes of Freemasonry-—to I rain and develop its adherents as men of character. God-fearing men, charitable and benevolent men, men of moral fibre and moral courage, are not now and never will be out of date so long as Christian civilization shall last.
The methods and practices by winch Freemasonry seeks to accomplish its purposes, while admittedly old, are based upon a keen understanding of the human mind and its habits of functioning. Men do not form habits — of conduct or of thinking — any differently now than they did two thousand years ago, and it is as idle to expect, men to form habits of thinking idealism without habitual contact with idealism, as it is to expert men to form the habit of frugality and economy by a consistent practice of spending more than they earn. "'As a man thinketh in his heart, so is he." When this truth becomes out of date, it will be time to revise and recast the ancient and traditional customs and practices of our Fraternity — and not until that time.
"Our steady aim for years," wrote R. W. Bro. Moore (Moore's Freemason's Monthly, Vol. XX, Page 223), "has been to arrest the disposition, apparent in Masonic documents, to improve the Institution. The Landmarks are the lines that distinguish Masonry from oilier institutions. Those Landmarks show that there is no other organization that at all resembles the Masonic Fraternity. It is set off as a brotherhood by itself; and it is peculiar in itself. It knows affiliation with no other body, and it is like no other body. Modern attempts at improvement are all innovations, and as far as they are successful they are destructive of the peculiar character of the Institution. Much of the damage of this modern innovation is done in
the Lodges by the invention of lectures, and the introduction of features or formulas for the purpose of rendering them more beautiful, and more conformable to modern notions of the Craft.
"Masonry admits of no such advancement. . . Sectarianism is as intolerable in Masonry as it is in religion. And as with religion, so with Masonry; wherever men attempt improvement, they introduce sectarianism. . ."
It is sometimes assumed that the conditions in our own Jurisdiction are common ones and are the normal results of the changed economic and social conditions of modern times. This assumption rests on no solid foundation. In only two Grand Jurisdictions in the world is the average size of Lodges as large as in Massachusetts. In many, the average is much smaller than ours; and in some it is little larger than the average in Massachusetts sixty years ago.
In 1926, in the United Grand Lodge of England, there was a membership of approximately 274,000 in 3870 Lodges, — an average of 70 members per Lodge. In the Grand Lodge of Scotland, there were 92,000 Masons in 1158 Lodges, — an average of 79 members per Lodge. In the Grand Lodge of Ireland, there were 65,000 Masons in 650 Lodges,—an average of 100 per Lodge. In the nine Grand Jurisdictions of the Dominion of Canada in the same year there were 180,295 Masons in 1274 Lodges-—an average of 142 per Lodge. In the forty-nine Grand Lodges of the United States in the same year, there were 3,125,171 Masons in 16,625 Lodges, — an average of 190 Masons per Lodge. In Massachusetts in that year, there was a membership of 121,884 in 296 Lodges, — an average of 412 per Lodge.
In the seven Grand Lodges in Australia in 1926, there were 142,056 Masons in 1428 Lodges, — an average of approximately 100 members per Lodge. In that year the several Grand Lodges of Australia held a conference, which is reported in 1926 West Australia, page 12, as follows:
"Victoria brought forward the question of Limitation of Membership and her representative pointed out that Lodges in thai Jurisdiction were becoming unduly large. They had one Lodge containing over 300 members, five with a membership of over 250, twenty-nine with a membership of over 200, and sixty-two with a membership of over 150.

"The figures of New South Wales were even larger,— one Lodge having a membership of 500, another over 400, with numerous others in the vicinity of 300.

"The membership of the largest Lodge in Western Australia, namely, 140, seems insignificant when compared with the numbers in the Eastern States, but the general idea of the Conference was that it came nearer to representing the ideal of maximum than the figures already quoted."
The Conference voted:
"That in the judgment of this Conference it is not desirable that Lodges should become so large in numbers as to imperil the fraternal fellowship of their members."
It tints appears that not only are the opinions of the most competent authorities in Freemasonry, contemporaneous and past, opposed to the congregating of large numbers in Masonic Lodges but thai such a policy is contrary to the uniform experience and practice of substantially the entire Masonic world.
It has been urged that modern conditions required large numbers in Lodges to meet financial demands. This contention is not borne out by the plain facts of our own Jurisdiction. In this Commonwealth there are Masonic Lodges in 180 municipalities. In twenty-seven of these municipalities there is one Lodge each of a membership of over 400 in only thirty others, in which there is more than one Lodge each, is there an average membership in the Lodges of over 400. In 123 cities and towns of this Commonwealth, there are Lodges with a total or average membership of less than 400 members.
in many of the larger cities, in which generally are the Lodges of very large membership, there are also Lodges with a membership of less than 200, which are not only able to bear the financial burdens incident to their situation, but which are flourishing Lodges in all respects. This is true in the cities of Boston, Worcester, Springfield, Pittsfield, Lynn, New Bedford, and in other cities.
It has also been urged that Lodges need a considerable number of candidates for the purposes of work. The facts do not bear out this contention. An analysis of the work for the year 1927 discloses that 144 Lodges of the Commonwealth initiated fewer than ten initiates per Lodge. The record is as follows:
| | |
| --- | --- |
| | No. of Initiates |
| Under 10 | 144 |
| 11 to 15 | 56 |
| 16 to 20 | 47 |
| 21 to 25 | 21 |
| 26 to 30 | 7 |
| 31 to 35 | 5 |
| 36 to 40 | 3 |
| 41 to 45 | 3 |
| 46 | 1 |
It appears from the foregoing table that only forty Lodges out of 298 initiated more than twenty candidates per Lodge in 1927. A study of these Lodges as to their membership is a very interesting one. It is as follows:
| | | |
| --- | --- | --- |
| No. of Candidates | No. of Lodges | Membership |
| 21 | 2 | 313, 839 |
| 22 | 4 | 404, 536, 503, 866 |
| 23 | 5 | 587, 616, 731, 794, 1199 |
| 24 | 5 | 245, 500, 608, 820, 871 |
| 25 | 5 | 113, 545, 942, 947, 1008 |
| 26 | 2 | 472, 787 |
| 27 | 3 | 769, 882, 1120 |
| 28 | 2 | 770, 771 |
| 31 | 2 | 977, 1144 |
| 34 | 2 | 405, 775 |
| 35 | 1 | 509 |
| 36 | 1 | 857 |
| 37 | 1 | 917 |
| 40 | 1 | 170 |
| 41 | 1 | 1239 |
| 42 | 1 | 943 |
| 43 | 1 | 1146 |
| 46 | 1 | 996 |
It appears from the foregoing table that of the forty Lodges initiating more than 20 members per Lodge, only four had a membership of under 400. The average membership of the forty Lodges was 738. The total membership of the forty Lodges was 29,526. The number of candidates initiated into these Lodges was 1129 out of a total of :i(isi initiated in all of the Lodges of the Commonwealth. It thus appears thai 13.4 per cent of the Lodges of the Commonwealth, with a membership of only 23.8 per cent of the total membership in the State, initiated 31.8 per cent of all the candidates. It cannot be asserted that the Other 254 Lodges, in none of which wen1 more than twenty candidates initiated, did not experience a healthful Masonic growth; nor did they fail to perforin adequately the duties of Masonry because of an insufficiency of candidates.
The plain truth of the matter seems to be that a small percentage of the Lodges, almost all of which are overgrown Lodges, are the ones which are engaged in overburdened work, and thus that overgrown Lodges are tending to increase in size. It is also apparent that the large average membership in the commonwealth is not due to an equal distribution of membership among all the Lodges, but is due to the rapid increase in membership of large Lodges which have tended to grow larger because of the number of candidates which are being initiated in them.
It appears from the tables given above that out of the 208 Lodges in the Commonwealth in 1927, 170 of them had a membership of 400 or less; 127 had a membership of less than 300; 144 initiated fewer than ten initiates; 200 of them, — slightly more than two-thirds of all of the Lodges in the Commonwealth, initiated not over fifteen candidates per Lodge.
In the light of these facts and of the further facts that there are Lodges with a membership of less than 200 in some of the largest cities of the Commonwealth, that there are Lodges of such membership in large cities which did not in 1927 initiate six candidates, and that these Lodges are apparently flourishing both Masonically and financially, there appears to be no basis for the contention that a Lodge needs to have a large number of members or a large number of candidates in order to be a successful Masonic Lodge. Indeed, the reverse is the truth. To be a Masonic Lodge and properly to perform the duties of Masonry and to train its members to Masonic character with an understanding of the idealisms of our Craft, it seems to be quite obvious that Lodges ought not to be so large that their members cannot congregate in their Lodge-rooms.
Perhaps a more serious aspect of the whole problem is the tendency on the part of some of our officers and members to emphasize the importance of the initiation of new candidates. It is not the primary function of Masonry to initiate candidates or to enlarge its membership. Were it so there would be no basis for our law against proselyting. The primary function of a Masonic Lodge — indeed, the primary function of our Craft, is to train its members to an understanding of the truths which its ritual and its ceremonies are calculated to inculcate, to develop its members as benevolent men. to cultivate the social virtues among men, and to propagate the knowledge of the art.
The chief concern of a Lodge is with the welfare, the happiness, and the Masonic development of its members, not with the admission of those who seek entrance at its doors. Its success as a Masonic Lodge cannot be gauged by the length of its membership roll nor by the size of its accumulated funds. "The beauty of our ritual, and the good fellowship among the members of our Lodges, cannot be conserved when the chief aim is to make Masons and money;" (Moore's Freemason's Monthly, Vol. XXV, Page 278); "for a man's life consisteth not in the abundance of things which he possesseth" and a Lodge's life does not consist in its acquisitions but in the contribution which it makes to civilization and society through the influence of those whom it has helped to train to what we call Masonic character.
I am confidently of the opinion that there is no greater service which members of our Fraternity can render to the Craft in this Grand Jurisdiction in this day than to form new Lodges and to stimulate a sentiment for more Lodges and smaller Lodges. For this reason I have felt at liberty thus to address you at such length. It is upon this conviction that I have expressed to you sincere congratulations for what you have done and assure yon of the gratitude of the Fraternity for your achievement.
May the Supreme Architect of the Universe bless and prosper you in all your doings.
AT THE DEDICATION OF JUNIPER HALL, SHREWSBURY, MAY 1928
From Proceedings, Page 1928-127:
Ladies and My Brethren:
I find it difficult adequately to express in words the happiness I feel iii extending greetings to so many friends and Brethren, who, 1 am persuaded, have come to join with us in paying a tribute of love and respect, and to participate in the beginnings of a noble enterprise on behalf of the Grand Lodge of Massachusetts, and personally I bid you all a hearty welcome.
In accordance with our ancient forms and ceremonies, the Grand Lodge of Masons of Massachusetts has dedicated this structure to Freemasonry as a hospital for the relief of those who suffer and are afflicted. We have consecrated it as a memorial to a just and upright Mason, whose life and character were typical of that life and character which it is the aim of our Fraternity to develop in its members.
Right Worshipful Brother Matthew John Whittall was for six years prior to his death a Director of this Grand Lodge; he was a zealous and earnest Mason: he was a lover of the Craft wheresoever dispersed. His confidence in the usefulness of this Fraternity and in its benign influence for the welfare of mankind was sincere and abiding.
His interest in Freemasonry was one of the manifestations of a character which embraced in its benevolence the whole human family. He was indeed "a man whose heart was ever full of love for his fellow men." To such a character this hospital is a fitting memorial, for he was ever solicitous for those who suffered and were heavy laden.
As we dedicate this house In its beneficent uses, we should be untrue to ourselves if we did not make grateful and public acknowledgment of our deep appreciation and profound admiration for the generous and magnanimous spirit of its donor, Mrs. Matthew John Whittall.
On behalf of those who shall here find ease of pain; for those who shall here find solace in their suffering; for those who shall here be cheered and heartened by beautiful surroundings, we tender to her, sincere gratitude. For ourselves who shall be inspired by her example of benevolent liberality and stimulated to a renewed expression and interpretation of our profession of charity, we thank her with full hearts.
Ah! nothing than this is more knightly or noble;
To help and to heal the sad spirit in trouble;
To hearten and cheer the poor comrade distressful,
And rally him back to a battle successful.

Ah! nothing's more knightly and noble than living
To spend one's self, Christ-like, in loving and giving.
Clean hearted within and kind hearted to others
Is this not the seal of true knighthood, by Brothers!
For reasons which are quite legitimate, the public has little understanding of the Institution which we call Masonry; and, except at periods of extraordinary circumstance, has hail little interest in it until comparatively modern times. The growth of the Fraternity in recent years, and other causes which we may not pause to mention, have contributed to stimulate a wider interest, or curiosity — and sometimes both — in what the Institution is and what its objectives are.
That the Institution has been misunderstood is but the natural consequence of its own laws and purposes. Public discussion of it by its members is strictly prohibited. It makes no parade of itself. It does not advertise. It conducts no drive for membership, nor does it permit any solicitation of applicants. It holds out no inducements to men to join it, and promises no rewards or other benefits to those who voluntarily seek affiliation with it. These mandates of its law are in no sense due to a lack of decent regard for the opinions of mankind; but are due to the essential purposes and aims of the Fraternity, which, summarized, are to develop its adherents as men of high character whose ruling object is the welfare of mankind and the service which they may render to others in their individual contacts with the world.
Throughout its life as an organization, whose history may he definitely traced for more than four centuries, and whose descent is unbroken from the most remote periods of the past, it has been dedicated to the relief of distress. To soothe the unhappy, to compassionate their misery, to sympathize with their misfortunes and to restore peace to troubled minds, has been the grand aim it has had in view.
Doubtless one may not be too hold in asserting the existence of the specific evidences of its influence upon the attitudes and ideas of civilized society toward the less fortunate or the unfortunate. We may nevertheless confidently feel that this Institution has played a part, and a large part, in influencing the world to a greater and more extensive understanding of the principle that men are (heir brothers' keepers.
While time and the occasion do not permit argument of the point — indeed, neither interest nor inclination exist for arguing it, a brief survey may tend to suggest the bases for this belief.
"The word charity or love represents the good life. It stands for a mood or habit of mind and an endeavor. From it as a habit of mind springs the social and personal endeavor which in the widest sense we may call charity.

"Where the habit of mind has not been gained the endeavor fluctuates and is relatively purposeless. In so far as it has been gained, the endeavor is founded on an intelligent scrutiny of social conditions and is guided by a definite purpose."

— Encyclopedia Britannica, "Charity".
In the earlier periods of Christian civilization charity
 was regarded as a Christian virtue. The early Christian congregations took care of their own members in a spirit of brotherhood. The early church had many of the aspects of a fraternity — its particular congregations resembling what we know as a lodge.
From the middle of the fourth century two new tendencies appear:
First: The development of an organized system of relief by the church acting in larger units and including the foundation of hospitals, almshouses, homes for llie aired, orphanages, and like institutions.
Second: There was a shifting of emphasis as to the motive for charitable endeavor. The primary object in giving alms tended more and more to become a matter of benefit to the soul of the giver. Less emphasis was laid upon the obligation of the individual to take care of those members of society who were unfortunate or who might become a public charge.
During the whole mediaeval period, the church was the only channel of charity on a large scale. The State assumed no responsibility, nor was there any general conception of obligation on the part of the individual member of society. Even such organized charity as there was during the middle period of English history, was practically extinguished by the Reformation. This condition of things, due to the diminished activity of the church and the occurrences of plagues and other disasters on a general scale, compelled municipal and state relief as a necessity, producing the poor laws and other statutory enactments aimed at benefiting the poorer classes of workmen. There seems to have been but a slight development of the general sense of social responsibility for the unfortunate prior to the middle of the eighteenth century. In the early years of that century the condition of the poor was extremely harsh and there was practically nothing in the way of organized enactment. In the latter part of this century appear the beginnings of the attitude of responsibility which so generally pervades our modern society; and it. is significant to note that it was in the first quarter of that century in which was formed the Grand Lodge of Masons in England in 1717.
Those who are familiar with Masonic idealism and with the genius of the Institution which we call Freemasonry, will easily recognize that Masonic charity has the same inspiration as that of the early church, namely, the care of the unfortunate in a spirit of brotherhood. They will as readily see that it has the Inspiration of the church charity of the Middle Ages, thai is, the inspiration of the benefit to those who give, and who concern themselves for the welfare of those less fortunate than themselves.
These inspirations of our charity arc not derived Erom ecclesiastical experience, however, hut have their own lines of descent. The Collegia which we claim as our ancestors and which were recognized by law in the Roman Empire had monthly collections for the relief of their members. The trade guilds of the Middle Ages, from which undoubtedly sprang our early Operative Masonry, always cared for their members and made regular collections for thai purpose.
The idea that the Lodge was hound to relieve ilie necessities of its members and that the individual Mason was likewise under obligation to contribute to the relief of a distressed Brother passed by direct descent from the Operative Masons of the 16th and 17th centuries to the Speculative Masonry of the 18th century and of modern times. Such is the genesis of the declaration of our Constitutions that Masonry is a benevolent Institution in that it teaches relief and exemplifies the teaching by relieving distressed Brethren, their widows and orphans.
Thus it may conceivably be true that the ideas of earlier civilizations which are the soul of our Masonic idealism, affected as they may have been hy the doctrines of the 
primitive church, have been preserved in Masonic Lodges
 and groups through the darker periods of history, to re
appear in our modem society in endeavors so extensive as
to afford reasonable grounds (or hope for the ultimate
establishment of universal "peace on earth, good will among men."
Certainly this Institution has existed for centuries; in its ranks have been enrolled, in all the .veal's of its existence, large numbers of good men of all races and in all parts of the world: its genius has been to inspire men with ideals and to create habits of though! of brotherliness, relief, truth and justice. Certainly such an Institution must have made a contribution, and a large contribution, to the thinking from which springs thai intelligent endeavor which we call charity and which constitutes one of the brightest aspects of modem life.
The enterprise the beginnings of which we today arc celebrating with ancient forms and ceremonies is therefore one which is peculiarly a Masonic undertaking, consistent with its traditions and its philosophy and sanctioned by the mandates of its laws.
The fulfillment of our hopes and plans will give aid to those who suffer; it will develop our characters and enlarge our visions; it will afford the opportunity for the exercise of our professions and stimulate us to ever greater endeavor,
And as we dedicate this beautiful structure. Juniper Hall, to the purposes of our Craft and to the relief of suffering; as we pay our tribute of love and respect for the magnanimous spirits of those who have made this consummation possible, may we be inspired to renewed endeavor, may we re-dedicate ourselves to the ideals of this great Fraternity, for "the greatest of these is charity."
---
CHARTERS GRANTED
RULINGS
---