GMSchaefer
From MasonicGenealogy
ALBERT A. SCHAEFER 1884-1947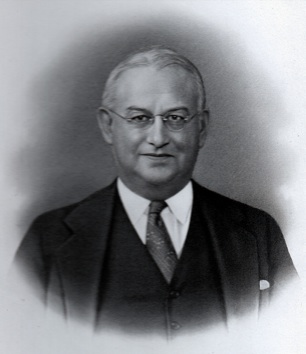 Senior Grand Deacon, 1931
Deputy Grand Master, 1934
Grand Master, 1941-1943
---
TERM
BIOGRAPHY
From New England Craftsman, Vol. XXXVI, No. 4, December 1940, Page 74:
Following regular procedure as is the custom in the Grand Lodge of Masons in Massachusetts, the December annual meeting of that body elected a new Grand Master in the person of Albert A. Schaefer.
Versed in jurisprudence, Masonic and state, Brother Schaefer conies to his high office with a sound knowledge of Freemasonry and a close familiarity with the situation in Massachusetts. As a professor in America's leading technological institution lie is able to gauge complicated situations objectively, with exactitude and high intelligence. He has played an active and devoted part in the life of the local fraternity for years and is a wise and distinguished Freemason. With increasingly involved problems confronting the Craft he will need the assistance and prayers of all to enable him to carry the burdens of his high office. The Craftsman bespeaks for him their good will that he may best assure safe guidance through rough waters.
MEMORIAL
From Proceedings, Page 1947-412:
Brother Albert Adam Schaefer was born February 25, 1884, in Middletown, Connecticut, the son of John J. and Margaret E. (Olt) Schaefer. He graduated from Phillips Exeter Academy in 1902, Harvard College in 1906, with the degree of A.B., and Harvard Law School in 1909, with the degree of LL.B. He was admitted to the bar in 1909 and practiced privately until 1913. From then until 1935, he was associated with the law firm of Ropes, Gray, Boyden & Perkins of Boston, specializing in trial cases. In 1930 he became associated with Massachusetts Institute of Technology as a lecturer on business law, Assistant Professor in 1931, Associate Professor of Law and Government in 1935 and Professor in 1940. He was Special Assistant District Attorney for the Northern District of Massachusetts 1910-1912; Director of Enforcement, New England Fuel Administration, 1917-1919; counsel for numerous railroads and steamship-line receiverships 1914-1935. He was also on the panel of Arbitrators of the American Arbitration Association and held membership in the American, Massachusetts and Boston Bar Associations.
He was of the Episcopal faith, and was a noted American boy soprano of his day. He even sang in the Metropolitan Opera in New York with Nordica.
On February 1, 1935, he married Ethel K. Potter, who survives him.
His Masonic record is as follows:
Symbolic: He was made a Master Mason in St. John's Lodge No. 2 of Middletown, Connecticut, September 22, 1905, which membership he retained until his death; became a Charter Member of The Harvard Lodge April 11, 1923, serving as Worshipful Master in 1929; became a member of Richard C. MacLaurin Lodge December 20, 1930; was an Honorary Member of the following Lodges: Moses Michael Hays, Euclid and Union of Nantucket. He was Master of the Seventh Lodge of Instruction in 1930. In Grand Lodge he became Senior Grand Deacon in 1931, District Deputy Grand Master (Boston Second District) in 1933, Deputy Grand Master in 1934 and Grand Master 1941-1943, inclusive. He received the Henry Price Medal in 1934. The Grand Lodge of Illinois made him an Honorary Past Grand Master of its Grand Lodge. He was Director of Education in the Grand Lodge of Massachusetts from March 1935 until May 1938.
Capitular: He was exalted in Cambridge Chapter, R.A.M., of Cambridge, June 13, 1930, and was Master of the Second Veil at the time of his death.
Cryptic: He was greeted in Cambridge Council, R. & S.M., May 3, 1933.
Chivalric: He was knighted in St. Bernard's Commandery, K.T., of Boston, February 14, 1934, and was Eminent Commander of that Commandery 1943-1944.
Scottish Rite: He received the degrees from the Fourth to the Fourteenth in October, 1910, and those from the Fifteenth to the Thirty-second, inclusive, in October, 1934, in the Valley of Boston. He was coronetted a Sovereign Grand Inspector General, Honorary Member of the Supreme Council, September 23, 1942.
He was First Ceremonial Master of Aleppo Temple, A.A.O.N.M.S. of Boston at the time of his death.
He was a past President of the Harvard Masonic Club (1908-1909) and of Harvard Chapter Acacia Fraternity (1907-1908).
Most Worshipful Brother Schaefer was eminent in his provession. His professorship in the Massachusetts Institute of Technology enabled him to be very helpful to a great many young men by whom he was much revered, and who will treasure his memory. He was gregarious by disposition, and in his human contacts always made life a little brighter. Our Brethren will remember how filled his addresses were with sound and wise Masonic discussions, and yet constantly interspersed with humor.
His passing was very sudden, but yet not unexpected either by him or his friend. Indeed, it was in accord with his own viewpoint toward life - he wanted to be active and of service so long as he lived, but never to be a burden or be deprived of the ability to serve others. He had just closed an interesting and valuable address, and then left us without suffering.
Funeral services were held at Trinity Church on Sunday, October 26, at three o'clock, the Reverend Samuel Tyler officiating; and interment was in Mt. Auburn Cemetery, Cambridge.
"Here was a friend whose heart was good;
He walked with men and understood.
His was a voice that spoke of cheer,
And fell like music on the ear.

His was a smile men loved to see;
His was a hand that asked no fee
For friendliness or kindness done.
And now that he has journeyed on,
His is a fame that never ends -
He leaves behind uncounted friends."

Fraternally submitted
Melvin M. Johnson
Arthur D. Prince
Frank L. Simpson
Claude L. Allen
Joseph Earl Perry
Arthur W. Coolidge
Committee
SPEECHES
FEAST OF ST. JOHN, DECEMBER 1933
From Proceedings, Page 1933-559:
Remarks by Grand Master Chipman:
My Brethren, I today had the honor of installing into the office of Deputy Grand Master one whose outstanding qualities of mind, and enthusiasm for Masonic work, mark him as one whose talents should be made more widely available for the good of our fraternity.It is possible that at the moment he may not be as well known as his merit entitles him to be, and so I shall say that he was born in Middletown in Connecticut in 1884, and received his early education in the public schools there. He attended Phillips Exeter Academy and was graduated from Harvard University in 1906 and Harvard Law School in 1909.Soon after graduation he became associated with the law firm of Ropes, Gray, Boyden & Perkins, with which firm he is still connected.He also occupies the chair of assistant professor of business law at the Massachusetts Institute of Technology. He was twice director of the Enforcement of the New England Fuel Administration, under the Hon. James J. Storrow, and to him we may give thanks that the serious problems of mercantile, commercial, and household heating during those disturbed years were so satisfactorily solved.He has travelled widely, having visited nearly every country in the world, so that his vision of world Freemasonry is far from restricted. He was Master of The Harvard Lodge in 1929 and has just completed his service as District Deputy Grand Master for the Boston Second District.This incomplete and hasty outline of his busy life, I am certain, has rendered you impatient that without further delay I should permit him to speak for himself. I therefore hasten to share with you the delight of hearing from our new Deputy Grand Master, the Right Worshipful Albert A. Schaefer. (Applause)
Most Worshipful Grand Master, Distinguished Guests, and Brethren:
A judge of one of our courts once remarked, "It pays to be frank when you know you are going to be found out." I therefore hasten to assure those present that, notwithstanding the kindly way in which 1 have been presented, I am still what I am, and to those who know me not, may I express the hope that I may become what he says I am.
When, a few weeks ago, the Most Worshipful Grand Master suggested that he might call upon me, I begged him to permit me to remain silent reminding him that silence was still upon the gold standard. To fortify my request I warned him that I was better to look at than to listen to. To which he replied with a disarming smile, "Oh, no; you couldn't possibly be such a poor speaker."
Perhaps it is inevitable that one, newly inducted into office, should feel called upon to suggest innovations. I would, therefore, respectfully suggest a change in the order of these exercises. After mature deliberation I have come to the conclusion that a speaker should speak first and be introduced later. The speaker would not, therefore, have so much to live up to and the presiding officer so much to live down. The suggestion is prompted by an incident which happened to me some years ago. I was called upon to address a men's club in the parish which I had attended as a boy in a town in Connecticut. The rector of the parish who presided introduced me with somewhat laudatory remarks, entirely, I assure you, disproportionate to the subject thereof. 1 arose with a certain inflated feeling. I experienced, however, somewhat other sensations, when, after I had concluded he arose and said, "This concludes the speaking of the evening, let us arise and sing the Doxology."
And speaking of Connecticut, I am indeed very happy that we have with us here this evening as our guest the Grand Master of Masons in that Jurisdiction. It may interest him to know that, when, twenty-eight years ago, I received my Master's degree his predecessor in office, the then Grand Master of Masons in Connecticut was present. For Connecticut was my Masonic birthplace, Sir, and it was in the place of my birth that I spent my brief Christmas holiday. It were impossible tor me, even if I were tempted to do so, to tell you with what mixed emotions I went back, a few days since, to that old town nestling among the hills beside the Connecticut River. As I passed the Temple where, so many years ago, I received my first Masonic instruction, it was only natural that my mind should revert to that September night and the happiness that was mine on that occasion.
I wonder, have we not all, at times when we look back over the path of life's history, glimpsed incidents, here and there, which seemed relatively unimportant at the time, but which in the light of after events, stand out as milestones in our journey. We reach a corner, a choice is to be made, we turn to the right instead of the left, and the whole course of our lives is altered. So as I look back that evening stands out. To me then I was but following a family tradition and uniting with an ancient Institution. It was not given me to know what a corner I was turning. But now I see how tremendously that single event has influenced my entire life. The warm and lasting friendships I now enjoy had their beginnings then. The teachings then inculcated have been an ever present guide when doubt assailed. The debt I owe to this Fraternity is incalculable and utterly unpayable. Yet, if in the assumption of new duties today I can find an opportunity to be of some service to my Brethren I may .thereby make some reparation.
Our Grand Master has quite unwittingly, but none the less surely, assigned to me here this evening a most difficult task. He did not know, I am sure,—and I am quite sure that I did not know—that I should be called upon to follow two such eloquent speakers who have so beautifully expressed the high ideals and high purposes of our Institution. He is dull indeed, whose heart has not been inspired, whose mind has not been quickened, and whose faith has not been strengthened by such thought-provoking sentiments. I will not court failure by fruitless imitation. Rather I would talk to you simply, as befits my qualifications, and from the fulness of my heart.Tonight as I sat here beside the Grand Master of Canada in the Province of Ontario we chanced to mention the form of the seal of the Grand Lodge. There is a replica of that seal behind me. I wonder how many of us have given much thought to it or appreciate its real significance. It is supported by two beavers, dumb creatures perhaps, but with whom are associated habits of industry, a trait which is the very support and cement of all institutions. Its crest is a dove with an olive branch in its beak reminding us that true industry need not be harsh and uncompromising but should ever be guided by that spirit of gentleness and true conciliation which will enable us to soar high in the heavens. And the seal bears a very simple and pregnant motto, an old translation, we are told, of the motto upon the arms and seal affixed to the commission of our first Provincial Grand Master—Follow Reason!
In every branch of human activity it were well if we kept constantly before us this mandatory injunction. And perhaps at no time in the world's affairs, at least not in modern times, has a crisis been reached where there is greater need of calm and careful consideration and the adoption of rationalistic measures to meet the problems which confront us severally and socially.
Our Grand Master has presented me to you as one possessed of a somewhat dual personality—a lawyer and a professor. To the indictment of leading such a double life I must plead guilty. Yet I would call to your attention that it is a commonplace to say that the life of the law is reason, and also to point out that the real problem of a teacher is to collect and examine known data in his chosen field and by the application of reason evolve therefrom the probable reactions. Perhaps, therefore, you will permit me, since you are powerless to prevent it, to point out what to me seems to be the well-settled facts underlying our present situation and to consider briefly—for 1 will be brief— the part which Masons and Masonry may play in correcting and preventing the recurrence of the ills and evils from which this sick and weary world is suffering.
It is not without significance that the Grand Lodge, whose two hundredth birthday we have just celebrated, has witnessed two great world movements and at the present time is called upon to take its part in still a third. All of these movements had one feature in common. Each was a cooperative effort toward a greater individual freedom. But their immediate object and the methods used toward that end were widely variant.
In 1733 the western world had settled down again after the successful religious revolution which we are wont to call the Reformation. Through it we attained a great measure of religious freedom. Industrially, the world was still in its infancy, and politically society was organized in a-system which was the heritage of the Dark Ages. The great mass of individuals were governed by a small and self-perpetuating group who claimed the divine right to rule. Laws were enacted and enforced without the consent of those upon whom they were imposed. Class and castes were accentuated. The assumption of authority without consent readily permitted the exercise of authority without regard. Inequalities bred iniquities and iniquities discontent.
Here in this hemisphere as yet sparsely inhabited by those rugged individuals who had come to these shores seeking a greater degree of religious, economic, and social freedom the smouldering fires soon burst into flames. The schoolmaster and the cleric provoked men to reason. The doubt that God had foreordained a few to rule and the many to be ruled without their consent soon became a conviction that all men were created free and equal and that life, liberty, and the pursuit of happiness were rights inherent in all. In the belief that the full exercise of these God-given rights was denied them only because of man-made laws they revolted and set up here a new nation, conceived, as has been said in liberty and dedicated to the proposition of freedom and equality.
In Europe, as may be expected where traditions were more deeply rooted and hence more difficult to eradicate, the movement was slower in growth but more radical in its consequences. It found expression in the French Revolution. That movement of the masses had much in common with our own. Each sought to correct existing abuses by attacking the then political organization. But they differed in this: that the colonists recognized the need of some governing power and sought only to create one in which they might determine who should exercise authority, whereas the French communists denied the necessity of any form of government and sought only the destruction of that which existed.
We may then designate the eighteenth century as the Age of Reason whose activities were directed toward political reformation which left as a heritage a larger measure of personal freedom. The changes in the economic and social organizations, however, were minor in character, and, such as they were, largely the by-product of the more dominant movement. But the nineteenth century was destined to bring about changes in both more far-reaching and revolutionary.
The aroused intellectual activities of men called into being by the age of reason turned normally and naturally to the economic problems. Men began to discover and to invent and apply the results to their individual needs. The discovery of steam and its availability for increased means of more rapid transportation and closer communication changed the whole aspect of the world. Commercial markets widened and small communities, formerly of necessity self contained and self sustaining, gave way to larger bodies. A greater division of labor was possible and economically desirable. Man became a specialized individual, hence more dependent on others. Mass production became the rule. Our daily needs were supplied by others of whose very existence we were unconscious. We became no longer concerned with the state of health or prosperity of those who lived next door. The same forces which brought the world closer together commercially widened the gulf between neighbor and neighbor. As an original question it might well be doubted whether our lives today are happier and sweeter because of the scientific advances of the last century than they would have been without them. One of my associates occasionally remarks that none of the so called modern conveniences has really added anything to the sum total of human happiness with the possible exception of open plumbing.
Certain it is, that in their train new abuses have arisen and new evils been created. A materialistic age makes for materialistic men. The real and undying spiritual values are lost sight of. We begin to measure success by dollars rather than by deeds, by what a man gets from the common store more than by what he gives to it. Selfish acquisitiveness and not unselfish service becomes the dominant note. The dull, dead golden calf blots out our vision of the living God.
Do I paint a drab picture? I have no such intention. If I seem to over emphasize the evils which are rampant I do so merely to indicate where our efforts must be used that we may live life more sanely. We have not been betrayed by science. We are betrayed only by what is false within us. The world will move, whether we will or no, but whither it shall move depends on us. These are days of high adventure and we are traversing uncharted seas. We are all oarsmen in the same boat. If anyone is content to rest upon his oars he not only fails to aid the forward progress but retards the efforts of others.
Just as the age of reason of the eighteenth century evidenced by political revolution gave way to the materialistic age of the nineteenth century and its industrial revolution so I believe that this epoch has had its day. For there are ample signs for those who will but see that a new day is dawning. Although the storm has not wholly abated we can catch glimpses here and there of the returning sun which promises a brighter day. I am confident that when the history of the twentieth century shall have been written it will be possible to speak of it as the spiritualistic age marked by a social revolution which shall result in a more neighborly organization in which we shall learn that the interests of the individual are best promoted only when, and to the extent that, he exercises his talents for the general good of humanity.
In this great movement we as individual Masons and as an Institution have our obligation and our opportunity. It must be so, for in all great movements in the past Masonry has played its part. Nor could it have so long survived in this ever-changing world if it were merely local or temporal. Surely within itself it must carry the germs of an eternal life. But we must live our Masonry in our daily lives if we would get the most from and give the most to Masonry. As we act, and as we profess, shall we be judged. Only as we carry out the time-tested tenets of our Institution, only as we practice charity and benevolence and recognize the need of real religion and true education can we expect to take our rightful place in the general scheme of things.
Charity we are taught. But it must be real charity! Not the kind which is merely a dull narcotic, numbing pain. Rather, I use the word in its broad sense, the cultivation of liberality or lenience in judging of men and their actions, the disposition that inclines us to put the best construction on the words and actions of others. True there are many today who need financial aid but there are vastly more who need a bit of honest sympathy and real encouragement. A few kindly words, a shake of the hand may accomplish far more than a dollar here and there. A handshake will relieve the heartache if only with the hand goes the heart.
And benevolence! That kind of benevolence which is evidenced by a love of mankind accompanied with a desire to promote men's happiness. That is Masonic benevolence. It is merely a due regard for the rights of others. How simple it all is, yet how difficult for most. Let us have done once and for all with all selfish greed and all thoughtless indifference towards others and be as I believe.God intended us to be, friends and brothers each to all and all to each.
My Brethren, in my chosen profession we are apt to come in contact with all sorts and conditions of men who seek to evade the letter of the law regardless of its spirit, men who feel that they are moral if only they avoid a jail, forgetful of the fact that all man made legal codes fall far short of the laws of God. No, my Brethren, the world will not be happier and more endurable, life will not be sweeter and more livable, until we get back to and back of the simple teachings of that simple soul who walked beside the Galilean lake. When that time shall have arrived then I believe we shall be able to glimpse here on earth a bit of that city of God with its walks of jasper and its gates of pearl. Then, and then only will class wars and international cataclysms cease and will come the reign of the Prince of Peace.
Will you pardon me, if in conclusion, I sound a more personal note. I am deeply sensible of the honor which has been conferred upon me today. But I approach my new duties in utmost humility, conscious as I am of my responsibilities and of my own limitations. I am deeply grateful for the trust and confidence placed in me by that most gracious and kindly gentleman whom we are privileged to call Grand Master. To him, here publicly, I wish to pledge my fealty.
But those of us who for a brief span may occupy positions of authority are not, whatever our titles may be, your masters. We are all, from him who sits in the Oriental Chair to him who stands in the northeast corner, Brothers in a universal Fraternity, temporary custodians, each of us, of a glorious heritage handed down to us from those who have carried on before. We are all co-workers in the same vineyard striving in all several stations to spread abroad the time-tested tenets and teachings of our Institution, of brotherly love, of relief, and of truth. In this noble work each has his responsibility, each his solemn duty. With your help we must succeed; without it, all our efforts are in vain. Shall we not, then, in this new year to come, highly resolve each to do the daily tasks which God has laid out for us on the great trestle-board of life so that when in the cool of even-tide, we put aside our tools, and rest awhile beside the stream we may await the approaching dark with the happy reflections consequent on a well spent life and die in the hope of a glorious immortality!
NOTES
CHARTERS GRANTED
None.
RULINGS
---